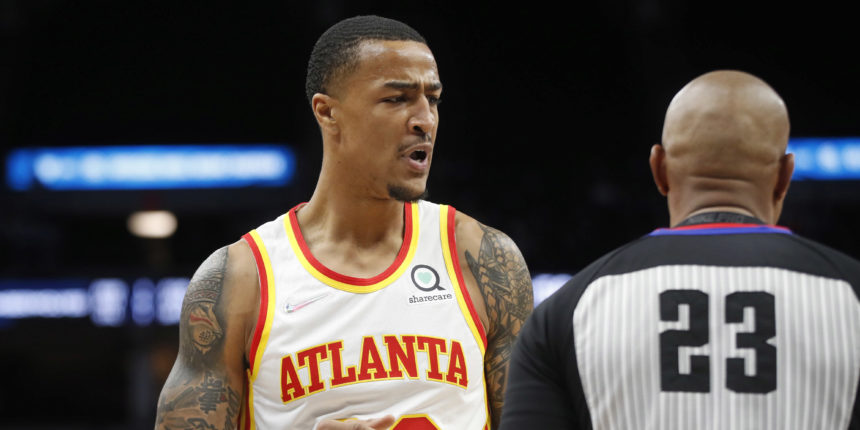 Stats Notebook: Has John Collins' role with the Hawks really changed?
We've gotten some juicy NBA rumors over the past week, but John Collins' place on the Atlanta Hawks might be the most notable development.
Shams Charania first reported on Tuesday that the fifth-year big man was frustrated by his current role with the team. Collins then spoke to The Athletic's Chris Kirschner to candidly share his own thoughts, mentioning that he doesn't love his current usage with the team, and is frustrated less by the volume and more by the context.
"I'm not sitting here complaining and saying I need more touches of the ball, or I need to score more points or need more shots," Collins told Kirschner. "I've never complained about that. All I've said, specifically, if there's a way that I feel like is beneficial for everybody — and not just myself — is for us to be used in the correct way. "
It's fairly unusual for a player to be this publicly honest and in-depth about his frustrations, and Collins' comments make his role worth investigating. What do the numbers say? Have things really changed significantly?
According to Cleaning the Glass, the 24-year-old does have the second-lowest usage rate of his career (17.9%), and it has decreased in each of the past four years — something Collins referenced in the interview. The site's usage rate refers to the percentage of plays that end in free throws, shot attempts, assists or turnovers; Collins is less involved in these play-enders.
He's also averaging career-lows in field goal attempts and three-point attempts per game, but Collins says in the interview that this isn't what he is frustrated about. This quote was particularly interesting:
"I just don't like to be out there running around sometimes," Collins said. "Sometimes, you just want to understand where you can make an impact instead of having to create it for myself. I feel like that's where I'm at a lot of times. I'm just having to create out of nothing, and it's hard as hell."
How is Collins getting his shots? He's actually being assisted on 75.3% of his makes, which is a career-high; this would seem to contradict Collins' claim. Though, that number has decreased in recent games.
Things get intriguing when looking at the changes in his shot distribution. Below are Collins' year-by-year numbers regarding his frequency of shots in each area of the half-court, per Cleaning the Glass:
2017-18: 69% came in the paint | 24% in the mid-range | 7% from three
2018-19: 64% came in the paint | 19% in the mid-range | 17% from three
2019-20: 55% came in the paint | 22% in the mid-range | 22% from three
2020-21: 43% came in the paint | 32% in the mid-range | 25% from three
2021-22: 44% came in the paint | 32% in the mid-range | 24% from three
Something changed between 2019-20 and 2020-21, and it has carried over to the 2021-22 campaign. Collins' paint opportunities have noticeably decreased, and his mid-range attempts have increased without a serious jump in three-point volume. He's being drawn out of the paint. Is it a coincidence that he's also averaging two rebounds fewer per game than he did a couple of years ago?
Nine percent of Collins' field goal attempts this season have been pull-ups, according to NBA Stats. That's also a career-high, and it's historically a shot he's not comfortable with (39.5 FG% this season). And nearly all of those pull-ups are twos, not threes.
His playtype data looks suspect as well. Collins is posting up over twice as often (17.8% of his plays) as he did two years ago (8.1%), per NBA Stats/Synergy. He's not a good post-up shooter, as evidenced by the 39.4% clip and 14.0% turnover rate.
Despite being one of the most efficient pick-and-roll bigs in the league, Collins' frequency in those plays is down nearly 9% from 2019-20. He acts as a roll man on just 19.9% of his possessions, which is far behind the NBA leaders. This is partially because he is being asked to space the floor more often, and that has come with his elite shooting from beyond the arc.
Then, we get to the NBA's touch data. Collins has a few claims in his favor. To start, he is averaging about 10 fewer touches per game over the past two seasons compared to 2019-20. He's also receiving nearly twice as many post touches. Meanwhile, his paint touches per game have progressed like this:
10.3 in 2018-19
9.4 in 2019-20
6.1 in 2020-21
5.8 in 2021-22
Interesting.
Elite efficiency: 2️⃣ NBA players have made over 70% of their shots at the rim and over 40% of their threes on high volume.

John Collins and Andrew Wiggins 🔥

(Via NBA Stats, min. 80 FGA each) pic.twitter.com/8UzNYNimwQ

— BasketballNews.com (@basketbllnews) January 8, 2022
Collins is one of the elite "3-and-rim" offensive players in the entire NBA. That's why this next stat from Sportradar might be the biggest indictment on his usage. Below is the percentage of Collins' shots that were either layups, dunks or threes:
2017-18: 79.1%
2018-19: 82.3%
2019-20: 82.3%
2020-21: 69.4%
2021-22: 68.4%
In short, yes, Collins' role has changed, specifically in the past two seasons. He is used less for his rim pressure and lob pressure, and asked to do more out of the post and in the mid-range. Collins' strengths on offense are pretty clear: he dunks on people and forces help when attacking the basket, and spaces the floor effectively. He's a play-finisher, not an initiator or post player.
I don't want to put words in Collins' mouth. Perhaps he's referring to other offensive situations that stats don't accurately capture. It's worth diving more into the film to see visual examples of where he is uncomfortable.
But there's no doubt he's being used differently. While this is far from the sole reason Atlanta is plummeting, it does lend some credence to his public confusion.
THE OUTLIERS (a.k.a. other random interesting numbers I find in the void):
I don't really have anything to add, but just wanted to pass along this awesome visual from Mark Cheung in the Twitterverse:
110 ten-day contracts.
40 earn a second opportunity after the first ten days.
9 have secured the rest-of-season contract.

Visualized the journey of hardship 10-day contracts thru Jan 9. it's tough out here - plenty of opportunity, but with plenty of replaceability and changes. pic.twitter.com/6I7xaNmB0W

— Mark (@MarkC_NBA) January 10, 2022
Here's another neat graphic from Tom Bassine. Notice how the Warriors' league-best defense gives up plenty of threes, but the fewest percentage of at-rim attempts in the NBA:
Here are opponent shot profiles! https://t.co/l5s2tsyOpq pic.twitter.com/jrQfhkP7sZ

— Tom Bassine (@tvbassine) January 12, 2022
Props to Coby White for finding his rhythm off the bench for the Bulls. According to Cleaning the Glass, the third-year guard has increased his points per 100 shot attempts by nearly 10, and he's now in the 85th percentile at his position after two below-average seasons. White has improved from an abysmal to average at-rim finisher and a good to great shooter in the mid-range and on the corners.