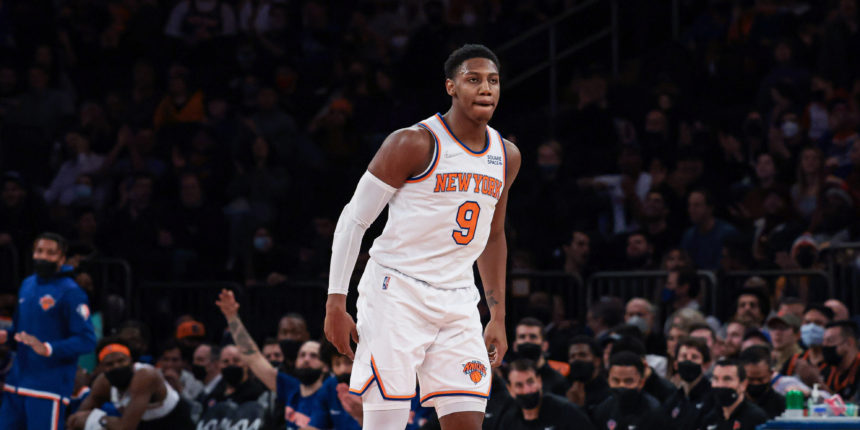 RJ Barrett has shouldered the load and put the Knicks on his back
Something needed to change for the New York Knicks.
Fortunately for head coach Tom Thibodeau, it appears that RJ Barrett got the memo.
On Wednesday night, New York scored a decisive 108-85 victory over Luka Doncic and the visiting Dallas Mavericks, giving the Knicks their fourth win in the last five contests.
By virtue of the victory, the team improved to 21-21 and got back to the .500 mark for the first time since early December. But more importantly, the third-year swingman has made huge strides recently.
Through the first 30 games of the season, Barrett struggled; entering play on Jan. 4, he was turning in just 15.2 points per game on 40.2% shooting from the field, including 32.7% from long range.
Across the board, his numbers were down from a sophomore campaign that saw him emerge as a reliable second option to Julius Randle.
Against the Dallas Mavericks on Wednesday night, Barrett excelled playing both on and off the ball and was decisive and aggressive. The young Canadian ended the contest with 32 points and 7 rebounds on 13-for-22 shooting from the field, including 4-for-7 shooting from three-point territory. The performance was noteworthy in a few ways.
It was the third time Barrett scored 30 or more points in the Knicks' past five games, and it marked the first time in his career that he's scored 30 or more points in consecutive contests. He also surpassed Kristaps Porzingis as the youngest player in franchise history to score 30 or more points in two-straight games.
Throughout the early goings of the season, much of Thibodeau's team — including Randle, Kemba Walker and Evan Fournier — struggled to find consistency. Recently, though, Barrett has come to life.
"RJ is steady," Thibodeau said after Wednesday night's contest. "He never gets too high, he never gets too low. He's putting in a lot of extra work right now, he's coming back at night and I think that's a big factor."
The comments were particularly interesting considering that last month, while Barrett was in the midst of his funk, the coach — who rarely criticizes his players publicly — seemed to do just that, suggesting that Barrett's early-season struggles were at least in part due to him spending less time in the gym than he did last season.
"Last year, he got going when he started coming in every night to shoot," Thibodeau was quoted as saying at the time. "You got to do it all the time. So get back in the gym, get back to grooving your shot. Shoot a lot of threes, and you'll start making more."
Considering Barrett's reputation as a hard-worker, the comments were certainly noteworthy. If nothing else, his recent stretch shows how quickly things can change in the NBA.
Not too long ago, the Knicks were 13-17 and staring at the prospect of their season getting away from them. They've since gone 8-4, with the last four wins coming in large part due to Barrett's contributions.
Suddenly, the Knicks are back at .500 and will enter play on Jan. 13 tied with the Boston Celtics for the 10th-best record in the Eastern Conference.
"There is no ceiling on what he can do," Fournier said of Barrett after his big night.
A throwback swingman who knows how to utilize his size and strength when finishing in the paint, the marked improvement Barrett made from three-point territory last season was noteworthy. Barrett connected on 43.5% of his three-point looks after the All-Star break last season, and he was instrumental in helping the Knicks capture the East's fourth-seed after going 16-4 in their final 20 games.
His ability to score at all three levels was seldom seen before the recent stretch. But Fournier has seen Barrett come alive before his very eyes.
"Like I said after the last game, when he scores on all three levels, he becomes less predictable, so that allows him to do what he does best, which is be aggressive and drive…" Fournier said. "All the mid-range and shooting under screens for threes open his drive, which is ultimately what he is best at. When he plays like that, he makes the job easier for everyone because he draws a lot of attention and he's a willing passer, so hopefully he keeps it going."
As for Barrett himself?
He simply remains focused on what the victory meant for the team and how they can keep the good times rolling.
"I think we're gonna find success if we continue to do the little things and just continue to work and be consistent through the rest of the season," Barrett said. "As long as we do that, we'll put ourselves in a good position."
As a unit, the Knicks may not be where they want to be, but they're certainly far from where they were.
That's progress that the entire club can feel good about, but perhaps nobody more than Barrett, who has quickly reminded us all why New York made him the third selection of the 2019 NBA Draft.
One game at a time, he's proving that he's capable of putting the team on his back. Right in the Knick of time.