Trae Young trots up the middle of the floor, crossing half-court with half-purpose, half-intrigue. The screen he's about to receive from John Collins isn't supposed to lead to anything, but it's important to see how the Bucks respond to it.
It's drop coverage. Not a surprising choice. This has been the Bucks' base defense for years now, one that has ranked first in defensive rating twice in the past three seasons. They slipped to ninth this season due to scheme experimentation, but drop was still their most common coverage.
Giannis Antetokounmpo drops against the screen. Not only does he hang back, he hangs back below the three-point line. Mind you, Young gets the Collins screen while he's on the antlers of the logo.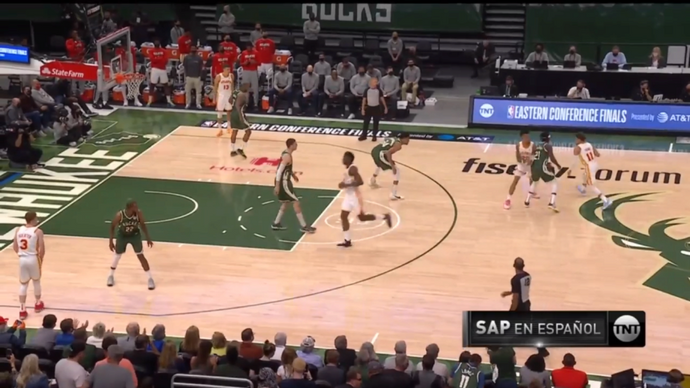 After a couple of pitches -- from Young to Collins, then from Collins to Kevin Huerter -- the Hawks flow into "Blind Pig" action with a third pitch to Clint Capela. As he receives the pass, Young cuts towards him with Jrue Holiday on his hip.
Holiday ducks under the exchange to stay attached to Young, so Young counters by reversing course and flowing into a ball screen with Capela. Brook Lopez, Capela's defender, is in a drop. But this one is much deeper.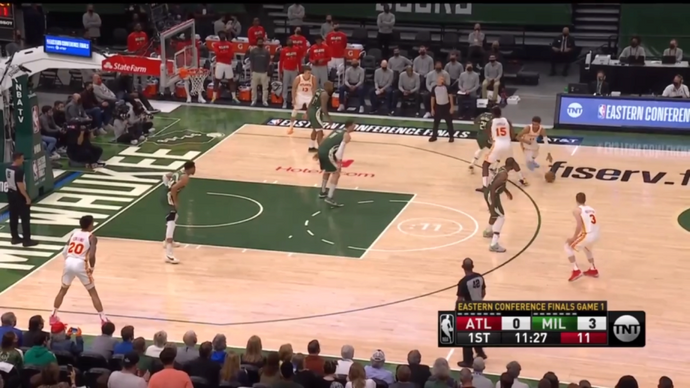 With Holiday caught on the Capela screen, Young is able to generate a paint touch. He's unbothered with Holiday behind him, Lopez way in front of him, and nobody else obstructing his path elsewhere. Young, the NBA's most prolific floater taker and maker this season, gets an easy look.
That was the Hawks' first possession of Game 1. It's Young's first of 17 buckets on the night, two of the 48 points he'd eventually score. And the coverage on a lot of his buckets would look like this. A big dropping back, a guard trailing him due to a screen and help defenders doing the exact opposite of helping.
Young took floaters when they were there. He'd pull-up for triples when his defender would duck under picks. If he got deeper into the paint, a dribble or so past Floater Range, Young would force the defensive big into a tough decision. Either give up an easier floater, or take the bait -- and open the window for wrap-arounds and alley-oops in the process.
There were off-the-glass lobs. There were shimmies.
Not only did Young drop 48 points, he also dished out 11 assists. Six of those assists led to dunks or layups.
With Young leading a pick-and-roll against drop coverage, the Hawks generated a whopping 1.32 points per possession, per Second Spectrum tracking data.
If the Bucks were going to have any hope of turning the tide in Game 2, they would need to make life more difficult for Young. And to make things more difficult for Young, they'd need to tighten that specific coverage, or limit how much they went to it.
They were able to do a little bit of both.
Compare that opening possession to Young's first pick-and-roll possession in Game 2.
,
You'll notice off the rip that it looks the same. Young has his colorful kicks on the antlers of the logo, receiving a pick from Collins. But instead of Giannis hanging around the 20-foot area, a step or two below the three-point line, he's waiting right above the break.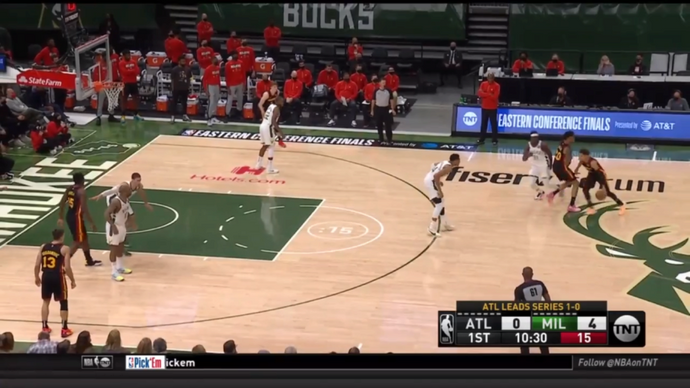 Not only is Giannis playing this higher, the Bucks flat-out switch the action. Switching the Young-Collins pick-and-roll when Holiday and Giannis are the defenders was something mentioned in the Hawks' scouting report piece, a viable option considering the combo's drop in efficiency when facing switches.
(As a reminder: per Second Spectrum, the Young-Collins duo generated 0.94 points per possession vs. switches, well below their overall mark of 1.06.)
But the action continues from there. Young calls for another screen, this time from Capela. The Bucks don't switch this one, you'll notice two things.
One, Lopez is playing above the free throw line. It isn't a drastic shift from Game 1 -- just a step or so higher -- but it's an important one. It takes away a bit of real estate for Young to dribble into.
Behind that is Khris Middleton, defending Huerter on the wing. He's cognizant of Huerter's shooting ability, but he's more attentive to the Young drive. There's an effort made to pinch in on the drive; it isn't a full-blown stunt, but he does take away a little bit of space. Every inch matters against Young.
This is where Lopez and Middleton were on the opening possession of Game 1: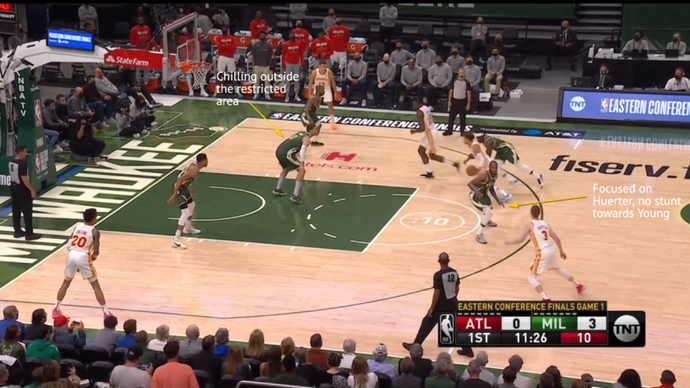 Now look at where they are on Young's first pick-and-roll possession from Game 2: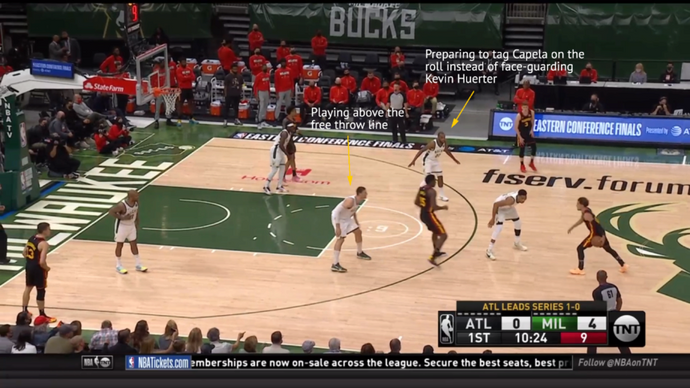 As Young comes off the screen, he's met by Lopez at the free throw line. There's no easy floater available to him. Capela eventually passes Middleton at the right elbow as he rolls, but Holiday has also dropped down to provide help. With Lopez in Young's face and Holiday in the area, there's no easy lob opportunity either.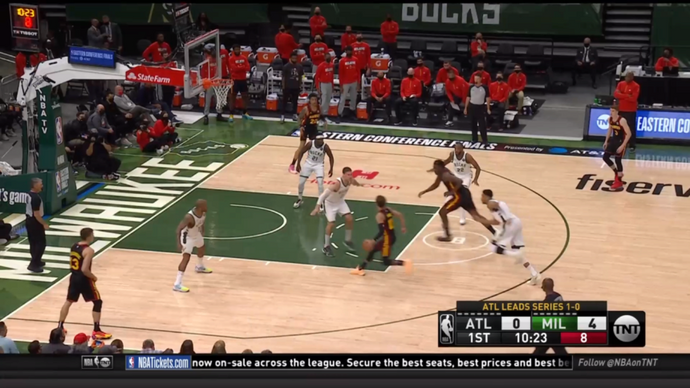 Young makes the corner skip to Collins (right in his shooting pocket), but Holiday is able to get back out to him and block the jumper. The possession eventually ends in a turnover.
This is what the Bucks did throughout the night against Young. They took away some of his automatics by restricting his space. That was achieved by timely switching, particularly against 1-4 pick-and-rolls.
More importantly to their sensibilities, they played a better brand of drop coverage. After Young-led ball screens generated 1.32 points per possession against drop in Game 1, that number dropped to 0.47 (!) in Game 2.
Lopez dropped, but did so from a higher position. Timely stunts had the double benefit of taking away space, and disrupting the rhythm of the ball handler - Young or otherwise. The Bucks' best defensive rep came on the opening possession of the third quarter.
You get a little bit of everything on that possession.
Full-court pressure from Holiday. A timely stunt from Holiday on a side pick-and-roll while Lopez performs a deeper drop. A stunt from Middleton as Young receives the ball back.
A higher drop from Lopez on the Young-Capela pick-and-roll, combined with early help from Middleton. A late switch from Lopez, with PJ Tucker providing a subtle stunt while Young retreats to the corner for the iso. By the time the shot goes up, the shot clock has already expired.
It's art, friends. It's art.
The fun part -- or the frustrating part, depending on your interests -- about the adjustments the Bucks made in Game 2 is that they were incredibly simple ones to make.
They probably aren't the difference between a three-point loss and a 34-point win -- after all, the Hawks shot 9-of-36 (25%) from 3 in Game 2, including a 3-of-18 (16.7%) clip on wide-open shots. But the blueprint for making Young work harder is out there. That could be enough to swing the series back in the Bucks' favor.