I'm not sure who could've predicted this Eastern Conference Finals.
On one side, the Milwaukee Bucks are seeing the fruits of their switch-it-up labor. They've tinkered all year long in preparation of this postseason. They mollywhopped the Miami Heat in round one. They then snatched defeat from the jaws of victory, before snatching victory anyway in a seven-game slugfest against the Brooklyn Nets.
On the other side are the Atlanta Hawks, a team that didn't look playoff bound midway through the season due to injuries, roster instability, and coaching turmoil. The firing of Lloyd Pierce, and the subsequent hiring of Nate McMillan, jumpstarted their turnaround. They proved to be too prolific for the New York Knicks in round one, and too resilient for the Philadelphia 76ers in round two.
And so, here we are. Two teams with unique (and oft-hated) offensive engines. Two teams that have had a microscope on their head coaching jobs for different reasons. Two teams that haven't won a title in decades, both presented with the opportunity to make the Finals.
I'm not a coach -- I'm just a pun-loving basketball fan with a hankering for film breakdowns. But instead of a traditional series preview, I decided to go into the basketball trenches and devise gameplans for both teams. The tone of this piece will be a little more informal, but it will still be informative (at least I hope).
Without further ado, let's look at how the Milwaukee Bucks will try to stop the Atlanta Hawks.
Defensive Matchups
Jrue Holiday --> Trae Young
Pat Connaughton --> Kevin Huerter
Khris Middleton --> Bogdan Bogdanovic
Giannis Antetokounmpo --> John Collins
Brook Lopez --> Clint Capela
The core four + PJ Tucker lineup has performed well this postseason (plus-10.3 net rating in 133 minutes), though it may make sense to downsize with Connaughton in this matchup.
That unit has also worked well (plus-8.3 in 38 minutes), and having Connaughton on the floor may make it a little more difficult to hide Young on the other end. Connaughton has some value as a ghost screener, while Tucker is primarily used to space in the corner or lurk around the dunker spot for offensive rebounds.
Top Priority on Defense: Disrupt Early offense
The Hawks aren't a team that wants to play particularly fast. They rank in the bottom third of the league in seconds per possession off of missed shots and turnovers, per Inpredictable tracking data.
Being okay with grinding down possessions doesn't mean they can't attack early. They'll mix in a variety of looks to keep you off-balance.
A favorite, and one that Bucks fans in particular should recognize: a quick-hitter in which a player receives an off-ball screen in the middle of the floor, then immediately flows into a pick-and-roll. Call it Middleton Action if you want. There's also a built-in hand-back option if the middle screen doesn't gain enough traction.
"Pistol" action is also a favorite of theirs. Combining a guard screen (and flare) with an empty corner set-up can be incredibly difficult to defend.
Ultimately, the Hawks remain the NBA's preeminent Double Drag team. Young trotting up the court with a pair of screeners waiting for him is a scary sight.
One screener, likely Capela, will dive the basket. The other screener -- mostly Collins, but sometimes the guards get involved -- will pop above the break or flare out to the wing. Young can hit the roller, hit the pop, get downhill for floaters, or make corner skips. It's a nightmare, really.
No team ran more "double-pick" plays than the Hawks this season, per Second Spectrum tracking data. They generated a healthy 1.1 points per possession on those looks; that number ballooned to [checks notes] over 1.9 points per possession on 26 direct hookups against the Bucks this season. That is a small sample, but it gives you an idea of how deadly the Hawks can be.
Being able to contain those kind of actions will force the Hawks to play deeper into the clock. No matter the comfort level, that's still a tough diet to live on.
Hawks' Team Stats (and Atlanta's stats vs. Milwaukee)
Offensive Rating: 114.3, 9th (113.2)
Half-Court Offensive Rating: 99.2, 9th (108.8)
True Shooting Percentage: 58.1, 10th (58.7)
Assist Percentage: 59.1, 18th (60.3)
Turnover Rate: 13.3, 10th (10.5)
Pace: 98.68, 22nd (98.67)
Free-Throw Attempts: 24.2, 4th (21.3)
Free-Throw Percentage: 81.2, 5th (81.3)
Three-Point Attempts: 33.4, 19th (36.0)
Three-Point Percentage: 37.3, 12th (38.0)
Offensive Rebounds: 10.6, 7th (6.0)
Hawks' Play Type Breakdown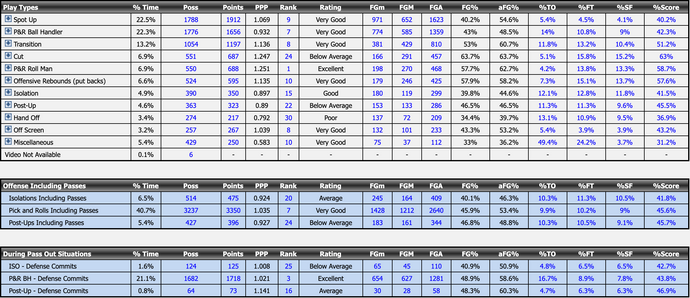 Defending Trae Young
How much is there to say about Young at this point?
His blend of scoring and playmaking chops are rivaled by a handful of players in the NBA. He's faced two strong defenses in the postseason, and neither was able to consistently slow him down. It's hard to scoff at 29 and 10, even with the efficiency taking a hit from the regular season (55.3 TS%).
Young struggled in his lone showing against the Bucks this season -- 15 and 9 with six turnovers, while shooting 3-of-17 from the field -- though that was an outlier performance based on the shots he took (and missed). He is absolutely good enough to shape this series in his image if he isn't pressured.
Major Key: Restrict his Airspace
There isn't a good answer for a guy like Young, particularly in ball screens. He's a fearless pull-up threat with range extending to darn-near half-court. The danger levels rise when he gets downhill.
He's the most prolific floater taker (and maker) in the NBA; per Synergy, Young led the NBA in points off floaters (332), edging out second-place Richaun Holmes (226) by 106 points.
Put another way: Young took 345 floaters, while Holmes and third-in-points Luka Doncic took 347 combined.
It's the ultimate Small Guy Weapon, made even more dangerous by the fact that Young's floater looks identical to his lob pass. Backpedaling defenders don't know whether to step to give a moderate contest, or hang back to take away lob passes.
Defending Young in ball-screens will have to be a 2-on-2 endeavor if possible. This may not be a deep-drop series. Young shot 3-of-17 in the regular-season meeting, but he missed a ton of makeable shots that, frankly, he didn't have to work super hard to get.
The gameplan will need to resemble what was seen in the semis against Kevin Durant. Lopez may not have to be above the three-point line like he was against those Durant-Bruce Brown pick-and-rolls near half court. As hot as Young can run as a pull-up shooter, he is not Durant in that regard.
However, the answer probably isn't hanging back a step or two below the free throw line either. Finding that middle ground would allow time for Young's defender (mostly Holiday) to recover.
We talk about "rearview contests" when it comes to point-of-attack defenders in drop coverage. It's important for guys to be able to recover and contest shots from behind, making the ball-handler squirm a bit.
Young has removed that from the table with his ability to stop-and-pop. Quibble about those foul calls if you want, but it's a smart (and legal) way to make him even more difficult to defend. If he gets you on his hip, you're pretty much done for.
Again, infuriating. But again, smart and legal.
Instead of straight-line recovery paths, taking a different angle to end up on Young's side (instead of his hip) may be the best way to bother him. Peep this rep from Middleton.
If the deeper drop remains a default, that will not only put strain on Young's defender. It'll also require some extra help off the ball. You can afford to have Lopez deeper in the paint, the last line of defense, if there's someone who can throw off Young's cadence in the intermediate area. Timely digs from the perimeter will be key in this instance.
Jeff Teague (I would hope there won't be any Teague in this series) gets lost in the sauce early, while Bobby Portis is dropping from the dotted line area. Tucker is able to bridge the gap by showing some help right as Young begins his gather. That can work on occasion; you just have to be weary of Young making kick-outs.
Something to consider: one way to cut off Young's rhythm could be to switch. That will depend on the personnel on the floor, as well as who Young's partner is in ball-screen actions.
(Quietly, this is the case to keeping Tucker in the starting lineup. Switching Young-Bogdanovic or Young-Huerter pick-and-rolls, whichever assignment Tucker draws, could put a dent into Young's mismatch hunting.)
In terms of the partnerships, switching the Young-Collins pick-and-roll should be worth considering. The two generated just 0.94 points per possession when facing a switch, well below their overall efficiency (1.06 PPP) per Second Spectrum.
Forcing Young to shoot over the outstretched limbs of Giannis may be a worthwhile gamble. Collins has been a menace on the block against guards (1.23 PPP), though Holiday is not your ordinary guard (0.88 PPP allowed on post-ups).
Defending the Shooters (Perimeter)
Lou Williams: Soft close-out
It seems counterintuitive based on his production. Williams shot north of 44% from three as a Hawk this season, though did so on low volume. The argument is that Williams, even at this stage, is more dangerous getting downhill (and grifting for fouls) than he is as a three-point marksman. Show him you're coming without getting too close to him; that could eliminate some of his pump-and-drive or pump-and-lean-in game.
Kevin Huerter: Hard close-out to his right hand
Huerter is a lights-out shooter, a career 38% marksman with volume and shot versatility. He can drain spot-up shots, convert on pump-and-sidestep looks, and is a willing relocator when the action is flowing elsewhere. Running Huerter off the line makes sense; doing so and forcing him to use his left is the optimal outcome. He already isn't a rim threat, and has oddly shot much worse on pull-ups when driving left.

Bogdan Bogdanovic: Hard, but controlled close-out
Bogdanovic is an elite shooter with a high release point. He cares not for your contests; per Synergy, Bogdanovic ranked in the 91st percentile on "guarded" catch-and-shoot looks. That doesn't mean you don't try, but you also don't want to get sloppy. He absolutely has the playmaking chops to beat a rotating defense, and complements that with a more complete scoring arsenal than Huerter. Don't let him get busy.
Tony Snell: Hard close-out
Snell hasn't shot well this postseason, but he has long earned the pedigree of a high-level spot-up shooter. He also... doesn't do much else with the ball. Force him off the line and make him make decisions.
Defending the Shooters (Frontcourt)
Danilo Gallinari: Hard close-out
Gallinari can stroke it from deep (career 38.2% shooter on 5.2 attempts), and resides in the cares-not-for-your-contest division. Injuries and age have sapped a lot of his burst off the bounce; running him off the line and forcing him to beat you with drives, pull-ups, and tough turnarounds might be a reasonable bet.
Solomon Hill: Let him fire
Hill has shot above league average from three once in his career, and even that mark (36.8% in 2019-20) came on relatively low volume (2.9 attempts). He's okay from the corners (career 36.6%), but it's underwhelming considering a majority of those looks have been wide open. Muck up the action elsewhere.
John Collins: Soft close-out
At a certain point, the scouting report on Collins has to change a bit. We're now two years into Collins becoming a stretch option; he's drilled 40% of his threes over the past two seasons on moderate volume. He's shooting 39% in the postseason. His release is a bit slow so there's no need to blitz him, but he's at least graduated from "tip-your-cap-if-he-beats-us" status.
X-Factor: Bogdan Bogdanovic
Bogdanovic has been huge for this Hawks team all season, thriving as a secondary option and completely taking over games when he's rolling. To that point: Bogdanovic dropped 28-6-7 against the Bucks on April 15, then dropped 32 on them on April 25. His shot-making is a perfect complement to, and occasionally a cover for, Young.
The issue is less about Bogdanovic's playoff mettle, and more about his health. He suffered a knee injury early in Game 6. It didn't keep him out of Game 7, but he was clearly hampered (four points on 2-of-8 shooting in 21 minutes).
This isn't a profound point, but the Hawks will need him to be at or near full strength to have a hope in this series. And to that point, pressuring Bogdanovic will go a long way to stifling Atlanta's half-court attack.
Check out Nekias' breakdown of how the Hawks should defend the Bucks.