There are a lot of discussions surrounding the top players in the NBA, and rightfully so. When LeBron James dominates the floor the way he does, and Nikola Jokic puts his passing wizardry on display and James Harden produces triple-double after triple-double, it's going to make headlines.
However, there are a number of talents who go unnoticed either due to the size of their team's markets, or because of the win-loss record their team possesses. BasketballNews.com surveyed its staff and asked its writers about players who fit that bill, with the question: Who is the most underrated player in the NBA?
Alex Kennedy: For me, the answer is Domantas Sabonis. He's now a two-time All-Star, but he still doesn't get the attention he deserves. He's averaging 19.9 points, 11.4 rebounds, 6.0 assists, 2.5 threes and 1.1 steals while shooting 52.1% from the field. But how often do you hear about him? Every offseason, he puts in a ton of work with his trainer, David Nurse. On my podcast, Nurse praised Sabonis' work ethic: "His work ethic is like no other. It's on another level." Recently, he also started working with a sleep coach and a nutritionist, and taking care of his body has helped him elevate his game to the next level. Sabonis is still only 24 years old, so his best basketball is likely still ahead of him. If he was producing like this in a larger market, he'd be getting way more recognition.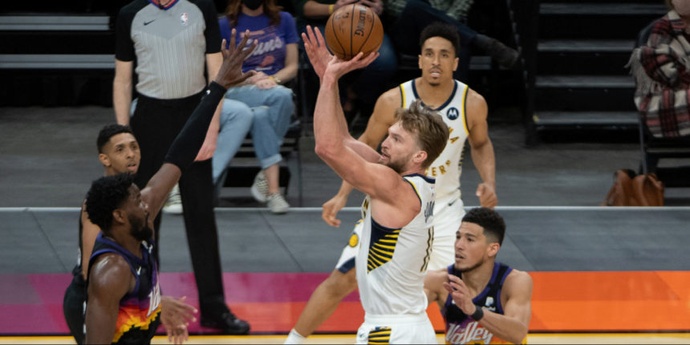 Spencer Davies: This is very tough, as there are plenty of players who don't get the love they should. Off the top of my head, Terry Rozier comes to mind. He's averaging over 20 points per game and hitting over 40% of his eight triple tries per game. Another player that I think of with this particular question is always Khris Middleton, just from the standpoint of consistency and effort every night, even if he doesn't have it going. And since I went with two from the Eastern Conference, let's go with Brandon Ingram and De'Aaron Fox in the West. Ingram has No. 1 option capabilities; he just needs to assert them on the nightly basis. As for Fox, he just oozes excitement and has a burst of energy different than most guards in this league.
Chris Sheridan: My snap answer is Enes Kanter, who has produced 29 double-doubles for Portland, many while filling in for Jusuf Nurkic. But folks do not pay a lot of attention to the Charlotte Hornets, especially since LaMelo Ball went down, and Terry Rozier has quietly averaged more than 20 points per game for a team hanging onto the No. 4 spot in the Eastern Conference, despite the recent injury loss of Gordon Hayward. Rozier has failed to reach 20 points just four times in 48 games, and his three-point shooting has been off this month, but he is an under-the-radar very solid player for a team that gets almost zero national attention. Forced to choose between the two, I would go with Kanter over Rozier.
Moke Hamilton: There are a ton of players in the NBA who are underrated because they don't get the national recognition that people who watch them all the time feel they warrant, so this is an impossible question to answer. Considering the fact that he was left off of ESPN's 25-under-25 list and the fact that he wasn't named to the All-Rookie First or Second Team last season, I'll go ahead and take RJ Barrett. He's a major reason why the Knicks have a shot at the playoffs, and why they just came out on top when Ja Morant made his annual visit to Madison Square Garden, so I'll show him love. As I recently wrote, it's time we start talking about Barrett's improvement.
Jannelle Moore: Jrue Holiday is my pick for the most underrated player. He's known as a great defender, but the confidence he has offensively doesn't get noticed enough.
Ethan Fuller: Shai Gilgeous-Alexander is easily the most underrated player in the NBA. A 6-foot-6, 22-year-old point guard who is averaging 23.7 points per game on 50.8/41.8/80.8 shooting splits? Come on. OKC's team of prospects are 16-19 with SGA this season and 4-14 without him. He should be considered the best under-25 point guard outside of Ben Simmons.
Who is your most underrated player in the NBA? Tweet us your answer @basketbllnews!