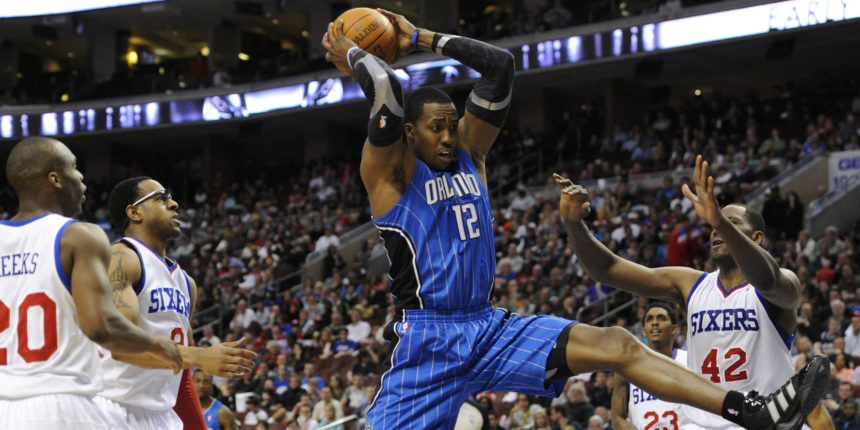 Put some respect on Dwight Howard's name
This year marks the 75th anniversary of the NBA as a league. As such, the NBA has, over the course of the week, revealed a list of its 75 — really 76 due to a tie in voting (???) — greatest players of all time.
These legends represent every era of the league. You'll see names your parents might not have been alive for. Paul Arizin, for example, averaged 23-9-2 and made the All-Star team in each of his 10 seasons spanning from 1951 to 1962. He missed two full seasons — 1952-53 and 1953-54 — due to his service in the US Military.
The next decade or so gave us more familiar legends: Bill Russell, Wilt Chamberlain, Jerry West and Elgin Baylor, to name just a few.
On and on, more names pop up. Walt "Clyde" Frazier and Kareem Abdul-Jabbar, the artist formerly known as Lew Alcindor in the 1970s — though Kareem spanned a couple of decades. Magic Johnson and Larry Bird in the 1980s. Michael Jordan in the 1990s. Kobe Bryant, Tim Duncan, Shaquille O'Neal and others represent the 2000s.
There are current players, too. LeBron James, Kevin Durant and Steph Curry represent the older new school, if you will. Newcomers, headlined by Giannis Antetokounmpo, have earned their legendary stripes.
76 names, all representing different parts of the league's rich history. 76 names with varying levels of impact, ranging from consistent All-Stars to the pantheon guys like MJ, Kareem, LeBron and others.
Somehow, 76 names made a list of 75, and Dwight freakin' Howard still wasn't one of them.
I do not want to outright disrespect anyone that made the list. I certainly don't want to undersell how difficult it must've been for a voting panel to wittle down thousands of NBA players — nearly 200 Hall-of-Famers — to a list of 75. Well, 76. Whatever.
But how in the name of God do you come up with 76 names — 11 of which are still in the league — and not have Howard?
It can't be a numbers case. Howard has career averages of 16.2 points, 12.1 rebounds, and 1.9 blocks over his 18-year career. He holds these averages despite not being a full-time starter in four years. If you look at his starter stretch (14 seasons), those numbers rise to 17.4 points, 12.7 rebounds and 2.0 blocks.
You don't even have to make an argument for Howard to replace someone from the 1950s. His numbers are better than Robert Parish's (16 & 10 from 1977-1994), and that's a lot more modern.
To be clear, Parish should absolutely be on the list as well; his blend of productivity and longevity — and his role scalability depending on what the Boston Celtics needed from him, across multiple title teams — is why he's a worthy Hall-of-Famer. I'm just saying the production is there for both.
It certainly can't be an accolades case. Howard's resume reads:
8x All-Star
8x All-NBA (5x 1st, 1x 2nd, 2x 3rd)
5x All-Defense (4x 1st, 1x 2nd)
3x Defensive Player of the Year
1x Olympic Gold Medal (2008)
1x NBA Champion (2020)
You're telling me that doesn't get him in the top 75? Heck, for comparison, here's the resume of Anthony Davis — one of the 11 current players to make the list:
8x All-Star
4x All-NBA (4x 1st)
4x All-Defense (2x 1st, 2x 2nd)
1x Olympic Gold Medal (2012)
1x NBA Champion (2020)
I love The Brow. He's definitely one of the 75 most talented players to lace them up. If we're projecting forward, he's going to easily have one of the heftiest resumes among big men in NBA history. That said, he has not accomplished more than Howard has at this stage, and it's wild to me that AD got the nod over him.
The individual numbers are one thing. The individual accomplishments are another thing. Are we also forgetting that Howard led a team to the NBA Finals during his peak? Compare that to Brow, who won a singular playoff round as the best player on a team (New Orleans Pelicans before being traded to the Lakers.)
That's not to say he was a failure in New Orleans or anything of the sort. He was freaking phenomenal in the postseason once he finally made it there. But, like... Howard averaged 20 points and 15 rebounds to go with nearly three blocks per contest during a Finals run — including a 26/13 stretch against the LeBron-led Cavaliers before that to advance to the 2008-09 Finals.
Aside from Howard, there are 33 players to make at least eight All-NBA teams. Every single one of them made the list. This is when I point out that there are a few players that may be near and dear to your heart — hi Patrick Ewing (7), Steve Nash (7), Paul Pierce (4) and Reggie Miller (3) — that made the list with fewer.
Among those four examples — because there are more, buddy — Ewing is the only one that affected both ends of the floor like peak Howard did.
Howard was, for nearly a decade, the league's most dangerous lob threat and interior defender at the same time. For all the cracks about his limited post game, he had a four-year stretch (2008-2011) where he ranked in the 63rd, 64th, 64th and 71st percentile as a post scorer via Synergy.
I just... come on, y'all. If Howard is annoying or childish to you, who am I to disagree with that? If his exit from Orlando (or Washington, or Atlanta, or Charlotte) rubbed you the wrong way, I absolutely get that.
He can be annoying while also being one of the 60 or so greatest players to lace them up. The numbers back that up. The accolades back that up. His peak years — 19.8 points, 13.5 rebounds, 1.1 steals, 2.4 blocks from 2008-2014 — put him up there.
We have to stop disrespecting Dwight, the basketball player, at some point.