Pat Riley spoke on Monday.
It rarely happens now, these Riley pressers. You get one after the season, you might get one before the season and you might get one after the trade deadline if something happens. But for the most part, other than seeing him sitting alongside Alonzo Mourning watching Miami Heat games, this is it for most of us. Often seen, seldom heard.
So, when he speaks, it sparks a gathering, especially after a season like this one. The Heat were one shot away from beating the Boston Celtics and facing the Golden State Warriors in the NBA Finals. One ballsy, controversial, "f*** you" shot from Jimmy Butler in the face of a backpedaling Al Horford would've completed one of the greatest comebacks — and most epic collapses — in NBA playoff history. (The Celtics led 98-85 with 3:30 left, and just 98-96 when Butler pulled a three with about 10 seconds left.)
I already previewed Miami's offseason — chiefly centered around the pending decision on Tyler Herro's future — which Riley also spoke about on Monday. For this article in particular, our focus will be on Bam Adebayo, who drew the ire of many casual and diehard Heat and NBA observers underwhelmed by his postseason offensive consistency.
You either think he isn't as good as advertised or are frustrated because of your expectations for him. Or... or... or... you watch the Heat with an understanding that, while he could be better offensively, maybe he isn't wholly to blame for these apparent shortcomings — if we're calling it that.
Riley recognizes the latter.
"(Adebayo's) been asked to do a lot of things as a young player, and he has grown into being very efficient at doing those things," Riley said. "It's almost that learning curve of being a facilitating big, either at the elbow, on handoffs, on pick-and-rolls. He's always getting somebody open. Duncan [Robinson] should pay him half his check, Tyler [Herro] should pay him half his check, Max [Strus] should pay him half his check."
Pat Riley on Bam Adebayo: He's always getting someone open. Duncan, Tyler and Max should give him half their check. This could be a year on how can Bam be developed in a way to improve his consistent shot ability every night. Getting 15 shots every night. pic.twitter.com/AKzCpqQgc8

— Brendan Tobin (@Brendan_Tobin) June 6, 2022
The Adebayo conundrum is layered. It requires context that may bore you, especially if you just care about the superficial, click-baity sh**. The theories might not move you, substantive as they appear, so let's say what's real.
Though Adebayo will be 25 in July, the five-year pro has only been a full-time starter for three seasons.
In his first two years, he primarily came off the bench until taking the starting role from Hassan Whiteside toward the end of the 2018-19 season. He started 22 of the last 23 games of his sophomore campaign, and the 22 were consecutively from Feb. 27 through April 9.
In the summer of 2019, he was famously cut from Team USA's underwhelming World Cup team that finished seventh. Still, Adebayo nearly went on to win Most Improved Player in 2020, and he probably should've over Brandon Ingram, who was the No. 2 overall pick just four years prior. (But anyway...)
In his three seasons as a starter, he's been an All-Star caliber player, has been named to the All-Defensive Second Team every year and has finished in the top five for Defensive Player of the Year all three times — a feat matched only by Rudy Gobert in that span. Offensively, he's grown from a rim-runner and lob threat with a "Clint Capela" ceiling out of the 2017 NBA Draft to a versatile hub who activates the team's shooters. Those shooters led the Heat to their season-best 37.9% shooting from three during the regular season. That's a product of multiple years of point-center work, not just this season.
But the team's "shortcomings" — an unfair term to an awesome squad that was among the last three standing, but still — have publicly been placed on Adebayo's broad shoulders, to some extent.
Now, more context.
We'll ignore that Adebayo had COVID to close the regular season (thus, unable to join the Heat on a trip to the Bahamas) because it didn't appear to have any long-lasting effects, sure. At one point, his availability for Game 1 against the Atlanta Hawks was in question, but he was ready. He didn't break 10 shot attempts until Game 4 and didn't have an Adebayo-like offensive game — the All-Star kind — until Game 5, the series' closer with an injured Butler watching.
With Joel Embiid off the floor against the Philadelphia 76ers, Adebayo recorded 47 points, 21 rebounds and 7 assists on 15-of-21 shooting and 17-of-19 on free throws across Games 1 and 2. He, again, only broke 10 field goal attempts one time in the series' final four games. It was Game 4, where he finished with 21-7-4 on 9-for-12. In the seven games against the Celtics, it was a bit more all over the place — but it encompassed this year's Adebayo-playoff experience.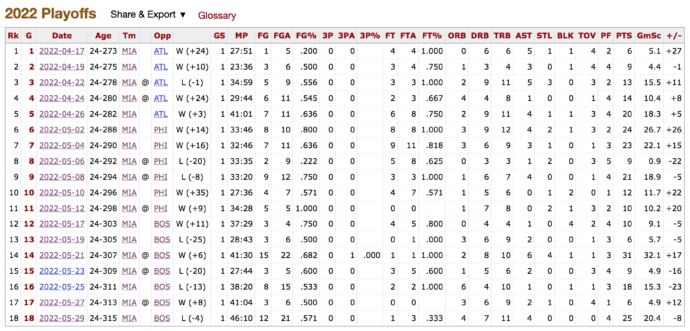 And yet, even with the offensive seesaw, without Adebayo's defense, there is no Game 7. There is no pushing the Celtics to seven. There might not even be a Celtics series. That's how good Adebayo is defensively, yet the offensive glimpses leave you pleading for more, because of the elite two-way possibilities. And it's understandable.
Not to be overly simplistic, but if the Heat, I don't know, shot better than 31.3% from three in the playoffs — seven percentage points lower than they did when leading the league in the regular season — Adebayo isn't magnified to this degree. We can look at Adebayo and say: Hey, you've gotten 30-plus against the Celtics' elite defense without Butler, with heightened focus on you, and were unstoppable. Why can't you do this all the time? However, it's complicated.
For one, when you watch the Heat, there honestly aren't a lot of plays drawn up for Adebayo to just go. It's a point made on 5 On The Floor all the time, primarily by Heat reporter Alex Toledo of 5 Reasons Sports. Adebayo's primary offensive assignment is to activate their shooters.
"You don't realize what he does to get people open," Riley said at his presser, speaking of Bam. "A lot of that has to do with how other teams are playing (Adebayo), dropping way back, and we can get that shot. Maybe we look for that a little bit too much."
But Riley later adds a wrinkle that a portion of Heat fans and even media have been calling for since Adebayo's emergence.
More... simply, more.
"This could be a year, and (Heat head coach Erik Spoelstra) and I will sit down a talk about it, about how can Bam be developed in a way to improve his consistent shot ability every night," Riley said. "Getting 15 shots every night, quality shots that he can get, he can create — whether it's in the post or at the elbow. He can be very prolific at times, but it can't always be on effort, on running, on getting offensive rebounds, on lob dunks, on little floaters."
And the frustrating thing for some is, the teases and flashes are there.
The two-way versatility, the ability to be a walking mismatch to opposing bigs, the fakes, the handle, the bounce passes to cutters, the mid-range jumper when he takes it confidently; it's why I, personally, said he's a jumper away from being a Kevin Garnett remix, and that was in 2019. It's what we saw when Adebayo was the best player in the Eastern Conference Finals less than two years ago, averaging 21.8 points, 11.0 rebounds, 5.2 assists, 1.7 steals, and 1.0 blocks on 60.8% shooting, while doing all he does on defense. (He would've won that new Larry Bird MVP trophy had it been around.)
"I do think there's a part of him that can grow. That depends on a bit on your overall offensive philosophy and how much you want to change that," Riley continued. "I think there's another level at his age now that we need more consistency in his ability to get good shots, create good shots, and scoring."
The bottom line is that Adebayo is arguably the best defender in the NBA, and most certainly in any rational observer's top five as a floor. That can't be taken for granted, even though it clearly is, largely due to the offensive questions. As hard as he works on the defensive end — switching more than anyone, legitimately guarding 1-through-5 and being the defensive cheat code that engineers Spoelstra's vision — having him additionally as a No. 1 option on an NBA champion is unrealistic.
But having him as a No. 3 alongside Butler and Herro, or someone else not yet on the roster, is a place you'd rather be. If the Heat want more of a focus on Adebayo's offense, they could manufacture it themselves. And he obviously has to hone his tools to prepare for, in theory, an increased role and usage.

Personally, I think adding a mid-range, foul-line/elbow jumper he's confident enough in to pull regularly will go a long way, and it might be all he needs. Y
You start there, and a lot else could follow, especially while continuing to be an offensive hub.