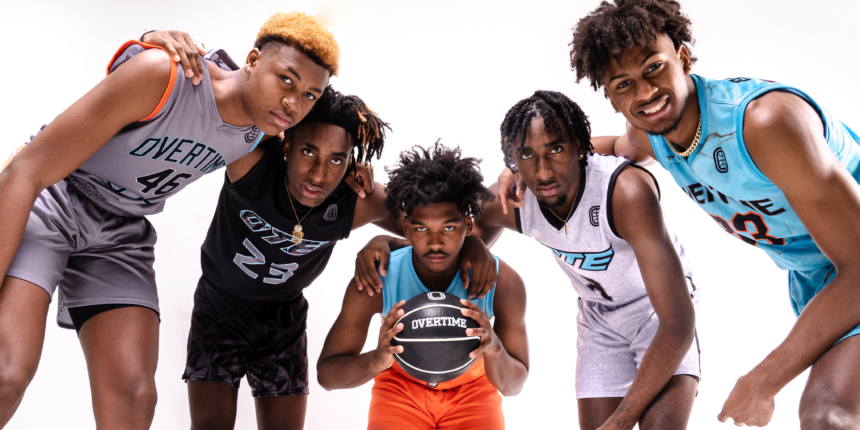 Overtime Elite announces 2021-22 schedule, three rosters
With just 16 days to go until the academy's grand opening at its brand new arena in Atlanta on Oct. 29, Overtime Elite has revealed its full schedule, as well as the three rosters it will send out in its inaugural 2021-22 campaign.
(Editor's Note: Read our Spencer Davies' exclusive interview with Aaron Ryan and Brandon Williams, and an extensive profile on Overtime Elite here.)
The three coaches and their rosters, under the direction of Kevin Ollie, are as follows:
Coach Ryan Gomes: Dominick Barlow, Malik Bowman, Lewis Duarte, Jazian Gortman, Nathan Missia-Dio, Jean Montero, Alexandre Sarr, Jai Smith, Tudor Somacescu
Coach Tim Fanning: Izan Almansa, Matt Bewley, TJ Clark, De'Vontes Cobbs, Francis "LeBron" Lopez, Tyler Smith, Amen Thompson, Johned Walker, Kok Yat
Coach Dave Leitao: Ryan Bewley, Bryce Griggs, Jazhare Jackson, Jalen Lewis, Davion Mace, Emmanuel Maldonado, Jaylen Martin, Ausar Thompson, Bryson Warren
In addition to this, OTE announced that it added three players to its talent pool over the weekend:
"We added three talented athletes to our rosters over the weekend. We've scouted and tracked these young men over the Fall, and as we worked our way through training camp for the last few weeks, and further evaluated needs, we decided that adding Davion, Johned and Lewis to our inaugural rosters would provide complimentary skills and depth to our league," said OTE head of basketball operations Brandon Williams.
"Davion Mace is a 6-foot-7 power forward from Cincinnati who played for Woodward High School. Davion brings a physical presence as a tough-nosed hybrid forward. He plays with a high motor, and tenacity as a defender and finisher around the paint.
"Johned Walker is a 5-10 guard originally from Puerto Rico that most recently lived in Miami attending Central Point Christian Academy. At the U16 Americas Championship in 2019, he averaged 12.8 points per game, 6.7 rebounds per game and 3.3 assists per game in guiding Puerto Rico to a sixth place finish.
"Lewis Duarte is a 6-5 guard from the Dominican Republic, who moved to the states before high school. He most recently played for Victory Christian Center School in Charlotte. Duarte, a versatile wing with size, length and a good shooting touch, was starting to see his recruitment pick up from some top schools across the country. His cousin, Chris Duarte, currently plays for the Indiana Pacers."
For more information on the OTE schedule and the league's structure, Williams answered the following via a press release Q&A:
How did you start thinking about the schedule and how it would be set up?
"Health and performance was at the center of our scheduling concept. We want to maximize exposure to high-level talent whether individual players or teams, create the highest level showcase opportunities for scouting purposes, and give our athletes unique exposure to challenges like back-to-back game prep and execution, while reducing the stress on their bodies over the course of a season. With that in mind, we built a schedule made up of what we call league series competition within our three teams, prep challenges against external competition, simulated professional formatted games, takeovers, and playoffs to cap off our season."
How is this different from other prep high schools and colleges?
"Our schedule is dynamic, providing multiple ways for learning and preparing for competition - including games within our league, "out of conference" games with prep schools, and one of the biggest differences is that we get to explore pro-simulation games. This allows our athletes the opportunity to prepare in a real way for concepts that are critical to the next level both mentally and physically."
How long will the season last? How many games will you play?
"During the October 29-March 25 period, our players will partake in 37 competitive events made up of Prep Challenges, OTE League Series, Pro Sim Games, Takeovers and OTE Playoffs."
What do Pro-Sim games mean?
"For these simulated professional-style games, (Pro Sim) OTE players will be divided into 2 rosters with the format and structure modeled after the NBA. These games won't count towards league standings, but will be a key part of player development as we prepare them for the next level."
How will the OTE League Series be played?
"The OTE League Series amongst our three teams will be executed at a much faster pace. Each team will play a 20 minute game against each of the others, so every team plays two 20-minute games, 40 minutes of basketball per game night."
Will the Prep Challenges format differ from a regular high school or college game?
"Prep Challenges will be played as 40-minute games where three external teams will compete against our three OTE teams over two days."
With only three teams, how will standings work?
"In our OTE League Series, winning a 20-minute game counts as two points towards the league standings and teams can win up to four points each night. For Prep Challenges, winning these games count as one point towards the league standings. We will also have "Takeovers" - think marquee individual showcases, dunk contests, 3-point shootouts, etc. Winning a takeover will count as two points towards your team's league standings. All competition crescendos with our inaugural OTE Playoffs to determine the Season 1 champion."
How did you determine the rosters?
"Our Basketball Operations team, inclusive of scouting, coaching and strategy, collaborated through the recruiting, signing, then in-camp evaluations of each player. Over the weeks of training camp the group studied the effectiveness of combinations of players, along with the rhythm and chemistry they demonstrated to create three equally competitive teams."
How did you make sure all the teams were evenly distributed?
"As we constantly drilled on key attributes and skills, measurables, performance data and other factors, we created buckets (or pods) of comparable players - as closely as reasonably possible. Throughout camp, we created drills and competitions that allowed us to draw from each of these pods, assembling teams for our evaluation. Before final team selections, our coaches had the opportunity to test combinations and analyze matchups to provide more certainty that the teams were reasonably balanced."
How will each team be coached?
"Each of our three teams will have a head coach, and Coach Ollie will oversee the development of all three as the overall head coach. Dave Leitao, who spent 37 years in college coaching, was a head coach twice at DePaul, and is the former ACC coach of the year at Virginia will lead one team. Ryan Gomes who played 8 years in the NBA, coached in the G-League and is highly-respected in basketball circles will coach one team, and Tim Fanning, who spent the past 5 years as an assistant for the Euroleague powerhouse Maccabi Tel Aviv will lead the third team."
What were the challenges in setting this up?
"There are always challenges when you're doing something that's never been done before, especially on an accelerated timeline. We simultaneously had to recruit some of the best young players in the world to a program without history, to a culture that hadn't been established, to play with teammates they couldn't see. We continued to pursue talent first, but tried to build with an idea toward roster balance from the outset. All players want to play in games of consequence, so as we assembled what we anticipated would be extraordinary talent, and we wanted the highest level programs to face off with our talented groups. Because this came together into the fall, there were many schools that were fully committed and we couldn't find a date that worked. However, with broad options throughout the country, we found the right game opportunities that will be fun, energizing, and keep our players motivated to compete both at home and on the road."
Will this always be the style for the schedule or will it evolve into something else?
"Right now, we're focusing on our first season and developing our players for the next level. The great thing about what we are doing is the freedom we have to explore and try things. We will evolve as we establish what works well and what doesn't and will continue to provide the experience that the Gen Z elite athlete requires to prepare for his future. Our plan is to keep our athletes and their well-being at core of all considerations, that will lead our decision-making and any adjustments."
In this first year, what was the main goal for the schedule?
"The main goal was to create a schedule that allowed our players to compete at a high level, inside and outside of OTE. The best players want to play against the best players, and we sought them out. We wanted the best opportunities for our athletes to showcase their abilities with and against each other showing the growth and maturity that will be happening every day in practice, skill development, and performance training. We wanted to give them a robust schedule, inclusive of travel, back-to-backs, late nights, afternoons, all factors to professional play. We wanted to do this, while also being mindful and cautious as to rest and recovery. Creating a schedule where they are not underexposed, but also not overused, so finding the appropriate middle ground was our intent."
In the league, will teams change or remain the same?
"These three teams have been solidified for the season. However, we are prepared to make adjustments during the season. Ultimately competitive balance will be best for the development of our players and league."
Will all of the players travel to each game?
"Yes. All three teams will make the away game trips."