With inequities of opportunity, a lack of stability and no monetary return for athletic value and popularity, professional development at the high-school basketball level has been in desperate need of a shake-up for quite some time.
Going off their own experiences and observations from working in NBA environments, Aaron Ryan and Brandon Williams are confident that Overtime Elite will be the league to revolutionize amateur-to-pro preparation.
OTE will set itself apart from any other program available by both compensating its players with a minimum $100,000 annual salary and offering educational programs with a focus on life skills, such as financial literacy, media training and social justice advocacy in lieu of traditional curriculum. The league's teams will consist of the top 24-to-30 juniors and seniors around the world, competing amongst each other, against other prep schools across the country that aren't a part of a state association and versus international academies. OTE announced May 19 that its campus will be in Atlanta, Georgia.
In addition to the base salary, players will have the opportunity to earn bonuses and own shares of equity in Overtime itself, as well as benefit from their own name, image and likeness, plus directly sign sponsorships with shoe companies. Players will receive full health coverage and benefits, including disability insurance that will provide financial protection in case an injury prevents them from playing professionally. OTE will also guarantee up to $100,000 of college tuition to those who participate in its program, but choose not to pursue a career in basketball.
Just recently, Overtime announced that OTE will receive a significant investment from the company's $80 million total of Series-C funding, backed by notable names like Jeff Bezos, Drake and the family of the late David Stern among others. More than 25 current and former NBA players -- consisting of Trae Young, Devin Booker, De'Aaron Fox, Pau Gasol and more -- have invested as well. Overtime will allocate that money to its OTE athletes and over 80 staff members working for the league.
OTE also revealed the hiring of former NCAA champion and 13-year NBA veteran Kevin Ollie as the program's head coach and director of player development. It also announced the hiring of former DePaul head coach Dave Leitao and five others on Thursday. As Ollie completes his staff, OTE's board of directors already features two well-respected figures of the game in Carmelo Anthony and Jay Williams, and the league also has longtime player and coach Avery Johnson in the fold.
OTE commissioner and president Aaron Ryan and executive vice president and head of basketball operations Brandon Williams did a dual interview with BasketballNews.com to open up about their groundbreaking idea of OTE, how it came to life, how their experiences helped shape the logistics behind it and how this will set the standard for player development for years to come.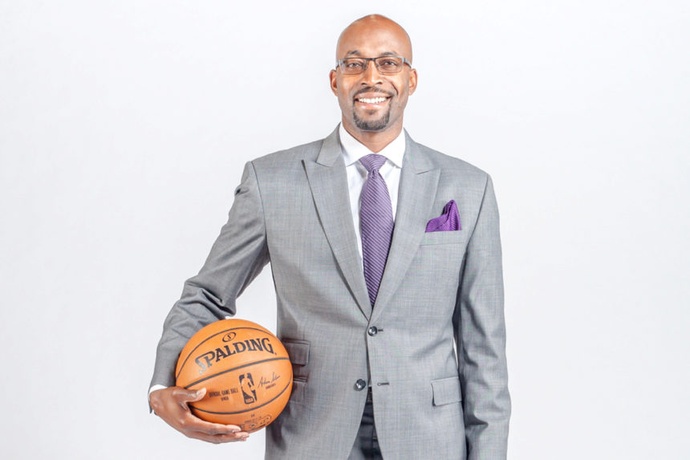 FIRSTHAND PERSPECTIVE
Brandon Williams was once a young athlete in similar shoes as these prospects. A Phillips Exeter Academy standout and high-level player, he earned a scholarship to Davidson College and carved out an impressive four-year career with the Wildcats. Though he went undrafted, and also bounced around overseas, Williams had stints in the NBA with the Toronto Raptors, Golden State Warriors, Atlanta Hawks and San Antonio Spurs, where in 1999 he was a part of a team that won the Finals.
On that Spurs staff under head coach Gregg Popovich was Brett Brown, who was on sabbatical from coaching his Australian team at the time.
"Brett was the first player development coach I ever remember," Williams said. "Coach Popovich was one of the early adopters of that idea that people could add value who weren't necessarily under contract and be open to sort of the professional development environment. So Brett spent a year with us, and for those of us who didn't play a ton -- Gerard King, Malik Rose at that time, Andrew Gaze, Antonio Daniels -- we spent this time with this highly-energetic, infectious kinda energy [of Brett], who also had a coach's mind. He was a head coach for 15 years at that point, just not in the NBA. And so, I saw for the first time, this idea of somebody behind the bench who really dug in and built relationships, but also had the level of credibility and respect for being tactical and strategic."
Once Williams' playing career came to an end, he transitioned into a new role. In Sept. 2005, he became the NBA's executive vice president of basketball operations, a role he held for eight years. Afterward in 2013, Williams accepted a position with the Philadelphia 76ers as vice president of basketball administration, assuming the role of general manager for the Delaware 87ers, the team's D-League affiliate. He would be reunited with Brown, this time as co-workers, for four seasons.
In Philadelphia, Williams saw more evidence that Brown's "youthful energy" and "development-focused" style was effective.
"I've found that to be successful," Williams said. "Now, Brett didn't last with the Sixers long enough to win a championship, but I do think that we saw it [was] successful enough to see a young group raised up and raising the level of competitiveness, and the business is about adapting to change."
Williams' next stop came with the Sacramento Kings, where he was the team's assistant general manager until March 2019. Carrying over 15 years of executive prowess with him into OTE, the 46-year-old is determined to create what's essentially an expanded (and improved) version of the NBA's Rookie Transition Program for his players.
"When I became a general manager first at the D-League level and then sort of graduated to doing contracts and recruiting players and personnel and then through the Sixers and the Kings, what I noticed was that the players weren't ready for the scope of responsibility, of competition. The first time they had heard NBA concepts, talked to NBA coaches, certainly the first time they'd talk about partnership and community and player programs -- these were all things that were happening after they had been drafted. So they just weren't prepared, and it's not an indictment as much as it is just a strong reality, and we have to check it.
"One big question for all of us that have been around NBA spaces, and that are honest: Why does the Rookie Transition Program (known as RTP), why does [a lack of preparation] happen after we've gone through a draft, through a summer league and, in many cases, fall workouts with our players? They've already fallen into traps. They've already been subjugated to the kinda fraternal order, the pecking order [of] rookies vs. veterans. They've already made some mistakes during summer league in Las Vegas. We started to think about, 'How well would our players be prepared if we had a several-year Rookie Transition Program?' And that's what got me so fired up about this opportunity."