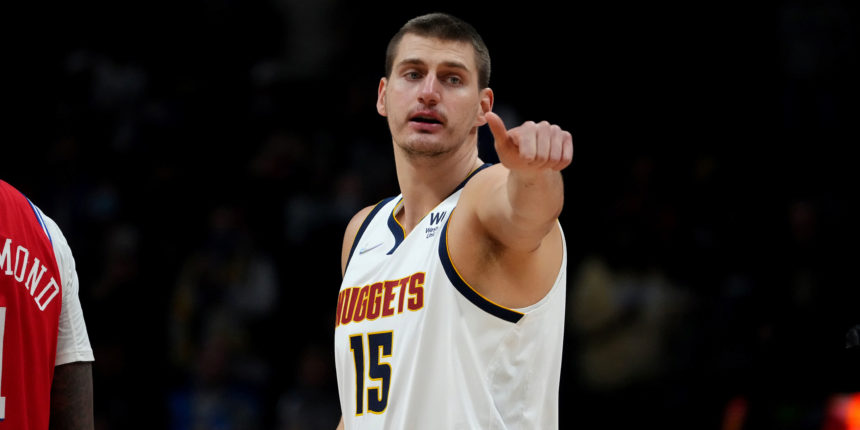 Nothing But Bets: NBA Projections for 11/19/21
"Nothing But Bets" is back to go over today's slate on a loaded Friday in the NBA. Every single day, "Nothing But Bets" gives you the inside advantage before games begin. So far this season, we are carrying a 120-94-2 record (56.0%) against the spread.
As always, our odds are provided by TwinSpires Sportsbook and over/under power-play prop bets are provided by PrizePicks.
It's hammering time!
Detroit Pistons vs. Golden State Warriors (-2)
This spread is small, but the reason why is because the Warriors are giving Stephen Curry a well-deserved night off. Against the Pistons, it might not even matter if Curry sits. In this matchup, I still love hammering the lower point spread in favor of the Curry-less Warriors. Cade Cunningham could help keep this one close for a little bit, but expect Golden State to open the floodgates late, easily cruising to cover the 2-point spread in Detroit. On PrizePicks, tail me on this fun power play: Andrew Wiggins over 19.5 points, Jordan Poole over 19.5 points, Cade Cunningham over 14.5 points, Jerami Grant over 1.5 threes.
Charlotte Hornets (-1) vs. Indiana Pacers
I love this matchup in favor of the Hornets. Charlotte's pace-and-space style is a bad clash for Indiana, who continues to be so inconsistent opening up the 2021-22 season. Who exactly are the Pacers? Always dealing with injuries and not knowing what to expect almost every game, is it time to blow up some of this core? Personally, I think so. Stay tuned to BasketballNews.com next week on this, because my thoughts go very in-depth. In the meantime, hammer Hornets -1 and the following power play on PrizePicks: Malcolm Brogdon over 19.5 points, Miles Bridges over 18.5 points, Domantas Sabonis over 11.5 rebounds, LaMelo Ball over 6.5 assists.
Boston Celtics (-3) vs. Los Angeles Lakers
As long as LeBron James remains out, it's so hard to trust the Lakers from a betting perspective. In Boston, the same idea holds here because I'm actually wagering on Celtics -3 here. Anthony Davis and Russell Westbrook should have solid outings, but I like a charged-up environment in Boston alongside a monster outing from Jayson Tatum pushing it in favor of the Celtics. On PrizePicks, we're locking in this power play to tail our prediction of Boston covering the 3-point spread: Tatum over 25.5 points, Davis over 19.5 points, Westbrook over 6.5 assists, Marcus Smart over 3.5 rebounds.
Brooklyn Nets (-10) vs. Orlando Magic
No Kevin Durant, no problem for Brooklyn at home tonight against the Magic. Although Orlando continues to surprise on some nights, they tend to struggle mightily against the NBA's elite teams. Even without Durant, Brooklyn still qualifies thanks to a James Harden-centric system being put on display. Harden helps the Nets roll over Orlando, cruising to an easy double-digit victory. Smash the Nets to cover the 10-point spread, plus the following power-play prop on PrizePicks: Harden over 24.5 points, Cole Anthony over 17.5 points, Patty Mills over 13.5 points, Mo Bamba over 7.5 rebounds.
New Orleans Pelicans vs. Los Angeles Clippers (-4)
New Orleans is well within the NBA's abyss right now. How exactly will they escape? It's almost impossible to see how they can, even when Zion Williamson eventually returns from the foot injury he suffered during the offseason. The Pelicans are well on their way to a top lottery pick, and the seat is now getting warm for GM David Griffin in the Bayou. Griffin's work in New Orleans has been very up-and-down, bordering on potentially squandering a rebuild attempt around a generational talent. You have to wonder if Williamson starts to seriously consider leaving the Pelicans relatively soon as well. For this matchup, though, let's hammer the Clippers to cover the 4-point spread. Betting against the Pelicans right now is an easy money-making exercise, so let's keep riding that train. On PrizePicks, lock in this power play: Paul George over 25.5 points, Brandon Ingram over 20.5 points, Reggie Jackson over 17.5 points, Jonas Valanciunas over 11.5 rebounds.
Milwaukee Bucks (-13) vs. Oklahoma City Thunder
What a massive spread for this matchup, but that's not scaring me off here. I'm taking the Bucks to easily cover the 13-point spread, because the trend of Oklahoma City not being able to hang with top-tier teams still holds true. Milwaukee is finally getting back to full health, so expect their starting lineup to feast against the inexperienced Thunder. Hammer the Bucks to cover, plus project a monster performance once again from Giannis Antetokounmpo. Let's lock in this fun power play on PrizePicks as well: Giannis over 24.5 points, Khris Middleton over 16.5 points, Josh Giddey over 4.5 assists, Shai Gilgeous-Alexander over 4 rebounds.
Denver Nuggets (-1.5) vs. Chicago Bulls
This is going to be the most entertaining matchup for Friday's slate, so make sure to tune into this one in Denver. Nikola Jokic is playing even better than he was last season as MVP, which says a lot about how incredible he's been. Meanwhile, the Bulls' offseason retooling is paying huge dividends right now with all of their new additions thriving alongside Zach LaVine. And once Nikola Vucevic is back in the starting lineup, Chicago will be even better. Although I'm so tempted to bet on the underdog here, I'm siding with Jokic and the Nuggets to get the job done covering the 1.5-point spread at home. On PrizePicks, this is one of my favorite power plays to tail: Zach LaVine over 23.5 points, DeMar DeRozan over 21.5 points, Aaron Gordon over 6 rebounds, Lonzo Ball over 4.5 assists.
Phoenix Suns (-8.5) vs. Dallas Mavericks
These two teams once again lock horns after a super entertaining comeback victory for Phoenix on Wednesday. This time around, we're betting once again on the Suns to cover the spread against the Luka Doncic-less Mavericks. Dallas led for most of the game because of super-hot, unsustainable three-point shooting. I'm not projecting that will happen again, so, honestly, I expect the Suns to roll here and win by double-digits. The Suns are winners of 10-straight, and that streak should only continue as they continue to gain even more confidence. Phoenix is one of the most dangerous teams in the Association, so betting against them isn't a wise investment. Hammer the Suns at -8.5, plus the following power-play on PrizePicks: Devin Booker over 22.5 points, Mikal Bridges over 11.5 points, Deandre Ayton over 10.5 rebounds, Chris Paul over 8.5 assists.
Sacramento Kings (-3.5) vs. Toronto Raptors
The Raptors will be without OG Anunoby for an extended period of time due to a hip injury, which is a major blow because he's been showcasing why he's so important to their long-term future. However, even without Anunoby in Sacramento, I like the Raptors as underdogs to cover the 3.5-point spread. The heat is on for Kings head coach Luke Walton, and it's hard to envision how he survives the entire regular season. Give me the Raptors in this matchup on the road in Sacramento, thanks in large part to their reliable veteran combo of Pascal Siakam and Fred VanVleet. On PrizePicks, I'm locking in this intriguing power play as well: Siakam over 18.5 points, Scottie Barnes over 6.5 rebounds, VanVleet over 2.5 threes, Tyrese Haliburton over 1.5 threes.
Recapping our picks against the spread for "Nothing But Bets," here's what is being locked in for Friday's fun slate: Warriors -2, Hornets -1, Celtics -3, Nets -10, Clippers -4, Bucks -13, Nuggets -1.5, Suns -8.5, Raptors +3.5.
All users that deposit and use the promo code NEWS on PrizePicks will receive a 100% instant deposit match up to $100! Sign up here.