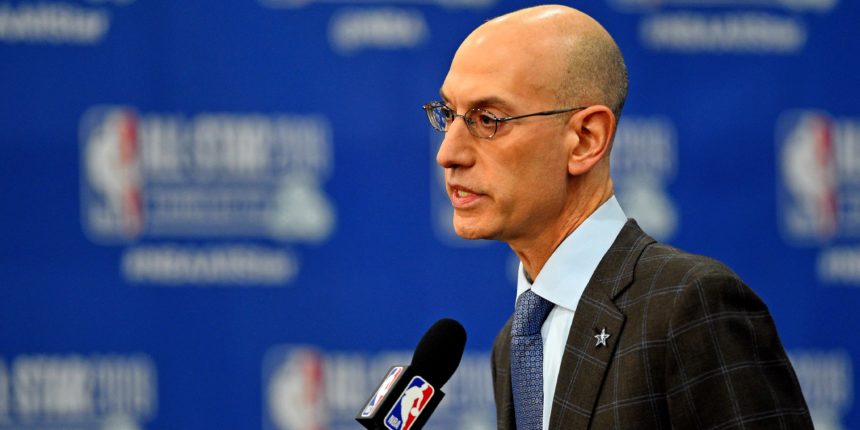 No enhancement necessary: NBA should leave well enough alone
As a lyricist, Lil' Kim was light years ahead of her time.
When the Brooklynite released her debut album "Hard Core" in 1996, it was unlike anything we'd heard before. Here was this woman rapping unapologetically about sex, her own prowess in that arena and what she demands. Every bar she dropped oozed confidence, seduction and sex-positive empowerment. Kim was the Queen Bee. Her aura, style, grace and swagger backed up her provocative lyrics and showed why she brought the "workers" to her hive.
Ironically, Kim didn't embody that same confidence and bravado off the stage. Sometimes, beauty and glamour hurt, and for Kim, her scars were subcutaneous with a superficial edge. She listened to men who were beneath her. She bought into their narratives of not being enough. Her complexion wasn't light enough. Her features weren't keen enough. For as long as she could remember, her boyfriends kept cheating on her with those "European-looking" women, "the long-hair type." Even her father verbally humiliated her. Former lovers. All of them taught Kim how to hate herself.
She bought into the notion that she couldn't compete "as is" — a "regular around-the-way, black girl" with extraordinary charm and charisma. After an ex broke her nose, Kim became addicted to plastic surgery. She was trying to find liberation and acceptance through reconstruction, only for her not to recognize her own face when she looks at her reflection in the mirror.
The NBA, just like Lil' Kim, has a narrative of inadequacy around it. There's a notion that the league as we know it isn't enough — isn't exciting enough, isn't entertaining enough and in need of a "makeover."
According to The Athletic's Shams Charania, the league is discussing the addition of an in-season tournament with $1 million per player in prize money. This is also coming off the heels of exploratory talks about a "Field Of Dreams" game. If the NBA implements these concepts and variations, the league will run the risk of not recognizing its own face and ruining what makes it great.
Usually, botox and nose jobs are considered "gateway'' procedures in plastic surgery. A subtle tweak, nothing too dramatic. The NBA had its version of such an enhancement with the inaugural play-in tournament. Initially introduced in the NBA Bubble to help sort out seeding in the restart after the shutdown, the league brought it back this past season. The play-in was intriguing since it put the last two playoff seeds up for grabs and made the games more meaningful.
Adding the play-in, even though it can be considered as a "gateway" enhancement, was fine and organic. It only enhances intrigue in terms of the playoffs, giving off vibes of wildcard matchups, which can potentially alter the trajectory of the playoffs and make the games more exciting. Adding a midseason tournament and "Field Of Dreams" game, on the other hand, is gimmicky and unnecessary — extra enhancements that the league doesn't need.
NBA Commissioner Adam Silver has discussed his proposed midseason tournament at a number of events in the last few years. He reiterated that idea two months ago during the NBA Finals in his annual state-of-the-league press conference. His logic for the tournament is recouping lost revenue that stemmed from the pandemic and having another "goal" for teams to shoot for. According to ESPN's Adrian Wojnarowski via Bleacher Report, the concept looks something like this:
"Original midseason tournament proposals centered around a European soccer model event that would tie into the NBA's traditional schedule... An eight-team single-elimination tournament that would be incentivized with $1 million per player payouts to the winning team. The NBA had discussed a scenario of pool play embedded in the regular-season schedule to determine the teams."
A midseason tournament with a $1 million prize per player? 👀

The NBA reportedly discussed this today, per Shams Charania:https://t.co/h8kQXdRshg

— BasketballNews.com (@basketbllnews) September 13, 2021
A midseason tournament does nothing for the players. The only goal that matters to them is hoisting the Larry O'Brien trophy in June and unveiling that championship banner on opening night. That is what they are playing for... not some "Stern Cup." Also, this tournament does nothing for the fans. There is already a play-in and the playoffs. A midseason cup is taking a page from soccer by having multiple titles up for grabs. The premise is exciting. The execution, however, is distracting.
If I wanted to be distracted by multiple cups and storylines highlighting the promise of reaching said cups and titles, I'd watch soccer. In the NBA, all that's needed is a regular season — regardless of the length and the playoffs following to determine a champion. Why is there a need to make matters complicated? The Larry O'Brien is enough, and it is what matters to both the players and the fans. "The David" will never compare, no matter how much money Commissioner Silver is willing to throw at creating it.
The "Field Of Dreams" game is also not needed. Again, another enhancement only for the sake of it. To make matters worse, it's a copycat enhancement. In order to inspire and renew interest in the league and the sport of baseball as a whole, MLB recently came up with a "Field Of Dreams" game. Taking a page from the classic sports film last month, the Chicago White Sox and the New York Yankees played in Dyersville, Iowa. The game drew the highest ratings for a regular-season telecast on FOX. Okay cool, but what works for MLB may not work for the NBA.
For one, the interest in the NBA is already there regardless of what the ratings say. Secondly, it worked for MLB because it leaned into nostalgia; the NBA doesn't need that. Thirdly, sometimes, it's not what you do, but how you do it. If the NBA leans into hooper culture and sets up a game at Rucker Park or any other legendary court or slab of blacktop in the country, it's easy to see how it would work. But these gimmicks don't drive the interest of the game, and they never will.
It is the players that drive the interest of the NBA. Fans are entranced by seeing their unmatched skill and athleticism night after night in all of their vivid intimacy. You can see these players do what they do. You can see their emotions. You can see their grit, their swag and their grace running up and down the court without the armor of their major sports counterparts. The narratives, as tired and burdensome as they are, serve a purpose. The players' skill, athleticism and charisma are just enough to draw you into their individual storylines — not gimmicks with the hopes of a rating spike or a money grab.
The NBA is beautiful just the way it is, with perceived flaws and all. If there are any enhancements that should be made, they'll be superficial. The league can stand a field-of-16 playoff format regardless of conference or rules that help defenses out in the interest of balance, but nothing like what's being proposed.
The league has what it needs to succeed: current and future stars, and their storylines and their style, on and off the court. Dedicated and invested fans regardless of team and individual player. The ratings are what they are, and they can climb again — but no matter what the ratings say or what people say, the NBA's still got it going on.