NBA shot charts are a bit like handprints.
Each player's shot chart has its own quirks, but for many examples, if you know the player, you can generally guess the outline of the chart when you look it up. Luka Doncic's heatmap will have a heavy dose of above-the-break threes and paint shots. Kevin Durant has two arcs around the three-point line and the elbows. P.J. Tucker is confined almost entirely to the corners, and Robert Williams III sticks to the restricted area.
Shot charts can also make you wonder. That happened for me this week when I checked in on Immanuel Quickley, who has surged in recent weeks even as the New York Knicks continue their bumpy season. Quickley is posting 14.4 points per game since the All-Star break and shooting 41.7% from long range with an eye-popping 64.2% True Shooting percentage. Here's how he's doing it (via Cleaning the Glass):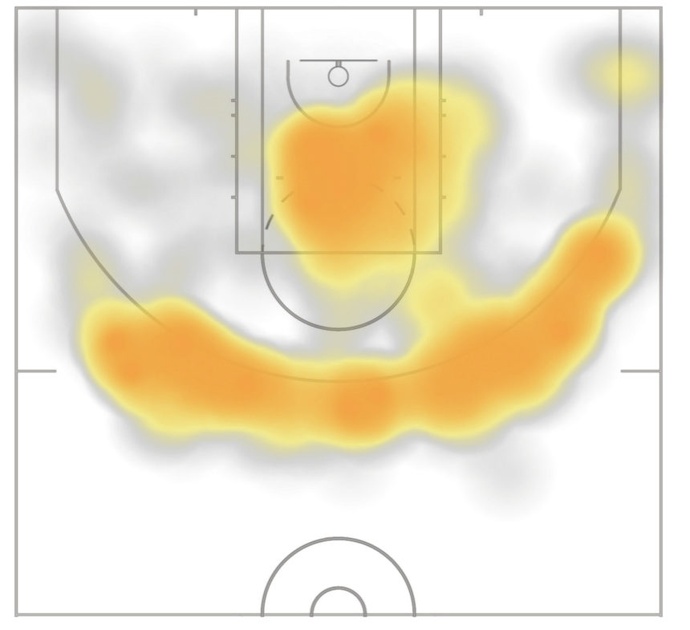 Rim pressure has been a question mark for Quickley dating back to his college days at Kentucky. He maneuvers into the paint with relative comfort — but look at the gap at the rim. The second-year guard rarely gets all the way to the hoop despite his length and apparent positioning. He has attempted just 56 shots within 4 feet of the basket this season, but has tried 137 shots in CTG's "short mid-range" zone (between 4 feet and the free-throw line).
This puts Quickley in very interesting company. He one of eight NBA players (min. 800 minutes) to attempt less than 15% of his shots at the rim, but more than 20% of his shots in the short mid-range, according to Cleaning the Glass (scroll right on mobile to view full table):
| | | | | |
| --- | --- | --- | --- | --- |
| Player | % of FGA at rim | % of FGA at short-mid | FG% at rim | FG% at short-mid |
| Chris Paul | 5% | 33% | 64% | 53% |
| Marcus Morris | 9% | 28% | 56% | 48% |
| Immanuel Quickley | 12% | 25% | 57% | 42% |
| Mike Conley | 14% | 33% | 52% | 43% |
| Kevin Durant | 14% | 35% | 75% | 52% |
| Tyus Jones | 14% | 42% | 62% | 48% |
| Khris Middleton | 15% | 25% | 65% | 44% |
| Devin Booker | 15% | 28% | 66% | 43% |
From a pure math perspective, it feels like these shot diets are inefficient. All eight see their shooting clips decrease with this slight movement away from the basket, and they post much better at-rim rates even while they're not elite finishers (except Durant). And unlike the whole mid-range vs. three-point discourse, there's no change in point value at stake.
Yet, Durant, Booker and Middleton are some of the best bucket-getters in the NBA. Paul and Conley have carved up opposing defenses for over a decade. Underwhelming rim pressure is clearly not a death sentence for scorers as long as they can maximize their chances. Quickley is starting to do that.
Since the All-Star break, the 22-year-old is hitting on 62% of his attempts at the rim and 49% of his short-mid-range shots without major changes in frequency. He's shooting 54.3% on drives to the basket, a respectable 15th out of 72 players with at least three driving shot attempts per game.
What's helping him is the almighty Immanuel Quickley Floater that he has practically trademarked.
More pistol action, here we see that RJ/IQ chemistry. When RJ is the primary initiator IQ is able to revert to his more natural role; secondary creator/spacer. Look at the attention RJ draws. IQ pumps his way past a Danny Green close-out to set up his floater. Scope the Obi cut. pic.twitter.com/V3c0ImA0h6

— The Strickland (@TheStrickland) March 3, 2022
An effective floater is simply a deadly weapon in today's pick-and-roll-heavy game. If guards beat a switch or aggressive screen coverage, they have the floater at their disposal before help can arrive. The threat of a running shot can freeze roll-man defenders and open up lobs.
Quickley is knocking down 45.8% of his 131 floaters this season, according to NBA Stats, and is up to 57.6% post-All-Star break. Compare that to Trae Young (46.0% of 335 attempts in 2021-22), perhaps the most devastating floater assassin in the league. This shot helps Quickley compensate for a lack of downhill speed and strength.
The floater also points toward another high-IQ (heyo!) trait: foul-drawing. Quickley has become elite with this, and as Nekias Duncan detailed, that's a good thing. He's been hacked on a whopping 19.9% of his shots coming out of the break per Cleaning the Glass — more than any other combo guard in the NBA. About half of those drawn fouls have come in the short-mid-range zones.
On the season, his 10.3% drawn-shooting-foul rate is in the 85th percentile at his position. It pays off; Quickley is canning 90.6% of his free throws.
Immanuel Quickley has been studying film on Trae Young, Steph Curry, and Chris Paul to help strategically get calls:

"I'm not consciously trying, but if I see someone out of position, I try to get 'em" pic.twitter.com/8NdSYpM2sO

— Knicks Videos (@sny_knicks) March 19, 2022
(Darth Sidious cackle)
Floaters and fouls don't mean Quickley is becoming the next Trae. He still has to improve his reads when he's in the paint, and attack instead of leaning on the floater as a crutch. But there's a blueprint here, and his blistering perimeter shooting only crescendos the excitement.
Much of the positivity surrounding Quickley's offensive fit was dampened earlier this season by his long-range slump. He shoulders a heavy load of pull-up attempts; over 30.7% of his total shots are pull-up threes. After some time off, Quickley has returned to a heat wave (scroll right to view full table):
| | | | | | | |
| --- | --- | --- | --- | --- | --- | --- |
| Season Segment | Pull-up 3P Freq. | Pull-up FG% | Above-the-break Freq. | Above-the-break 3P% | Catch-Shoot 3PT Freq. | Catch-Shoot 3P% |
| Pre-All-Star | 36.6% | 31.9% | 51.0% | 32.5% | 21.4% | 33.0% |
| Post-All-Star | 30.7% | 43.6% | 44.1% | 41.1% | 16.5% | 38.1% |
Quickley is clearly locked in from beyond the arc, and those slight decreases in three-point frequency correspond to an approximate 10% rise in shot frequency within 10 feet of the basket. It's still not all the way at the rim, but it is more IQ Floater territory. Quickley has a history of shooting proficiency through various levels of his basketball career. Though I won't bank on him being one of the best pull-up threats in the game, I do think this is a sign of growth versus a flash in the pan.
Before we wrap this up, I'd like to highlight a great thread from Ben Ritholtz at Knicks Film School:
🎞ðŸ€Knicks Film ThreadðŸ€ðŸŽž

Featuring analysis by @BenRitholtzNBA.

Todays Lesson: Quick in the Paint

Tracking IQs progress through the lens of his last 6 games. Roll the Tape!

1/12) The IQ from last year had one way to access the paint: PNR âž¡ï¸ get defender on back âž¡ï¸ floater. pic.twitter.com/MEOAzTDRMO

— Knicks Film School (@KnickFilmSkool) March 22, 2022
I recommend you watch all of the clips, but to summarize, Ritholtz is pointing out how Quickley is slowly improving his overall paint presence and outgrowing the reliance on the floater. It may be Quickley's go-to, but it can't be the standalone in his bag. Quickley has seriously fleshed out his handle, and can change direction at better speeds to get to his shot, catch a defender for a foul or create a lane. And I'm not even touching on the facilitation chops, which have flashed serious promise as Quickley continues to assume more on-ball responsibilities.
Quickley will regress at least slightly from his current scorching three-point rates. Would it be nice if he had a more forceful presence at the rim and a consistent mid-range jumper? Definitely. The point is his current shot diet — floaters, free throws and far-away threes — can be the foundation for a high-level scorer. As Quickley develops, those pillars should open up new ways for him to impact the Knicks' offense.
THE OUTLIERS (a.k.a. other random interesting numbers I found in the void):
How are the league's best offenses maximizing efficiency? Daniel Bratulic mapped out the top eight teams' playtype data. Transition and spot-up points seem to be popular:
In the latest episode of @AthleticNBAShow's Nerder She Wrote, folks mentioned that the top teams are playing in a very diverse way.

I tried to capture that through some radar charts displaying their preferences based on the play type. pic.twitter.com/4SsJ6vZgRr

— Daniel Bratulić (@daniel_bratulic) March 21, 2022
SIS Hoops is back at it with another great informational table. Kevin Durant and DeMar DeRozan are taking full advantage of their green lights:
Some of the most confident players in the league, here's who has the greenest lights when it comes to getting shots off despite heavy defense early in the shot-clock: pic.twitter.com/5U44nidVAJ

— SIS Hoops (@SIS_Hoops) March 23, 2022
Going back to the leaders in driving FG% since the All-Star break — how about this top three: Jordan Poole (68.0%), Kevin Durant (67.3%) and Josh Hart (63.0%).