The Brooklyn Nets' offense was mostly humming in Tuesday's 115-108 win over the Cleveland Cavaliers to kick of the NBA Play-In Tournament. Kyrie Irving dazzled with 34 points on 12 of 15 shooting. Kevin Durant had his long arms involved in almost every play, and Bruce Brown sliced his way to a near-triple-double.
Nicolas Claxton's name didn't carry the same overall buzz, but I couldn't stop thinking about his place in the victory. The 22-year-old (Happy Birthday on Sunday, by the way!) totaled 13 points, 9 rebounds and 5 blocks in just under 29 minutes. Other than his long two to beat the first-quarter buzzer, Claxton didn't really create any highlight moments, but then you look at the box score and see he drilled all six of his shot attempts.
And then, you — "you" being I — check NBA.com and see Claxton finished seventh this season with a 67.4% overall field goal percentage (min. 800 minutes played). He sports a sparking 80.0% clip within 4 feet of the basket, ranking second in the NBA, per Cleaning the Glass.
So at a very base level, Claxton has established himself among the most efficient players in basketball. Of course, it's more complicated than that. How does he benefit from Brooklyn's unique assembly of creators, and how does he set up for success?
Let's start with his Tuesday buckets.
Claxton's aforementioned buzzer-beater ranks as an extreme outlier. It's not just about the play context; Claxton attempted all of nine shots further than 8 feet from the basket in the entire regular season. Four of his five other makes in the game were dunks off assists from Brown. This one stuck out to me:
This looks pretty easy for Claxton. Brooklyn sends two defenders to Durant on the flip pass from Brown, who ghosts the screen and short-rolls to the basket. Durant finds him, Brown has tons of space and Kevin Love is forced to help, which means an open lob for Claxton is coming. This happened three separate times (with minor differences) in the game to give the center easy dunks.
I want to credit Claxton too though. He anticipates what's going to happen even as Brown is rolling. In fact, Claxton points for the lob before Brown even comes down with the basketball. It's super quick, but here's a mid-quality screen-grab of what I mean: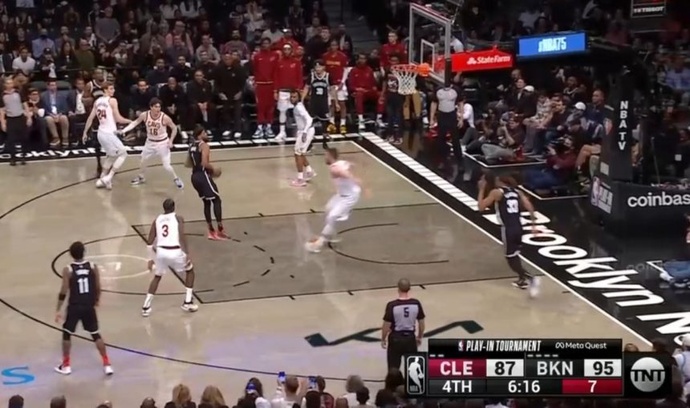 Brown hasn't even landed on the court yet, and Claxton already has his finger raised as he prepares to receive the pass. These small anticipations cut down the time between offensive decisions, and keep defenders from rotating to help or recovering back. Claxton likely had tons of room for error here; there's no weak-side defender to rotate over, and Love doesn't have the length or agility to cover so much ground. In other situations, however, this awareness benefits Claxton and the Nets' passers.
Claxton appeared in just 46 games this season as he battled injuries, but he went a pristine 88 of 94 on dunks, per NBA Stats. He shot 72.4% from the field off of Durant passes, 73.9% off passes from Patty Mills and 76.9% off passes from Brown. These are relatively small sample sizes, but they do reinforce what we saw on Tuesday.
The 6-foot-11-inch center averaged 1.39 points per possession (PPP) on cuts, ranking 12th among 43 players with at least 100 cutting possessions. Nearly 31% of his total plays involved cuts, which can range from circling up to the restricted area or catching a lob from the dunker spot, to more complex actions. Claxton placed sixth among the group with a 73.6% field goal rate on cuts.
According to the BBall Index, Claxton averages 5.7 points per 75 possessions on cuts and off-screen plays, putting him in the 97th percentile of bigs.
There's just so much good minutiae in these plays. In the first clip, Claxton hands the ball off to a full-speed Mills and turns around to cut before the Pacers even realize what's happening. In clip No. 2, Claxton flips to the other side of Evan Mobley right as Brown receives the bounce pass from Durant. It opens up a passing lane, and Mobley can't quite recover to contest the dunk.
Opposing bigs have to account for Claxton at all times.
Brooklyn faces a Boston Celtics roster in the first round that plays a very different defensive style compared to Cleveland. The Celtics typically will single-switch 1-through-4 (sometimes 1-through-5), and appear to have landed on the two-big combination of Al Horford and Daniel Theis to fill the gap left by Robert Williams' current injury. Grant Williams is also capable of battling most non-bruiser bigs.
The last time Claxton made less than 50% of his shots? March 6 against the Celtics. He finished 1 of 4 attempts. Claxton shifted around in the paint and was an active interior presence, but as shown in the first clip, Boston was ready with its help. Drawing fouls is no good; Claxton shot a dismal 58.4% from the charity stripe this season and was 1 of 6 on Tuesday.
When Brooklyn can't create driving lanes, Claxton then can't set himself up for a lob or cut. When the team can — as Seth Curry does in the final clip — Claxton knows where he needs to be to get a head of steam and throw it down.
One game-within-the-game will be: Can Claxton outsmart a Celtics defense that has locked down just about every team this calendar year? Can Brooklyn's facilitators create advantages that open up lobs and dunks? Can the Celtics stick with some of the most dynamic playmakers in today's game and keep possessions from unraveling, leading to easy Claxton chances?
One of the most dynamic lob threats in the NBA can help sway a competitive series if he finds his quality scoring chances. This doesn't even account for Claxton's budding prowess as a defensive rim-protector. He'll be involved in the figurative and literal center of the Nets' first-round brawl.
THE OUTLIERS (a.k.a. other random interesting numbers I found in the void):
Interesting graphic here from SIS Hoops, and while I'd want more specifics based on matchups, it underscores that Toronto's defense has been sweet this season:
Most defensive stats focus on outcomes where shots occur despite much of defense being about the shots that don't happen. Whether through lockdown defense or schematic concessions, teams yield shots least frequently in isolation when these players are the primary defender: pic.twitter.com/R1UfzKVjUb

— SIS Hoops (@SIS_Hoops) April 8, 2022
More SIS Hoops since they're awesome: Can we talk about the Pelicans?!
The regular season is officially behind us. Check out how teams waxed and waned over the course of the year via their rolling net ratings: pic.twitter.com/Mt1iLfMY6F

— SIS Hoops (@SIS_Hoops) April 11, 2022
Simply a banger as usual from our Nekias Duncan, but his article on De'Andre Hunter was extremely interesting to me and ties in somewhat to my thoughts on Claxton's processing. Hunter averaged just 2.04 seconds per touch in last night's Play-In victory, which is down nearly three tenths of a second from his average over the first 18 games of the season. That's more significant than you might realize, so I highly recommend you read the breakdown.