Luka Doncic carries the largest individual scoring burden in the NBA. It's barely even up for debate at this point. He leads the league in per-game scoring, ranks second in Basketball Reference's usage rate, and has already sparked concern about the effects of his workload from head coach Jason Kidd.
The most telling evidence, however, comes from Darryl Blackport and PBP Stats, which tracks "self-created" shots around the NBA — shots that took two or more seconds for an individual to generate. Of Doncic's 370 field goal attempts this season, 342 — a whopping 92.4% — have been self-created. That percentage leads the NBA by a wide margin and is on pace to be the highest in the last 10 years since NBA tracking data was implemented.
Only four other times has a player self-created over 90% of his shots in a season: Shai Gilgeous-Alexander (twice, in 2020-21 and 2021-22), Trae Young (2021-22) and James Harden (2018-19). We can draw all sorts of takeaways from Doncic's pace regarding his own greatness, his usage and the support system of the Mavericks' offense. The central point is that Doncic has to conjure a level of bucket-getting creativity unlike almost anyone we've seen in recent years.
I examined some of this self-creation data over the summer, looking at leaguewide trends and player evolutions. We're approaching the 20-game mark of the season for most NBA teams, and while that's still a small sample size, it's worth starting to unpack the landscape of the league.
Let's get back to Doncic and the burden of self-creation. Here are the top-10 leaders in self-creation frequency (min. 100 total shot attempts) so far this season, along with their effective field goal percentages on those shots:
| | | |
| --- | --- | --- |
| Player | % of FGA that are self-created | eFG% on self-created shots |
| Luka Doncic | 92.4% | 54.5% |
| Shai Gilgeous-Alexander | 87.6% | 54.1% |
| Trae Young | 86.1% | 45.1% |
| Ja Morant | 85.0% | 49.5% |
| James Harden | 83.9% | 48.3% |
| Jalen Brunson | 81.2% | 54.7% |
| Kevin Porter Jr. | 81.0% | 44.0% |
| DeMar DeRozan | 80.8% | 56.1% |
| Cade Cunningham | 78.1% | 47.1% |
| De'Aaron Fox | 77.7% | 56.4% |
Doncic and Shai Gilgeous-Alexander, considering their extraordinary creation burdens, have been quite effective. Jalen Brunson and De'Aaron Fox have also shined as individual creators this season, and we already knew DeMar DeRozan could get buckets himself.
Meanwhile, it's been tough sledding for Trae Young and Kevin Porter Jr. Young should bounce back given his track record, but Porter Jr. is regressing from his already-dismal 44.4 eFG% last season. Houston needs to find a way to make life easier for KPJ.
Fox and DeRozan rank fifth and sixth, respectively, in self-created eFG% among 85 players who have taken at least 100 such attempts. The four in front: Stephen Curry (62.7%), Donovan Mitchell (62.0%), Tyrese Haliburton (58.1%), and Tyler Herro (56.6%).
Add that stat to the index of support for one of Chef Curry's best seasons ever. He's only surpassed that mark once in tracking data history: his 2015-16 MVP season. And how about Mitchell and Haliburton thriving as lead creators despite a new role (Haliburton) and a new team (Mitchell)? Their electric starts are backed up by the numbers.
Though creative individual scorers help lead the entertainment aspect of the NBA, there's still the stigma that less ball movement means less success. Does that match up with how the season has played out to date?
Not really. The Los Clippers have self-created a league-high 54.1% of their shots this season and are 28th in Cleaning the Glass's offensive rating. Teams like the Rockets and Pistons are in a similar boat. But the Spurs only create 39.7% of their shots with individual efforts (2nd-lowest in the NBA), yet have the 26th-ranked offense. Charlotte, the worst offense in the league, is exactly in the middle at 15th-fewest in self-creation frequency. The below graph shows there isn't much of a trend: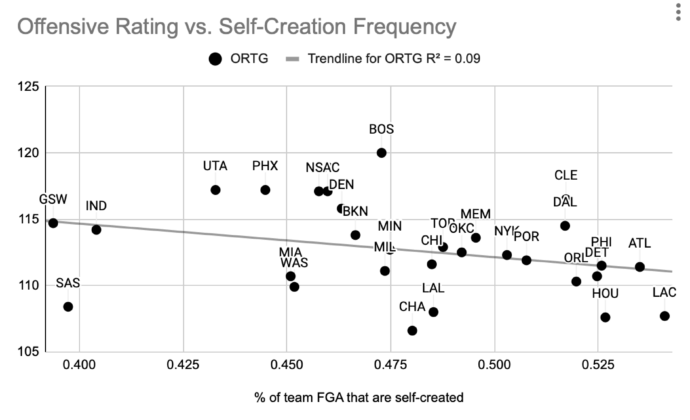 Self-creation efficiency, regardless of team volume, is a tad bit more telling, but still not super helpful. Many of the best offenses have also knocked down self-created attempts at a high clip, but there are also several notable exceptions, namely teams like the Raptors and Jazz: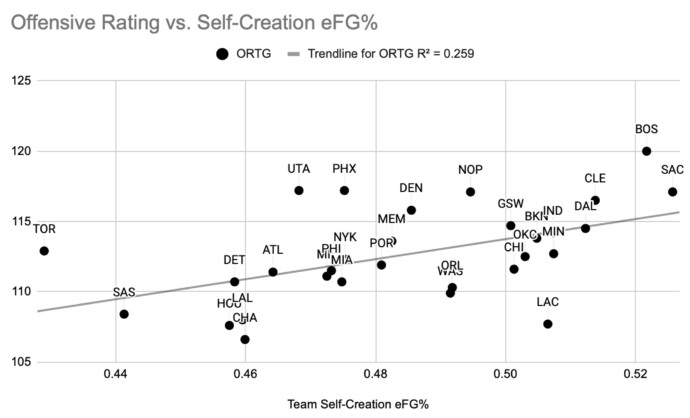 The moral of the story is: Basketball is complex! Maybe letting individual shot creators run free is good for the offense and overall team. Maybe it isn't. "Know your personnel" is not just about scouting opponents — it also can mean understanding one's own roster and the best ways to harmonize with each player.
THE OUTLIERS (a.k.a. other random interesting numbers I found in the void):
Which player is self-creating the fewest percentage of his shots? That's Boston Celtics wing Sam Hauser:
Fun stats that shows how extreme Sam Hauser is leaning into the off-ball shooter archetype:

He's taken 89 shots this season. ONE has been a self-created shot and it was near the basket.

His 1.1% self-creation frequency is hilariously low and the lowest in the NBA

— Ethan Fuller (@ethman43) November 25, 2022
More fuel to the "Steph Curry is playing his best basketball ever" from Synergy's Todd Whitehead:
Steph Curry is off to the hottest start of his career. pic.twitter.com/S9QLlSJCwM

— Todd Whitehead (@CrumpledJumper) November 18, 2022
Here's a neat visualization from SISHoops that highlights how this year's best perimeter shooters are finding their chances:
Shot versatility is an underappreciated element of shooting ability, so we're taking a look at how the #NBA top 3-point marksmen are getting their looks: pic.twitter.com/OQUAp6ZaAx

— SIS Hoops (@SIS_Hoops) November 22, 2022