As the NBA evolves, so do the arsenals of its greatest players.
Earlier this week, I laid out that the league is trending towards more self-created shots compared to where it was nearly a decade ago. That trend could be influenced by several factors — including declining offensive rebound rates, a faster pace, more drives and more threes — but it's safe to say the burden on individual shot creators is as high as it's ever been.
League-wide shifts have affected some of the game's great individual shot-makers, even as their own greatness barely wavers. The NBA has tracked shots in a detailed fashion since 2013-14. In the last nine years, we've seen some all-time greats change their creation tendencies, while others have risen in correspondence to their careers.
I picked out 10 players to highlight some interesting year-over-year changes in the way they create their own looks. These numbers come from PBP Stats (unless otherwise attributed), which labels self-created shots as any attempt that a shooter took two or more seconds to generate, and "assisted shots" as attempts that took less than two seconds to generate. So when I use those terms, keep in mind what they mean here, since not every true assisted shot falls neatly into its proper category.
Here's a breakdown of each player.
CATEGORY 1: LEBRON JAMES
LeBron James is the greatest player of this generation and is a worthy case to study because of his unparalleled longevity as a scorer. In the nine years of NBA tracking data, he's also suited up for three teams with vastly different needs and contexts.
Impressively, while James' circumstances have changed, most of his creation diet has not. About 20% of his shots have been self-created threes in each of the past five seasons. He gets to the mid-range for about 16-to-20% of his looks, and it's been the case since the second year of his Cleveland homecoming. However, he has seen a notable change in two areas in recent seasons.
James has been driving to the basket much less frequently in the last two years, and it's resulted in fewer self-created shots in the paint. Two years ago, he averaged over 14.1 drives per game in the regular season for the title-winning Los Angeles Lakers. In 2021-22, that rate was down to 8.7 drives per game.
In contrast, he's shooting an increasing frequency of assisted threes, as shown in the below chart from PBP Stats: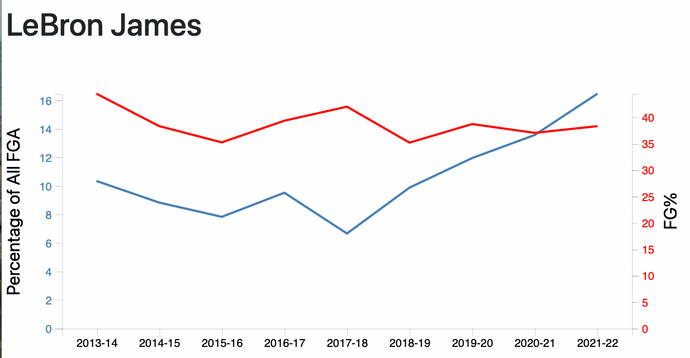 James isn't some dynamic shooter off the catch, but hitting these shots in a percent rate around the upper-30s is pretty solid. You can see he's relied more and more on assisted threes since joining the Lakers. Last season, nearly 16.5% of his shots were these assisted triples, more than double the mark from his final season in Cleveland.
Are these two trends a result of James wanting to preserve his body as he battles injuries and Father Time? Or are they occurring because the Lakers have lacked perimeter threats? It's too complicated to answer here, but those are questions worth monitoring as he embarks on Year 20 as a pro.
CATEGORY 2: MID-RANGE MAESTROS — KEVIN DURANT AND CHRIS PAUL
The NBA is all about threes and layups, right? The mid-range pull-up is dead... right?
Kevin Durant and Chris Paul would like a word. We know they continue to make a living in the middle of the court, and eye-testers and statisticians alike would support their shot selection. But it surprised me that Durant and Paul are actually pulling up here even more frequently than in the past, even as the strategy of the game changes. Take a look at this chart I whipped up, showing how frequently the two create their own two-point shots from beyond 10 feet: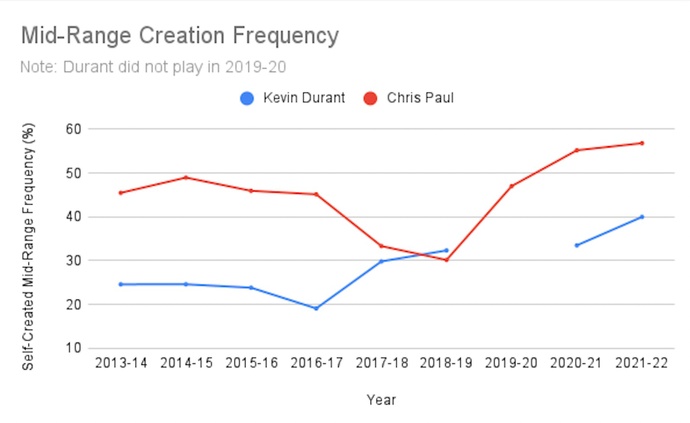 Nearly 40% of Durant's total shots last year were created by himself in the mid-range, and he canned them at a scorching 50.4% clip. Paul was even more extreme, with a whopping 56.8% of his shots being self-created, mid-range looks. He converted an unreal 54.2% of them. Those two down seasons for Paul, by the way, came in his two years with the Houston Rockets. I hardly think that's a coincidence.
The point is that if you are a comfortable mid-range creator, you absolutely have a place in today's NBA. Just look at our next two players.
CATEGORY 3: 2016 DRAFT PICKS — BRANDON INGRAM AND PASCAL SIAKAM
Here's a #take: The two best players from the confusing 2016 NBA Draft class are two more examples of how the right shot changes from player to player. Brandon Ingram and Pascal Siakam have seen their mid-range frequencies spike as they've ascended to primary playmaker roles on their respective teams. This table shows how they're leaning more on self-created longer twos:
| | | | | |
| --- | --- | --- | --- | --- |
| Year | Ingram MR Freq. | Siakam MR Freq. | Ingram MR FG% | Siakam MR FG% |
| 2016-17 | 28.44% | 4.35% | 36.67% | 62.5% |
| 2017-18 | 30.09% | 2.13% | 40.48% | 40% |
| 2018-19 | 32.19% | 4.78% | 43.16% | 35.56% |
| 2019-20 | 26.5% | 14.11% | 42.05% | 32.03% |
| 2020-21 | 37.94% | 17.19% | 47.24% | 38.18% |
| 2021-22 | 39.29% | 25.52% | 46.03% | 39.94% |
(Scroll right to view full table on mobile)
Ingram has always been comfortable creating for himself in this area. As a New Orleans Pelican, he's been surrounded with the perimeter and interior talent to open up more space as a mid-range artist. He's comfortably shooting in the mid-40s on these attempts, which is extremely promising as he moves towards his prime. Ingram isn't really a perimeter creator, but this talent plus his budding playmaking skills bode well for his future as a lead wing.
Siakam's growth is more eye-popping, though it should be noted he had a small role in those first two seasons. Over a quarter of his shots are now attempts he creates for himself in the mid-range, and this honestly might undersell him. He's a force in hitting some of the shorter paint shots that don't quite fit into this range.
Though Siakam isn't quite the knockdown scorer Ingram is, his growth is palpable. He's bullying his way to the rim more, and leaving behind a pull-up perimeter game that has yet to consistently suit him. When Durant and DeMar DeRozan eventually ride off into the sunset, these two should be candidates to replace them as the faces of the mid-range wing.
CATEGORY 4: TRACKING DATA BIOPICS — GIANNIS ANTETOKOUNMPO, BRADLEY BEAL AND JIMMY BUTLER
These three alpha scorers entered the Association around the dawn of the player tracking era. They've each uniquely molded themselves into high-powered self-creators.
Bradley Beal joined the Washington Wizards as the No. 3 pick in the 2012 NBA Draft and partner in crime to John Wall. But as Beal's star rose and Wall battled injuries, the shooting guard evolved from a spacer and shooter into an attacking slasher. The below chart from PBP Stats shows how he took on more responsibility for creating his own shot within 10 feet of the hoop: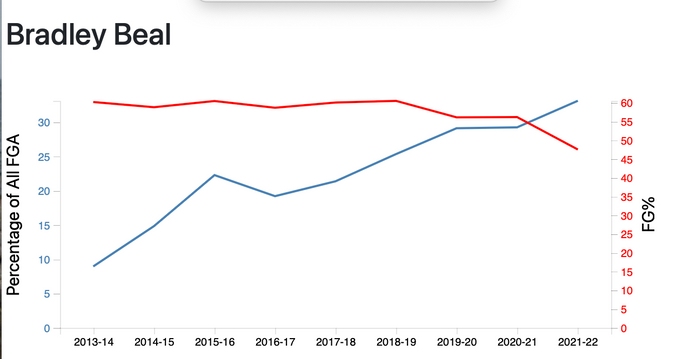 Beal is slicing to the basket at career-high frequencies. The 2021-22 campaign was the first time that more than 30% of his shots were self-created looks close to the rim. Unfortunately, it coincided with his lowest success rate on those shots, converting just 47.6% of them.
Jimmy Butler has had a more tumultuous NBA career that includes stops with the Chicago Bulls, Minnesota Timberwolves, Philadelphia 76ers and Miami Heat in 10 seasons. But if you look at his same chart for self-creation within 10 feet, you can pretty clearly see when he settled in Miami.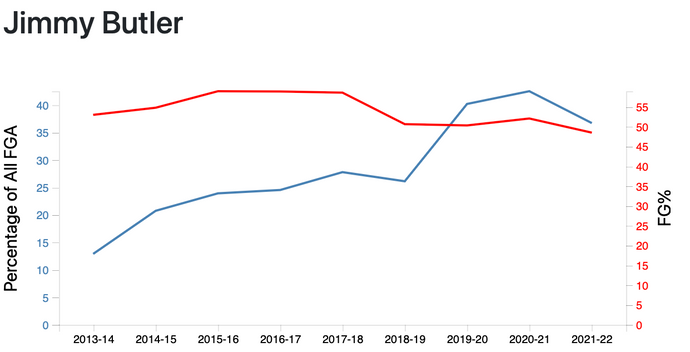 In 2019, Butler began bombarding the basket. He almost doubled the interior creation frequency from his Most Improved Player season in 2014-15. Miami lacked players who can attack off the bounce. Butler's physical-play style, handle and underrated touch in the paint fit right in.
Giannis Antetokounmpo might be the most interesting name on paper because he was selected No. 15 overall in 2013 — the first year of the new player tracking. He's risen to arguably best-in-the-world status over that time, while winning a title and two MVP awards. But while his volume and responsibility have assuredly risen, his selection of self-created shots has only changed substantially in one zone: beyond the arc.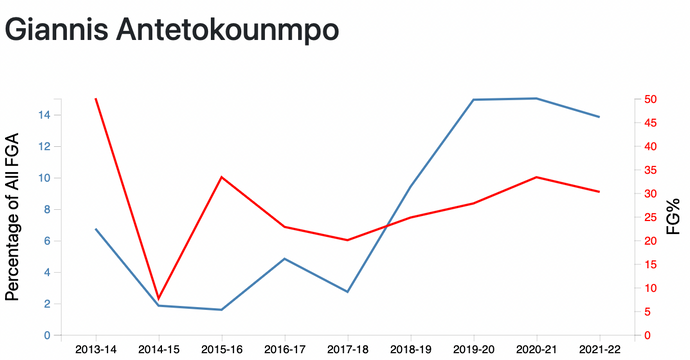 In 2018, it's as if the Milwaukee Bucks coaching staff just said, "Eh, go ahead, shoot threes and see what happens." And so, Antetokounmpo has fired away. It's not a fulcrum to his game by any means, but if 15% of his shot diet is self-created threes, that's meaningful enough in my book.
Defenses still mostly don't respect his shot, so Antetokounmpo has methodically stepped into more long-range shots. Calling them "self-created" looks is a bit of a stretch since he's often just waiting and slowly shooting. Nonetheless, shooting threes is a piece of his repertoire now, and it's ever-so-slowly coming along.
CATEGORY 5: ALL-WORLD CENTERS — JOEL EMBIID AND NIKOLA JOKIC
I've spent most of this deep dive on guards and wings; it only felt right to include the two defining centers of today's NBA. Neither creates much for himself from long range, for obvious reasons, but each has grown apart as a creator closer to the basket:
| | | | | |
| --- | --- | --- | --- | --- |
| Year | Embiid Paint Freq. | Jokic Paint Freq. | Embiid MR Freq. | Jokic MR Freq. |
| 2015-16 | DNP | 22.47% | DNP | 7.37% |
| 2016-17 | 26.21% | 24.65% | 18.58% | 8.93% |
| 2017-18 | 24.35% | 25.79% | 29.74% | 8.67% |
| 2018-19 | 29.09% | 32.59% | 20.1% | 8.46% |
| 2019-20 | 22.25% | 27.58% | 28.12% | 13.88% |
| 2020-21 | 23.52% | 31.06% | 36.12% | 14.12% |
| 2021-22 | 21.94% | 30.89% | 33.86% | 7.32% |
(Scroll right to view full table on mobile)
Nikola Jokic and Joel Embiid are the two most prolific post players in basketball, and yet their shots are trending towards different zones. Jokic has created a higher frequency of shots for himself closer to the basket, and after two big years in the mid-range, has shrunken that zone in his creation diet.
Embiid, meanwhile, is living in the middle of the half-court as a creator. In contrast, he isn't dominating to quite the same extent inside.
These two transcendent talents underscore the larger theme of this research — a simple but necessary reminder about the NBA ecosystem.
There is no secret ingredient or play style guaranteed for success. Players evolve with their teams, their bodies and the trends of the sport. The best individual scorers, like these 10 mentioned above, know how to capitalize on what works for them.