At long last, we have meaningful NBA basketball to talk about, and it is glorious.
Opening week has begun with fireworks: epic collapses, eye-popping rookie performances and overtime games galore. Some teams have shaken off preseason worries with strong starts; others have only exacerbated the nerves of fan bases across the league. That's what makes our Sour Rankings so applicable.
If you're new to the Sour Rankings, here's a refresher. Unlike the typical "power rankings" that repeat themselves throughout sports media, Sour Rankings are a bizarro-world counter. These rankings highlight the top-10 most frustrating NBA franchises throughout the season, and they will be updated every week to match the twists and turns of the league.
This is not merely a bottom-10 of your typical best-to-worst power rankings. You will see championship contenders and playoff hopefuls mixed in with struggling squads. Teams well-under .500 may never touch the Sour Rankings because they are on track with their respective processes. Injuries, drama, transactions and general underwhelming play will all be considered.
The central question is ultimately this: How good should you feel about the direction of each franchise? Some teams value wins this season and paths to a title, while others are looking down the road at long-term pieces. Let's get into some Week 1 overreactions, shall we?
Escaping the Sour Rankings: The Washington Wizards (ranked No. 10 last week) and Minnesota Timberwolves (ranked fifth) both got off to impressive 2-0 starts. Washington won a huge 135-134 overtime game against the Pacers without Bradley Beal, and both Spencer Dinwiddie and Kyle Kuzma have wowed early. For Minnesota, a poor defense appears to be much improved, while Anthony Edwards has shredded opponents to start his second year.
10. Sacramento Kings (1-2)
The Kings nearly sneak out of the Sour Rankings. They pulled out an opening-night win over the Trail Blazers and fell in two competitive games with the Jazz and Warriors. Harrison Barnes reeled off 36 points in that 124-121 victory, and rookie Davion Mitchell continues to stake his claim as one of the best on-ball guard defenders in the entire league already. Sacramento still has yet to hold an opponent under 110 points, though, and the team defense remains an inflection point for the team.
(Last week: 6)
9. Los Angeles Clippers (0-2)
With matchups against two high-powered offenses in Memphis and Golden State, the Clippers understandably had tough defensive assignments. But they currently sit 26th in team defensive rating (117.2 opposing points per 100 possessions, according to Cleaning the Glass) without Kawhi Leonard, and after trading Patrick Beverley. I'm banking on things turning around; it's just always difficult to get off to slow starts in the loaded West.
(Last week: Unranked)
8. Toronto Raptors (1-2)
Consistent offense is rapidly becoming a concern with this Toronto group. The Raptors are currently 29th in the NBA with 93.6 points per 100 possessions, per Cleaning the Glass. They've been held to under 100 points twice by two pretty bad defenses in Washington and Dallas. Sure, Toronto stomped the Celtics, but no player has consistently asserted himself in all three games yet. There are kinks to work out.
(Last week: Unranked)
7. Portland Trail Blazers (1-1)
I'll be heavily tracking the Blazers' defense throughout the season; it's an area that was never good in the Terry Stotts coaching era and a side that could swing the fate of the team. First-year head coach Chauncey Billups has the group 23rd in defensive rating so far (per CTG). Portland also boasts the top offensive rating in the entire NBA, but as we've seen with past iterations, that hasn't exactly led to extended success.
(Last week: 4)
6. Indiana Pacers (1-2)
The Pacers have played very competitive basketball. Their two losses have been both one-point defeats, including an OT loss to the Wizards, as well as an OT victory over the Miami Heat. But it's the nature of those losses that stings.
Indiana held a 75-59 lead over the Hornets before being outscored 33-13 in the third quarter. Against the Wizards, it was a 33-23 third quarter that proved a difference-maker. And while the team beat Miami, Indiana scored only eight points in that third quarter. What's the message? Fix things out of halftime.
(Last week: 9)
5. Dallas Mavericks (1-1)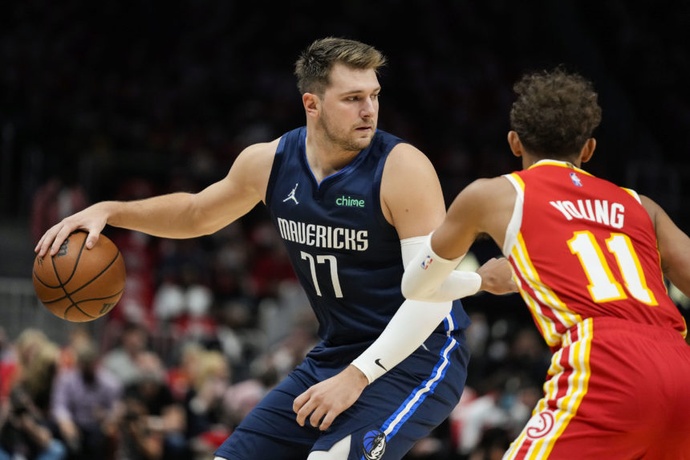 A team with LUKA DONCIC sits 26th in offensive rating (per CTG) to start the 2021-22 season. This same team — which, again, has LUKA DONCIC — is 27th in rim frequency and 29th in transition points per play. We are talking about the greatest under-25 basketball player and perhaps a top-3 offensive engine in the entire world. And yet, the Mavericks have scored 87 and 103 points in their first two games.
(Last week: 3)
4. New Orleans Pelicans (0-3)
It's been a depressing start for the Zion-less Pelicans, who have the second-worst point differential in the entire NBA through the first six days. They are one of three teams, along with the Oklahoma City Thunder and Orlando Magic, with bottom-10 offensive and defensive ratings. Things are going to understandably take time to come together under first-year coach Willie Green. But for a team with sleeper playoff aspirations, things currently feel, well, sour.
(Last week: 8)
3. Phoenix Suns (1-2)
Deandre Ayton's contract situation has taken a jarring back seat to a new, extremely serious report. Jordan Schultz says the NBA is planning to unveil a massive case accusing owner Robert Sarver of sexual harassment, racism and sexism. The Suns have preemptively denied the allegations and the full story has not been released yet. Regardless, this is a significant situation to monitor.
Phoenix is also 1-2 with two blowout losses to the Nuggets and Trail Blazers with a win sandwiched in over the Lakers.
(Last week: 7)
2. Philadelphia 76ers (2-1)
Philly gets out of the "top" spot because the Sixers are winning games and looking good while doing so. Seth Curry has canned 13 of 17 triples to start the season. Joel Embiid is playing like Joel Embiid. And other young talents like Furkan Korkmaz and Tyrese Maxey have stepped up as scorers.
In contrast, the Ben Simmons drama remains. Daryl Morey said this past week that he was fully prepared to wait four years to trade the young star. Morey added that he doesn't want to waste Embiid's prime... which is exactly what the team would be doing by not making a move and recuperating lost talent. Whether you believe Morey or not, this tension has shown no sign of release.
(Last week: 1)
1. Brooklyn Nets (1-2)
Through 3 games, James Harden has career-lows in rim frequency (17%), free-throw rate (.184), TS% (.519) and finishing (38%).

He looks a lot less explosive and is not creating advantages with anywhere close to the consistency we're accustomed to seeing.

— Jackson Frank (@jackfrank_jjf) October 25, 2021
The Nets got steamrolled by their biggest competition in the East to open the season, snuck past the 76ers and then lost by 16 to the young (albeit super fun) Hornets. Multiple folks have observed that James Harden is struggling out of the gate. Want to know who isn't? Kevin Durant, whose way-too-early box-score line includes 33.0 points, 10.3 rebounds and 6.3 assists per game.
It should be concerning that the Nets are losing while Durant plays in peak form. It should be concerning that Jevon Carter, not Kyrie Irving or another guard, started in the loss to Charlotte. Brooklyn appears to have had some hidden weaknesses already exposed by other teams.
(Last week: 2)