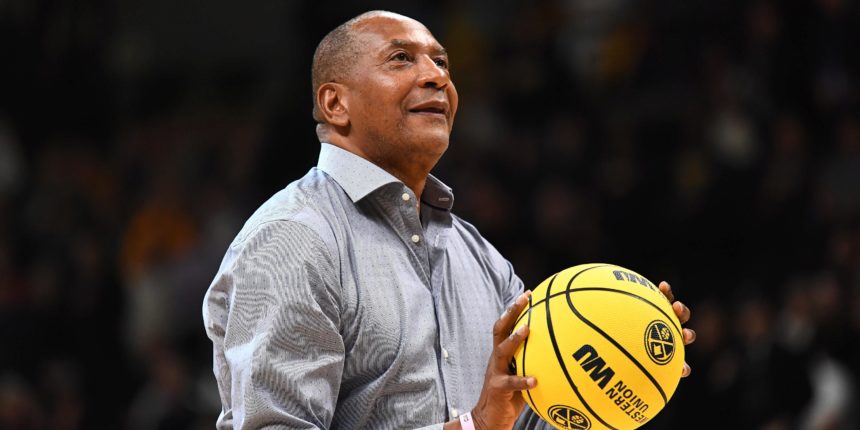 Alex English frustrated over 75th Anniversary Team exclusion
The following article first appeared on BasketballNetwork.net:
Every era has a few great players that get lost in the shuffle, and Alex English is one of those players. A Hall of Famer and eight-time All-Star, English averaged 21.5 points, 5.5 rebounds,and 3.6 assists over his career. He was one of the best scorers around, and we rarely talk about him.
A Guaranteed Bucket
When I say a prolific scorer, I'm selling English short. He scored the most points in the Association during the 1980s – 22,395. His career total is higher than guys like Reggie Miller, Jerry West and Allen Iverson. To be fair, English benefited from playing on fast-paced teams that were all about offense, but that's not why he was left off the list. He has his own theory.
Can't say I am not disappointed for not being included on the 75th anniversary team after seeing the list. I felt the same after the first list of 50. I have always known that my understated style wasn't conducive to being associated with such a flamboyant sport

— Alex English (@AlexEnglish_2) October 22, 2021
English continued to congratulate everyone who made the list, a true gentleman as always. But he does make an insightful point. Basketball is an entertainment product; it's more than just stats. We remember guys who are featured on highlight reels, and you'll rarely find English on most of those. You need to win a lot or "catch the eye" for your name to make the lists that try to capture decades of greatness.
The Problem with Lists
Look, the NBA achieved its goal with this list – everyone's talking about it. You can be mad about Dwight Howard not making it, but that Damian Lillard is on there. (At the same time, Lillard has a few last-second shots that will be remembered as some of the coldest daggers in NBA history, and that obviously counts.)
Don't get it twisted, a list like this is a marketing tool. I'm not saying they are pointless, but you should read them within their context. For me, Manu Ginobili makes every list I put together. Does that make him the GOAT? Not at all. It just lets you know the kind of player I enjoy watching and the kind of basketball I appreciate.
The list tells you more about the person making it than an objective truth about basketball. Rather than getting upset about a specific player, take a step back and look at the fantastic body of work the NBA community has. We'll continue to cover NBA history in our old-school department, and try to keep the memory of all the great players like Alex English who slip through the cracks alive — whether he's on a list or not.
Check out more articles from BasketballNetwork.net here.