When not sidelined by a sprained ankle (as he was on Saturday night), James Harden has going through the motions in Houston, waiting for the inevitable. In the meantime, many of the teams that could use him the most are struggling. We are less than two weeks into the young NBA season, the new year is here, and somebody is eventually going to act on their resolution to get better.
The Golden State Warriors got Draymond Green back on Friday night, but he went for a goose egg in a 25-point loss to the Portland Trail Blazers. The Warriors are 2-3 in a tightly-packed Western Conference led by the Phoenix Suns, who are 13-1 in their last 14 games counting their undefeated run through the bubble.
The Brooklyn Nets got John Collins'd on Friday and defeated by the Washington Wizards on Sunday, and they are now sitting at 3-4 in an Eastern Conference in which they are looking up at four 4-2 teams that are supposed to be worse than them: the Orlando Magic, Indiana Pacers, Cleveland Cavaliers and Atlanta Hawks. Meanwhile, the Philadelphia 76ers are tied for the league's best record at 5-1.
In case you missed it, this is what it looks like when a young up-and-coming team posterizes your star center:
OH JOHN COLLINS GODAAAAAAAAAAM:scream::scream::scream: pic.twitter.com/p0QIfQlOcV

— The Daily Dunk (@dailydunkfr) January 2, 2021
The Hawks are a damn good team, scoring a league-leading 125.8 points per game entering Saturday night's letdown against the Cavaliers. They also rank first among all NBA teams in offensive efficiency (119.6 points per 100 possessions) and True Shooting Percentage (.619), and they're winning by an average of 10.4 points per game, which is the third-highest in the league behind only the mighty Milwaukee Bucks and Los Angeles Lakers. They have yet to be at full strength with their entire complement of veteran additions Danilo Gallinari, Rajon Rondo and Bogdan Bogdanovic joining the young nucleus of Trae Young, Collins and Clint Capela. If they can run the table this week with a schedule that includes two games against the Charlotte Hornets and one each against the Cavs and New York Knicks, there will be a Trae-Young-for-MVP dialogue trending next weekend.
Yes, the season is young and good teams have to prove themselves over a longer stretch than the first week and a half of the campaign. But Atlanta's Travis Schlenk was as aggressive as any GM this side of Rob Pelinka in retooling his team this offseason, and the Hawks are no mirage. Time will tell if the other 4-2 teams can keep up what they have done to start the season, but all of those teams are pretty much what they were a year ago personnel-wise.
In the West, the underachievers along with Golden State include the 1-4 Denver Nuggets, who cannot win despite Nikola Jokic getting triple-doubles more often than anyone not named Russell Westbrook. After what we saw from them in last year's postseason, they should not be residing in last place in the 15-team West.
But at least the Nuggets are whole, which is something the Warriors are not and will not be until next season when Klay Thompson finally returns from his Achilles injury. So the question for Bob Myers and Steve Kerr is this: Is it worth pursuing Harden to see if he and Steph Curry can replicate the success that the franchise had for so many successive seasons before it all fell apart in the 2019 NBA Finals?
Last year's disaster of a season at least brought James Wiseman with the No. 2 pick, but spending this year as a middle-of-the-pack team was never supposed to be an option. Obtaining Harden would be tough; any deal would likely have to include Andrew Wiggins, Minnesota's top-three protected 2021 first-rounder (which is unprotected in 2022) and some combination of future picks. However, it's worth noting that they owe their 2021 first-rounder to the Oklahoma City Thunder (protected 1-20) and their 2024 first-rounder to the Memphis Grizzlies (protected 1-4). Wiseman is a terrific trade piece as well, but it seems highly unlikely that Golden State would be willing to part with him.
One must presume that Brooklyn and Golden State are taking a harder look at Harden now despite The Beard's devaluation of himself with his training-camp shenanigans. He remains the only player in the NBA who we all expect to go out and score 40 points every single night, and when a player of that caliber is on the market, everyone is obligated to find out what it would take to get him and whether it would be worth the investment. He can turn 15 okay teams into very, very good teams.
Harden has sort of held the league captive with a month's worth of wondering where he will eventually land. He probably won't finish the season in Houston, but Rockets general manager Rafael Stone is driving the bus on this one and is not going to give him away for pennies on the dollar. He can wait all the way until the trade deadline in March if he so chooses (or even longer given that Harden can't leave as a free agent until the 2022 offseason at the earliest). It is merely a matter of how much internal drama the Rockets choose to endure.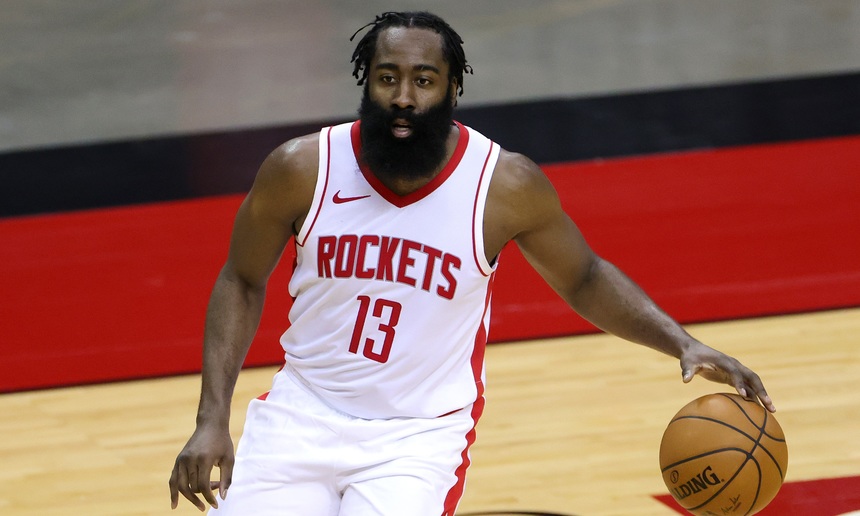 Also, where Harden wants to play is not Stone's concern. His job is to get the most he can in return for Harden, then let someone else try to make the guy happy. And that allows him to say "no" to Philadelphia every time the name "Tobias Harris" is uttered instead of "Ben Simmons." Same with half a dozen other potential trade partners who are not willing to give up a terrific young player along with multiple first-round picks.
In the case of the Nets, the need/desire to take another long look at Harden has been fueled by the season-ending injury to Spencer Dinwiddie, who was the anchor of a very strong second unit. Chris Chiozza is a solid replacement, but losing Dinwiddie is a big blow to Brooklyn. The question is: Would a package centered around Caris LeVert and Jarrett Allen along with future first-round picks be too much to pay for Harden? (And Dinwiddie would likely have to be included to make the salaries match).
Golden State is hard-capped with a league-high $173,683,225 payroll, which complicates trade possibilities. But the Wolves' 2021 pick is a terrific trade chip, and Wiggins' $29.5 million salary makes it easier for Myers to make the money match. In terms of what else currently on Golden State's roster might intrigue the Rockets, that list likely begins with Wiseman (who is not going anywhere) and does not go much further. With that said, do the Warriors have enough to assemble a serious offer for Harden?
The bottom line is that there is a stronger possibility of Harden getting traded from Houston sometime between now and March than there is of him staying.
He could make at least a half-dozen semi-contenders into legit championship threats, and at some point somebody is going to meet Stone's asking price. It's more of a when, not an if. And then it becomes a question of where. And if Harden is unhappy with whatever deal eventually goes down, he's going to have to deal with it.
We'll all just have to stay tuned, and see who either gets desperate or believes they are one superstar away from a title run.