Recently, I interviewed Mark Cuban for my podcast, "The Rematch" (which is part of the BasketballNews.com Podcast Network) and one of the many topics we discussed was when his Dallas Mavericks defeated LeBron James and the Miami Heat in the 2011 NBA Finals - a series that has haunted James for a decade.
Back then, James was trying to win his first-ever championship. Now, he is on the verge of winning his fourth title. When asked to compare present-day LeBron to 2011 LeBron, Cuban said he's drastically changed.
"It's night and day," Cuban said. "He has the basketball-IQ level now; he's just a basketball savant. The way he sees and reads what's happening on the court in real time and stays three steps ahead is incredible. And that's what makes him special - in addition to his athleticism. He didn't have that [back in 2011]. We would run a zone against him and he would hesitate and not know what to do. He's not going to hesitate now. He knows exactly what's coming and what to do and anticipates it.
"He can talk to you about a basketball game and every single play that's happened like some of us would talk about a book that we just read. Those two things are enormous differences. He can now beat you in so many different ways. He's still athletic enough. His skill-set has improved. His passing. But those all tie back to his basketball IQ and that's something that wasn't as developed as it is now."
In 2011, LeBron was in the midst of his first season with the Heat and mainstream America was upset with the superstar. Many sports fans across the country turned on James after "The Decision," which was watched by 10 million viewers (according to Nielsen).
(I personally had no problem with "The Decision" in any way, shape or form; I actually applauded him for taking control of the narrative and not feeling like he owed Cleveland or Cavaliers governor Dan Gilbert anything, but I digress.).
LeBron also received myriad criticism for forming a "super-team" in Miami with Dwyane Wade and Chris Bosh.
(I also didn't have an issue with this and I found it ironic that one of his loudest critics, Charles Barkley, was guilty of doing something similar, joining the Houston Rockets to play with Hakeem Olajuwon and Clyde Drexler in 1996; it just didn't result in a championship for him).
After LeBron's guaranteed that the Heat would win "not one, not two, not three championships…" it hurt his reputation and he was perceived as an arrogant, conceited, pompous a$$#&@€. He was now despised and cast as the villain. As ABC News labeled him in this 2011 article, he was "The Most Hated Man in Basketball."
So when they lost to Dirk Nowitzki and the Dallas Mavericks in the 2011 NBA Finals and LeBron had a series that wasn't very Chosen-One-esque, people lined up, rocks in hand, ready to stone his reputation to death.
Now, statistically, he didn't have a terrible series. But by LeBron's standards, it was disappointing. Here were his stat lines for that series:
Game 1: 24 points, 9 boards, 5 assists, 4 threes, 1 steal, 1 turnover, 56.3 FG%
Game 2: 20 points, 8 boards, 4 assists, 4 steals, 1 block, 5 turnovers 53.3 FG%
Game 3: 17 points, 9 assists, 3 boards, 2 steals, 4 turnovers, 42.9 FG%
Game 4: 8 points, 9 boards, 7 assists, 2 steals, 4 turnovers, 27.3 FG%
Game 5: 17 points, 10 boards, 10 assists, 1 block, 4 turnovers, 42.1 FG%
Game 6: 21 points, 6 assists, 4 boards, 2 threes, 1 block, 1 steal, 6 turnovers, 60 FG%
Even though, on paper, these performances don't seem too bad, his plus/minus was -24 in Game 6. He was tentative and completely off-course at times, and over-aggressive and almost clumsy at others. It was shocking to see LeBron, who was so dominant at that time, looking human.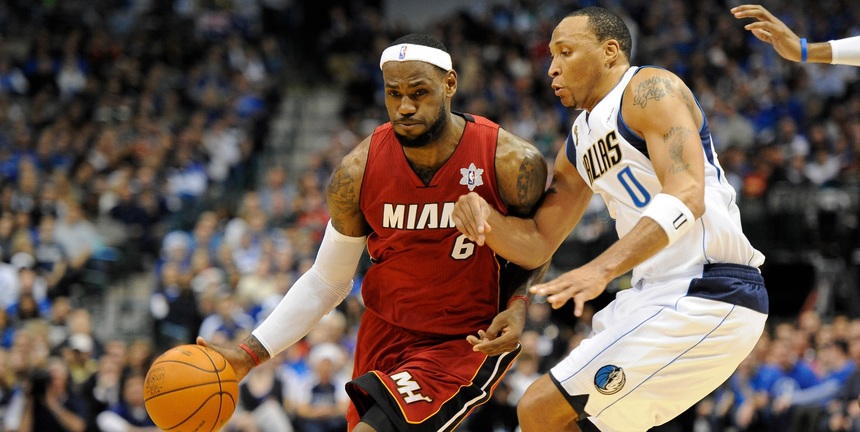 He was taking too many jump shots and was as hesitant and passive as ever with the ball in his hands. He passed when he should have shot; he shot when he should have passed. He looked like he didn't know the offensive plays at times and he was consistently looking to the refs to bail him out.
To make matters worse, LeBron seemed to be a liability on defense - he appeared utterly lost on his coverage, rotations and defensive assignments. Again, it appeared as though he wasn't even on the same page as his teammates and didn't know the defensive game-plan.
As a result, the multitude of newly formulated LeBron haters took tremendous pleasure in this, rejoicing as he struggled. Not because they were Dallas Mavericks fans or had an issue with the Miami Heat, but because LeBron James, in particular, had failed.
"He was the number two guy with the Heat and you could tell on the court. That was Dwyane's team," Cuban added. "It wasn't like Dwyane came to his team. Now, LeBron's that guy. Period. End of story. [Now], he says who comes on that team, how it's gonna work, what they're doing."
Interesting point.
Many will argue that Anthony Davis is "the best player in the world" (as Markieff Morris declared after Game 1 of the Finals). Now, for the record, he also said the same thing about LeBron in response to another question. But the point is, despite LeBron's impressive numbers, many have crowned Anthony Davis as the team's MVP.
However, this is still LeBron's team.
Anthony Davis may, in fact, be replacing Kyrie Irving as the most productive teammate that LeBron has played with during his career. This postseason, Davis is averaging 28.2 points, 9.3 rebounds, 3.5 assists, 1.3 blocks, 1.2 steals and 1.1 threes (on 57.8/40.4/82.9 shooting splits).
Previously, the most points that one of LeBron's teammates averaged in the playoffs was Irving's 25.9 points per game in 2017, followed by Irving's 25.2 PPG average in 2016 and Wade's 24.5 PPG average in 2011. Wade was actually the Heat's leading scorer during the 2011 postseason (averaging 24.5 points to James' 23.7). Now, scoring isn't everything. But Cuban is right: that was still D-Wade's team. Just like this is still LeBron's team, even with Davis dropping a whopping 29.1 points a night.
Davis may be the Lakers' MVP of the postseason (or even the bubble). He may be the Lakers' most dominant player on both ends of the floor. But, make no mistake, this is LeBron's team.
Here are the facts: LeBron is on the verge of winning his fourth championship and bringing at least one title to three different teams. He has four NBA MVP awards, three NBA Finals MVP awards and two Olympic gold medals. He also holds the all-time record for playoff points, and he has recorded the third-most points in NBA history and the eighth-most assists of all-time.
Still, LeBron haters will probably always be LeBron haters (and it's not just Paul Pierce).
But, overall, I would have to agree with Mark Cuban. Without a doubt, this is a very different LeBron James than the one we saw in the 2011 NBA Finals.