"I want my respect," LeBron James said in his post-game interview with ESPN's Rachel Nichols after winning the NBA championship with the Los Angeles Lakers on Sunday night.
What exactly did he mean?
When I heard him say those words, I brought it up during BasketballNews.com's Virtual Watch Party for Game 6. Our Etan Thomas thought he was referring to the criticism and hate that James received over the last year and a half, which Thomas detailed in his most-recent article on this site.
Nobody asked James about it in the postgame interview room inside the bubble in Orlando, so we are left to surmise where he was coming from until he issues some sort of a declaration or posts something on social media that explains what he meant.
Why people cannot give this guy the respect he deserves is beyond me.
Certainly there is a segment of the population in America that does not like how sports and politics have intersected, how the NBA has done its utmost to fight social injustice, and how so much work remains to be done to ensure that the United States has a free and fair presidential election in which every vote is counted. (Don't count on that happening.) Those folks are yearning for a bygone era that is not returning. If they want to wallow in their hatred and ignorance, let them. Some people are lost causes.
LeBron will never get through to them, because some things are impossible (even for him).
But as far as basketball goes, the guy simply amazes me. He refuses to age. He only gets better as he gets older. He makes every player around him better. He put up yet another triple-double last night (28 points, 14 rebounds, 10 assists) while becoming the first player in NBA history to win the Finals MVP award for three different franchises.
LeBron has been in the NBA for 17 seasons now, and he is a polarizing player because of his history, because of his outspokenness, and because of the color of his skin. Americans are at each other's throats these days for a variety of reasons, yet life goes on for all of us as we navigate a pandemic, navigate online schooling for our children, go hunting for Clorox wipes and search for something to make us laugh each and every day during the most challenging year we have ever lived through. These are not normal times, and normalcy becomes more elusive by the day, sadly.
Yet we have had the NBA and its bubble to keep us all connected since early July, and now that chapter of NBA history is behind us. The bubble gets disassembled today, the Lakers and Heat finally get to return to their homes for the first time since early July as we all await word from the league office and the Players' Association as to what next season will look like, when it will begin, and where it will be played. As of now, there are no clear answers.
But we still have what we have, which is a Lakers championship that ties them with the Boston Celtics for the most in NBA history. The 2020 NBA Draft is five weeks away, after which we will have free agency. There are a number of coaching vacancies to be filled. The salary cap for next season still has to be set. The folks from the league office who were in the bubble for a long, long time now need some time to reconnect with their families, so I am not expecting much clarity on what the future will look like for the NBA any time in the next several days.
The country's focus will now turn even harder toward politics, even as the Major League Baseball playoffs move deeper toward the World Series and the NFL tries to make it through its season with teams having to postpone games because of coronavirus cases. If a second wave hits us hard, we are all going to be dealing with more cabin fever as we try to get through the winter with our collective sanity intact.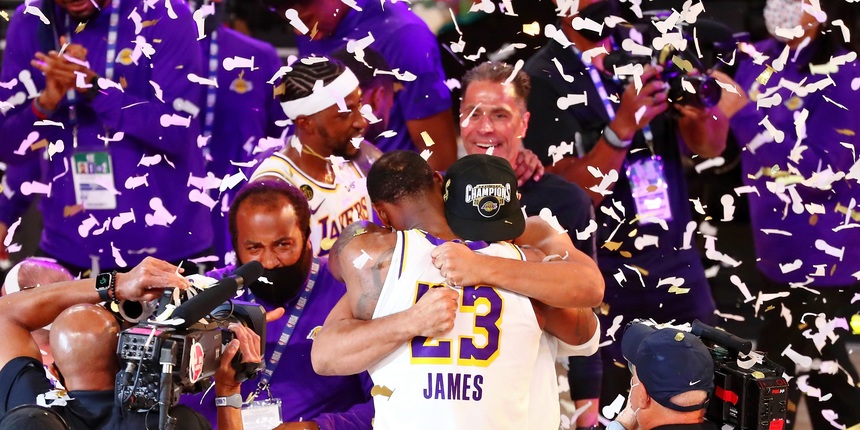 And I imagine we have not heard the last from James and a bunch of other people around the NBA when it comes to influencing the national debate on a variety of issues as Election Day draws near.
What we see and hear next from James is going to influence the "respect" dynamic that he alluded to last night.
James did acknowledge that proving his basketball doubters wrong was an enormous motivating factor in him winning his fourth championship.
"I think, personally, thinking I have something to prove fuels me," James said. "It fueled me over this last year and a half since the injury. It fueled me because no matter what I've done in my career to this point, there's still little rumblings of doubt or comparing me to the history of the game and, 'Has he done this? Has he done that?' So having that in my head, having that in my mind, saying to myself, 'Why not still have something to prove?' - I think it fuels me."
As James reached the end of his NBA-bubble journey, he reflected on the experience and his three-month stay in Orlando.
"Over the last couple days, you definitely thought about it. You thought about just being here, how successful it is. I commend Adam Silver and the NBA, Michele Roberts, Chris Paul and everybody at the NBPA to make this happen and to make this work," James said. "I think we can all say from the social injustice conversations, the voter suppression, police brutality, to have this platform, have our players be able to unite like that, it's something that you will miss. You will think back on it. I think one of the biggest things, besides the social injustice, all the things I mentioned, we had zero positive tests. We had zero positive tests for as long as we were here, 90-some days, 95 days maybe for myself. I had a little calendar I was checking off. That's a success for everybody that was involved."
Everyone around the world who ventures outside their home today will be putting themselves at risk of being exposed to coronavirus, and that includes all the members of the NBA family who now will board airplanes and return to an American societal situation that is challenging to endure. Politics has divided families, ended friendships and polarized the population like nothing America has seen in several generations. Anger, frustration and fear are omnipresent. Not having basketball to watch is going to hit some of us harder than others. Euroleague, anyone?
But everyone has to push through, and everyone has to expect that we are going to be seeing these Lakers back in the NBA Finals the next time the Larry O'Brien trophy is up for grabs. Aside from Dwight Howard, the entire team in under contract. Anthony Davis has a player option that he will likely exercise in order to sign a longer-term deal to stay in Los Angeles, and Rajon Rondo also has a player option for $2.69 million and he may opt-out if his camp can find a multi-year offer from another team.
But free agency will not happen until after the Nov. 18 draft, and you are going to feel a sudden void in your life if you are a basketball fan. But the NBA will be back next season in some way, shape or form that's still to be determined, and James will be a year older and probably a little bit better of a player. Yes, better. That's somehow what happens with this guy.
Let's all appreciate him today for what he has accomplished and how he has evolved as a leader, both professionally as a player and existentially as a person who others seek guidance and inspiration from. His 2020 work is not yet finished, and we can all look forward – whether you like him or not – to what he will do between now and Tuesday, Nov. 3 to influence the political discourse in the United States.
It's fair to say that it needs to be elevated to a more intelligent level. But it remains to be seen if that will actually happen. The platform that the bubble provided is now gone. Where will LeBron's next message come from? Instagram? CNN? Fox News? If James can help us all get to a higher level of public discourse, the respect factor can only grow.
So good luck on that one, LBJ. We await your next words almost as much as we await your next game.