As it became clear that the Los Angeles Lakers would win their 17th championship in franchise history in the final minutes of Game 6, LeBron James embraced an emotional Anthony Davis.
What did James say to his teammate, who was on the verge of winning his first title?
"He was [teasing] me, saying, 'You're soft. Oh, you crybaby!'" Davis said with a laugh. "It was an unbelievable feeling, and just an emotional moment for me… I just started to cry, I couldn't hold it in. This is something that I've wanted my entire career, and it's only the first one."
James said that seeing Davis' excitement and shock reminded him of his reaction when he won his first championship back in 2012. LeBron was 27 years old at the time, just like Davis is now.
In June of 2019, the Lakers made a high-risk, high-reward move when they mortgaged their future in exchange for Davis, who's one of the NBA's most talented superstars. Davis was disgruntled and had requested a trade from the New Orleans Pelicans, but that didn't lower his cost very much (since other teams, including the Boston Celtics, were pursuing him too).
To land Davis, the Lakers traded Brandon Ingram, Lonzo Ball, Josh Hart, the No. 4 pick in the 2019 NBA Draft (which became De'Andre Hunter), a 2021 first-rounder (top-eight protected, then unprotected in 2022), the right to swap first-rounders in 2023 and an unprotected 2024 first-round pick (which New Orleans can defer to 2025). The Pelicans ultimately flipped the No. 4 pick to the Atlanta Hawks for No. 8 pick (Jaxson Hayes), the No. 17 pick (Nickeil Alexander-Walker), the No. 35 pick (Marcos Louzada Silva) and a 2020 first (top-10 protected).
Following the trade, the general consensus was that the Lakers gave up too much, especially since Davis could hit unrestricted free agency after the 2019-20 season. David Griffin, New Orleans' executive vice president of basketball operations, was praised for the move. Pelicans guard E'Twaun Moore, who had played alongside Davis, even told me that he was shocked by the haul that New Orleans received.
"It was like, 'Wow, I didn't know we were going to get all of that back!' Moore admitted. "I just thought we'd get a couple young guys and that would be it, but we got a whole lot of young guys and draft picks. David Griffin did a great job with the transaction. I don't think it could've been done any better… Man, that was exciting!"
This swing-for-the-fences move just paid off, as the Lakers left the NBA bubble with the Larry O'Brien trophy and Davis played an enormous role in the team's success every step of the way.
During the regular season, Davis helped the Lakers post the best record in the Western Conference (52-19), averaging 26.1 points, 9.3 rebounds, 3.2 assists, 2.3 blocks, 1.5 steals and 1.2 threes while shooting 50.3 percent from the field, 33 percent from three and 84.6 percent from the free-throw line.
He was even better in the playoffs, contributing 27.7 points, 9.7 boards, 3.5 assists, 1.4 blocks, 1.2 steals and 1.1 threes per game on 57.1/38.3/83.2 shooting splits. During the Finals, Davis averaged 25 points, 10.7 rebounds, 3.2 assists, 2 blocks, 1.3 steals, 1.3 threes while shooting an insanely efficient 57.5 percent from the field, 48.3 percent from three and 95.2 percent from the free-throw line.
"You know, it's interesting, a lot of people think that trades are easy in the NBA," said Lakers general manager Rob Pelinka. "If you talk to any of the other 29 GMs - and there are some really, really good ones that I get to work alongside - any trade, especially for a superstar, is incredibly difficult and challenging and filled with intricacies and issues that the general public might never really understand. The dynamics of pulling off superstar trades are very, very challenging. They take weeks of hard work, and we were thankful when we acquired Anthony, but we knew the work wasn't done once we paired LeBron and AD together."
After acquiring Davis, the Lakers tried to land a third star during the 2019 free-agency period, pursuing Kawhi Leonard, Jimmy Butler and Kemba Walker among others. However, the team struck out on these players and had to go with a more well-rounded approach to their roster.
"In free agency last year, obviously we made a run to acquire a max free agent, but we had a counter, a backup plan, and I knew we had a way to pivot and build a team with the other players we were able to acquire," Pelinka said. "It worked out. It worked out well, obviously. But it was hard work. It wasn't just happenstance [like], 'Oh, let's go sign a bunch of guys.' I can't take credit because we have a front office of a lot of incredibly hard-working, bright people in our basketball operations department, and it takes a village to have success, and all those people helped with that plan. It came together and here we are."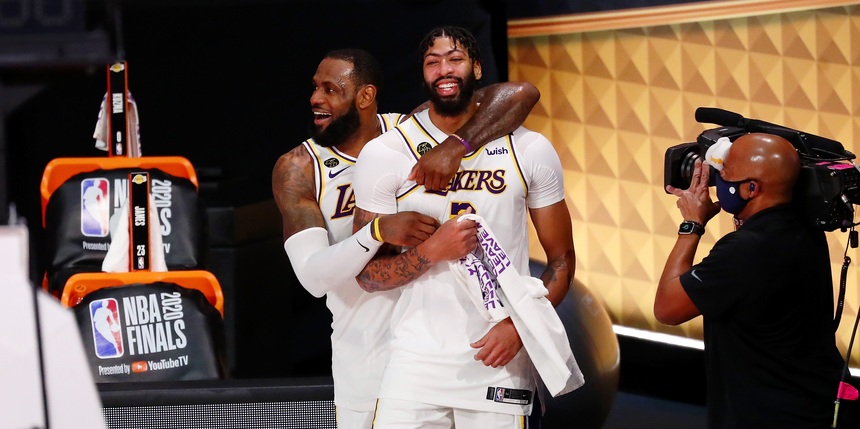 After winning his first-ever championship, Davis reflected on his journey to this point.
"It's just part of your legacy, to say you're a champion; not everybody can say that," Davis said. "I wanted to do the same thing in New Orleans. I was there for seven years. You want to go out there and compete for a championship every time you step on the floor. [We] got close, going to the second round. We thought we had a chance before DeMarcus [Cousins] got hurt.
"The last, what, two months, maybe, in New Orleans, it was obviously rocky. We were going back and forth at each other and getting booed, and everything like that. I think being there in that moment while I was still part of the team, going out there playing, kind of got me ready for a moment like this. Obviously, it was a tough environment and tough situation for me. But being to handle all that and withstand all that and bring that same energy and confidence I had, even when I was playing then, to come out here and be with these guys who want nothing but the best for you and want you to win and get it done, it's a special feeling. It just makes it all worth it. It was tough times, but like I said: I'm a champion. When I got traded, that's all I wanted - to be a champion, to be able to compete, be able to win."
From day one, Davis and James got along well and set the tone for the rest of the roster as the team's leaders (as Lakers guard Quinn Cook wrote in his BasketballNews.com piece). Davis and James have developed a special bond over the last year and a half.
"You guys ask me about my relationship with AD and the first thing I think about is the respect, the [lack of] ego, the challenging each other," James said. "We want each other to be better than ourselves. I want AD to be better than me; AD wants me to be better than him. Every single night, every single day. And we challenge ourselves. I think that's a part of it."
Davis added: "Respect. True friendship. We're close on the court, but you've got to see us off the court; it's unreal. I'm always at his house. He's always at my house. This is true the entire season. There's no jealousy. No one is envious of each other. Guys don't have personal agendas. We're just two guys who just want to win for various reasons. We were able to do it tonight… We put a lot of pressure on ourselves. I challenge him. He challenges me. It's not always sweet and smooth, but it gets the job done. You're going to have confrontations and arguments throughout the season to win a championship. We had our fair share. But at the end of the day, we respect one another. We respect what each one is trying to do. I respect his game, he respects my game and we just put it all together."
Entering the 2020 offseason, Davis can become an unrestricted free agent. He has a player option worth $28,751,775 for the 2020-21 season, so he could hit the open market. All season, Davis has seemed like a lock to re-sign with the Lakers (even if he opts out in order to sign a new, multi-year deal).
However, when asked about his potential free agency, Davis was noncommittal.
"I have no idea... I had a great time in L.A. this first year," Davis said. "This has been nothing but joy, nothing but amazement. Over the next couple of months, we'll figure it out. I mean, I'm not 100 percent sure. But that's why my agent is who he is and we'll discuss it and figure it out."
It's worth noting that Davis and James are represented by the same agent: Rich Paul, who helped Davis get traded to Los Angeles.
At other times, Davis sounded like he was already thinking ahead to next year with the Lakers.
For example, on Quinn Cook's IG Live, Davis said, "We're gonna run it right back."
The champagne from the Lakers' celebration hadn't even dried yet, but Davis was already turning his attention to how he could improve this offseason and what next season might bring.
"This just puts a bigger target on your back, honestly. Teams are going to come after you next year, especially when you're one of the top players," Davis said. "Guys want to take out the champion. The next four or five years, [I] have to get better and better. I have to keep improving my game and, hopefully, I can have this feeling again."
Blockbuster trades are typically judged on whether the superstar player delivers a championship. Take the Los Angeles Clippers, for example. If Kawhi Leonard and Paul George help the franchise win their first-ever championship, the trade with the Oklahoma City Thunder is viewed as a huge success and Lawrence Frank is a genius.
If the team fails to win a title and loses Leonard and George, the focus suddenly shifts to the fact that Los Angeles gave up Shai Gilgeous-Alexander and seven first-rounders (Miami's 2021 unprotected first-rounder, LA's 2022 unprotected first-rounder, LA's 2024 unprotected first-rounder, LA's 2026 unprotected first-rounder and the right to swap firsts with LA in 2023 and 2025) as part of this experiment.
Fortunately for Pelinka and the Lakers, the Davis trade worked out and they are vindicated. Now, the next step is re-signing him and seeing if Davis and James can turn this into a multi-championship run.