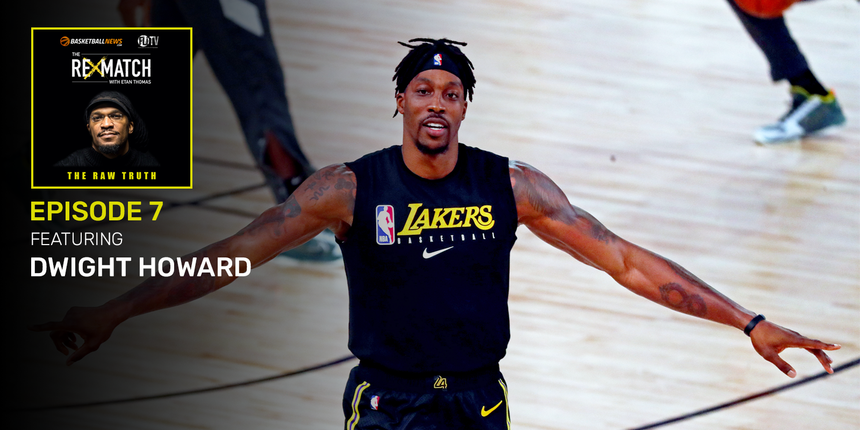 Dwight Howard on winning title with Lakers, free agency, Shaq's comments
On this episode of "The Rematch," Etan Thomas is joined by 8-time All-Star and NBA champion Dwight Howard, who just won his first ring as a member of the Los Angeles Lakers. Dwight talks about the championship, returning to the Lakers, rewriting that chapter of his life, turning his career around, his upcoming free agency, Shaquille O'Neal's criticism and much more. Time-stamps are below!
:35: Dwight talks about winning a ring with the Lakers and his post-championship high.
1:15: This was an opportunity for Dwight to redeem himself with the Lakers and turn his career around. He talks about how he approached this season.
2:20: What were the biggest differences between Dwight's first stint with the Lakers and his second stint?
3:40: Etan recently wrote an article about how well Dwight and JaVale McGee handled their fluctuating minutes and how it provided a valuable lesson to Etan's AAU team. Dwight talks about this.
6:10: Dwight talks about not playing during the Lakers' series against the Houston Rockets because the team went small.
6:45: Dwight talks about his match-up against Nikola Jokic and how he tried to get in Jokic's head (even at the players' hotel).
8:50: If Dwight could go back in time and talk to his 19-year-old self, what advice would he have?
10:25: What is the biggest regret of Dwight's NBA career?
12:10: Dwight talks about playing in the social-media era and some of the challenges it presents.
14:25: Shaquille O'Neal has been critical of Dwight over the years, including right after the Finals. Dwight says he has no clue why Shaq continues to talk about him (and JaVale).
16:25: Dwight talks about whether the "Superman" nickname started this feud with Shaq.
18:00: Etan wrote an article about how Stephen A. Smith and other analysts praised the Milwaukee Bucks for boycotting their playoff game, but had criticized Dwight and Kyrie Irving when they weren't sure about playing in the bubble. Dwight discusses why he was hesitant about playing and the criticism he received.
21:50: Dwight talks about the hate that LeBron James receives for speaking out and how people are rooting for him to fail because they don't agree with his message.
23:05: At one point, the Lakers and Clippers were reportedly unsure if the NBA postseason should continue. Dwight talks about what occurred in the bubble and how the Lakers were very close to leaving.
27:15: Dwight and Etan talk about what the NBA's owners are doing to make a difference and whether they need to do more (such as using their money and power to affect change).
30:45: What conversations were taking place in the NBA bubble?
33:15: Dwight talks about the NBA's plan for the 2020-21 season and why he doesn't want to play in a bubble again.
36:05: Since Dwight is an unrestricted free agent, would he like to re-sign with the Lakers?
37:30: Dwight is married and his wife, Te'a Cooper, is a guard for the Los Angeles Sparks. He talks about life as a married man.
40:15: Dwight and Etan talk about playing against each other back in the day.
Listen to more episodes of "The Rematch" on BasketballNews.com, Spotify, Apple Podcasts or wherever you listen to podcasts.