Right now, all eyes are on the Brooklyn Nets.
Fans were already excited to watch Kevin Durant and Kyrie Irving this upcoming season, and now the team is getting even more attention after hiring Steve Nash as their head coach and bringing in Mike D'Antoni, Amar'e Stoudemire, Ime Udoka and Jacque Vaughn as assistants. Players are clearly intrigued by the Nets and what they've built, too. One offseason after adding Durant and Irving, James Harden is reportedly trying to force his way to Brooklyn as well.
When Jarrett Allen was drafted by the Nets in 2017, the organization was in a very different place. The team was still recovering from the Kevin Garnett and Paul Pierce trade, which sent three-first round picks (and an additional pick swap) to the Boston Celtics. The Nets didn't have a single All-Star during Allen's rookie campaign. Now, three years later, there's talk of Brooklyn forming the next super-team with Durant, Irving and Harden.
The 22-year-old had a strong finish to the 2019-20 season, averaging 13.7 points, 14 rebounds and 3.4 assists in 10 "bubble" games. Allen finished last year averaging career-highs in points (11.1), rebounds (9.6), assists (1.6), field goal percentage (64.9%), steals (0.6), Win Shares (8.2), Box Plus-Minus (+2.3), VORP (2.0), Rebounding Percentage (18.7%) and PER (20.7).
Allen spoke to BasketballNews.com about the Nets' roster, the recent trade rumors, how Durant has looked behind the scenes, the Nash hire and much more. He also discussed his fourth annual "Meals + Math" Thanksgiving event. On Monday, he provided 25 kids and their families with Thanksgiving groceries. On Zoom, he walked the families through an at-home workout, a cooking demonstration and some math problems focused on budgeting (so they're prepared to do their Thanksgiving shopping). The families also received a sample grocery list, math packet, calculator and a $100 gift card to Key Food.
When you first joined the Nets, the team didn't have an All-Star that season. Now, you have Kevin Durant, Kyrie Irving and there are rumors of a third superstar wanting to join. What's it been like seeing this organization's transformation and how much has changed over the last three years?
Jarrett Allen: "Man, it's pretty amazing how they were able to turn the franchise around like that, especially just in [these] three years. Even looking back [further], it's been, what, seven years for the Nets since the KG era? [In 2009-10] Going 12-70…Since then, it's been amazing how they've turned things around and it's been amazing to be a part of it."
What is it about this organization that is appealing to players? Every organization would've loved to sign Durant and Irving last summer, and now there's rumors of other superstars wanting to join Brooklyn. Why do you think players are attracted to the Nets?
Allen: "I think it's just how the team is built -- how the front office wants to build the Nets. Even looking off the court, you look at how they take care of [each player's] family and loved ones. And on the court, they preach grit and playing basketball the right way and playing together and going out there and giving your all every night."
There's been a lot of trade rumors involving the Nets recently, as I mentioned. I know you can't discuss those specific rumors or the players in question, but just in general, do you pay attention to trade rumors? Some players read all of them, while others block them out entirely. What's your approach to trade rumors?
Allen: "I hear about them. It's hard not to hear about them in this technological age with social media. But at that point, it's like, what can you do about it? I'm not really focused on it. Either way, I'm going to have to play basketball and I'm just…like I said, it's in the back of my mind."
Have you had any conversations with the Nets about the trade rumors or your status?
Allen: "No. No, I haven't."
KD didn't play last season and Kyrie was hurt at times too, but you guys still spent time together and developed chemistry off the court. How did bonding last season help you guys as you get ready to play together for the first time this season?
Allen: "I think it was good. I think it got us to be used to each other off the court. I don't think a lot of people realize how big the connection and chemistry off the court is needed to build that stronger chemistry on the court. We all got to know each last year and this summer, we were all close -- but socially distant -- and we all got to know each other more, so we're all ready to play [together] this year."
There have been some questions about KD as he returns from his Achilles injury. You've seen KD working out and seen how he looks behind the scenes. What can we expect from Durant this upcoming season?
Allen: "I'll just keep it short and simple: KD is back again."
What was your reaction to the Nets hiring Steve Nash as their new head coach? And not only that, but also adding Mike D'Antoni, Amar'e Stoudemire, Jacque Vaughn and more to his staff?
Allen: "I was like everybody: I was surprised. I didn't know who they were going to be hiring. I didn't know what was going on and was in the dark just like everybody else. And then I was like, 'Oh, Steve Nash?! That's actually, like, an amazing pick up!' A lot of people -- myself included -- weren't thinking of him. We ended up hiring him, D'Antoni -- who's another great pick up -- and a lot of people who can help move Brooklyn forward in the right direction."
With Amar'e Stoudemire being part of this staff, what are some things you can learn from him given his NBA experience? And what memories do you have of watching him play?
Allen: "Some memories I have are of him and, I guess now my head coach, [Steve Nash] playing together, running the pick-and-roll. I remember him playing on the Suns and a little bit of him on the Knicks, and him just going up strong to dunk everything. Going up and being fearless to grab every rebound. I remember seeing those Suns-Lakers game, that series in particular. So far, it's been great working with him. He's just pointing out little things that I can change and telling me what mentality to have as I try to go get rebounds and just how to be on the court and how to elevate my game."
Coach Nash recently said, "We're playing for a championship." Do you feel like this team has the pieces to potentially win a championship as early as next season?
Allen: "Absolutely. No. 7 is coming back. That's what I call him, No. 7, but we have KD coming back. We still have Kyrie here. And we have just a bunch of pieces around everybody that can bring this team to a whole [new level] and push for a championship."
I was so impressed with your play in the NBA bubble and you continue to get better each season. What are some individual goals that you've set for yourself for this upcoming season?
Allen: "I'm hoping to continue doing what I did in the bubble, keeping up that strong play, keeping my rebounds up and trying to keep my assist numbers up. I'll be in a position to be able to dish out the ball to my teammates, so all in all, I just want to continue that [level of] play."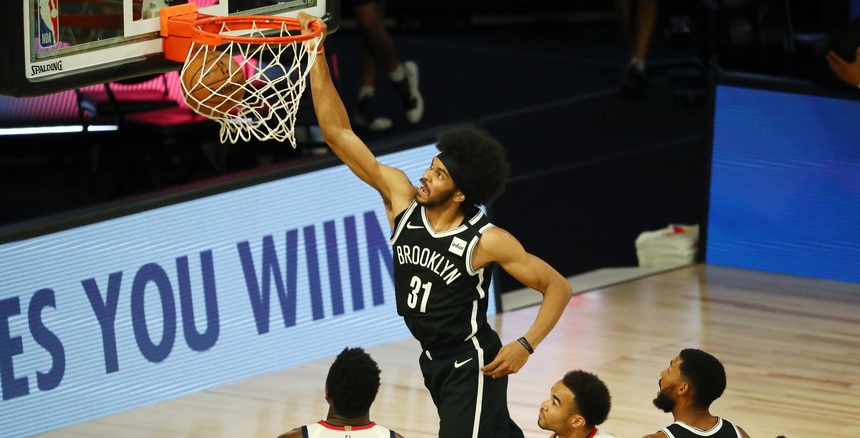 This is your fourth Meals + Math Thanksgiving event. How did you initially come up with this idea?
Allen: "Around the time I got drafted, I was looking for ways that I could help the community that adopted me, that drafted me and took me in. It was around Thanksgiving time, so it was the first thing we thought of. We realized we had the opportunity to help some kids out, so we decided to part with Key Food and give the gift cards away."
Can you share the details of this event and what you'll be doing with the 25 kids and their families?
Allen: "As we all know, COVID is around and that kind of transitioned us into a Zoom [event], so we're going to have the kids on there. We're going to ask them how they're doing, do some math problems, talk about what they can do [to stay active] inside, do some meal prep and someone is going to come on and show how to make a dessert and things like that."
When you were a kid, did you ever have a chance to meet any professional athletes or heroes that you looked up to?
Allen: "No, the only professional athlete that I really interacted with was George Gervin, of all players (laughs). He was in San Antonio and I had the opportunity to go to one of his camps and got selected to play a couple of games down there."
Where did your desire to get involved in the community and make a difference come from? Was that just how you were raised?
Allen: "It was. It came from my grandmother, who is no longer with us. She passed along what she needed to and every day we're thankful for that. She always had us doing food drives. Before I can even remember, I was hauling boxes into the back of a truck. We were always trying to give back to the community and always do our part. For what I'm given, I want to give a certain percent back to the community."
Do you feel like it strengthens your bond with Nets fans and allows you to connect with them more too?
Allen: "Definitely. I think it makes it more personal, with them actually see someone doing these things out in public. You always hear about these things and see it on TV, but to actually interact with a basketball player in the NBA -- someone that kids might look up to -- I think that only makes the bond stronger and they become more than fans at that point."
Do you have any other upcoming events planned or ways to help the community?
Allen: "It's going to be a cold winter; you already see if snowing up north in some places, so I'd like to do a drive where we get coats to give to kids. I know a lot of people do it, but there are always kids that need help, so I'd like to hop on that train and see what I can do there."