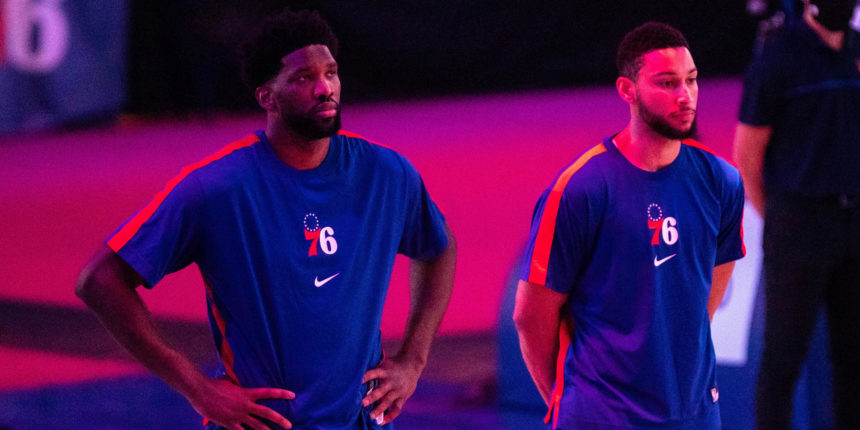 Joel Embiid can only carry Sixers as far as Ben Simmons will let him
With each of his 36 minutes appearing to be taking its toll, miss after miss, Joel Embiid trotted back up the floor, sputtering like an old Honda Civic.
By the time his night had ended, his Philadelphia 76ers found themselves on the wrong side of a 103-100 decision against the Atlanta Hawks. The Eastern Conference's top-seeded team was suddenly locked in a best two-out-of-three now.
I couldn't help but think of what was going through Ben Simmons' mind.
Sure, Philadelphia was one Seth Curry three away from forcing overtime, and yes, the club had plenty of opportunities to make plays down the stretch and escape from Atlanta with a 3-1 series lead. But behind a miserable 0-for-12 shooting performance in the game's second half, Embiid couldn't get his team across the finish line.
The outcome shouldn't have been that much of a surprise, though. After all, Embiid looked like he could barely get himself across the finish line.
Mentally tough as they come, Simmons — somewhat similarly to Lonzo Ball — has never been overly concerned with living up to the expectations that others may have had for him. To his credit, the criticism rolls off his back so smoothly that a duck would be in awe.
So make no mistake about it: Simmons cares not about your critiques. He worries not of your puny expectations. Admirable in some ways, though, it makes you wonder what kind of expectations he has for himself.
In an NBA where plodding, slow-footed centers like Brook Lopez had to evolve (which he did) or get lost (like Roy Hibbert did), we've been force-fed the narrative that success in the league today requires a big that's able to "space the floor" and at least pose a credible threat from outside of the paint.
Truth be told, the expectation and the modern superstar's pursuit of the standard has given us the league's reigning MVP in Nikola Jokic.
With respect to Embiid, it is his own refusal to be put into a box and play the game the way centers of yesteryear did that has made him a superstar. Built like a dump truck, Embiid's agility, proficiency from the field and audacity to take big shots has brought these Sixers to the top of the Eastern Conference's regular-season mountain. Aside from his own mortality, his imagination is his only limiter.
We watched and criticized LeBron James for not having a jumper. We roasted Russell Westbrook for his inefficiency, dismissed John Wall as a difference-maker and rolled our eyes when Giannis Antetokounmpo embarrassingly misses pull-up three-pointers.
Yet many — including his own head coach in Doc Rivers — sit back and allow the application of an obvious double-standard.
As Embiid dragged his one good knee up and down the court against the Hawks on Monday night, more and more, he looked like he was running in cement. The body language was clear; Embiid was begging for someone to help him — help the team. He needed a Robin, but Simmons was satisfied being The Joker.
Simmons failed to register a single shot attempt in the fourth quarter, as Philadelphia shot just 4-for-16 in the game's final frame. Meanwhile, Trae Young and Nate McMillan decided the trip back up the I-95 North to Philly would be more pleasant if the series were tied as opposed to being on the brink of elimination.
In the end, Simmons is a great player with tantalizing potential. But at a certain point, he needs to take the challenge upon himself to be a plus in an area where he's been a big, fat minus.
It's ironic that Embiid, a player who has dedicated his existence to bucking the norm of what we've come to expect from a big man, is flanked by someone whose refusal to expand his offensive versatility is perhaps what's limiting the Sixers' potential the most.
Perhaps it's because he's relatively low-key. Maybe it's because the cockiness and outspokenness of Embiid provides enough of a shield for Simmons to maintain a low profile. But after four years in the league, according to Basketball-Reference's shot-tracking data, 98.9% of Simmons' career shot attempts have been from two-point range.
That's probably about the same odds of this version of the Sixers falling short of winning a championship.
The belief in the modern NBA is that you can't win with centers who can't guard the three-pointer or spread the floor.
But since when have point guards who can't shoot been the key to carrying home the Larry O'Brien trophy?
Whether they manage to get past Atlanta or not, the Sixers will only go as far as Joel Embiid is able to carry them, and unfortunately, only as far as Ben Simmons will allow him to.
If I'm Doc Rivers, at this point, that's exactly what I'm afraid of.