Kevin Durant, James Harden and Kyrie Irving.
Giannis Antetokounmpo, Jrue Holiday and Khris Middleton.
Two elite offenses. A pair of defenses where timely switches may determine their success or failures. A pair of head coaches with questions to answer.
I do not need to sell you on why this year's Bucks-Nets series may be the most anticipated gathering of the postseason. Star power, tactical intrigue and sweet, sweet #narratives will be on full display for however long the series goes on.
My job is a simple one: cut out the fluff, figure out what matters and give my best guesses on what you'll see.
WHAT TO WATCH FOR -- TRANSITION/EARLY OFFENSE
The Bucks and Nets were elite transition teams, ranking fourth (14.5) and sixth (14.3), respectively, in fast break points. Both got busy after missed shots, with the Nets (1.18 points per possession, 3rd) edging out the Bucks (1.15, 8th) in that metric.
Both squads look to space properly around their stars, though they tend to attack in slightly different ways. Giannis prefers to go middle. With spacers trailing to either side of him, it's difficult to build a wall on the fly while also accounting for those shooters. You have to pick a poison, basically.
You may get a slightly different flavor from Brooklyn, particularly when Harden gets the outlet. He can rumble in -- he's drawn shooting fouls on 15.2% of his transition attempts since joining the Nets, per Synergy -- but often elects to turn down the speed dial and utilize early (drag) screens.
About those drag screens: the Nets love to run them with an empty corner. Making their ball screens a 2-on-2 endeavor is typically trouble for their opponents. They'll get an unfavorable switch, or some sort of advantage in which the defense can't provide help in good conscious.
The Bucks will also mix in those empty corner looks, particularly when Giannis is operating as the screener. For the most part, they prefer to keep things middle with their ball screens. They'll oscillate between five-out spacing and their dunker spot-infused setup depending on the lineup on the floor.
WHAT TO WATCH FOR -- OUT OF BOUNDS
The Nets have a clear emphasis with their baseline or sideline-out-of-bounds plays: force the defense to make a quick, uncomfortable decision.
One of their most common sideline plays -- and one of the most common actions throughout the NBA -- is a quick-hitter in which the inbounder passes it to a big above the break. The inbounder will then receive a back-screen; the player that sets the back-screen will then lift above the break to flow into a dribble handoff or pick-and-roll with the big.
This ultimately isn't going to lead to anything, but here's an example of the set-up.
Now, that's Mike James and Landry Shamet hooking up before flowing into a dance with DeAndre Jordan. There's a pocket for a pull-up middy that James opts not to take.
Imagine that same action with two of Harden, Irving, Durant or Joe Harris doing the initial exchange.
Now imagine that with counters, because the Nets have them. These aren't all scoring plays, but this gives you an idea of how the Nets can stress you out.
If there's anything to keep an eye out for on the Bucks side, it's this screening action for Middleton if he's operating as the inbounder. He can be hit on a cut if it's there, a post-up on the opposite side (especially if there's a switch) or a clear out on the opposite wing if he's tracked all the way through.
KEY QUESTIONS
1) Can either team afford to play drop coverage?
This could be referred to as the Brook Lopez Question. It could also be referred to as the DeAndre Jordan Question.
From my view, this is a more pressing question for the Nets. Jordan hasn't played a second during the postseason, and has only appeared in three games (44 minutes) since the beginning of May. It's clear they've leaned into a center rotation of Blake Griffin, Jeff Green and Nicolas Claxton -- with a little Durant mixed in there.
There are two issues with that.
Green is currently out with a strained plantar fascia. There's no telling when he'll be back, or how effective he'll be when he returns. The other issue is that, from a size and physicality standpoint, Jordan is the only player on the Nets roster with a prayer of defending Giannis.
If Jordan does get the assignment again, he'll have a simple job: hang back in the paint, dare Giannis to shoot jumpers and absorb blows at the rim if he attacks.
That was a sound plan in the first half of their first meeting, but Giannis found utility operating as a handoff man or screener in the second half of that game. Over the next two meetings, Giannis scored 85 points while shooting 52% from two and 40% from three.
Here's Giannis' shot chart with Jordan as his defender in those two meetings, per InStat tracking data.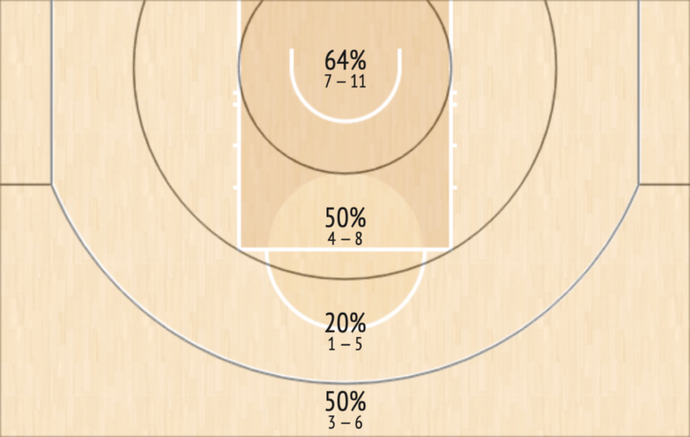 Giannis found his comfort zone in the second meeting. He brought the funk to Jordan, mixing in shoulder charging-drives, jump hooks, turnaround jumpers... you name it, he did it. If he can get to his spots and do what he wants against the Nets' best option, what do you do?
On the flip side, the Bucks have their own questions to answer in regards to Lopez. This isn't the Miami Heat, with all due respect.
For all the hoopla about Lopez hanging in a drop and the exploits that could come into play, the Heat ultimately didn't have the pull-up chops to make him (and the Bucks) bend. The Nets do, so Lopez in space could be problematic for Milwaukee.
To that point: Brooklyn scored roughly 1.1 points per possession in the pick-and-roll when the Bucks were in drop coverage during the season series, per a source with access to Second Spectrum tracking data. That number was nearly cut in half (0.53 PPP) when the Bucks switched, though the sample (17 picks) is pretty small.
The Bucks will need Lopez if he can hold up, though. Not only is his rim protection value essential, but he's also been a security blanket on the other end of the floor.
He's figuratively and literally a large part of the Bucks' ability to clean the glass; their rebound rate drops nearly four percentage points with Lopez on the bench.
Teams also have to be a bit careful about stashing smaller or worse defenders on Lopez. He's been more than willing to punk dudes on the block. He's generated nearly 1.2 points per possession when shooting out of the post against guards or forwards this season, per the Second Spectrum source.
2) How will the Bucks match up?
Donte DiVincenzo may not be a household name, but his ability to slither over screens will be missed. He got the Harris assignment during the regular season meetings and did a decent job of tracking him. With DiVincenzo out, the Bucks are going to have some decisions to make.
Will they roll with Pat Connaughton in his place? There isn't a great matchup for him. Looking through his Brooklyn film, he looked more comfortable using his body to absord blows than he was navigating screens. His best flashes came when matched up against Green on stray possessions.
I think back to the first meeting where Durant or Harden were able to isolate him. Let's just say things did #not #go #well.
He could be an innings eater of sorts against Harden. Harden would win that matchup, but maybe the gamble would be baiting the Nets into a heavier-than-they'd-like dosage of isolation play. That would allow Middleton (fresh off the Duncan Robinson assignment) to track Harris, Holiday to defend Kyrie and Giannis to take the Durant matchup from the jump.
The Bucks could opt to size up, inserting PJ Tucker in place of DiVincenzo and switching everything 1-through-4. I'd worry about what that would do to the Bucks on offense; both Tucker and Lopez can knock down open shots, but defenses don't defend them like true scoring threats. There's a reason that lineup only saw five minutes together in the regular season.
3) How effective will Giannis be in pick-and-roll?
If the second half of the first meeting was any indication, the Bucks should be able to get good looks out of Giannis-as-screener actions. Allowing him to rumble into open space is a problem; switching a small onto him is a problem.
The Middleton-Giannis pick-and-roll, in particular, has been effective all season long. The Bucks scored 1.1 points per possession on trips featuring a ball screen between the two, per the Second Spectrum source.
What I'm curious about is the inverse. There were roughly a handful of possessions in which Giannis had a smaller player screen for him, with most of those coming in the second meeting. A quality (for Giannis) look was created every time.
Very quietly, Giannis generated 1.23 points per possession as the pick-and-roll ball handler (passes included) this season, the best mark among 146 players to initiate at least 150 pick-and-rolls per Synergy. That number rose to 1.3 points per possession when a guard set the screen for Giannis.
I'm curious to see how often the Bucks work that wrinkle into the plan. With the Nets being a switch-heavy as they are, Milwaukee may be able to mismatch-hunt a bit.
STRAY THOUGHTS
It's a bit of a hat tip to the "drop coverage" section, but keep an eye on the way the Nets utilize Harris. He's mostly the beneficiary of the Big Three, spotting up and relocating when necessary to cash in on catch-and-shoots. The Nets have a bevy of stagger plays built in to get him easy looks, though. This one popped on film.
As was the case in the first round, Bryn Forbes minutes are going to be a barometer of the series. If he has a sizable role, it'll be due to him shooting well enough to do so. But also... these Nets are a lot more predatory than the Heat. The show-and-recovery sequences will have to be on point, because he simply won't survive on switches.
To that point, keep an eye on the Harden-Bruce Brown connection. The Nets scored over 1.2 points per possession when Brown screened for Harden this season, per the Second Spectrum source. Brown seems like a natural hiding place for a second unit guy like Forbes, but that could be fool's gold.
Even if the Bucks don't start this way, this has to be the series we see the Tucker-Giannis frontcourt to close things out. The Holiday-Middleton-Tucker-Giannis quartet has played 43 total minutes to this point; they have a plus-17.5 net rating in that time frame. The fifth will probably be the better of Connaughton or Forbes, though I guess you can never count Jeff Teague out of these things, amirite?
Very quietly, the Nets were a middling team against zone (0.97 PPP, 18th, per Synergy). The Bucks experimented with some zone in the second half of the season. I wouldn't be shocked to see them mix it in against Brooklyn's second unit.
Speaking of second units, Claxton vs Bobby Portis is going to be an under-the-radar battle that could swing a quarter, which could swing a game, which could swing the series. There are avenues (Portis' ineptitude in drop, Claxton's jumpiness or middling physicality) in which either guy could get played off the floor. This is a matchup to keep an eye on.