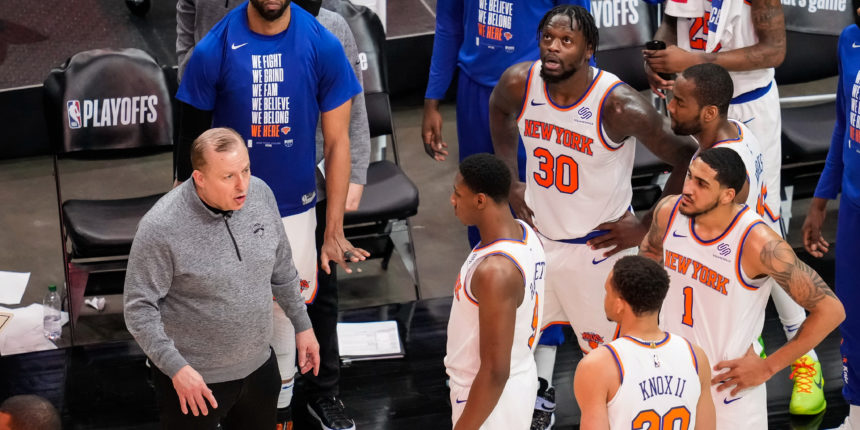 Autopsy on Knicks: Offense desperately needed, and Thibs has to change
Horrific on offense. Terrific on defense. So the New York Knicks are halfway there, but what we learned about them in the first round is that they are a long, long way from being a legitimate contender in the Eastern Conference.
To say the Knicks surrendered meekly would be a misstatement, because they were as physical in Game 5 as they were throughout the entire first round. But it was telling that when they made their last final burst early in the fourth quarter, Immanuel Quickley and Obi Toppin were leading the charge while Julius Randle was watching from the bench.
This was the first year of the Leon Rose/Tom Thibodeau era, and it will go down as a success simply because of the fact that the Knicks made the postseason for the first time in eight years and actually won a playoff game. Madison Square Garden came back to life with unbridled passion following a 14-month virtual lockdown in New York that decimated the city's economy, and the Knicks were by far the most talked about team in the metropolitan area for a full week, Brooklyn's disassembly of Boston notwithstanding.
But the offseason has arrived on this particular Thursday, and a team that the Knicks swept in the regular season – the Atlanta Hawks – is advancing to play the Philadelphia 76ers in what could be a more competitive matchup than many would anticipate if Joel Embiid remains injured and Ben Simmons remains a liability at the free-throw line.
The blame for New York's failure must be placed squarely on the broad shoulders of the NBA's Most Improved Player Award winner, Randle, who shot 8-for-21 (38.1 percent) Wednesday night in what turned out to be his most proficient game of the series. He was 6-for-23 in Game 1, 5-for-16 in Game 2, 2-for-15 in Game 3 and 7-for-19 in Game 4.
After averaging 6.0 assists in the regular season, that number dropped to 4.0 in the playoffs. In addition, he did not block one single shot.
Some soul searching is in order for the Knicks today, and in the weeks ahead. It would be easy for them to blame the absence of Mitchell Robinson at center and the slow development of Toppin in his first year, but that is somewhat disingenuous. Robinson is not exactly the second coming of Embiid (whose team also won without him last night), and Toppin was kept on a short leash, as was Quickley, because Thibodeau treats rookies differently and gets a pass on it because that is just how he rolls.
But coaches must evolve, and Thibs has not. He remains a basketball lifer whose players are extremely loyal and dedicated and actually follow his game plans, which is a credit to his effectiveness as a coach. He got the most out of Taj Gibson and midseason acquisition Derrick Rose, who were known commodities in his mind because of their shared histories.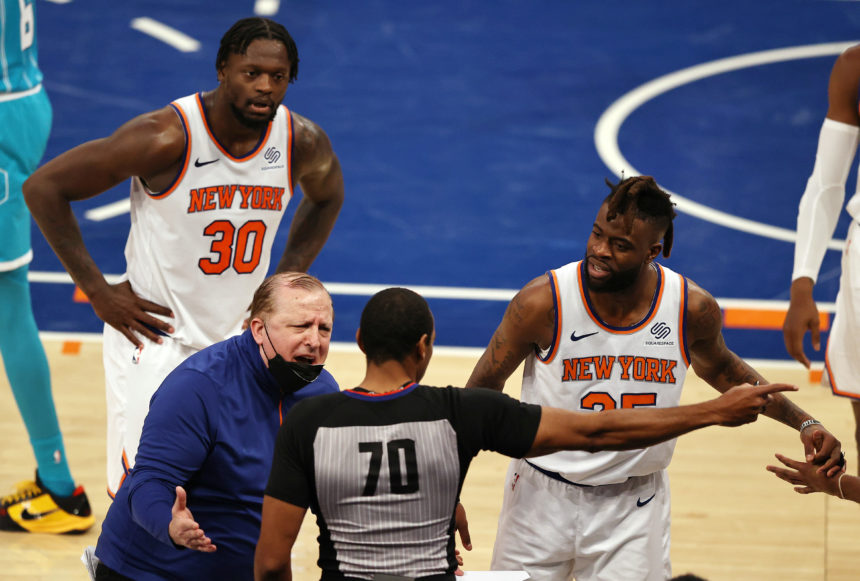 Thibodeau also stuck with Elfrid Payton as the starter when Payton was clearly a lost cause, and he never established a consistent secondary-scorer role for Alec Burks in the playoffs despite the fact that Burks was clearly stoked for this opportunity. Some of that is on Burks, too, because after a 27-point Game 1, he shot 5-for-19 from three-point range. Rose was their best three-point shooter at 47.1%, but he made only eight of them all series.
RJ Barrett was okay, but okay is not what you expect from the No. 3 pick in the draft after showing such discernible improvement in the reglar season. The Knicks shot just 39.8% overall in the series, second-last to Miami (who got swept by Milwaukee) by fourth-tenths of a percentage point.
The Knicks had more personal fouls (99) than assists (93), and their talent pool was vastly inferior to Atlanta's. Randle, an All-Star, had eight turnovers and three assists in Game 5. For the series, he had 23 turnovers, and the Knicks brain trust now must question whether he is still worth the four-year, $106 million extension offer he was expecting to receive. A better idea may be picking up Randle's $19.8 team option and making him earn those bigger bucks. The last thing the Knicks need is dead money on their cap. They still have that with Joakim Noah.
"I thought Atlanta added some good pieces to compliment Trae [Young] and I think that helped them," Thibodeau said when asked about the Knicks' personnel priorities last offseason.
New York is desperate for shooting and size.
Rose, Burks, Payton, Gibson, Nerlens Noel, Reggie Bullock and Frank Ntilikina (team option via a qualifying offer) will all be free agents. Depending on who they choose to keep and who they choose to let leave, the Knicks will have somewhere in the area of $40 million in salary cap space to spend in a free agency pool that will include guards Lonzo Ball (restricted), Kyle Lowry, Mike Conley, Spencer Dinwiddie (payer option), Bruce Brown (restricted), Devonte' Graham (restricted), J.J. Redick, Kelly Oubre Jr., T.J. McConnell, Alex Caruso, Kendrick Nunn (restricted), Bryn Forbes (player option), Chris Paul (player option), DeMar DeRozan, Patty Mills, Gary Trent Jr., Raul Neto and Ish Smith.
The two best unrestricted free agents among big men are Richaun Holmes of Sacramento and Kelly Olynyk of Houston, who likely played himself into a massive contract after getting dealt to the Rockets in the Victor Oladipo deal and averaging 19.0 points and 8.4 rebounds per game in 27 games.
So Leon Rose, William Wesley, Scott Perry and Thibs will have options. If they can make the right free agent pickups, and if Thibs loosens the reins on Quickley and Toppin, next year can be better. Knicks fans were happy with the fourth-place finish and the lone postseason victory, but they are not thrilled. New York had the perfect first round matchup, or so it seemed, yet the franchise is now dormant again until draft night, when they will select at Nos. 19, 21, 32 and 58.
By this time a year from now, we shall know whether they made the proper next steps or regressed to their norm. For now, there is no hiding the fact that although this was a better season, it was still a disappointment.
Once again for Knicks fans, it is time to look to next season for hope instead of this season.