We're still relatively early into this oddly-timed, COVID-filled season, but it's fair to call Monday night's duel between the Brooklyn Nets and Milwaukee Bucks one of the best games of the season. The starpower came through: Kevin Durant (30-9-6) and James Harden (34-6-12) dominated for the Nets in the 125-123 win, while Giannis Antetokounmpo (34-12-7-2), Khris Middleton (25-4-4) and Jrue Holiday (22-4-6) all shined for the Bucks.
Stars drive teams, and they surely drive viewership. This is a star-studded matchup we'd all sign up for come playoff time. But I'd argue the central figure of this game and a potential series, both figuratively and literally, is Nets big man DeAndre Jordan.
Jordan racked 12 points while making all six of his shot attempts, grabbed 12 rebounds, and finished as a plus-5 on the night. He did his usual dirty work offensively: he screened, he rolled into open space, and he cleaned the glass. Four of his 12 boards came on the offensive end of the floor.
The defensive end is where Jordan's night deserves to be put under a microscope. His assignment was simple: hang around the rim and absorb body blows from a driving Giannis. The put-your-center-on-Giannis gambit isn't particularly new, and to the Nets (and Jordan's) credit, it mostly worked.
According to a source with access to Second Spectrum tracking data, Giannis logged eight drives with Jordan as his primary defender. The Bucks scored a paltry 0.71 points per possession in that sample. Giannis struggled to create clean looks in semi-transition, with Jordan's combination of strength and length bothering him at the rim.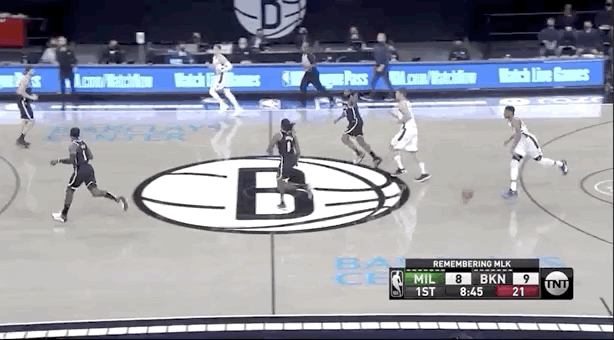 Jordan waits for Giannis to make the initial contact, absorbs the blow, then gets the clean strip as Giannis attempts the shot. Tremendous patience and timing on display there.
Things were even uglier for Giannis without the runaway afforded by transition opportunities. There was less space to chew up, less time to load up, and that led to a brighter light being shined on his relative lack of half-court counters.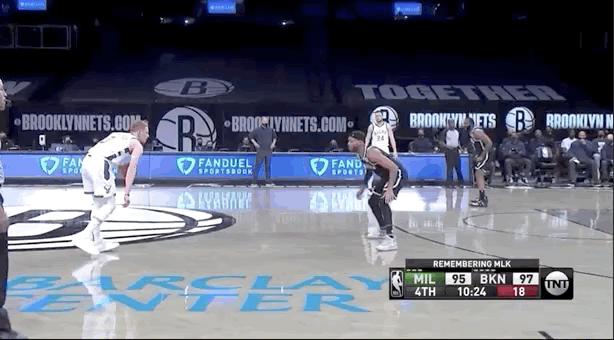 In those clips, it's easy to see the benefit of having Jordan on the floor. He's the biggest, strongest option the Nets have against a guy like Giannis. There's a trickle-down effect for Jordan being able to handle that matchup without much help; the easy one is that it allows Jeff Green, a much more nimble defender, to defend the stretchier option in Brook Lopez.
The Bucks would eventually shift their attack by changing Giannis' role. While the Bucks could barely muster 0.7 points per possession on Giannis drives against Jordan, that efficiency shot up to 0.97 points per possession when Giannis operated as the screener in pick-and-rolls, and 1.2 points per possession as the set-up man in dribble handoffs (per the Second Spectrum source).
Dropping Jordan deep into the paint makes it easier to contest things at the rim, but the space he affords also opens up windows for movement shooters to shake loose. Giannis and Bryn Forbes were able to generate some goodness in handoffs. They go to "Chicago" action here to get Forbes an open pull-up: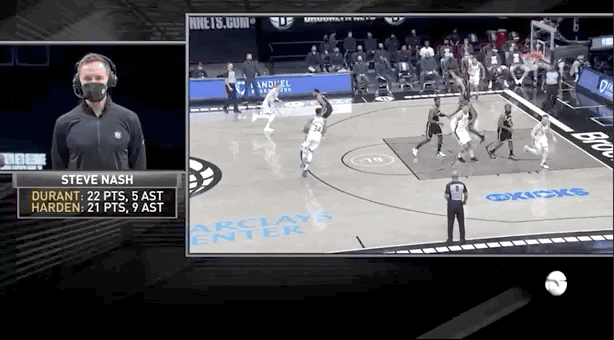 Later in the quarter, the Bucks ran a heavy dose of Middleton-Giannis pick-and-rolls to take advantage of the space Jordan gave up. It allowed Middleton, one of the league's best pull-up shooters, to flow into warm-up shots.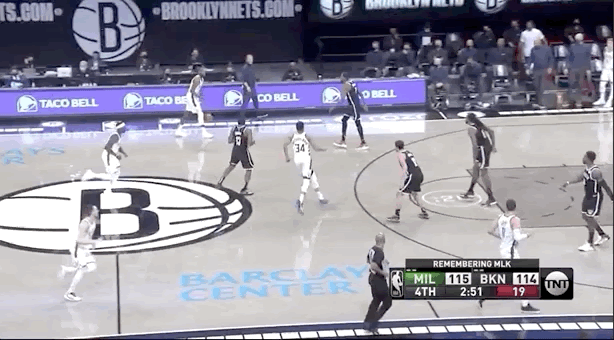 Once the Nets provided a little more attention to that action, cuts opened up on the back end.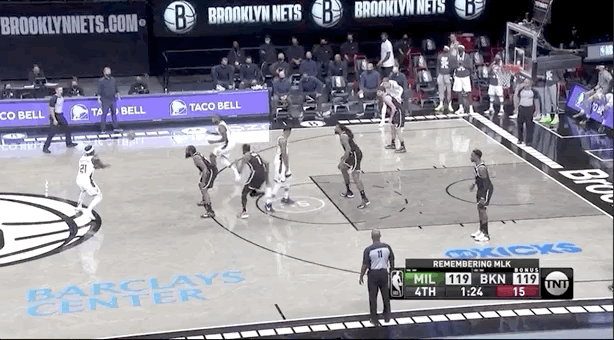 The clip above is a great example of why the 0.97 PPP number with Giannis as the screener is a little misleading. It wasn't a result of the Nets living with "meh" looks, or rotating on a string to force the Bucks into impossible looks. The Bucks mostly got what they wanted, and generated those looks for players that are comfortable converting them.
We're obviously a long way off from a potential playoff matchup, but the Jordan question will loom large unless the Nets make a trade or buyout signing. Much like Middleton can beat drop coverage with pull-up jumpers, The Jays in Boston can do the same. If the Forbes-Giannis combo can create quality looks out of handoffs with minimal resistance, what do you think Miami's Duncan Robinson and Bam Adebayo will do?
If there's a takeaway to be had from this game, as responsible as a one-game sample can be used, it's that Jordan certainly has three-quarters value. His presence at the rim as a deterrent and rebounder is still welcomed. The jury is out on his fourth-quarter effectiveness against the East's elite because of his limitations in space. With the Nets having legitimate title aspirations, tying that loose end before the playoffs should be priority number one.