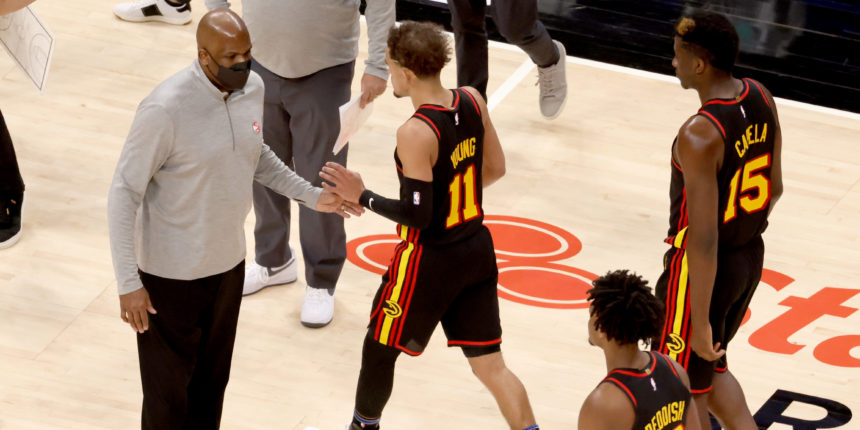 Nate McMillan to Hawks: 'If you are looking to point a finger, point it at all of us'
The only time Nate McMillan cracked a smile during Tuesday's 35-minute introductory news conference was when he recounted how departed Atlanta Hawks head coach Lloyd Pierce actually apologized to him for bringing him aboard as an assistant.
Gallows humor among coaches is a special thing, and they all know what they are signing up for when they vow to do their best in what has been a players' league for decades. Unless they are named Popovich or Spoelstra, they are hired to be fired.
And that was what happened with Pierce on Monday, much to the dismay of other coaches around the NBA, who weighed in with very strong thoughts about what may have led to the decision nominally made by general manager Travis Schlenk, but likely made by owner Antony Ressler.
The Hawks have been horrid in fourth quarters and tight games this season, losing 11 of which they held a fourth-quarter lead. The tension between Pierce and many of the organization's younger players was well-documented, and most of the veterans who were brought in to help out have been injured, ineffective or both.
Atlanta is 11th in the East with a 14-20 record, hands down the most disappointing team in the Eastern Conference with a roster built around three young stars -- Trae Young, John Collins and Clint Capela -- who are still in the process of learning how to become winners, a personality characteristic on the NBA level that sometimes takes years for a player to hone.
"I told the players: 'If you are looking to point a finger, point it at yourselves. All of us,'" McMillan said, "because all have to do better and win some games. Coach Pierce doesn't have that opportunity. He takes the hit."
Pierce exits with a 63-120 record, along with the backing of his fraternity. But the backing of the players on his roster is what ultimately makes or breaks every coach at every level. Pierce had enough trouble breaching the generational divide, and Schlenk cited a need for a new voice as one of the primary reasons why the change was made just two games prior to the All-Star break.
McMillan said Young, in particular, needs to become more adept at reacting to different defensive looks, particularly the box-and-one that at least three teams have employed this season. He noted that Michael Jordan and Kobe Bryant adjusted and thrived despite the different defensive looks they encountered over the course of their careers. Can Young do that? He didn't under Pierce, that much we know.
McMillan's prior head coaching experiences came with franchises that each had a culture. In Indianapolis, Portland and Seattle, the teams were civic treasures; in Atlanta, he takes over a franchise that could use a similar facelift. The pieces are in place for this roster to be a legitimate championship contender if everyone is playing at peak efficiency.
But Rajon Rondo, Bogdan Bogdanovic, Kris Dunn, De'Andre Hunter and Danilo Gallinari have missed significant time because of injuries, and the lack of practice times that all teams are having to adjust to has been especially difficult for a Hawks group that clearly needs as much acclimation time as possible. That commodity is unavailable during the current pandemic, so we are where we are.
"I told them about the three Cs: calm, clear and connected," McMillan said of his message, explaining that bad decision-making on both ends of the floor in the final minutes of close games was what separated good teams from bad teams.
Going forward, he wants an end to the internal barriers -- deep three-pointers early in the shot clock, failure to help as weakside defenders and losing poise as individuals and as a unit. If the players can listen and harness McMillan's message, there is no reason why they cannot be a top-eight team with the personnel able to present a postseason challenge to a Brooklyn or a Philadelphia.
But if Atlanta continues to be a player-centric type of situation and pays no mind to the message, McMillan does not figure to be a long-term solution (he took the job on an interim basis). Young is 22, Collins is 23, Hunter is 23 and Reddish is 21. Bogdanovic and Capela, both 26, are pretty much the wise old men on this team in terms of players currently producing.
McMillan is 56, a guy who went straight from being a player for the Sonics to being an assistant coach. He takes over for a 44-year-old Pierce that will likely not be heard from again until he resurfaces as an assistant on Gregg Popovich's Team USA squad for the Olympics this summer.
Pierce was the fall guy; he even he saw it coming. It takes a special person to connect with a younger generation that is not always amenable to accepting life experience as a valued commodity. Perhaps McMillan will get through to them, perhaps not.
"The sleepless nights have already started," McMillan said.
And he was not laughing or smiling when he said that, because mirth is in as short supply in Atlanta as signature victories.
Time will tell if McMillan can change that.