It's been a busy weekend for bought-out big men.
LaMarcus Aldridge, former member of House Spur, is heading to the Brooklyn Nets to bolster their frontcourt depth. Former Grizzlies center Gorgui Dieng is effectively replacing Aldridge, taking his floor-spacing talents to the San Antonio Spurs.
The domino we were waiting on was Andre Drummond. The former All-Star was excommunicated from the Cleveland Cavaliers following their acquisition of Jarrett Allen as part of the James Harden trade. It was odd to have 17 & 13 just chilling on the bench; it was even more odd, on the surface at least, to have 17 & 13 hit the waiver wire following a buyout.
Sure enough, Drummond is on his way back to work, electing to join the down-but-dangerous Los Angeles Lakers per ESPN's Adrian Wojnarowski. Drummond is now part of a big man rotation featuring Anthony Davis, Marc Gasol and Montrezl Harrell. Let's examine how Drummond fits into their plans.
HALF-COURT USAGE
Let's get this out of the way: the intrigue of Drummond isn't -- and shouldn't -- be due to his scoring repertoire. Here is how Drummond has ranked in terms of post-up efficiency in his career, per Synergy:
2012-13: 6th percentile (worse than 94 percent of players)
2013-14: 23rd percentile
2014-15: 23rd percentile
2015-16: 27th percentile
2016-17: 19th percentile
2017-18: 40th percentile
2018-19: 29th percentile
2019-20: 49th percentile (49 games with Detroit before being traded to Cleveland), 85th percentile (eight games in Cleveland)
2020-21: 31st percentile
One season across two teams with a 57-game sample is all the evidence we have of "maybe Drummond can do stuff in the post." He's fared much better as a roll man, though you'd have to go back to the 2014-15 season to find an elite number (1.18 PPP, 88th percentile).
What do those fancy-schmancy numbers mean? In short, he can't be looked to as a focal point, nor is he an elite play finisher. He hasn't played in ideal situations -- the spacing and dynamic ball-handling around him has been scarce, to be kind -- so he probably isn't as bad as those numbers suggest. The kicker: the Lakers don't have great spacing or dynamic ball-handling either.
If you're expecting Drummond to look like the All-Star version of himself, you may need to temper your expectations.
Of course, the Lakers don't need him to be the All-Star version of himself. They just need him to be useful. There are pretty simple pathways to get to "useful" within their scheme.
It starts with inverting the offense a bit. Drummond brings some value as a handoff threat. He isn't a great screener, but has a margin for error due to how freakin' massive he is. The Lakers run Chicago action -- a pindown that flows into a handoff -- just like every other team in the league. Drummond should slot in easily as the trigger man in those actions: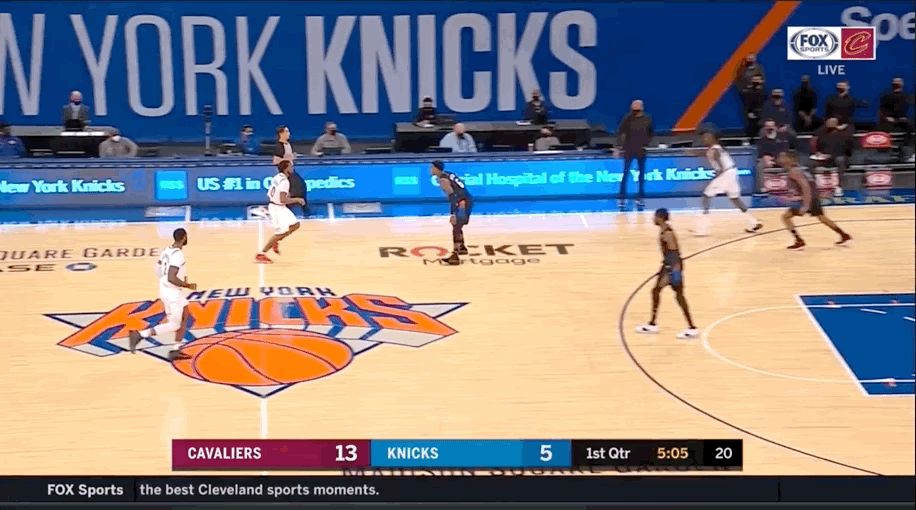 Pitching it to him in early offense situations may be the best way to highlight the passing. The Lakers desperately need to inject some energy and randomness into their attack. It helps that he has the passing chops to find cutters; Dennis Schroder and Alex Caruso in particular are good at wrong-footing defenders, or simply catching them off guard with hard cuts.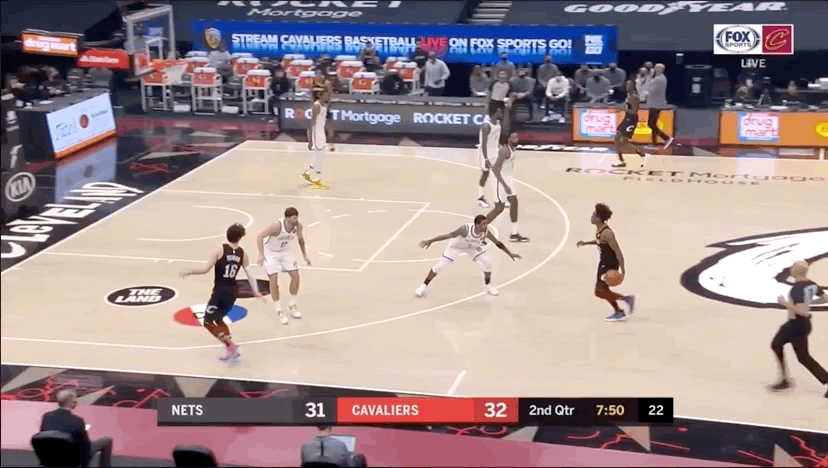 I would imagine the Lakers are going to experiment with Double AD lineups whenever Anthony Davis is back. You can expect them to hook up with high-lows, either with Davis slicing to the rim off cross screens, or more delicate actions flowing out of a HORNS alignment.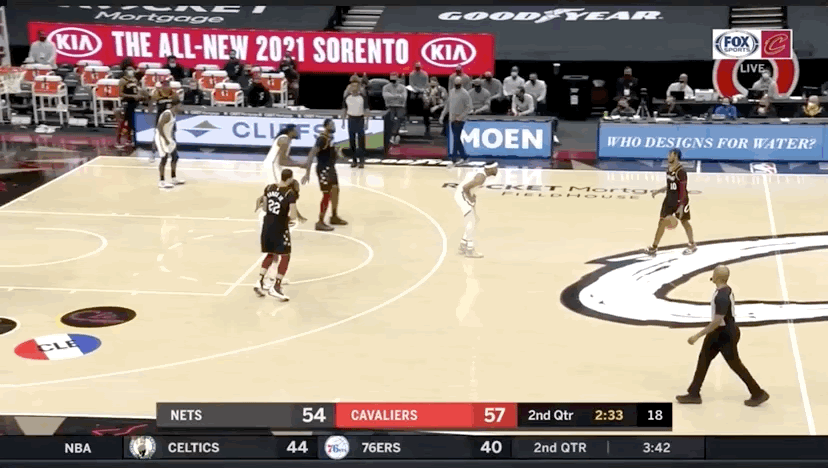 Post-split action is available to Drummond because of the passing ability, but I wouldn't expect the Lakers to go to that well often. Again, the Lakers don't necessarily space the floor at a high level. An alternative may be pitching it to Drummond to the elbow with an empty side, and letting a guard scamper around him. The Cavs were able to get a few cheapies that way with Drummond finding Darius Garland or Collin Sexton.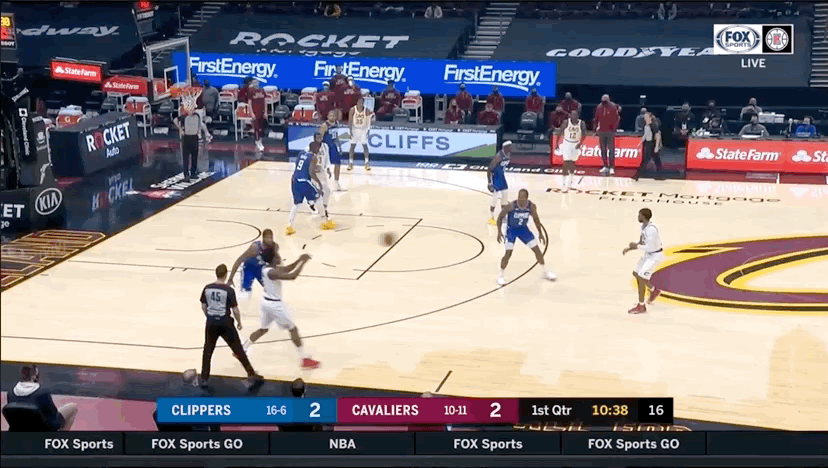 TOGGLING BETWEEN COVERAGES
The Lakers are a pretty versatile group defensively, able to flip between coverages on a whim based on the personnel they're facing. Playing against pull-up threats? The guards can fight over screens, and the bigs can "catch" the handle by playing a little higher up. They can switch actions on or off the ball to take away advantages. The backline help is timely, and they're able to "scram" their way out of mismatches when they happen.
Where does this leave Drummond? Frankly, I don't know. Going through his film, he's an interesting case study for the intersection of IQ, ability and effort on defense. They all matter of course, but how that pie is sliced changes by the player.
Drummond generally knows where to be, which is probably the most encouraging part of his profile. When operating in drop, he has a decent enough feel for where he should be in the gap. When playing higher up, he knows what angle he's supposed to take so the ball handler isn't able to completely turn the corner.
In terms of ability, it's hard to gauge. Drummond has incredible hands; he's typically atop the leaderboard for deflections and steals among bigs. He's flirted with two-block-per-game seasons a few times in his career because of his length. But there are obvious limitations to his lateral quickness, and he has a lack of vertical pop that keeps him out of the upper echelon of interior defenders.
He can survive against average -- the tools and general understanding don't let him fail that often.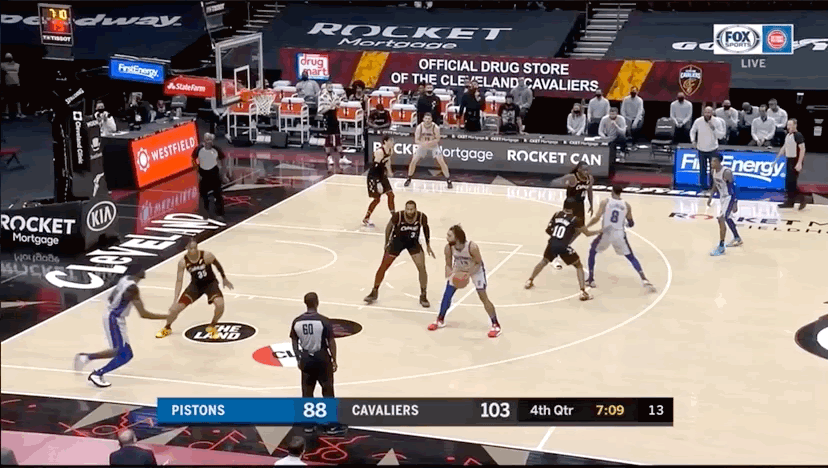 Bump the talent level up a notch, and those physical limitations can shine through.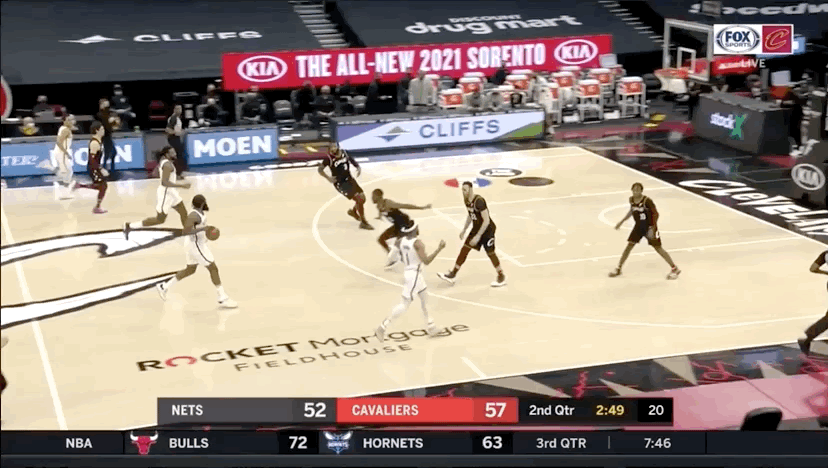 The margins are small. A little more room to navigate, the pass is a little bit higher and a deflection turns into a dunk. What complicates things beyond a scheme or talent level is the energy. From Detroit to Cleveland, we've never really known which version of Drummond was going to show up. Is this Bad 'Dre, or I Don't Care 'Dre?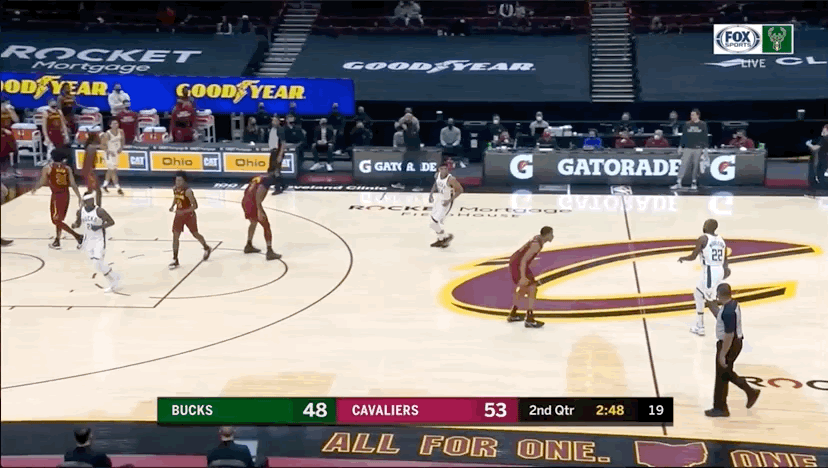 It looks like the latter, and the bet -- a safe bet, in my opinion -- is that the Lakers won't have to worry about that version showing up since he's playing for a title and a new contract.
The other positive is that Drummond will be surrounded by the best defensive personnel of his career. Not being able to flip his hips after a hedge may not matter as much with LeBron James or Davis behind you for clean-up duty.
Ultimately, an engaged Drummond should be able to add to the center room on both ends. Invert the offense with high-post passing, clean the glass and hold water defensively. The lack of scoring equity and space navigation on defense limit his ceiling, but the Lakers can live with that.
He won't pull the Lakers across the finish line, but he can help them along the way.