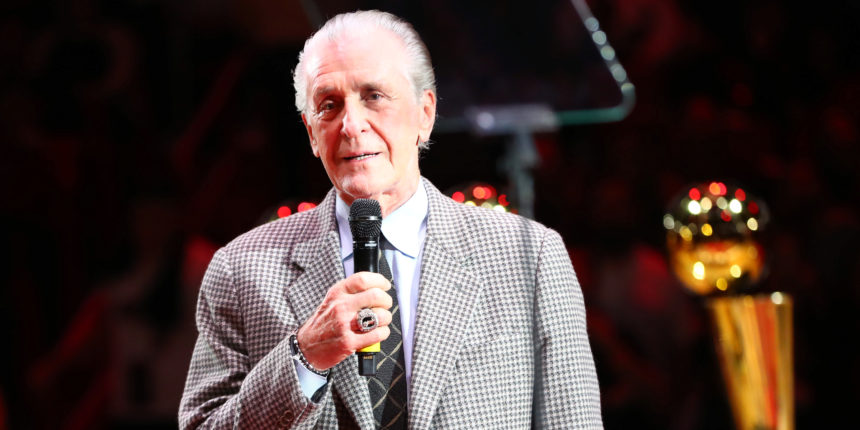 Grading every move from the 2021 NBA trade deadline
Nothing gets the NBA fan community going quite like transaction talk. Rumors rule the timeline and the airwaves; actual moves dictate the conversation unlike anything outside of high-level playoff basketball.
This year's trade deadline was a busy one, filled with deals big and small. Heck, Raptors guard Kyle Lowry was the talk of the town and ultimately stayed put in Toron- er, Tampa. I guess that's how that works, sure.
Anyway.
I've been tasked with assigning grades for Deadline Day. I could've talked about the three biggest moves and called it a day, but where's the fun in that? Instead, I assigned a grade to everything that went down on Thursday.
Feel free to yell at me about your favorite team's Grade. You can find me at @NekiasNBA on Twitter.
Let's dig in.
TRADE ONE
Sacramento Kings send Cory Joseph, a 2021 second-round pick (LAL) and a 2024 second-round pick (SAC) to the Detroit Pistons for Delon Wright.
Pistons Grade: B+
Joseph is a worse player than Wright, but he kinda, sorta fills a need as a table-setter. A guy with his experience -- started his career in San Antonio with Gregg Popovich and behind Tony Parker, backed up Kyle Lowry in Toronto for a couple of seasons -- could be good for rookster Killian Hayes.
The real prize here is that the Pistons were able to nab a couple of second-round picks. Those represent swing opportunities if they keep them, or sweeteners for future trades. Solid job for Troy Weaver and the crew.
Kings Grade: B-
Not sure I love giving up two second-rounders, but I dig the Wright fit. He should be able to play with at least one of De'Aaron Fox or Tyrese Haliburton -- maybe both if he has the three-ball going. He isn't the stickiest guy fighting over screens, but his endless limbs allow him to make plays that simply aren't available to average humans.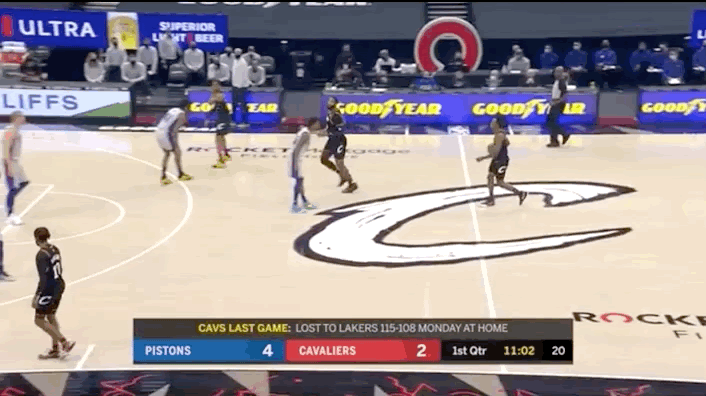 The Kings are pretty short on perimeter defenders. Fox's effectiveness comes and goes; Haliburton is still getting there as an on-ball guy. Wright should add some juice there.
TRADE TWO
Cleveland Cavaliers send JaVale McGee to the Denver Nuggets for Isaiah Hartenstein, a 2023 second-round pick (DEN, protected 31-46), and a 2027 second-round pick (DEN).
Nuggets Grade: B
He's back!
Pretty simple fit here for the Nuggets. McGee will provide a vertical spacing element they didn't have on the roster beforehand. There's still some juice there as a rim protector, though possessions become an adventure if he's tasked with venturing out in space.
No real complaints about the picks being given up, nor is it a big deal if McGee can't give you a consistent 20 minutes off the pine. Low-risk, moderate-reward move.
Cavaliers Grade: B
Snagging a pair of future seconds, even with one being protected, is a decent haul for a center you would've had to buy out otherwise. The Hartenstein flier is cool. He doesn't provide the vertical pop that McGee does, but he has the touch and spatial awareness to operate as an effective roller. There's a third big in there somewhere if he stops fouling everything in sight.
TRADE THREE
Orlando Magic send Nikola Vucevic and Al-Farouq Aminu to the Chicago Bulls for Wendell Carter Jr., Otto Porter Jr., a 2021 first-round pick (CHI, protected 1-4) and a 2023 first-round pick (CHI, protected 1-4)
Bulls Grade: A
The first blockbuster of Deadline Day featured the Chicago Bulls; can't say anyone saw that coming.
Adding Vucevic is a tremendous swing. He provides three-level scoring that should vibe nicely with Zach LaVine, particularly late in games. He's quietly a solid high-post passer, which should help the offense flow better in lineups without LaVine.
(Read: Coby White may not have to make too many decisions if he finds himself playing alongside Vucevic while LaVine gets a breather).
I worry about the defense against high-level offenses. Vucevic is fine as a drop defender, but can be turned around a bit when playing higher up. The Bulls do have the personnel to cover for him a bit, so maybe it won't be too bad.
Magic Grade: B-
Getting two firsts and Wendell Carter Jr. should represent a good haul for the Magic. Yet, I can't get all the way there with it.
The Bulls were able to protect both of the first-rounders they sent out, an odd concession allowed considering all of the "Vucevic isn't going anywhere without an offer that blows us away!" messaging we heard out of Orlando. I personally love Carter, but man, is this the developmental context for him?
Where is the shooting? Where is the dynamic guard play? He should get a good bit of burn, but... we just saw Vucevic and Khem Birch playing together. I have no idea what the lineups are going to look like, and this is Coach No. 3 in the past calendar year for Carter.
How good is a prospect if they aren't in a situation to maximize their strengths? The Magic have some work to do to help out Carter. We'll see.
TRADE FOUR
Orlando Magic send Evan Fournier to the Boston Celtics for Jeff Teague (to be waived), a 2025 second-round pick (lesser of BOS or MEM), and a 2027 second-round pick (BOS)
Celtics Grade: B+
The Celtics have missed Gordon Hayward a little more than they'd like to admit. Granted, with their injuries, they've missed just about everyone.
Still, having a guy like Fournier flying off pindowns should help bend the defense. He has a little bit of a pull-up game. Having that kind of offensive firepower should help the Celtics when they want to rest one or maybe both of their "Jays." Getting Fournier for a pair of future seconds is fine dining.
Magic Grade: B
If there were no plans of re-signing Fournier in the offseason, getting some sort of pick capital made sense. An earlier second would've been nice, but that feels nitpicky. Generating a large trade exception in this deal is a nice bonus.
TRADE FIVE
Three-team trade between the Boston Celtics, Chicago Bulls, and Washington Wizards:
Celtics get: Moe Wagner, Luke Kornet
Bulls get: Troy Brown Jr., Daniel Theis, Javonte Green, $1.3M in cash (BOS), $250K in cash (WAS)
Wizards get: Daniel Gafford, Chandler Hutchinson
Celtics Grade: C
Taking swings on a pair of stretch-in-theory bigs is a fine bet on the surface. They didn't previously have that dynamic on the roster. But man, neither of those guys defend well enough to warrant fourth quarter minutes. They shaved some money off the books, at least.
Bulls Grade: B
Theis gives Chicago some depth behind Vucevic at the 5. His screening, however legal, should help pry guards loose. I'm also a fan of Brown, a wing with some passing chops that are worth exploring at least a little bit.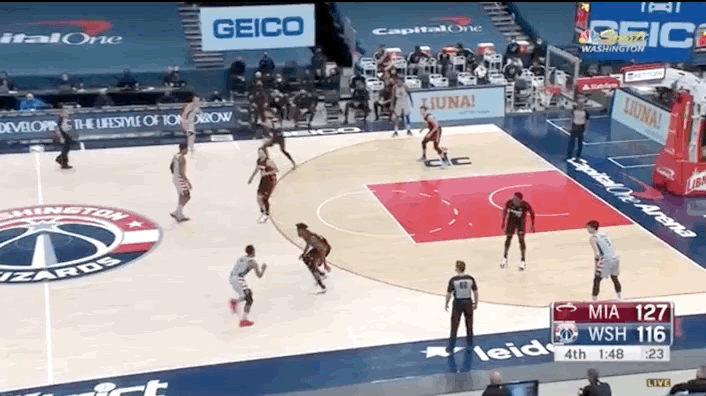 Green feels real throw-in-ish, but did show some interesting flashes in Boston during a stretch where they didn't have other guard bodies available. It's hard to see where he fits into a rotation unless a similar situation materializes.
Wizards Grade: B-
Having contrasting styles in your center rotation isn't a bad thing. Gafford is one of the more violent rim threats in the league: a quick-twitch athlete that will dunk on your head if you give him a clean launching pad.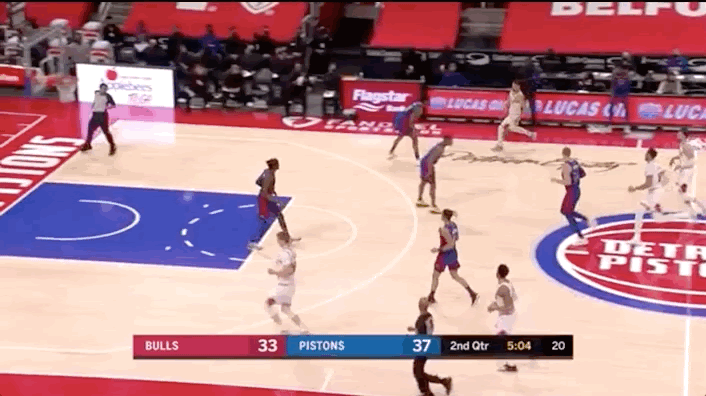 Gafford is more of a shot blocker than rim protector right now; positioning and risk assessment are issues, as is the case with a ton of young bigs. Provided Scott Brooks plays him, I could see him vibing pretty well off the attention Bradley Beal and Russell Westbrook draw.
I can't say I see it with Hutchinson. If the Brown experiment is any indication, it's hard to imagine him getting consistent burn to really show out.
TRADE SIX
Orlando Magic send Aaron Gordon and Gary Clark to the Denver Nuggets for Gary Harris, R.J. Hampton and a 2025 first-round pick (DEN, protected 1-5 through 2027)
Nuggets Grade: A
I won't go too deep on Gordon since I hit the high notes in a piece earlier this week, but this is a fantastic move for the Nuggets. Losing the point-of-attack defense from Harris will hurt, but the bet is that Gordon's versatility will mitigate that loss. I'm very excited to see Jamal Murray and Nikola Jokic play together with him. Getting Clark in the deal is a nice bonus. I still think he can do some stuff on both ends.
Magic Grade: B-
Gordon made it clear that he wanted out, and the Magic were able to get some assets for him. Hampton has a good deal of upside as a creator; I just hope Steve Clifford gives him some freedom to explore. Harris is certainly a Clifford-type guy because of his on-ball ruggedness. If his shot comes back, he could be a moveable piece next season. Allowing the Nuggets to protect the 2025 first seems like a missed opportunity, but they should be good enough to where the pick will convey anyway.
TRADE SEVEN
Sacramento Kings send Nemanja Bjelica to the Miami Heat for Moe Harkless and Chris Silva
Heat Grade: B
Anytime you can add a legit rotation player without giving up anything of consequence, you do that without a second thought. The Harkless signing flopped, and Silva didn't have a real pathway to playing time, nor did he really deserve one.
Bjelica steps in as a legitimate floor spacer, though this season has admittedly been a weird one (29.8 percent from three on 2.2 attempts). He's shot north of 40 percent from three in each of the three seasons prior, so it's safe to chalk this one up to rotation weirdness.
There are sneaky passing chops in the arsenal, though he's still a downgrade from Kelly Olynyk as an overall playmaker. Even with that caveat, the Heat should enjoy his floor awareness and quick processing speed.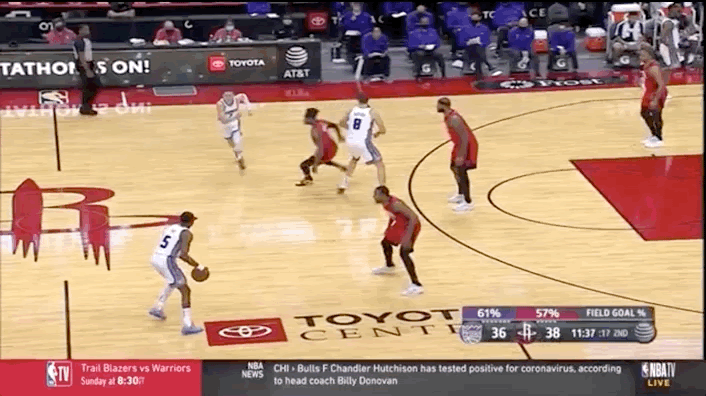 He's a fine defender within a scheme, though he doesn't offer much positional versatility. For what the Heat gave up, they did pretty well here.
Kings Grade: D+
Harkless flat-out hasn't been good this season, but I suppose it's worth taking a flier on an actual wing. It honestly wouldn't be a surprise if he ends up getting bought out.
Silva doesn't do much for me in this deal, though there may be a pathway to minutes pretty soon. Jabari Parker has been waived, and I would guess -- emphasis on "guess" since I'm not sourced like some of my colleagues -- Hassan Whiteside won't be on the roster much longer.
...Yeah, I don't know. I tried.
TRADE EIGHT
Three-team deal between the Philadelphia 76ers, New York Knicks and Oklahoma City Thunder.
76ers get: George Hill, Ignas Brazdeikis
Knicks get: Terrance Ferguson, Vincent Poirier (to be waived), rights to Emir Preldzic (overseas stash), 2021 second-round pick (PHI), 2024 second-round pick (protected 31-55, from PHI via MIA)
Thunder get: Tony Bradley, Austin Rivers, 2025 second-round pick (PHI), 2026 second-round pick (PHI)
76ers Grade: B
Hill is a good, smart basketball player. He can shoot, direct some traffic in the half-court and defend both guard spots reasonably well. Hill also doesn't solve Philadelphia's lack of shot creation off the bounce.
The argument can and has been made that getting Hill, while keeping their young assets, is better than flipping a bunch of stuff for Kyle Lowry. I get that in a vacuum. But the Sixers should've been in problem-solving mode, not problem-easing mode. It's a fine deal and he'll help, but they didn't gain real ground on Brooklyn or Milwaukee in the contender hierarchy, in my opinion.
Thunder Grade: B-
I was a bit higher on this when the deal first came through; I just assumed the Thunder would be able to flip Rivers for another second-rounder before the deadline passed. They didn't, so they either have an innings eater while Shai Gilgeous-Alexander is out or a buyout candidate on their hands.
Adding Bradley to the center room is cool. He should push Moses Brown (massive human, by the way) for minutes. Two more seconds to the treasure trove certainly made Sam Presti happy, made him smile.
Knicks Grade: C+
The jury remains out on Ferguson's jumper, and he's the only player the Knicks care about in their deal. A late second-rounder and a future first that probably won't convey just don't do much for me.
TRADE NINE
Toronto Raptors send Norman Powell to the Portland Trail Blazers for Gary Trent Jr. and Rodney Hood
Blazers Grade: B
This is an interesting bet for the Blazers. Powell has been incredible offensively, mixing in fearless rim attacks with flamethrowing from the perimeter. He represents a size upgrade from Trent Jr., his wingspan making him a safer option against wings -- on the surface, anyway. He should add some juice to a Blazers second unit that desperately needs perimeter creation.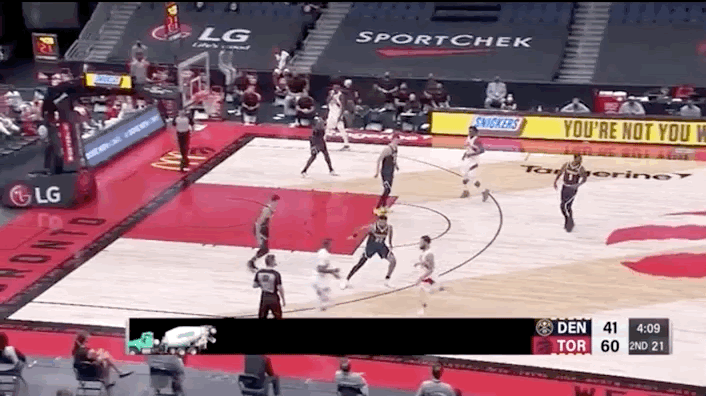 I get the thinking. I just hope the Blazers are okay with getting slightly older and shelling out more dough over the offseason when Powell declines his player option and asks for the bag.
Raptors Grade: B+
I like the move a little more for the Raptors, getting the restricted free agent that aligns a little more with their core's timeline. Trent is also a phenomenal shooter and a little better on the ball defensively. With the defensive personnel the Raptors have, Trent shouldn't be tasked with banging with elite matchups as often as he's had to over the past year or so.
Hood has been a mess this season (36/30/75 shooting split), but has the resume of a two-level scorer that can catch fire in any given quarter. He's a fine option to have off the bench.
TRADE 10
Toronto Raptors send Matt Thomas to the Utah Jazz for a 2021 second-round pick (GSW)
Jazz Grade: C+
Thomas may very well be the best shooter on the planet that nobody talks about. I don't see a real path to consistent playing time without enough injuries to knock Utah down a tier or two. He's a nice regular-season weapon to have in the chamber, and his contract ($1.8 million next season, non-guaranteed) should be pretty easy to navigate.
Raptors Grade: C+
There's a chance this pick could end up falling within the top 40. With Thomas not being a real rotation piece, I'm fine with them going the asset accumulation route here.
TRADE 11
Los Angeles Clippers send Lou Williams, a 2023 second-round pick (POR), a 2027 second-round pick (LAC) and cash to the Atlanta Hawks for Rajon Rondo
Hawks Grade: B+
This isn't the Williams of old, the perennial Sixth Man of the Year candidate that could boogie on anyone and get to the free throw line an infuriating amount of times. A shade under 13 percent of Williams' shot attempts have come at the rim this season, the second-lowest share of his career, per Basketball-Reference.
He has knocked down triples at a decent rate (37.8 percent), can still dig into his bag of tricks when driving left and has shown a surprising amount of fight on the defensive end (though he's still bad). Adding some guard depth and picking up a pair of seconds is a darn good haul for Atlanta.
Clippers Grade: D
The Clippers had two problems that needed addressing at the deadline: rim pressure, and point-of-attack defense. Rondo, in the Year of Our Lord 2021, does not solve either of those issues.
He's still quick enough to get to the rim, but doesn't truly bend defenses because of his reluctance to score. He's certainly no lockdown defender, though his IQ and length give him a little bit of grace. There's something to be said about his know-how, but I don't know how much he moves the needle. Unless Playoff Rondo makes a regular-season appearance, and often, this has a pretty high probability of being the worst deal of the deadline.
TRADE 12
Toronto Raptors send Terence Davis to the Sacramento Kings for a 2021 second-round pick (MEM)
Kings Grade: C+
Davis looked like a steal for most of last season before falling apart in the bubble. He's largely been an afterthought this season, finding himself out of Toronto's rotation as of late. For what projected to be a mid-40s second-rounder from Memphis, I suppose he's worth the flier.
Raptors Grade: B
The Raptors traded a player out of the rotation for a mid-second in what looks to be a pretty good draft. Freeing up a roster spot for buyout hunting or G League call-ups is a bonus.
TRADE 13
New Orleans Pelicans send JJ Redick and Nicolo Melli to the Dallas Mavericks for James Johnson, Wes Iwundu and a 2021 second-round pick (DAL).
Mavericks Grade: C+
The Mavericks clearly underestimated how much they'd miss Seth Curry. It's not just that Curry can shoot; his ability to fire on the move, in pick-and-roll or flying off screens, was pretty darn valuable.
Getting Redick to replicate that, and also provide some value as an inverted screener for Luka Doncic, should give the offense a boost. Don't ask about the defense, or closing out games, for that matter.
Melli, originally signed for his floor-spacing capabilities, has taken 243 triples in his NBA career. He's made 76 of them, a 31.3 percent clip. Maybe he gets the fairy dust sprinkled on him from Rick Carlisle, but otherwise this is simply a throw-in that won't end up mattering.
Pelicans Grade: B-
It was pretty well publicized that Redick was on his way to a buyout. Nabbing a pick in this year's draft is a nice consolation prize; adding a wing prospect in Iwundu could be a bonus, though there's no telling how much burn he'll actually get. Johnson's inclusion is whatever; I'd expect him to be bought out unless Stan Van Gundy really values his toughness.
TRADE 14
Golden State Warriors send Brad Wanamaker, a 2022 second-round pick (TOR, protected 31-54) and cash to the Charlotte Hornets for a 2025 second-round pick (protected 31-55)
Hornets Grade: C
The second-round pick is effectively fake, and Wanamaker has been pretty darn bad this season. The Hornets do have a multitude of ball-handlers, so maybe shifting Wanamaker into more of an off-ball role can be good for him. Meh.
Warriors Grade: C+
Hooray, roster spot! Double hooray, tax savings!
TRADE 15
Houston Rockets send Victor Oladipo to the Miami Heat for Kelly Olynyk, Avery Bradley and a 2022 first-round pick swap (MIA)
Heat Grade: A
Oladipo-to-Miami has been the worst kept secret in the NBA for a couple of years now, if not longer. That Miami was able to snag him without giving up literally any of their top assets is a fleecing of the highest order. Seriously, the worst-case scenario is that Oladipo massively underperforms or gets hurt and the Heat have to... give those minutes to Tyler Herro and Duncan Robinson.
They'll miss Olynyk, but they acquired his replacement before this deal went down. Bradley didn't play enough to make an impact. Oladipo can step right in as a slasher, spot-up shooter and a credible defender across both guard spots. Home run for Miami.
Rockets Grade: C
I can't call it a failure because the Rockets accomplished what they wanted to. They got swap rights on a pick for a player they weren't going to keep, and kept their books relatively clear in the process.
Olynyk should help from a spacing standpoint and inject some unpredictability into Houston's half-court attack. Bradley has an option year, but it's hard to imagine him picking it up. If he does, the Rockets should be able to get a second-rounder out of him at some point. Congrats?
TRADE 16
Golden State Warriors send Marquese Chriss to the San Antonio Spurs for the rights to Cady Lalanne (overseas stash)
Spurs Grade: C
Chriss is out for the year, and is able to hit free agency this offseason. I'd love to make the "he brings a brand of athleticism and maybe-shooting to a frontcourt room that doesn't have it" argument, but I'm not sure how appropriate that is.
Warriors Grade: C+
Hooray, roster spot! Double hooray, tax savings!