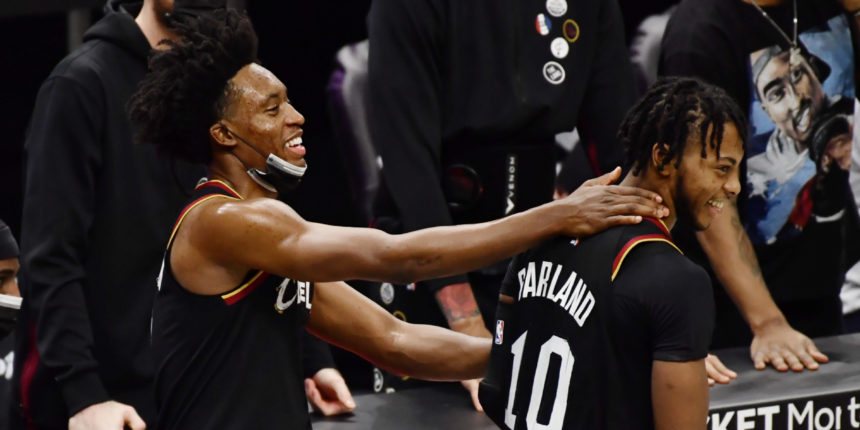 Cavs riding Core Four into the future, through the good and bad
The NBA All-Star break couldn't have come at a worse time for the Cleveland Cavaliers. Following a brutal 10-game losing streak, J.B. Bickerstaff's young bunch had just won four out of five contests, finally finding a rhythm and a consistency the team had been searching for. For the first time all season, the starting lineup was the same for five consecutive games.
Returning from the one-week hiatus, that changed quickly. On the bright side, the Cavs got a vocal leader and top defender back in Larry Nance Jr. after he missed 12 games with a fractured wrist. Kevin Love, who hadn't appeared since the team's second game of the season, returned on a limited basis. Losing bodies is difficult, but adding them back into the mix is a battle in and of itself. So for Cleveland, that acted more as a stopper of continuity.
The Cavs dropped three straight out of the break. Two 82-point efforts and a 98-point night in a loss at Miami meant the offense was having issues, similar to the lengthy slumps we've seen before in stretches. As has been the case throughout the season, Collin Sexton was relied on as the primary scorer. While his numbers weren't pedestrian by any means, there wasn't nearly enough shot-making outside of his for Cleveland to succeed, as evidenced by a ghastly 39.2% field goal rate and 28.9% collective clip from deep. Once again, there was a lack of practice time and no shootaround while the team was on the road -- the very same issue that plagued them on the West Coast.
On top of that, over two minute-restricted games, it took only 11 minutes and 42 seconds combined for Love to find himself back on the shelf with an injured calf. He has not played since he felt discomfort in Atlanta. The team was as cautious with the 32-year-old's original recovery process as it could be. Due to his progression and a week-long All-Star break, it seemed to be the right time to reimplement him into the fold. However, with just one practice under his belt before hitting the floor, we soon found out he wasn't past it.
According to a Cavs team source, Love's calf still "has to get back to 100%." With the number of games left on the schedule, Cleveland is committed to ensuring he gets to that point before sending him out on the court again. As for when that will be, we don't have an answer yet.
"It's hard to tell," the team source said. "There's days when he feels great, there's workouts when he feels phenomenal, then there'll be soreness the next day and it's like, it sucks. We've gotta keep moving forward...He'll get to have some really meaningful minutes in.
"Obviously, we'd love to have him back and see what it's gonna look like with him on the floor and spacing. It's gonna be great for Jarrett Allen, it's gonna be great for our guards (Sexton and Darius Garland); he's gonna give some pressure relief. That's another thing -- those two guards have to create everything for us, and Kevin is pressure relief. You throw the ball into him, and he can create a lot of gravity. It's something we want to see happen, but we realize, let's let this injury take its course...then, we'll see what that looks like."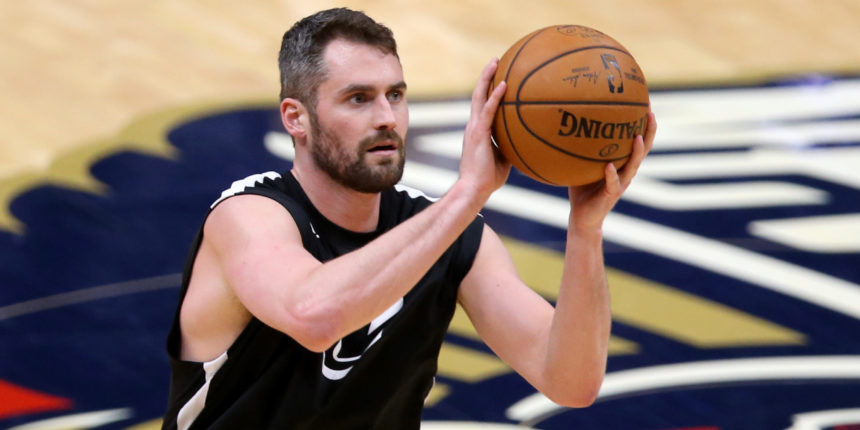 Of course, when it rains, it pours. The day after Love exited early in the loss against the Hawks, Twitter detectives noticed that Sexton liked a tweet that said the veteran big man "stole $120 million" from the Cavs, a reference to his contract. Setting the platform abuzz, it spread like wildfire. According to the team source, Sexton doesn't use social media and only has his account managers utilize it for sponsorships or promotions. He didn't know it happened in the first place, and once he was informed, Sexton had his social team unlike the tweet and addressed Love about the situation right away.
"That's just not Collin. It's an absolute non-story, but it did happen," the team source said. "He said, 'Look, this is a lesson. I'm gonna be way more secure with my stuff and my passwords.' That's actually a good lesson for who has access to your stuff, who's checking your stuff. A lot of times, it's very innocent -- business associates' friends, who knows? He'll get better in that space, but it certainly wasn't something that he meant to do or be out there."
But a slip of somebody's finger and another lengthy losing streak didn't stop the Cavs from staying at it. In a four-game homestand, they went 2-2 with wins over the Boston Celtics and Toronto Raptors, and suffered defeats at the hands of the San Antonio Spurs and Sacramento Kings. (It should be noted that the Western Conference is the culprit of the majority of the shortcomings this season; Cleveland is 4-15 against those teams). To say that there have been ebbs and flows in this campaign would be selling it short.
Is that not to be expected, though? Take a step back for a moment: the Cavs are starting four players on rookie-scale contracts: Sexton, Garland, Isaac Okoro and Jarrett Allen. Each of those players are 22 years old or younger, and every one of them are considered a crucial piece of Cleveland's established core from this moment on. They've played 24 games -- 422 minutes of floor time -- together to this point. The core four have spent more moments on the floor in real-time NBA games than they have in practice.
Individually, they have shown their own strides.
Garland is really finding his niche as a primary initiator. Despite Tuesday's outlier, the second-year point guard is averaging 17.4 points and 6.3 assists per game over the last month, and shooting 41.3% from the perimeter in that span. Garland's success has been driven by his ability to change speeds off the dribble and his knack for finding the open man. If a teammate has position in the paint, he'll fire a bullet with an underhand shovel pass. If he draws two with the threat of a floater, he'll toss it up for somebody to throw it down.
Sexton is the most consistent player the Cavs have when it comes to the scoring department. He is one of 15 players in the NBA who boasts averages of at least 24 points per game on 47% from the field or better. We know he can put the ball in the bucket; it's the secondary playmaking reads he's making that have stood out particularly this month. Knowing he commands the attention of multiple defenders now, he's been looking to spray out or, like Garland, get the ball to his bigs for easier looks inside. Understandably, it's been taxing on him, and that shows on off nights where Cleveland struggles.
Okoro is easily one of the top perimeter defenders that the team has. He's been tasked with guarding the opposition's best players, often All-Star caliber talents, and they've introduced him to what life is like in the best basketball league in the world. In spite of the ups and downs offensively, he's shown a more aggressive side as of late, unafraid to put it on the floor and making his presence felt as an outlet in transition. Keep in mind that he hit the ground running from the moment he was drafted -- no summer league, a fast-tracked preseason and games coming quickly in a condensed year.
Allen is the newest cornerstone and injection of talent that the Cavs were able to pry away from the Brooklyn Nets. He is a modern big that surprisingly fell into their lap who is able to see things before they happen on both ends of the floor. He's a lob threat, a relentless rebounder, solid screen-setter and a defensive deterrent at the rim. He knows what he does well and sticks to it, although he has teased his jump shot from time to time. Even being the "oldest" of the core four, Allen is younger than New York Knicks rookie Obi Toppin, and is in his fourth year in the Association.
"We're asking a lot of them, but we're also trying to put them in those adverse situations so they can grow because eventually, they have to learn how to win games," the team source said. "Certainly that last stretch before the All-Star break, those young guys were winning. They weren't propped up by any vets -- Larry wasn't there, Kevin wasn't there, JaVale McGee helped a little bit -- but it was like, them. Those are the situations we're trying to put them in. You're gonna get a lot of roller-coaster games, and weeks, that way."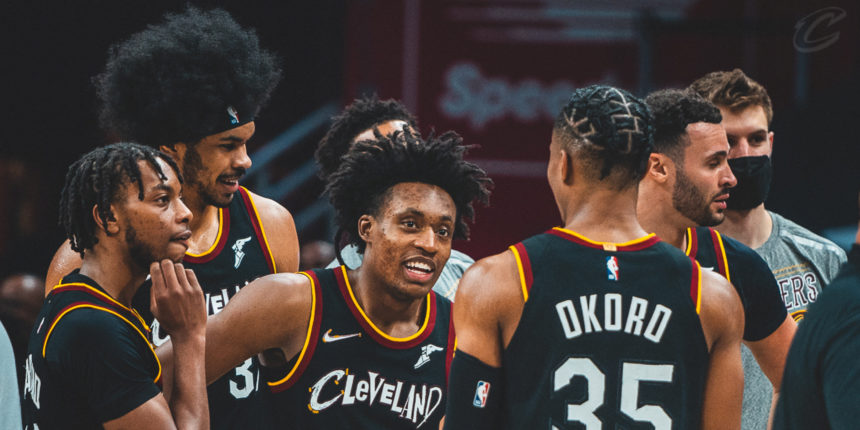 (Photo courtesy of the Cleveland Cavaliers)
Evaluating these four players, and the team as a whole, is not an easy job when there's been so many moving pieces and parts -- be it through injuries or transactions. You can look at the positives of the moment: those four establishing a relationship, Nance being the glue guy that he is, Dean Wade, Dylan Windler and Lamar Stevens making legitimate cases to be nightly rotational pieces.
The negatives are apparent. Cedi Osman has been struggling mightily and is reportedly available. Taurean Prince hasn't been able to stay on the floor. Damyean Dotson's minutes have been inconsistent. There's only a day left to find a trade partner (or two) for Andre Drummond. Love's injuries seem to be lingering. The 16-27 record itself isn't pleasing to the naked eye, neither are the offensive ruts, and a lot of that has to do with the defensive adjustments opponents are making.
"People are starting to guard us a little different," the team source said. "Collin's getting all sorts of different respect, from even back at the Indiana game with the box-and-one. They're jumping the ball and putting two on the ball, so we're trying to figure out how to play that way. I think a lot of the teams are trying to take him out and say, 'Beat me with other guys.' So it's a great challenge, that means they respect him, but we've gotta figure out different ways to score."
We'd be remiss to ignore that Cleveland won just 19 games a season ago; they're three away from that mark with plenty of games left to go. According to the team source, the franchise is pleased with how Coach Bickerstaff has developed the young pieces and handled the bad breaks that the Cavs have dealt with.
This team is still in the process of building a team culture and environment. Cleveland's front office is always assessing its players and coaches as the organization, and the organization will continue to assemble parts to add to the foundation in place. Sexton, Garland and Okoro were picked in the last three drafts. They were selected eighth, fifth and fifth, respectively. By now, general manager Koby Altman probably gets the memo that he and the franchise can't bank on lottery luck to turn things around at the drop of a hat.
To this point, with where they've picked and the players they've picked, the grade is incomplete. You can easily argue that Sexton has outperformed where he was taken, and Garland is finding his stride. Okoro has 38 professional games under his belt. We won't know what it truly looks like with this small of a sample size, especially considering the fact they're all going to represent the Cavs -- now and in the future.
Cleveland will keep adding, always looking for more size and athleticism. This upcoming 2021 NBA Draft class is stacked with talent, from G League Ignite standouts such as Jalen Green and Jonathan Kuminga, to college phenoms like Cade Cunningham and Jalen Suggs. It's wishful thinking that the Cavs could land one of these prospects or another young talent to bolster their ever-growing roster, but you can't depend on ping pong balls. Just look at the last three years as an example.
So as the games keep coming -- 29 in 53 days -- the goal is the same as it was when the season started: positive momentum and taking a step forward. And no, it's not always going to be sunshine and rainbows.
"We're gonna have some unbelievable runs, and then we're also gonna have some low moments where it's like, we're still very young and figuring it out," the team source said. "There'll be peaks and valleys where it's like, 'Wait a second guys, you might not wanna win too much more' vs. 'Damn, they look terrible there in those four games.' It's a delicate balance, but we're pretty happy with where we are in terms of our young talent."
When LeBron James left for Los Angeles, the cupboard was empty. Assets were non-existent, contracts were heavy and youth was at a premium. The one prize Cleveland had was the Nets pick, and that turned into Sexton. From that moment on, over the last two-and-a-half years, the Cavs have refilled that cupboard with young players and draft picks, and they've still got a ways to go. It's been a methodical, prolonged approach, but the team source says the organization is happy with where it is and the direction it is heading in.
"All we can keep doing is keep moving forward at our pace," the team source said. "There's no shortcuts."