The Minnesota Timberwolves have managed to be the center of the NBA universe twice in a three-day span.
On Friday night, Anthony Edwards converted a poster dunk -- yes, an actual poster -- with remnants of McGrady-on-Bradley shining through. The dunk was so nasty, the conversation around it turned into a philosophical debate about single-game analysis and what really matters.
On Sunday night, the Wolves fired head coach Ryan Saunders. The move itself wasn't a shock; even within the context of injuries and COVID woes, a league-worst 7-24 record following a 19-45 campaign the year before doesn't inspire much confidence. Beyond bad and/or unavailable personnel, the process on both ends of the floor screamed, "This needs to be shaken up, and quickly."
The hiring of Raptors assistant Chris Finch is one worth being optimistic about. He's long been regarded as one of the best offensive minds in basketball; heck, the Wolves interviewed him for the head gig before eventually hiring Saunders after the 2018-19 season. The existing history between Finch and the Wolves, specifically team president Gersson Rosas -- the two worked together in Houston as part of their then-D-League affiliate -- takes away some of the awkwardness of a hmm-that-was-quick coaching search.
While it's fair to feel uneasy about the optics of the hire, the bottom line remains: this is a team in need of major overhaul. They have a generational offensive talent in Karl-Anthony Towns that they need to build around in an effective manner.
Towns recently expressed his desire to build a legacy in Minnesota, but he'll need help. The clock is ticking, and the Wolves don't necessarily have, say, Blazers-esque front-office competency to fall back on and feel super comfortable banking on Towns being their Damian Lillard. Here's how the Wolves should go about building this thing out.
UNLEASH QUARTERBACK KAT
Making sure your best player gets a healthy amount of touches isn't a profound analysis. At this point, it isn't as simple as getting Towns the ball: the Wolves need to reconfigure their thoughts on what Towns is.
He isn't just a talented three-level scorer; he has the scoring gravity and, more importantly, the passing chops needed for him to operate as a primary initiator. I mean this solely in terms of usage: the Wolves have to treat Towns more like Nikola Jokic and less like Nikola Vucevic.
Caitlin Cooper of Indy Cornrows, the Indiana Pacers' blog for SB Nation, wrote a fantastic piece detailing Finch's offensive philosophy. Though it was written within the context of how his hiring could juice the Pacers' offense and maximize the talents of Domantas Sabonis, many of those points are applicable to the Wolves and Towns.
The major theme of that piece, and what's important to gather in relation to a shift in usage for Towns, is the inversion of the offense. To put it simply: instead of primarily using actions that feature guards feeding Towns down low, Towns should be the primary initiator, stretching defenses from above the break to open up possibilities for everyone else.
We know what Towns brings to the table as a scorer. He's drained at least 40 percent of his threes in each of the past four seasons -- a 41.1 percent clip on nearly five attempts over that span. He's a sniper with his feet set, but adds another layer of terror by being able to fly off pindowns.
Per Synergy, Towns has graded in the 86th, 74th, 59th, and 81st percentile as a post scorer. His blend of touch, strength and footwork are rivaled by only a handful of players in the league.
Towns' passing ability just hasn't been tapped into enough. Some of that starts with his actual placement in the offense. Towns has ranked 38th (3.6), 28th (3.6), 33rd (3.3), and 43rd (2.5) in elbow touches per game over the past four seasons. For reference, Jokic, Sabonis, and Marc Gasol have taken turns leading the league during that stretch with double (and sometimes triple) the volume.
What's frustrating is that the Wolves have hinted at different actions that highlight Towns' scoring gravity and passing ability.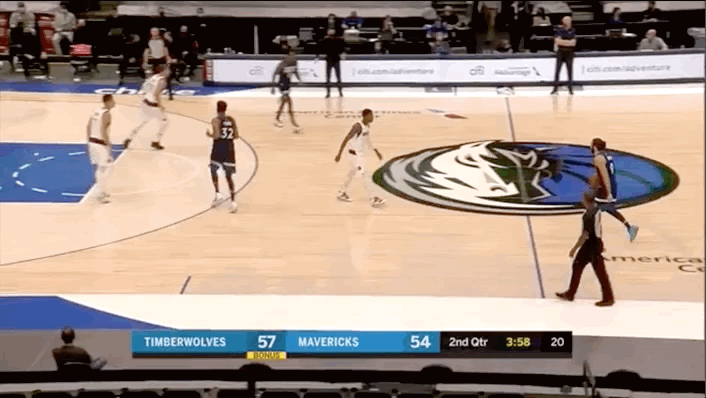 This is a variation of "blind pig" action -- a pitch to a high-post hub as another player cuts off of him simultaneously. It's about the pass -- you have to have a certain level of timing and touch to pull this action off -- but it's also about the placement. Towns being stationed just inside the arc brings Dwight Powell above the free-throw line. You can quibble about Powell being caught flat-footed instead of being more on his toes, but the recovery angle is tougher because of how high he's brought out. Ricky Rubio isn't even an explosive athlete, but with him catching the pass with a full head of steam, there's no time for Powell to turn and affect the shot.
If you want a more traditional example of an elbow touch, try this possession on for size: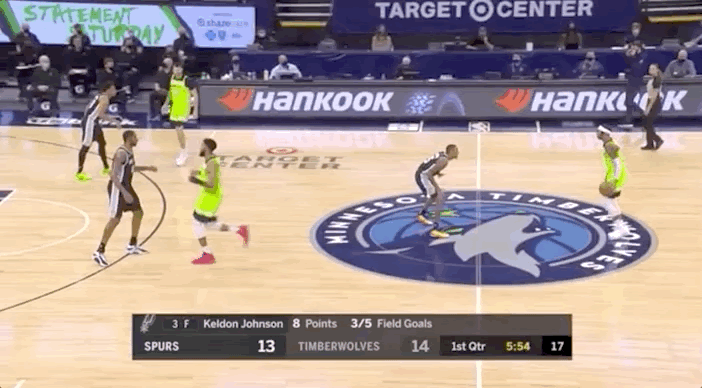 It's a HORNS alignment. Nothing fancy, but it's important to note the positioning of LaMarcus Aldridge. He's basically in Towns' jersey. As Malik Beasley "ghosts" the back-screen for Juancho Hernangomez and cuts, the paint is completely exposed.
What's special about Towns is that, though he can execute these sorts of sets, there's an improvisational aspect to his game just waiting to be explored.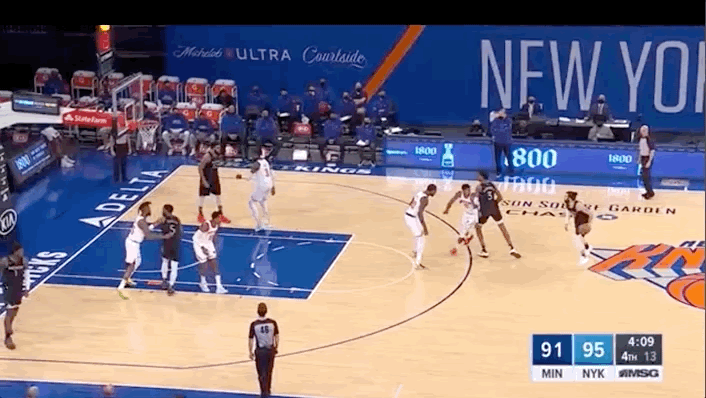 The Wolves are setting up a cross-screen underneath the basket to get Towns a post-up. Towns reverses course on the fly, rejecting the screen and lifting up to the wing. Nerlens Noel has to take the road less traveled to get there; Towns pumps, drives, then finds Jaden McDaniels after reading the "tag" from Reggie Bullock.
The Wolves are an odd case to where they've taken the "right" shots -- only the Rockets (82.8%) and Raptors (77.3%) have taken a larger share of their shots at the rim or from three than the Wolves (76.4%) over the past two seasons -- but the offense has still been terrible. The first step to correcting that issue is leveraging the full breadth of Towns' skill set. Shots at the rim and threes are inherently valuable, but you still have to create quality looks from those areas.
PULLING THE PLUG EARLY
"Towns and D'Angelo Russell have only played five games together! The Wolves don't really know what they have in them yet."
It's a common, somewhat reasonable counter to the dire straits the Wolves find themselves in. You can't call an experiment a failure if you haven't had the opportunity to test it out.
[taps forehead]
I'm not sure how hot of a take this is, but I'd argue the Wolves have seen enough. In the case of Russell, he's young (25), but not young enough to where we don't have a handle on his strengths and weaknesses. There's still room and time for him to grow, but we have the template: a pull-up artist with good passing vision that doesn't pressure the rim, and a poor defender with limited upside.
Russell has utility, but it's fair to question if he's truly a core piece you want to build with long-term. The "poor defender with limited upside" bit may seem harsh, but the Wolves want to build a winner around Towns at a certain point. That means thinking about what this team will look like in a playoff setting. Within that context, having Russell at the point of attack in end-of-game scenarios is problematic for obvious reasons.
About that utility: the bulk of Russell's value comes on the offensive end. He's a slithery guard in high ball-screen situations with an ability to pull-up from just about anywhere. When he's rolling, he's able to leverage the threat of his shot to sling cross-court dimes when the defense rotates early.
In a world where Towns soaks up more playmaking usage, how valuable is Russell to the offense? When you add in the context of Malik Beasley further establishing himself as a stationary and movement shooter, the downhill fire that Edwards brings and the borderline destructive nature of Russell's defense, what exactly is the argument to him being QB2 on the Wolves' core list?
To be clear, the defensive fit for Russell is a much more pressing issue than the offensive fit. And while I understand the Wolves don't have to choose between two of the Russell/Edwards/Beasley triumvirate, there may be diminishing returns with keeping Russell long term.
It's hard to imagine there wouldn't be teams that could talk themselves into a shot creation upgrade: Philadelphia, Dallas, New York and Memphis come to mind. There are some workable "young secondary ball-handler + defensive pieces" deals to be had if you fire up your local trade machine.
STEPPING UP
Minnesota will need to up its level defensively, figuratively and literally. Though we've seen stretches of improvement, Towns remains a less-than-ideal backline anchor. The Wolves mostly deploy him in drop coverage, keeping him near the rim to contest shots and clean the glass.
The issue is that Towns still struggles to navigate the gap while dropping. Too often, he's caught dropping back too far and giving up easier intermediate shots (you want long twos in an ideal world), or he's lunging at the ball-handler and giving up an easy pass behind him.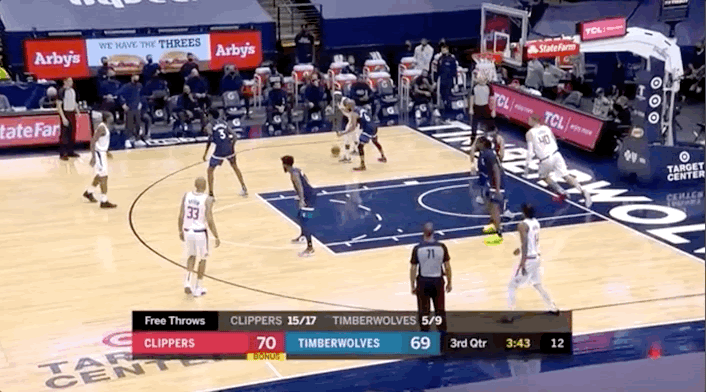 You can see what Towns was thinking: "My guy got caught; I need to take away the elbow jumper!" He seemingly had no faith in McDaniels (No. 3) providing "nail" help to either take away a potential pull-up or contest it. The result was Towns taking himself out of the play.
At this point, I'm interested in seeing the Wolves take the opposite approach: bring Towns to the level of the screen or have him hard hedge. Force some activity.
The Wolves now have a pair of versatile forwards -- McDaniels and Jarred Vanderbilt -- that provide real value as weakside rim protectors. To draw on the Jokic/Nuggets example from earlier in the piece: McDaniels or Vanderbilt would be Minnesota's version of Paul Millsap in this scheme. You can afford to put two to the ball, in pick-and-rolls or on drives if you have this kind of explosiveness behind you.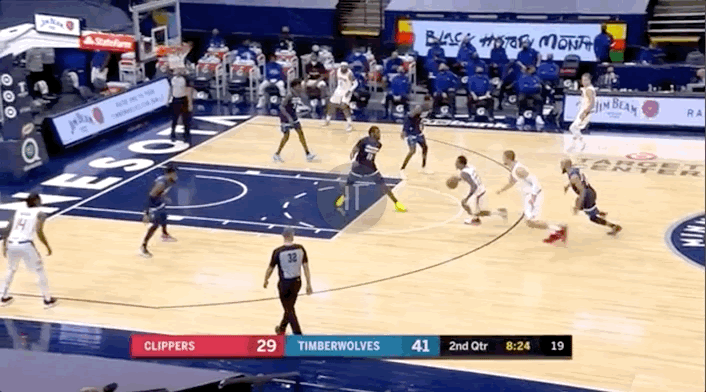 We have enough evidence that Towns isn't capable of anchoring a defense right now. If he can't navigate space and make reads on the fly, simplify his job and surround him with length and athleticism so there's less to navigate.