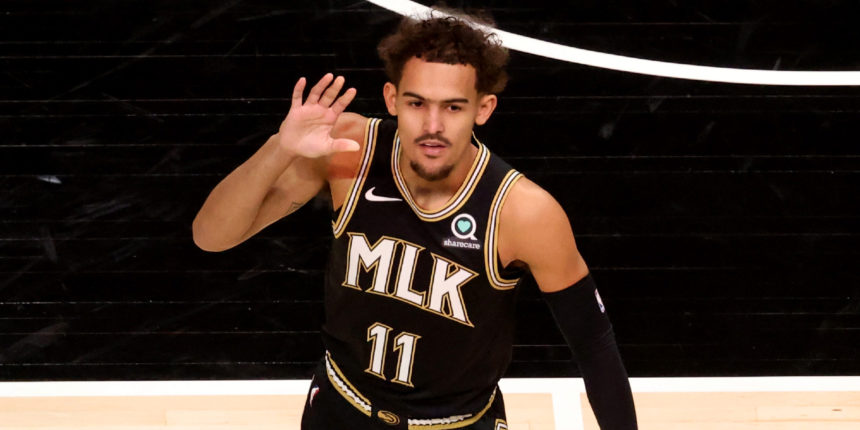 Sheridan: Hawks guard Trae Young is the biggest NBA All-Star snub
Memo to Trae Young: Make 'em pay!
Take this as a sign of disrespect, young man. Their names are Nash, Rivers, Spoelstra, Stevens, Budenholzer, Donovan, Casey, Nurse, Borrego, Clifford, Thibodeau, Bickerstaff, Bjorkgren and Brooks. Print out their photographs, make yourself a "WANTED" poster and tape it to the ceiling of your bedroom. You will see them in your sleep that way, and they will cause you many a restive night.
And that will make you angry.
And that anger will then channel into passion and production.
And on the receiving end of your venom will be the 14 coaches who may or may not have voted for you. Nobody outside of NBA headquarters knows for sure exactly which of those 14 guys left you off their All-Star ballots, but enough of them did so that they must pay collectively.
Your career-high is 50 points. Ask yourself: "Is this the best I can do?"
Because you know it isn't. Nobody in the NBA has made more free throws than you this season. Nobody aside from LeBron James has more 20-point, 10-assist games over the past three seasons than you, and LeBron only leads you by one, 56-55. No player in NBA history ever got to 400 3-pointers quicker than you did (159 games). Only Michael Jordan, Shaquille O'Neal and LeBron have had more 40-point games in their first three seasons than you, kiddo.
So when the All-Star game is played in your home arena and you are not among the 24 "best" players in the NBA, let it eat you, Trae. Watch closely. They left you out -- maybe because your team is 11th in the Eastern Conference, maybe because you play for a woebegone franchise that hasn't been all that good over a sustained period of time since Dominique Wilkins was lacing 'em up. Maybe it was the sub-44 percent shooting percentage.
Whatever.
Channel it, young man.
The snub of Young was the most glaring omission Tuesday night as the NBA All-Star reserves were announced, and it is not surprising that several very, very good players got left off. That's what happens when the sides consist of 12 players each. The math works against a bunch of guys, and this year those players are named DeMar DeRozan, Bam Adebayo, Devin Booker and Domantas Sabonis. There are four first-timers: Jaylen Brown, Zach LaVine, Julius Randle and Zion Williamson. None of them are undeserving. Again, it's just the math.
But Young's absence is still the most glaring omission because he is eighth in the league in scoring and third in assists, that latter stat a tribute to his unselfishness. The Hawks have had a tough month, going 3-7 heading into Tuesday night's game against the Cavs, and given that their young trio of Young, Clint Capela and John Collins was accentuated by the offseason additions of veterans Rajon Rondo, Danilo Gallinari and Bogdan Bogdanovic, bigger and better things were expected (injuries have been a factor, of course).
Each omission is glaring in its own particular way. DeRozan plays for a Spurs team that nobody expected to be sitting in sixth place in the Western Conference. Booker is scoring more than 24 points per game and shooting above 50 percent for a Phoenix Suns team that is the NBA's most pleasant surprise. Yes, Chris Paul was deserving, but so was his backcourt partner. The Suns are 20-10 and fourth in the West, and it will surprise absolutely no one if Booker is named an injury replacement for Anthony Davis. Sabonis is a one-man show for an Indiana Pacers team that traded away Victor Oladipo, but is a virtual lock to make the postseason.
There is nobody from the Miami Heat, who made it to last year's NBA Finals, and you can be fairly certain that Pat Riley got on the phone with Adebayo and Jimmy Butler and had a few choice inspirational words Tuesday night. There is nobody from the Toronto Raptors, who are sacrificing like no other NBA team, playing every single one of their games on the road, for all intents and purposes. Khris Middleton is the most conspicuously absent member of the Bucks; same for Tobias Harris of the first-place Sixers.
They are all snubs … but Young is the biggest snub of them all, especially with the game being played in Atlanta.
Let's hope Trae gets this memo. We all expected better from the Hawks, and maybe this will help them get where they should be. The NBA needs another "it" team, and the Hawks were supposed to be that team. There is a lot of the regular season left, plenty of time for somebody to do exactly what the Heat did in the bubble last summer – surprise everyone.
The 22-year-old is best known as the player traded for Luka Doncic on draft night. But that will change over time once Young becomes an established winner. He is not there yet, and maybe he needed a kick in the pants.
Those 14 East coaches may have just delivered it.