To say the Memphis Grizzlies are undermanned would be an understatement.
Ja Morant is out with an ankle injury, neither Jaren Jackson Jr. nor Justise Winslow has made their season debut yet to this point and even rotational piece John Konchar has missed a chunk of games. Despite those circumstances, the Grizzlies have won three games in a row and are 4-1 on the road.
Memphis head coach Taylor Jenkins has had to look toward Kyle Anderson, Dillon Brooks and Jonas Valanciunas for production during this time; however, it's a pair of rookies who are standing out and taking advantage of this opportunity.
With key players down, Desmond Bane and Xavier Tillman have seen their roles increase, and they have provided a spark off the Grizzlies' bench in a massive way.
Bane is a bulky wing with plenty of athleticism, unafraid to take on whatever man he is assigned to. He's not bashful on the offensive end either, as he's taking a healthy seven shots per game, four of which have been from long distance -- and the TCU product is knocking down 46 percent of his threes.
Tillman is a versatile big man who fits the current NBA mold. He goes out there and does his job with physicality, opening up shots for his teammates and being a switchable defender who makes his money with the fundamentals -- just ask Tom Izzo, his old head coach at Michigan State. In the last six games, Jenkins has played Tillman around 18 minutes per night, and a good chunk of those have come in the fourth quarter.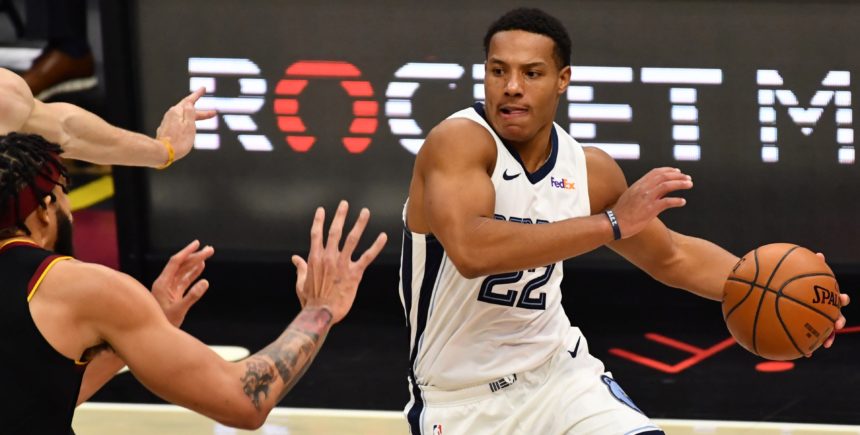 As a duo, Bane and Tillman have the highest offensive rating on the team and the second-best net rating among those combinations who have played at least 90 total minutes. More importantly, in the 274 minutes without those two on the floor, Memphis is a net minus-6.8 with a ghastly effective field goal percentage of 48.3 percent, per NBA's Impact data. Jenkins is very impressed with the rookies, especially considering they were thrown in at the deep end.
"I mean, it's huge for those two guys to jump in," Jenkins said after Monday's victory in Cleveland. "We've talked about it before, not having a normal offseason... they've just attacked every opportunity to work and get better. A lot of credit goes to those two guys. I think a lot of credit goes to our coaching staff and our performance staff to make sure that they're getting physically ready.
"They're also learning the game; the NBA game's completely different from college basketball -- the terminology, nuances, speed of the game. These guys have just really dove into their work -- individual work, getting the extra sessions early in the season and now they're getting even more reps, so they're having to learn from that..."
Dillon Brooks sees the confidence that Bane exudes every time he steps onto the court, and the Grizzlies veteran can sense how hungry the rookie swingman and Tillman truly are.
"They're on the airplane watching film, they're asking questions and they're always into the details, and that's what you need to do as a rook to figure it out early and sustain," Brooks said after the win in Cleveland. "Those guys are gonna be in the league for a while and I'm proud of them, but there's more we can get out of them. They're playing really well right now."
There's been plenty of talk surrounding the possibility of elevating Bane to the starting five, including from Jenkins. The way he's consistently bringing it, that might not be a bad idea. Just don't split him from Tillman.
The man whom Memphis refers to as "X" is in a real groove right now. On Wednesday night, he scored a career-best 12 points to go along with 5 rebounds, 3 assists and 2 steals. The Sparty alum appreciates the consistency of Jenkins' offensive system, sticking to principles and living with the results.
"It's really nice to see game-in and game-out 'cause I'm getting the same opportunities, whether I take them or not," Tillman said following a win in Minnesota. "In this game (against the Wolves), I was looking at the rim, I was feeling my floaters and I just kept letting them go. That's one thing that's really good about this organization and Coach Jenkins and how we operate."
Tillman has observed the difference between screening angles in college and in the NBA. He calls them "peculiar and particular," citing the importance of locking in on how he's setting them to get his guards open. It's just another example of his attention to detail, and it's clear why Memphis is enamored with him.
For those who appreciate plus-minus, Tillman has yet to record a game with a negative plus-minus. Since Jan. 3, the same goes for Bane. The Grizzlies' rookies are proving to be NBA-ready and capable of delivering.
"They just relish every opportunity. It's great development for them to take advantage of these opportunities and [they] have just been extremely solid," Jenkins said. "Two guys that are ultra-competitive, two guys that can play-make.
"I love how they just let the game come to them, seem to always make the right play and I just love the activity that they're playing with on the defensive end. They're great, impactful players for us, and that's why we're so excited to have them."