After impressing a number of NBA teams during his pre-draft interviews, Desmond Bane has been rising up draft boards. Most mock drafts project that he'll be a mid-to-late first-round pick.
The 22-year-old spent four years at TCU, making him one of the older players in this draft class. However, unlike other prospects, Bane is ready to make an immediate impact in the NBA.
Bane averaged 16.6 points, 6.3 rebounds, 3.9 assists and 1.5 steals during senior season at TCU. Widely regarded as one of the best shooters in this draft, Bane made 2.9 three-pointers per game on 44.2 percent shooting from long range last season. He shot at least 42.5 percent from three-point range in each of the last three seasons. He can knock down a variety of shots, making defenses pay off-the-dribble, off movement and in catch-and-shoot situations.
BasketballNews.com recently caught up with Bane to discuss his pre-draft process, what he can bring to an NBA team, which players he studies, the chip on his shoulder and more.
You tested the waters last year and participated in the Professional Basketball Combine. How did that prepare you for this year's pre-draft process?
Desmond Bane: "It taught me a lot. I was able to learn a lot from guys who played in the NBA and spent a lot of time in the NBA, and the consistent thing was hard work and attitude. You gotta have a great attitude; you gotta work hard in order to play in the NBA for a long time. Once you get to that level, everybody's talented, so the way you work and the energy that you have coming to work every day will separate you. And as far as the PBC, it was a great event. There were a lot of teams there and I had a similar interview process and was able to speak with some teams and get some great feedback on some of the things I needed to work on heading into my final year."
What do you think you could provide to a team right away and what do you envision your role being in the long run?
Bane: "I feel like I can make shots at a high level. I bring a lot of energy and passion on both ends of the floor and I feel like I have a strong IQ, which will allow me to be a good defender right away. So I feel like I'll be able to defend and make shots right away, and with a lot of these playoff teams, that's kind of what they're looking for, and even some of these teams that are rebuilding [too]. Just being that solid guy in the locker room that the coach can count on -- [where] you have his back in the locker room and things like that. I think those are some of the things I bring right away, and down the road, I want to continue to work on my playmaking and my self-creation and things like that."
Have you been doing a ton of interviews? And what's that process been like?
Bane: "I did a good amount. Back in April through a bit of May, I probably did 23 teams, and then I had a few second interviews around the time the bubble started. And then this next time, when the Combine opened up, I had another 18 interviews or so. So I've had a good amount of interviews, and I have had the opportunity to interview with pretty much every team."
Some players have talked about picking their agent and financial advisor over Zoom. What was it like to go through this process with everything being virtual?
Bane: "I mean, I already had my mind pretty much made up. My agent, Seth Cohen, did a great job of forming a relationship with my family and with me early on in the process, and he respected the fact that I wanted to play out my season and focus on that, which I really respected. We sat down right at the Big 12 Tournament when everything went crazy, and my mind was pretty much made up from there. That's kinda how it got set up, and then I was back in Indiana -- where I'm from originally -- for a month and came across a financial advisor. He works with a family friend, so I actually didn't have to go through the virtual process [to find those representatives] like some of the other guys."
Who are some NBA players you study a lot?
Bane: "I like Joe Harris. I like the way he can get his feet down and make shots off a lot of different actions. I watch Eric Gordon; I like the way he gets out in transition and can finish strong with either hand around the rim. I like guys like Malcolm Brogdon; strong, can play in the pick-and-roll, make plays for himself or make plays for others. Those are a few guys that I study."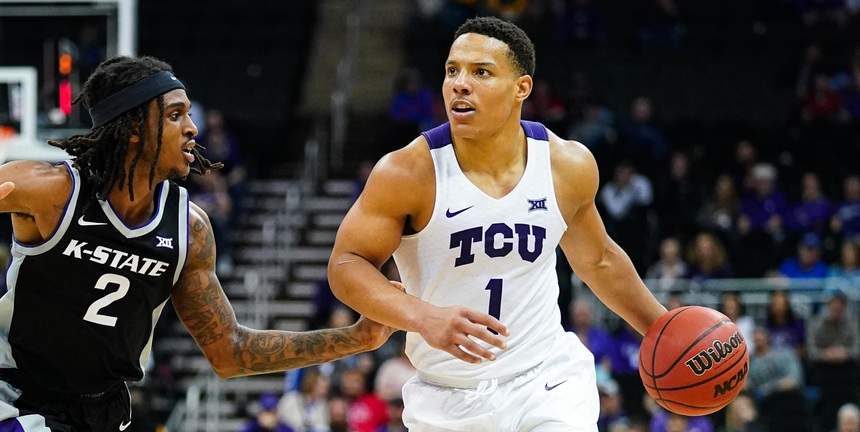 What are some of your off-court interests?
Bane: "I'm a big food guy. I like trying new restaurants and new genres of food; I'm big into that. I've had a girl for almost three years, so I spend a lot of time with her. I'm a family man. I come from a big family -- 23 grandbabies, 24 great-grandbabies, or something along those lines -- so family means a lot to me. I spend a good amount of time putting my energy toward those types of things."
What's your favorite food and favorite restaurant?
Bane: "My favorite food would probably have to be salmon, and there was this spot I used to go in Texas called Pappadeaux and, man, their salmon was incredible."
Pretend I'm a GM. Why should I draft Desmond Bane? Sell me on it!
Bane: "Probably my consistency. Once you get into the playoffs, and obviously [with] the 82-game season, you wanna know who you can count on. You wanna know what you're getting out of the guy every night, and with me, you know how passionate I am for the game just by the way that I approach it and you know my knowledge of the game on both ends of the floor. And then you bring a skill set like mine -- making shots, being able to pass and do those things -- and I feel like I'm a pretty seamless fit with almost any organization."
In a year like this with so much uncertainty, it's possible that we could see guys with more game film getting drafted. Have you heard that kind of feedback from teams at all?
Bane: "I haven't really heard that from teams, but that's kinda been the narrative swirling around -- that more experienced guys who you can count on [will benefit], especially with a lot of uncertainty and the season starting December 22. You're gonna be needed right away. If they want to rely on a rookie to give them minutes and step into a rotation, you need a mature kid who understands the process and what it takes, and those are a lot of the things that I do."
How crazy is it that you'll be drafted and then starting training camp 12 days later?
Bane: "It's crazy. It's a little similar to how my recruiting process was for TCU, though. I ended up committing and signing, like, two weeks before I had to be on campus, so it was a quick turnaround. This time, I've been training for seven months. That time, I was coming out of high school, didn't really understand how to work and things like that. So obviously it'll be a quick turnaround, but I'm certain I'll be ready."
When did you realize that being in the NBA was a realistic goal?
Bane: "After my freshman year, I went to this USA camp, and I was playing against all these guys who were projected to be lottery picks. I didn't make the team [but I was one of the last guys] that they cut, and I left that camp with a lot of confidence like, 'If these guys are stepping into the NBA in the next year or two, I don't see any reason why I can't be an NBA player.' So it gave me a lot of confidence, and I started changing some of my habits and some of the things I was doing on and off the court, and I put myself in a good position."
How would you approach being a teammate and trying to build a winning culture?
Bane: "I think that is just as important as what you can bring on the floor. You see older guys who don't ever really touch the floor -- Udonis Haslem, Jared Dudley -- guys like that who don't necessarily play a lot of minutes but you know you need them on your roster just because they understand what it takes. Obviously I haven't been in the NBA and competed for a championship or anything like that, but to this point I would certainly say that I understand what it takes to put in the work and overcome adversity and things like that. I'm battle-tested on and off the floor and feel like I can become a leader and an impact guy as far as culture goes from day one.
How much do you pay attention to mock drafts and draft coverage?
Bane: "A lot of my homeboys and family members will send them to me or call me and say they saw me here, saw me there, so I see them every once in a while. But it's not something that's always on my mind."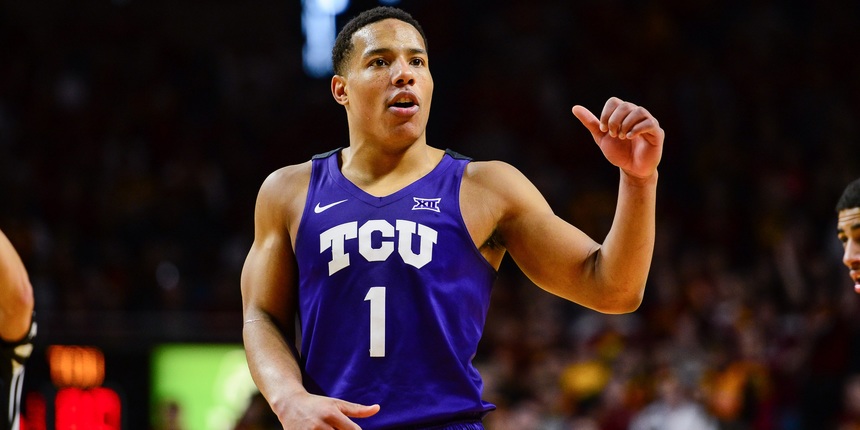 What's your reaction when people say this is a weak class or they're critical of this draft?
Bane: "Let them do the talking. They get paid to have as many viewers as they can on their website and their Twitter page and things like that, so you can't really put too much stock into what people say. All you do is continue to work hard. I feel like this class has a lot of underdogs and guys that are ready to prove themselves. We'll revisit this topic in about six or seven years and see what these experts are thinking."
I feel like you have a chip on your shoulder; that's kind of the sense I've gotten from you. Is that an accurate assessment?
Bane: "No question."
Where does that come from?
Bane: "All the way since, like, high school. I went to a small, private Catholic school in Richmond, Indiana, and there was a neighboring high school less than a mile away that was a 4A school that had 2,000-2,500 students. Growing up, everywhere I went, people would tell me, 'You're not good enough to play at Richmond.' Once I shut those guys up, I get to TCU. And TCU was my only high-major offer. Now, they're telling me, 'I was shooting too high,' and, 'I should've went to Miami of Ohio, stayed close to home.' Now, [it's that], 'I'm a 22-year-old in the draft,' and, 'I don't have the length of other players,' and so on. It's just a part of it. I'm used to it, but that's kinda where it comes from."
Do you feel like you're one of the sleepers in this class?
Bane: "I guess to the media, I'm a sleeper. But I've had conversations with organizations and my agent has kept me in the loop with everything going on, so we're really confident in the position we're in and excited to take this next step."