NBA legend and Hall-of-Famer Spencer Haywood is a COVID-19 survivor. The 71-year-old beat the virus and now he has a message for the public: Stop the stigmatization of COVID-19 survivors.
Ostracization of people who have had COVID-19 is one of the unfortunate byproducts of the global pandemic. Some COVID-19 survivors have lost their jobs, since their co-workers are scared they are still contagious. Some have seen their friends and neighbors distance themselves. In some cases, they are judged for contracting the virus, with people assuming they must not have taken the proper precautions.
"Stigma is terrible on many levels: It's harmful and awful for those people that experience it, but it's also a public health crisis because it gets in the way of public health interventions and epidemic response," Dr. Seema Yasmin, director of the Stanford Health Communication Initiative, told NBC News. "People are judged by this microscopic pathogen in their body as opposed to getting the care and support they need."
It doesn't happen in every case, but it does happen and in enough ways that only survivors can comprehend.
Haywood contracted the illness sometime around New Year's Day and is now mostly fully recovered from the virus that knocked him for a loop for two weeks. His breathing is still not quite right, and his vision remains blurred. But Haywood managed to recover at home with his wife, who did not catch COVID-19 despite spending all that time caring for her husband.
COVID-19 has now killed nearly 80,000 Americans this month, and President Joe Biden said the U.S. is "going to see somewhere between a total of 600,000 to 660,000 deaths before we begin to turn the corner in a major way."
But there also are millions and millions of survivors, and they are trying to re-enter society without carrying the "COVID" label as a major identifying factor.
"I'm just happy to be a voice out here now with this. I'm taking it head on," Haywood said in an exclusive interview with BasketballNews.com.
What does he want people to understand? What is the core of his message?
"To know that you shouldn't stigmatize, and that you can survive," Haywood said. "It's not a death sentence. Maybe the numbers are wrong, but I think we're at like a 95-percent survival rate in America, so we are surviving. But it is a deadly disease, and we have to treat it as such -- and I can't protect me, and not protect you. I don't care what side of the fence you're on or whatever; you have to work together to eradicate this.
"It's going to be a long road right now because we don't have a stockpile of vaccines, new strains are coming from South Africa and other places. We have to put on our big boy pants and get this thing done. And I kind of wanted to speak to you because I wanted to let people know that you can survive and go on and function with your life. And let's not have the stigma be one of the obstacles for survivors."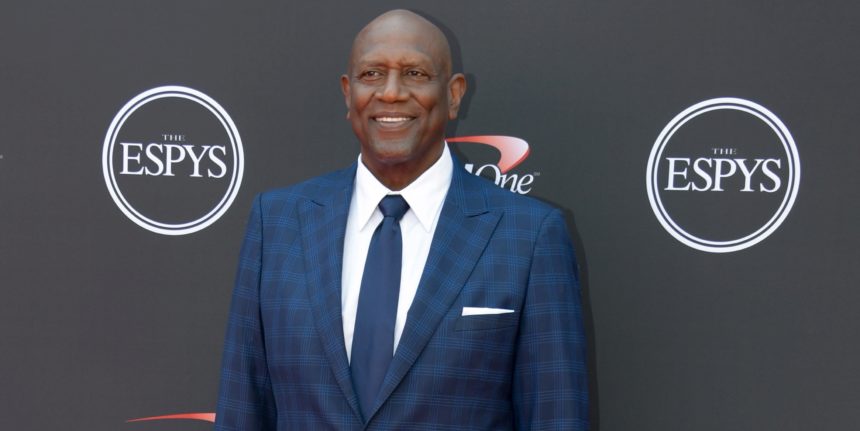 Haywood played in the ABA and NBA from 1965 to 1985, spending time with the Denver Rockets, Seattle SuperSonics (where his No. 24 is retired), New York Knicks, New Orleans Jazz, Los Angeles Lakers and Washington Bullets. He won a gold medal with Team USA during the 1968 Olympics in Mexico City. Over the course of his 13-year career, Haywood averaged 20.3 points, 10.3 rebounds and 1.1 blocks.
He still plays ball at a 24-Hour Fitness gym in Las Vegas where he lives with his wife, Linda. But at age-71, he can no longer dunk, he acknowledged with a laugh.
Haywood believes he contracted the virus from an attorney who worked with him on his charitable foundation. He has been back out on the golf course since recovering and he is back to exercising at home (doing sit-ups and push-ups) after being more or less bedridden for two weeks. His wife would cook his food and leave it at his bedroom door, where he would retrieve it after she had cleared the area.
He kept his mental health intact by speaking with his daughter, Shaakira, a psychologist in New York who dispensed advice.
Her message?
"Well, to talk. That's been her message to me: 'Whatever you're feeling, talk about it, Dad. Talk to me, talk to Mom, talk to your other three daughters,'" Haywood said. "All of my daughters have been mother hens on this old man, so that's been one of my joys. My grandkids, a couple of them can talk, the last one can't because he's too young, but they have been encouraging. We've been doing Zoom. My brother, we've just been talking to keep each other sane and talk about what I feel and how I feel. So I wasn't forgotten, you know? There are some people who don't have this support. They get sick and they don't have this kind of support system at all."
Getting out of the house and engaging with other humans is what people do, even during a pandemic. And what Haywood has experienced is troubling.
"I went to one of my favorite restaurants because I just wanted to get out, and I felt good. I explained to them at the door that I'm a survivor, and they pulled out those thermometers and everything and I was like 'Whoa,'" he said. "Now, we've made it part of our program in the Spencer Haywood Foundation. I looked at mental health, but I looked at it from a recovery standpoint, from substance abuse and stuff like that. But now we are in such bad shape because of the lack of communication, the lack of just seeing each other, being able to talk without all these masks on, only seeing the eyes... it's kind of weird.
"That's the part that we need to talk more about, the support. I mean, we've got more support in 12-step programs than we do in COVID. I'm a survivor of both. One, I'm okay and everybody is always trying to say, 'Man, you can have a drink or two. You can have a hit, you're alright.' Whereas with this, it's, 'You sit over at that table way over there,' you know? Let [them] feel comfortable. In a 12-step meeting, we sit close together, we're face-to-face, we're kickin' it, talking. It's the same process but with COVID, you're like, 'Ehh, you stay over there a little bit.'"
People in 12-step programs have struggled with the lack of regular sitdowns, conducting their meetings via Zoom. Many have resumed the bad habits they were trying to overcome, in part because of the lack of human contact.
This is hardly the first time Haywood has had to deal with ostracization, as anyone with knowledge of legal sports history can attest.
With the backing of former SuperSonics owner Sam Schulman, Haywood launched an anti-trust suit against the league (Haywood v. National Basketball Association) that went all the way to the U.S. Supreme Court before the NBA agreed to a settlement. That settlement had been modified over the years, and the league's so-called "one-and-done rule" is an outgrowth of the litigation that Haywood initiated, which allowed Kobe Bryant, LeBron James and others to go directly from high school to the NBA. Haywood sued the NBA after he was denied draft eligibility coming out of Pershing High School in 1967. He was the Most Valuable Player in the ABA in 1970 before switching leagues and joining Seattle.
Haywood has been embraced by USA Basketball and has spoken with various versions of Team USA at their camps in Las Vegas.
This season, he has become particularly enamored with the Utah Jazz, who currently have the NBA's best record (14-4) and longest winning streak – 10 games.
But earlier this month, he feared that he would not survive the virus that has infected an estimated 100 million people worldwide. But treatments have vastly improved since the coronavirus first hit the United States nearly a year ago, and there are legions of COVID-19 survivors.
Now, he wants to de-stigmatize it. Getting COVID is not a blame game. It is a survival game. So if you know someone who has gone through what Haywood has gone through, please be supportive. We all want our lives to return to normal, and that will go a long way.