Nearly 11 months after the 2019-20 NBA G League season was suspended and ultimately canceled, the league has formulated a plan for 2021. Here is everything you need to know about the new G League season.
The Location:
The success of the NBA bubble set the precedent for the G League's return. Like the NBA, all G League games will be played at the ESPN Wide World of Sports Complex at Walt Disney World Resort in Lake Buena Vista, FL (just outside of Orlando).
The Teams:
Not every NBA team decided to send their G League affiliate to the new bubble. This will give the newly-formed G League Ignite team (which features top NBA prospects who are part of the professional path program) a chance to play their very first season alongside the following 17 teams:
Agua Caliente Clippers (Los Angeles Clippers affiliate)
Austin Spurs (San Antonio Spurs affiliate; formerly Columbus Riverdragons, Austin Toros)
Canton Charge (Cleveland Cavaliers affiliate; formerly Huntsville Flight, Albuquerque Thunderbirds, New Mexico Thunderbirds)
Delaware Bluecoats (Philadelphia 76ers affiliate; formerly Utah Flash, Delaware 87ers)
Erie BayHawks (New Orleans Pelicans affiliate)
Fort Wayne Mad Ants (Indiana Pacers affiliate)
Greensboro Swarm (Charlotte Hornets affiliate)
Iowa Wolves (Minnesota Timberwolves affiliate; formerly Iowa Energy)
Lakeland Magic (Orlando Magic affiliate; formerly Erie BayHawks)
Long Island Nets (Brooklyn Nets affiliate)
Memphis Hustle (Memphis Grizzlies affiliate)
Oklahoma City Blue (Oklahoma City Thunder affiliate; formerly Asheville Altitude, Tulsa 66ers)
Raptors 905 (Toronto Raptors affiliate)
Rio Grande Valley Vipers (Houston Rockets affiliate)
Salt Lake City Stars (Utah Jazz affiliate; formerly Idaho Stampede)
Santa Cruz Warriors (Golden State Warriors affiliate; formerly Dakota Wizards)
Westchester Knicks (New York Knicks affiliate)
The following teams have opted OUT of the G League bubble:
Capital City Go-Go (Washington Wizards affiliate)
College Park Skyhawks (Atlanta Hawks affiliate; formerly Erie BayHawks)
Grand Rapids Drive (Detroit Pistons affiliate; formerly Anaheim Arsenal, Springfield Armor)
Maine Red Claws (Boston Celtics affiliate)
Northern Arizona Suns (Phoenix Suns affiliate; formerly Long Beach Jam, Bakersfield Jam)
Sioux Falls Skyforce (Miami Heat affiliate)
South Bay Lakers (Los Angeles Lakers affiliate; formerly Los Angeles D-Fenders)
Stockton Kings (Sacramento Kings affiliate; formerly Reno Bighorns)
Texas Legends (Dallas Mavericks affiliate; formerly Colorado 14ers)
Windy City Bulls (Chicago Bulls affiliate)
Wisconsin Herd (Milwaukee Bucks affiliate)
NOTE: The Mexico City Capitanes, formerly of the Liga Nacional de Baloncesto Profesional, were slated to begin the five-year experiment of having a G League team outside of Canada or the U.S. The bubble format has pushed this timeline back, and the Capitanes will not be playing with the G League in Florida.
The Format:
Each of the 18 participating teams will play a minimum of 15 games. The top eight teams will advance through single-elimination playoff rounds until a champion is named for the season.
The Rules:
With the inability to have two-way players safely transition between the parent and affiliate teams -- or to send players from the parent team down on assignment -- the G League has implemented new rules to ensure a smooth and simple season that still produces maximum benefits for its players.
Two-Way Players:
Rather than the previously allotted 45-day maximum, two-way players will now be eligible to spend 50 of the 72 regular-season games with their parent team. This ensures that the days are not "used up" without the player ever stepping on the court. The salary for two-way players was adjusted for the 2021 season, and is now a flat $449,155 rather than a prorated salary dependent on days of service.
Teams that do not have an active affiliate participating in the G League bubble will be allowed to send both two-way players and roster players on assignment to the G League bubble.
The Jeremy Lin Rule:
After an attempt to acquire NBA champion Jeremy Lin fell through for the Santa Cruz Warriors due to his FIBA clearance, the NBA and G League created a new rule that allows NBA teams to fill one G League roster spot with an NBA veteran who has at least five years of experience. This rule allows Lin to sign with the G League itself (instead of a specific designated team) and to be assigned to a roster where he would fill a need -- in this case, the Santa Cruz Warriors. Lin is not the only former NBA player to take advantage of the newly created loophole, as Nik Stauskas has signed with the G League via the same avenue in order to play for his hometown Raptors 905.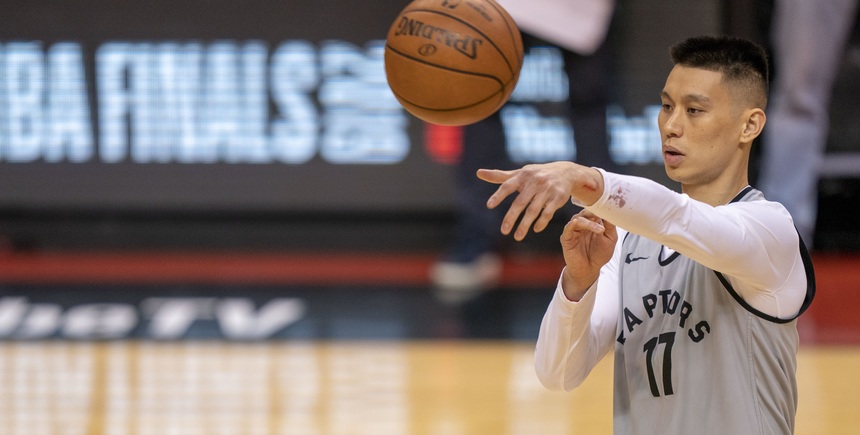 Health and Safety:
The health and safety protocols of the NBA bubble were so successful that they are being implemented in their entirety into the G League bubble. Mask wearing, social distancing, enhanced cleaning and sanitization methods -- plus regular COVID testing -- should ensure the bubble and everyone in it is kept coronavirus free.
The Draft:
The G League draft will be held on Monday, Jan. 11. Only the 17 teams participating in the bubble, excluding the Ignite, will be eligible to draft players. The draft is three rounds and will be conducted via Zoom. G League teams who already have a complete roster or have used the Jeremy Lin Rule will not be required to use their available draft picks and can forego all remaining picks in the draft. Players signed using the Jeremy Lin Rule will not be required to enter the draft pool.
Notable players who have declared for the G League draft include: Lance Stephenson, Michael Beasley, Emeka Okafor, Terrence Jones, Shabazz Muhammad, Mario Chalmers, Festus Ezeli, Vander Blue, Marquis Teague, Allonzo Trier, Admiral Schofield, Antonio Blakeney, Justin Patton, Kenny Wooten, Jacob Evans, Tyler Ulis, Cat Barber, Isaiah Briscoe, Phil Booth, Terry Armstrong, Diamond Stone, Quincy Pondexter, Shawne Williams, Freddie Gillespie, Dusty Hannahs, Hollis Thompson, Jemerrio Jones, Cory Jefferson, Deonte Burton, Charles Cooke, CJ Fair, Gary Payton II, Shamorie Ponds and Chris Walker among others.
Players that were waived by a team prior to the new season are also draft eligible. Like the NBA, once a player is waived, his rights no longer belong to his former team -- thus becoming a G League free agent. Players who have signed overseas with rights still held by their former G League teams are also eligible to rejoin that team and circumvent the draft.
The Date:
The G League schedule has not been released yet, but teams have been given a tentative start date of Feb. 8. While this would usually be at the same time as the NBA All-Star Break, the late start to the NBA season moved the All-Star break back to the beginning of March.
All NBA G League games are streamed on Twitch and the G League's website.