The NBA Finals are right around the corner and, boy, do we have a fun matchup on our hands.
In one corner stand the Los Angeles Lakers, headlined by the star power of LeBron James and Anthony Davis. The terrifying twosome can bludgeon the toughest defenses with rim attacks and erase mistakes at the speed of light on the other end.
In the other corner stand the Miami Heat, a grind-it-out group that has used a surprisingly-explosive offense to take them to the Promised Land. Bam Adebayo and Jimmy Butler are stars in their own right, and they're flanked by confident shooters, rangy defenders and arguably the NBA's best coach in Erik Spoelstra.
I'm not a coach -- I'm just a pun-loving basketball fan with a hankering for film breakdowns. But instead of a traditional series preview, I decided to go into the basketball trenches and devise gameplans for both teams. The tone of this two-part series will be a little more informal, but it will still be informative (at least I hope).
Without further ado, here is how the Miami Heat will try to stop the Los Angeles Lakers.
Defensive Matchups
Jimmy Butler → LeBron James
Duncan Robinson → Kentavious Caldwell-Pope
Goran Dragic → Danny Green
Jae Crowder → Anthony Davis
Bam Adebayo → Dwight Howard
The obvious swap can come in the frontcourt, with Adebayo taking on Davis in a battle of Kentucky big man supremacy. Ultimately, it probably makes more sense to let Crowder attempt to bother Davis' base, and use Adebayo as a guy that can swoop in for help.
Top Priority on Defense: Shrink the Floor
Surprise, surprise: keeping the Lakers out of the paint will be the key to success against them. They still lead all playoff teams in rim attempts (28.7) and rim efficiency (70.9 percent), though the Nuggets made things a little tougher toward the end of their series. Davis (9.8) leads all active postseason participants in free-throw attempts per contest, while LeBron still gets there a healthy amount (7.2).
Shutting down the LeBron-Davis pick-and-roll will obviously be priority number one. They didn't have much success during the regular-season meetings, generating just 0.9 points per direct hookup, according to a source with access to Second Spectrum tracking data. Of course, those meetings came in November and December, respectively, and both players look a little different than they did back then.
Lakers' Team Stats (and L.A.'s stats vs. Miami in parentheses)
• Offensive Rating: 111.7 (107.2)
• True Shooting Percentage: 57.3 (54.8)
• Assist Percentage: 60.0 (67.5)
• Turnover Rate: 14.9 (19.1)
• Pace: 101.2 (97.0)
• Free-Throw Attempts: 24.3 (15.5)
• Free-Throw Percentage: 72.9 (71.0)
• Three-Point Attempts: 31.6 (34.5)
• Three-Point Percentage: 34.9 (29.0)
• Offensive Rebounds: 10.7 (12.0)
Lakers' Play Type Breakdown

Actions to Watch For:
The Lakers generally use LeBron and Rajon Rondo as their pick-and-roll ball handlers, and for good reason. They're easily the best creators on the team, possessing sky-high basketball IQ and preternatural court vision.
They use wide pindowns in early offense to get their other guards downhill. If those actions aren't switched, they're built-in ways to create advantage situations.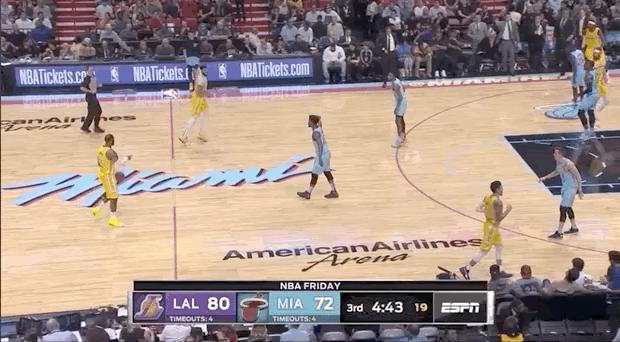 They can go with a single screen or a double staggered look out of this. If they go double, don't be surprised if the guard (Caldwell-Pope, Green, Alex Caruso) cuts under the first screen to set up an action for Davis to pop out of.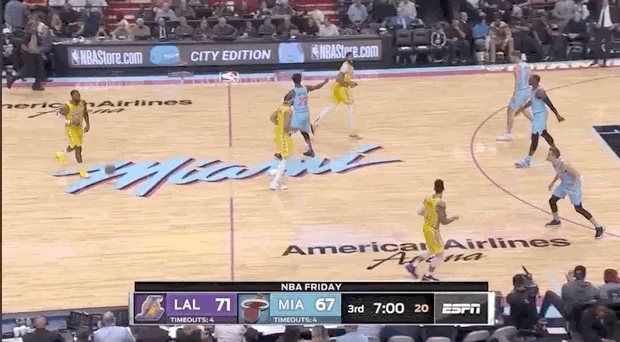 Communication on and after the first screen is going to be key. Using AD as a screener for a guard off-ball is a smart way for the Lakers to hunt mismatches and flow into post-ups. Any traps or scram switches will have to be on time.
Elbow Series (Flex Option)
This is most notably a Cleveland staple for LeBron-led teams. He'll be stationed above the break (or the elbow), with a screen being set by a guard to get Davis downhill.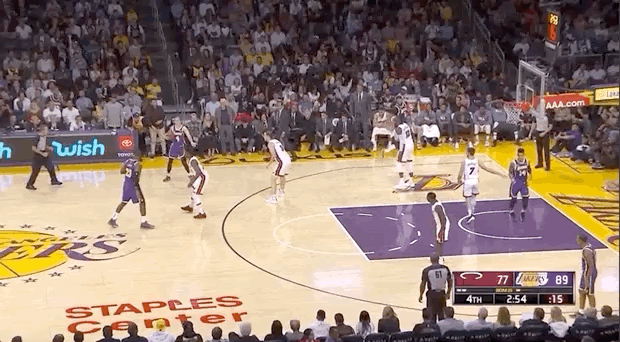 As you can see, they have options to flow out if that initial flex action doesn't produce an advantage. They can go with an inverted pick-and-roll with LeBron up top, flow into a LeBron-Davis dribble handoff or settle into a post-up like they did with Davis above. Keep everything in front and keep high hands on the cut if the handoff is denied.
Basically the inverse of Flex, this is going to be how the Lakers get LeBron or Davis more traditional post-up looks. Miami should have plenty of experience defending this, as the Milwaukee Bucks ran similar stuff to try to get Giannis Antetokounmpo free on the block.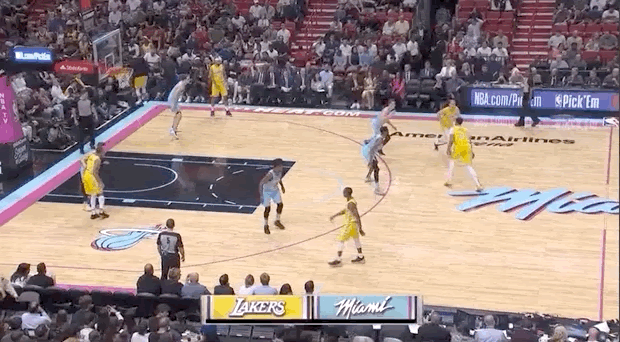 That show from Tyler Herro is going to be key to slowing down that action. Avery Bradley is setting the screen there, but he obviously isn't in the bubble. Caldwell-Pope, and especially Green, are really good at connecting on those screens to throw the big behind the play. A hard show can give the big time to recover and prevent a quick dump-in.
Base Coverage: Drop
Switching is what got the Heat to this point. After the acquisitions of Andre Iguodala and Jae Crowder, the Heat shifted from a more conservative scheme to a switch-heavy one, passing off on-ball assignments at a top-five rate, via the Second Spectrum source.
There will obviously be some switching built into defending some of the Lakers' off-ball actions, but there's room to go back to the basics. Not only are the Lakers missing a lethal pull-up threat, but they also lack a variety of one-on-one creators. Of course, LeBron and Davis are two of the top six or so players in the sport, so that only means so much. On a basic level, though, protecting the paint and ending possessions on the glass should take high priority.
The Heat switching as much as they did against the Celtics helped flatten out some of their actions, but there were plenty of possessions where Adebayo would find himself defending the perimeter, with guys like Butler fighting with Daniel Theis or Enes Kanter underneath.
Let's just say boxing out Davis, Howard or McGee will be a different beast altogether.
The Changeup: Zone Coverage
If there was ever a series to throw out a zone, this would be it.
The Lakers haven't dealt with it a ton this postseason, but there has been a clear drop in efficiency when they're tasked to score against it. Via Synergy:

That extends to the regular-season meetings. The Lakers shot just 3-of-19 from three against the Heat's zone looks -- 2-3 or 3-2 -- and had an average shot distance of 17.4 feet, per the Second Spectrum source.
This isn't the same LeBron that struggled during the 2011 Finals, but zone still forces him out of his comfort zones. There's more clutter for him to drive through, and, at worst, it forces him to trust his supporting cast to knock down enough threes to break it.
Make that gamble. The Lakers have struggled enough in half-court as is. Junking up the game more and turning them into jump shooters could potentially swing the series.
Defending LeBron James
You know LeBron's credentials by now: elite scorer, elite passer, elite athlete. He sees things develop before they happen, so off-ball positioning and hand activity will be key. He averaged 26.5 points and 9 assists during the two regular-season meetings. He coughed it up a bit (11 turnovers), but also shot the skin off the ball (53.3 percent from three on 7.5 attempts). Both of those numbers will probably regress -- you just have to hope the shooting regresses more.
Major Keys
1. Crowd the paint
This is, and forever will be, priority number one when defending LeBron James. He's an absolute tank, and, even at this stage of his career, has the combination of speed and power necessary to waltz into paint points against top tier defenders.
There's no need to make things easier for him.
In ball-screen actions, going under the screen is going to be the best option to choose. That works when running traditional drop coverage (this should be a drop series), or if switching is the call. Ultimately, you want to keep things in front and try to keep him from turning the corner.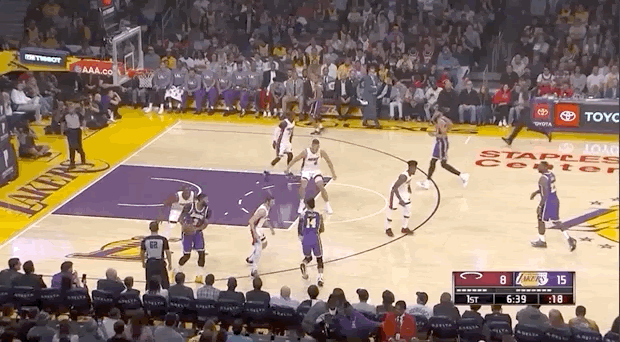 LeBron is shooting 6-of-26 (23.1 percent) on dribble jumpers out of pick-and-rolls this postseason and has only converted 30.6 percent of his off-the-bounce jimmies overall, per Synergy. Cutting off easy driving lanes will be a way to goad him into pull-ups.
Much like the Bucks series, being able to stunt and recover is going to be important. Don't really love Derrick Jones Jr. going over this screen, but peep Kendrick Nunn: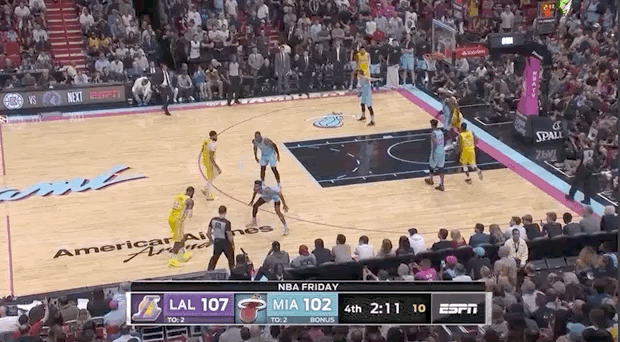 Jones going over allowed LeBron to gain inside leverage on the drive, but Nunn was there to beat him to his spot, then keep his hands high as he recovered to Caldwell-Pope to make a potential kick-out pass tougher.
I think daring the Lakers to bomb away on above-the-break threes is a better gamble than allowing LeBron to touch the paint cleanly. You're not going to take away everything from LeBron, but if there's one thing you can severely limit, the paint touches should be atop the list.
2. Protect the smalls
Only Trae Young (527) and James Harden (479) received more ball screens from a guard during the regular season than LeBron (392), and nobody ran more inverted ball screens from the wing than LeBron did (249).
That's all intentional. Not only is the nature of a guard screening for LeBron difficult to deal with, doing so from the wing makes it difficult to deal with pops from the guard.
That's just something you'll have to live with.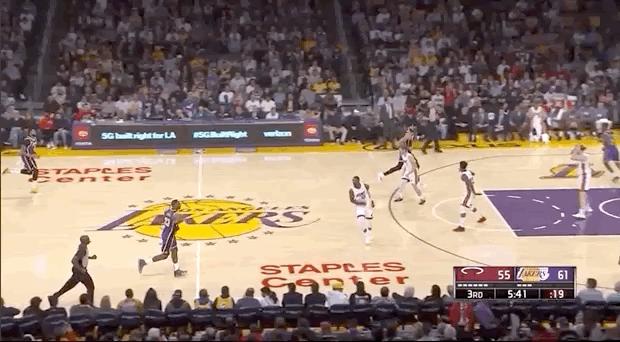 That ends up being a good shot for a good shooter (Troy Daniels, now a Nugget), but that's just the pick-your-poison element of dealing with LeBron.
The traps can work if they're timely and aggressive. On possessions where LeBron wants to zoom up the court, a trap could get him into trouble.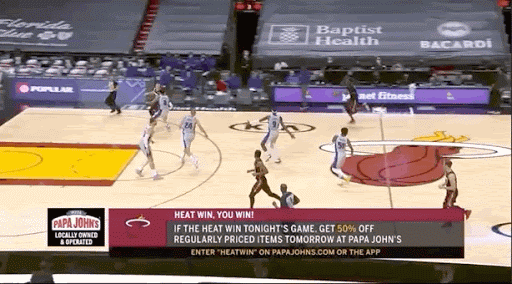 More good news: the Lakers aren't a strong shooting team, and they've run out the Rondo-Caruso backcourt pretty often (158 minutes this postseason). Trapping off of one of those guys shouldn't burn you too bad, particularly Caruso if you cut off his first read.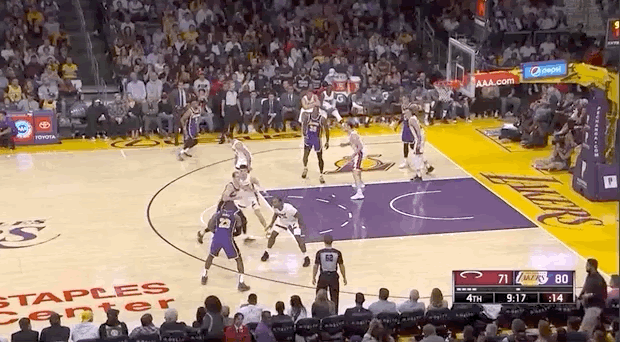 LeBron only received a handful of screens from either guard during the regular season meetings, but it wouldn't be a shock to see him go to that well late in games.
Defending Anthony Davis
An argument could be made that Davis has been the most dominant player in this postseason. He's been a weapon on all three levels, leading all remaining postseason players in scoring (28.8 points with a 57/37/81 shooting split). He's dangerous on the roll, on the block and has found a rhythm with his jumper. There may not be a singular answer for him right now.
Major Keys
1. Shade him left
There isn't much you can do with Davis inside of 18 feet. He's lethal from the triple threat position, equipped with a smooth jumper and a high release point, as well as a quick first step that can get him to the rim in a dribble or two.
Him taking a jumper is generally a win for the defense, but his hot streak from mid-range (50.6 percent on 5.8 attempts this postseason) has continued. Whether he's facing up or backing guys down, he wants to get to his right hand. He has a reliable sweeping hook, can fully extend for Giannis-like layups and he's comfortable turning over his left shoulder for jumpers.
Force him the other way? He gets much less comfortable.
It's similar to Jayson Tatum to where even on drives to his left, Davis will still try to finish with his dominant hand. He has the touch to do so, but he makes things harder on himself that way: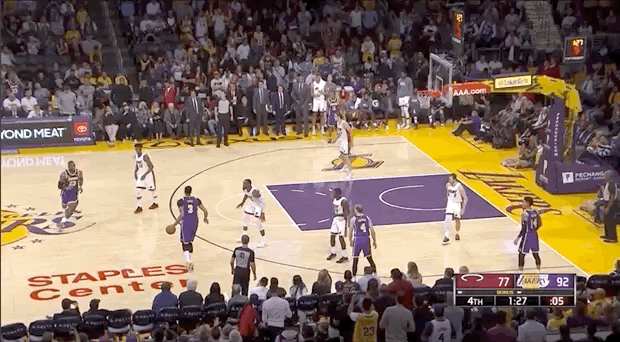 Adebayo does a great job of sliding with Davis on the drive and angling his body in a way that prevents Davis from truly turning the corner. Davis is able to create space with his right shoulder, but this turns into a cross-body floater.
If you can cut off Davis' right hand when he's on the left block, you can fluster him. It allows for him to flow into his pull-up jumper a little easier, but you can live with those shots if they're contested. Cutting off the middle of the floor will be a huge key to slowing him down. Send hard doubles to his right if there's a non-to-mid shooter on the floor. Push him towards the baseline.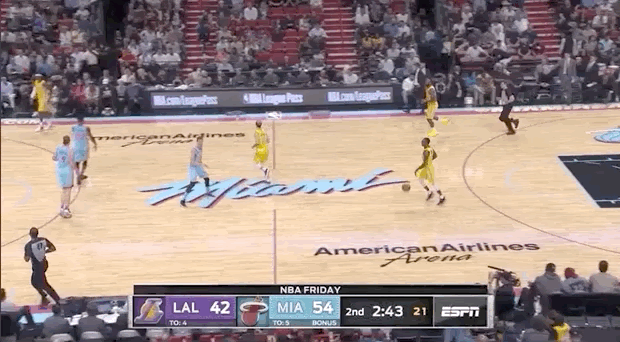 If Crowder is getting the Davis assignment, positioning is going to be even more important. Crowder is a strong dude and should bother Davis' base a little, but ultimately he'll be able to extend and shoot over the top whenever he wants to. Take away as many comfort areas as you can.
2. Stay down and disciplined
Davis' ability to rip through exposed arms has been talked about in this space. Trying to strip Davis on the way up seems like a decent idea, but it just hasn't worked out that way. He's too good at feeling contact and rising up over the top of defenders.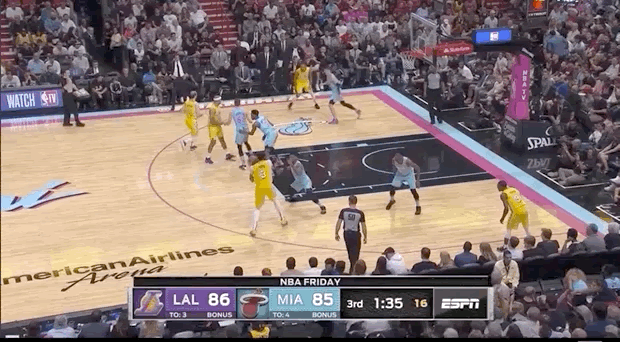 On a similar note, Davis has the propensity to drift or fade on some of his jumpers. While you don't want to give him uncontested looks, there needs to be an emphasis on letting him land. Davis falls...a lot. If you crowd his space trying to contest a fading jumper, he will absolutely get that call.
Give a contest from the ground and make him fade; don't chase the jumper in hopes of a block.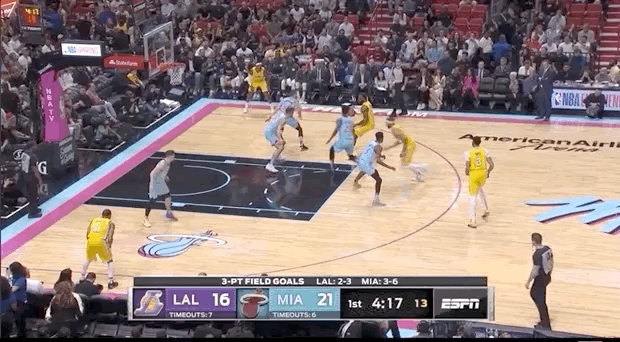 Defending the Shooters (Perimeter)
Danny Green: Hard close-out.
Green just hasn't shot it to the level we're accustomed to -- 36.4 percent from deep on 5.1 attempts this postseason, 32 percent on virtually the same volume in the Nuggets series. Of course, this is the Finals where he's been known to catch fire. Run him off the line and force him to make decisions, but keep track of him if he does give the ball up. Only seven players have made more relocation threes (171) over the past three seasons, per the Second Spectrum source.
Kentavious Caldwell-Pope: Hard-but-controlled close-out.
Caldwell-Pope is the Lakers' best movement shooter, which might not be saying too much (37th percentile off screens, via Synergy), and their most reliable guy on above-the-break looks (37.9 percent). He can make basic swing passes if you rush him too hard, so cut off his space while staying in front.
Rajon Rondo: Soft close-out.
Rondo is shooting 44.8 percent from three this postseason. Every last one of his 29 three-point attempts have been classified as "open" or "wide open" via NBA.com's tracking data. Rondo has improved over the years as a catch-and-shoot guy, but it's still reasonable to bet on him going cold. You can afford to double off of him to help on LeBron or Davis. Completely ignoring him allows him to set his feet, but a soft close may freeze him and allow the rotations to get home elsewhere.
Alex Caruso: Let him fire.
Caruso is at his best when he's able to attack a bent defense. Don't give him that luxury, especially since the jumper just isn't there.
Defending the Shooters (Frontcourt)
Kyle Kuzma: Soft close-out above the break, hard close-out to his right in the corners
After a solid shooting season in his rookie year (36.6 percent on 5.5 attempts), Kuzma has settled in as a middling shooter. He was lethal on corner threes this season, shooting 52.3 percent overall, and a blistering 59.4 percent from the right corner. Force him of those spots and make him drive left if possible. He's not much of a threat above the break.
Markieff Morris: Hard, but controlled close-out.
It's less about Morris' shooting ability, though he's shot a little over 36 percent from three over the past four seasons, and more about his inability to make plays off the bounce. Force him off the line and dare him to make good decisions. Switch pick-and-pops involving him as the screener, bait him into some post-ups if the size mismatch isn't too stark.