Think about this for a moment: A transcendent superstar is going to face his former team for the NBA title, and the coach who turned LeBron James into a champion is now going to have to try to exploit every weakness he knows about his former player.
And you can be damn sure that Erik Spoelstra got to know LeBron James well enough during their four years together in Miami to keep a few mental notes on what bothers Bronny's papa.
The NBA Finals will begin Wednesday night with a mixture of storylines, and Spoelstra's knowledge of LeBron is just one of them. Now think about something else: When in recent history have we seen something like this? Superstars typically spent their entire careers with one team. When was the last time, in any sport, that a player of James' caliber faced one of his former teams for the title?
The fans in Miami who embraced James when he came to South Beach in the summer of 2010 are now going to have to root against him. And Laker Nation, which has been spoiled by decades and decades of success with only brief interruptions, has the two best players in this series on their side -- James and Anthony Davis.
Los Angeles opened as a five-and-a-half-point favorite in Game 1 of the best-of-seven series, which you should take with a grain of salt. Boston was a three-point favorite Sunday night in Game 6 of the Eastern Conference Finals, and they got steamrolled in the final five minutes.
But if you look closely at what Miami did in a slightly different five-minute stretch of the fourth quarter, it is stunning. In a stretch of 12 offensive possessions, Miami scored on 11 of them. The game was tied and then suddenly, the Heat were up 119-104 after Duncan Robinson converted Bam Adebayo's pass into a three-pointer with exactly two minutes remaining. And that happened against a very good defensive team.
Celtics bettors who went with the "favorite" are not having a happy Monday. The oddsmakers are usually pretty good, but they consistently underestimate the Heat.
So, discount the Heat's chances at your own peril. Adebayo, Jimmy Butler and Goran Dragic will be consistently good to very good, and from there it is a matter of whether Miami can get enough scoring out of the likes of Robinson, Andre Iguodala, Tyler Herro and Jae Crowder to offset the huge numbers that James and Davis are bound to put up in every game.
The Lakers have the two best players. The Heat have the deeper team.
And Spoelstra may own the Kryptonite, if such a thing actually exists. His boss, Pat Riley, probably has a scheme or two in mind after what was likely a sleepless night pondering ways to stop a player he grew very close to during their four years together in Miami.
"I'll tell you that it's going to be brutalizing for our video staff. I'm going to have a few beers tonight, glass of wine, call my wife, definitely FaceTime with her, and talk to the Godfather (Riley) at some point," Spoelstra said after Sunday night's win. "And we've been at this for a long time. We know how difficult it is to get to this point, but our staff will prepare, and we know we didn't come this far just to celebrate this."
We will hear from LeBron at some point today, and there will be three full days of build-up and predictions and bluster and conjecture. And all of it will be purely speculative because, until we see how the series evolves over the first few games, we won't have a solid handle on it.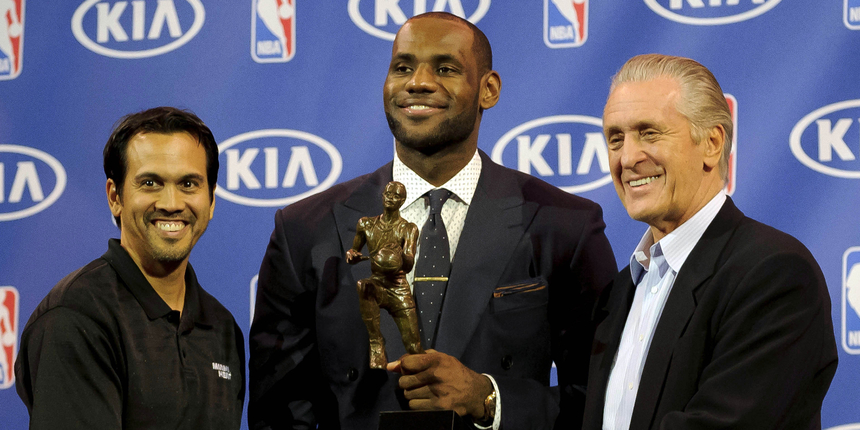 The Lakers won both regular-season meetings: 95-80 on Nov. 8 and 113-110 on Dec. 13. Meyers Leonard and Kendrick Nunn were starting for the Heat at that time. Iguodala was still on the Memphis Grizzlies, sitting out and waiting to be traded. Butler missed a potential game-tying three at the buzzer in the second matchup, dropping to 17-17 lifetime against James. J-Lo, A-Rod, Chris Bosh and DJ Khaled were in attendance, and no one had ever heard of the coronavirus. The Heat thought Butler got fouled on his final attempt, but no whistle was blown.
Yada, yada, yada. It means nothing – nor does the first meeting in November, a game in which the Lakers held the Heat to one field goal and six points in the final 8:54, as the Heat missed 13 straight shots. Dwyane Wade was in attendance at Staples Center. It was nearly 11 months ago. It's ancient history.
Miami got to the Finals by sweeping the Indiana Pacers, knocking out the MVP's No. 1 seeded Milwaukee Bucks and then outplaying a Celtics group that never got enough from Jayson Tatum, Jaylen Brown or Kemba Walker. The better team won in each of those three series.
The Lakers took out the Portland Trail Blazers, Houston Rockets and Denver Nuggets in five games apiece. LeBron was at his best Saturday night in the clincher at Denver. He was a machine. Unlike most humans, he refuses to age. Now, he will go into Game 1 with nearly five full days of rest.
Both teams are 12-3 in the postseason. James is back in the Finals for the ninth time in 10 years. Spoelstra is back for the first time since 2014. Iguodala is the only member of the Heat rotation with Finals experience (since Udonis Haslem isn't playing), whereas the Lakers have quite a few players who have been on this stage (including James, Danny Green, Dwight Howard, Rajon Rondo, JaVale McGee and J.R. Smith). That usually counts for something because that experience allows players to tune out fan noise, but there is no fan noise in these pandemic Finals.
So the bubble will be a factor because, despite the piped-in crowd noise and the Microsoft screen showing the virtual fans, these games are being played in an empty arena where everyone in attendance can hear everything. What folks at home are seeing and hearing on TV is not an accurate representation of what it is actually like inside that bubble. How that impacts these next several games remains to be seen.
All we know at this point is that the two most deserving teams have advanced.
"I don't look at five-seed or one-seed. It's all about who is playing the best basketball at the right time," Butler said. "I feel like we've still yet to play our absolute best basketball, but along the way, we realize what we have to do moving forward. So we have to be near perfect to beat the Lakers.
"We're going to have to play damn near perfect because they are such a good team. They do so many things well. Obviously, you know the star power that they have. We are not going to back down, though."
Buckle up, y'all. This one should be epic. LeBron has been to the Finals nine times, and six times he has gone home without the championship. So this thing is not a given for L.A.
Never underestimate the brainpower of Riley and Spoelstra; let's see if they can use their intimate knowledge of LeBron to defeat the best player in the NBA. Anyone who tells you the Heat have no chance has no idea what they are talking about.