The basketball world at large expected a "Battle For Los Angeles" in this year's Western Conference Finals, though only one of those teams held up their end of the bargain.
The Los Angeles Lakers are humming, led by the two-headed-monster attack of LeBron James and Anthony Davis. On the other side, the Denver Nuggets continue their Series of Sevens. A seven-game slog with the Utah Jazz ended in mayhem. Their seven-game series with the Los Angeles Clippers ended in memes and Twitter shots fired from other NBA stars.
But the Nuggets are for real, headlined by the virtuosic stylings of Nikola Jokic and the big shot-making of Jamal Murray.
I'm not a coach -- I'm just a pun-loving basketball fan with a hankering for film breakdowns. But instead of a traditional series preview, I decided to go into the basketball trenches and devise gameplans for both teams. The tone of this two-part series will be a little more informal, but it will still be informative (at least I hope).
Without further ado, here is how the Denver Nuggets will try to stop the Los Angeles Lakers.
Defensive Matchups
Jerami Grant --> LeBron James
Gary Harris --> Kentavious Caldwell-Pope
Jamal Murray --> Danny Green
Paul Millsap --> Anthony Davis
Nikola Jokic --> JaVale McGee/Markieff Morris
I think Denver plays this one pretty straight. There's no need to have Jokic on Davis if you don't have to. Keeping Grant and Millsap on the two stars allows for an easy (lol) switch, which should help keep the backline out of rotation.
Top Priority on Defense: Crowd the Paint
It's easier said than done, but the Lakers have to see multiple bodies in the paint. They're leading all playoff teams in rim attempts (30.2) and rim efficiency (70.5 percent). Davis (9.2) and James (7.6) rank second and third in free throw attempts among the remaining playoff participants.
On an individual level, allowing them to live and get comfortable in the paint is basically a death wish. Once they get their two-man game going, you're in trouble. The Lakers generated 1.17 points per possession on trips featuring a LeBron-AD pick-and-roll during the regular season series, according to a source with access to Second Spectrum tracking data.
Lakers' Team Stats (and LA's stats vs. Denver in parentheses)
Offensive Rating: 111.7 (114.9)
True Shooting Percentage: 57.3 (58.1)
Assist Percentage: 60.0 (58.6)
Turnover Rate: 14.9 (14.4)
Pace: 101.2 (95.76)
Free-Throw Attempts: 24.3 (27.8)
Free-Throw Percentage: 72.9 (64.9)
Three-Point Attempts: 31.6 (28.8)
Three-Point Percentage: 34.9 (37.4)
Offensive Rebounds: 10.7 (10.3)
Lakers' Play Type Breakdown

Defending LeBron James
He's one of the greatest players of all-time and his ability to dictate the flow of a game from the high post is unrivaled; the starting center he's facing is the only guy who comes close. During the regular-season series, James absolutely killed it as a scorer (28.7 points with a 49/32/65 shooting splits) and as a passer (11.7 assists). He's obviously the one to slow down in order for Denver to have any kind of shot in this series.
Major Keys
1. Don't concede the middle
It always seems sacrilegious to say LeBron can't do something, but pull-up jumpers still aren't his strong suit. Synergy pegs him as a 34.5 percent guy off the bounce, placing him in the 56th percentile. He's only been slightly better if you isolate that for pick-and-roll situations, only converting 61-of-171 (35.7 percent) "dribble jumpers" out of ball screen actions.
This may be the rare series you can afford to play some drop coverage, particularly if LeBron is calling for a screen in the middle of the floor. The key is not dropping so far to where he can really rev up his engine.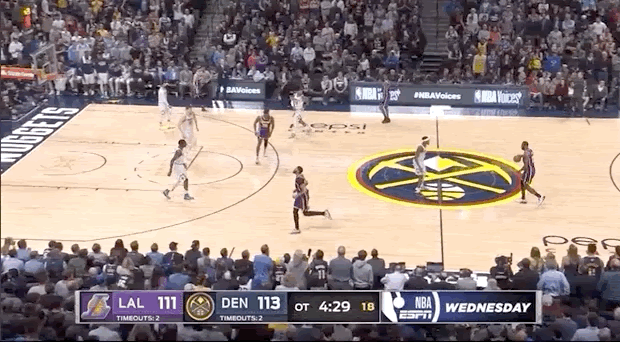 That technically counts as a tough finish, but that entire possession was played under LeBron's control. You can't let him load up with nothing to think about and nobody to feel.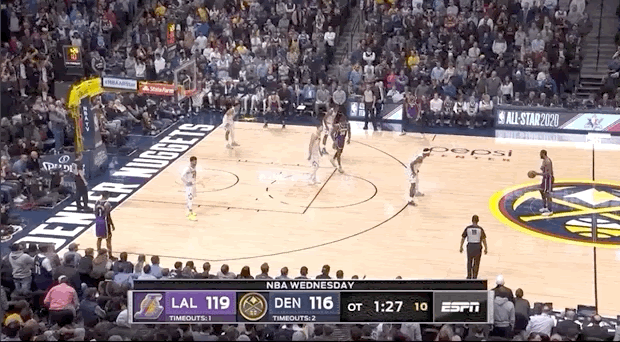 This is much, much better. Torrey Craig smartly ducks under the angled pick from Dwight Howard. Jokic plays a little higher so LeBron can't gain a head of steam, and Craig does a nice job of getting back into the action. The possession ends in a turnaround jumper -- a makeable shot for LeBron after years of work, but absolutely something you live with.
Trips featuring LeBron-led pick-and-rolls only generated 0.91 points per possession during the regular season series, a good bit below his overall mark (0.98), per the Second Spectrum source.
2. Send pressure on the wings
This is where the hard shows in pick-and-roll can come in. Doing so against LeBron in the middle of the floor puts way too much strain on the backline. He's going to be able to set over the top and slice the defense apart.
Showing hard on the wings will either force him into a quick-relief pass above the break or a cross-court dart to the opposite corner. He's made a living on that corner pass, but that'll give the defense time to rotate over.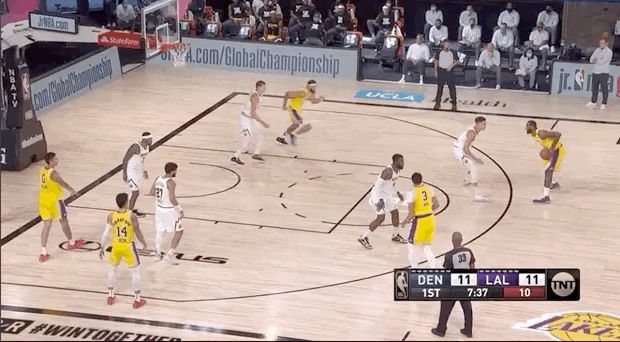 3. Protect the smalls
LeBron turns into a super predator come playoff time, hunting out mismatches to force rotations elsewhere. You can't go with a simple show-and-recover. He's too good at sealing against the hedge and forcing the switch anyway.
Sliding under the initial screen will be key if there's space for it. Don't let him get the mismatch he wants.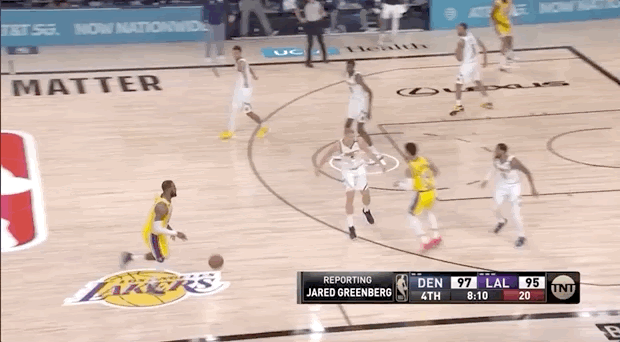 That's a fantastic job from Mason Plumlee fighting through and under the screen set by Green. Instead of getting a favorable switch, posting up and getting a shot at the rim or drawing a double, LeBron eventually goes iso and picks up an offensive foul on the drive against Plumlee.
If LeBron is able to get a small on him, the help has to be on time. He's too good at manipulating bigs otherwise.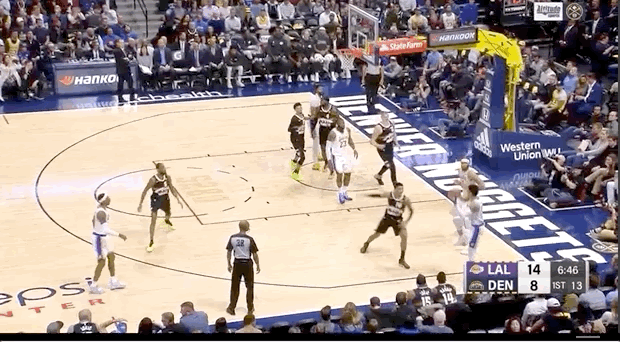 LeBron knows Denver wants to send help. Jokic is keyed in on the post-up and assumes McGee is going to the opposite dunker spot. Instead, McGee reverses course and hangs underneath the basket. The second Jokic drops back (and realizes McGee isn't where he thought he was), LeBron slips in a dart to McGee.
Thank goodness for Harris' quick hands, but that's the kind of manipulation that LeBron possesses when he has a mismatch. Swarm him early, particularly if there's a non-shooter (yes, that's Rajon Rondo, and no, we don't care about his percentages right now) near him.
Defending Anthony Davis
He's basically a 6-foot-10 guard. He's rangy, explosive, skilled, fluid. He can torch slower bigs off the bounce, and an improving post-game makes him a nightmare against wings or guards off switches. He leads all remaining playoff players in scoring (27.6 points with a 59/39/75 shooting splits) and has the passing chops to pick out cutters if the defense doesn't stay attached.
Major Keys
1) Make him use his left hand
There isn't much you can do with Davis inside of 18 feet. He's lethal from the triple threat, equipped with a smooth jumper and a high release point, and a quick first step that can get him to the rim in a dribble or two.
Him taking a jumper is generally a win for the defense, but he's riding a massive hot streak from the mid-range (50 percent on 5.6 attempts this postseason). Whether he's facing up for backing guys down, he wants to get to his right hand. He has a reliable sweeping hook, can fully extend for Giannis-like layups and he's comfortable turning over his left shoulder for jumpers.
Force him the other way? He gets a lot less comfortable.
He's "fine" with his left, but can leave some of those rim finishes short.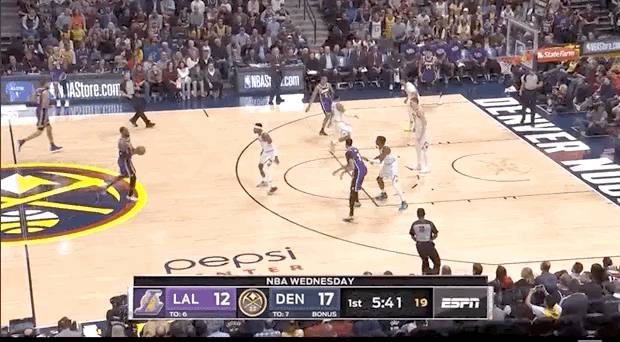 His catch-and-go sequences from above the break are much more effective if he can get to his right. You can live with shots like these if he goes the other way.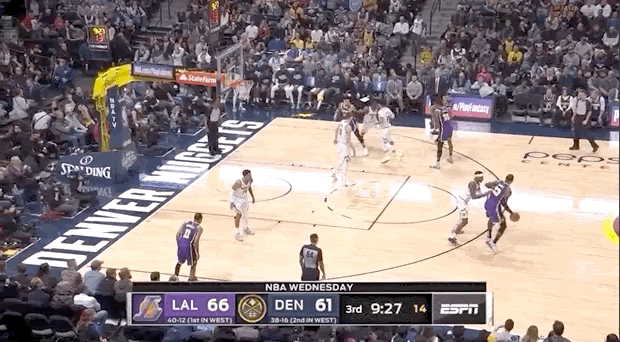 If you can cut off his right hand when he's on the left block, you can fluster him. It allows for him to flow into his pull-up jumper a little easier, but you can live with those shots if they're contested. Springing doubles on him from the baseline has given him trouble. As good of a passer as he is, he's much better at hitting cutters than he is at making cross-court passes.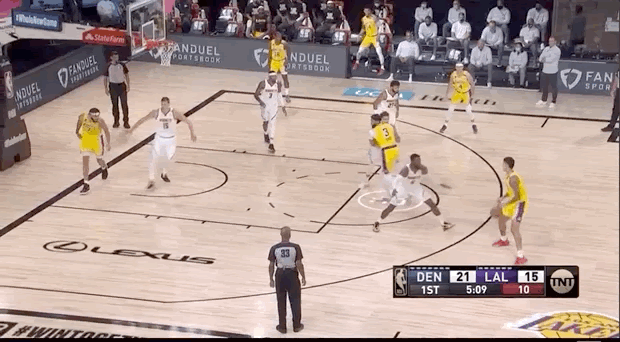 Michael Porter Jr. plays his left shoulder a little high, then Jokic comes with a double from the baseline. Craig does a great job of cutting off the passing window to McGee, and that leaves Davis trying to hit Dion Waiters in the corner. Not only is the pass late, he also sails it out of bounds.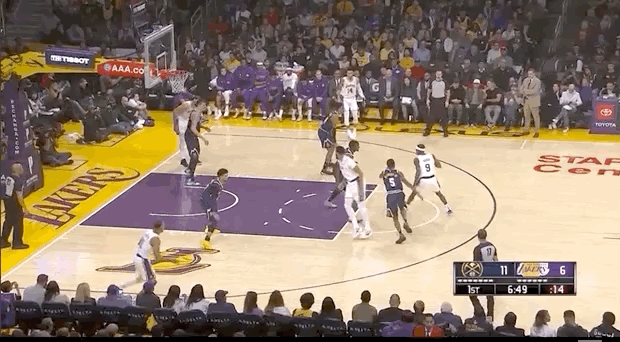 Grant shades Davis to his left, and he still tries to jab and go to his right to set up a spin. A timely trap from Murray pins him in the corner after a deflection, and the ball has to be swung after that.
Those traps can be key in the minutes Davis plays without LeBron. Making someone other than him make plays is a win for the defense.
2) Keep your hands out of the cookie jar
Outside of Kevin Durant and James Harden, it's hard to think of someone better at getting rip-through fouls than Davis. You want to crowd his space once he gets into his triple-threat stance, and that's exactly how he baits defenders into exposing their arms -- and getting to the free throw line because of it.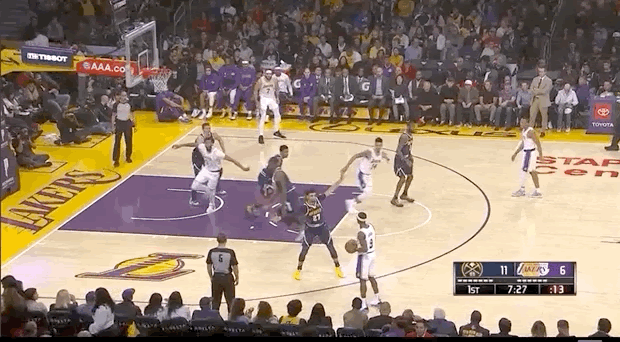 Millsap is already giving up the middle due to his positioning, then Davis makes him "wrong" by reversing course and ripping through Millsap's right arm. Davis can foul out this entire frontcourt if there isn't more discipline on display. Denver must absorb those blows and force him to finish over the top.
Defending the Shooters (Perimeter)
Danny Green: Hard close-out.
Kentavious Caldwell-Pope: Hard-but-controlled close-out.
Caldwell-Pope is the Lakers' best movement shooter, which might not be saying too much (37th percentile off screens, via Synergy) and their most reliable guy on

above-the-break looks

(37.9 percent). He can make basic swing passes if you rush him too hard, so cut off his space while staying in front.
Rajon Rondo: Soft close-out.
Rondo is shooting 44.4 percent from three this postseason. Every last one of his 18 three-point attempts have been classified as "open" or "wide open" via

NBA.com's tracking data

. Rondo has improved over the years as a catch-and-shoot guy, but it's still reasonable to bet on him going cold. You can afford to double off of him to help on LeBron or Davis. Completely ignoring him allows him to set his feet, but a soft close may freeze him and allow the rotations to get home elsewhere.
Alex Caruso: Let him fire.
Caruso is at his best when he's able to attack a bent defense. Don't give him that luxury, especially since the jumper just isn't there.
Defending the Shooters (Frontcourt)
Kyle Kuzma: Soft close-out above the break, hard close-out to his right in the corners
After a solid shooting season in his rookie year (36.6 percent on 5.5 attempts), Kuzma has settled in as a middling shooter. He was lethal on

corner threes this season

, shooting 52.3 percent overall, and a blistering 59.4 percent from the right corner. Force him of those spots and make him drive left if possible. He's not much of a threat above the break.
Markieff Morris: Hard, but controlled close-out.
It's less about Morris' shooting ability, though he's shot a little over 36 percent from three over the

past four seasons

, and more about his inability to make plays off the bounce. Force him off the line and dare him to make good decisions. Switch pick-and-pops involving him as the screener, bait him into some post-ups if the size mismatch isn't too stark.
X-Factor: Danny Green
At his best, Green is an absolute sniper from the corners. He can fill in transition, relocate after drives and feast on those looks, or come flying off of baseline screens and light it up.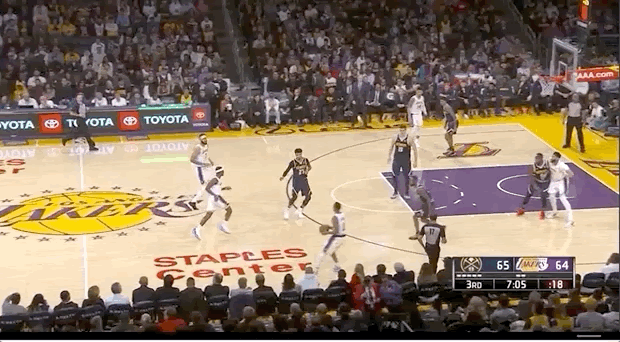 At his worst, he's borderline unplayable on the offensive end. If he's not knocking down shots, he doesn't possess enough on-ball skill to compensate. He helps as a screener for the stars, but that can only go so far.
The Lakers went 12-3 during the regular season in games where Green hit at least three triples. Having 15 such games is a massive decrease from the 30 he had in Toronto last season (they went 22-8 in those contests). A cold series from him will make it easier to shrink the floor against James and Davis.
Tomorrow, check back for part two that looks at how the Lakers can stop Denver's offense.