It was almost like a hug.
Kelly Olynyk is stationed near the half-court line, LeBron James draped over him like a light jacket. There's nothing friendly about the encounter. LeBron wants the ball; Olynyk wants relief.
He finds it in Jimmy Butler, who slips into what little airspace LeBron allows to retrieve the ball.
That sets up the duel we all want to see. It's Butler, a superstar that finds an odd comfort in punching above his perceived weight class. It's LeBron, a heavyweight if we've ever seen it, looking to deliver a Tyson-esque counterblow to retain his rightful status as a winner.
At least, we think we're getting the duel.
A four-second showdown is all we get before Jae Crowder trots up to LeBron's left. LeBron, who started the possession taking away space, gladly concedes it, allowing Markieff Morris to tag into his place.
One dribble. Two. Three. Gather.
Bucket.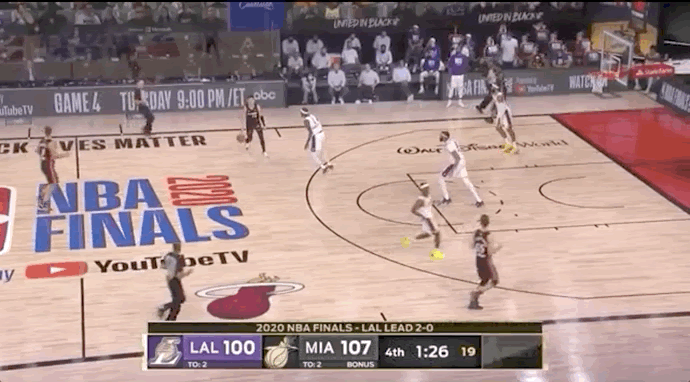 The layup gives Butler his 40th point. 23 seconds later, he'll grab his 11th rebound. 18 seconds after that, he'll dish out his 13th assist.
Butler ruled the night, his 40-point triple double putting him in a class with LeBron and the great Jerry West. The Heat as a whole burned the boats, grinding and clawing their way to a 115-104 victory.
But beyond Butler's magical night, and beyond the Heat's collective fight, was a shift in comfort. The story of the Finals has been less about the gaudy numbers each star has put up, and more about who's been able to control the terms of engagement, and how they've gone about it.
In the first two games, it was LeBron and, especially, Anthony Davis mashing the Heat into oblivion. The Heat had no good answer for Davis: too big for Crowder on the block, too quick for Meyers Leonard or Olynyk and too long for Bam Adebayo in his brief series cameo.
LeBron was content with operating as an overqualified gap-filler, serving as a trump card whenever Davis hit the bench or needed a possession or two to breathe. If he wasn't busting chops in transition, he was clearing a side in the half-court, lowering his shoulder and bullying his way to the rim.
Both players carved up Miami's zone: LeBron with his drives, Davis with his baseline escapades that led to dump-offs and lobs. The superstar duo combined to convert 17-of-30 shots against Miami's zone through the first two games, according to a source with access to Second Spectrum tracking data.
Therein lies the first adjustment from Miami's side. They pretty much exiled the zone in Game 3, opting to go with man coverage. If the Lakers' stars were going to find space, they were going to have to work for it.
And work they did.
For Davis, it meant having to operate from his dominant side. As written about in this space, Davis can be pretty right-hand dominant. Drives to his left often end in right-handed floaters, for example. The Heat made a concerted effort to take Davis out of his comfort zone.
On left block post-ups, Davis' defender would shade him to the baseline. If Davis positioned himself to drive to his right, he could expect to be met with a double.
That's superb work from Andre Iguodala. He almost instantly wins the possession by forcing Davis off his spot. Upon the catch, you can see him position himself with a slight shade to force Davis to his left. Butler finishes the job, dropping down on the face-up, then coming with a hard double as Davis goes into his move.
The same principles were apparent on isolations as well.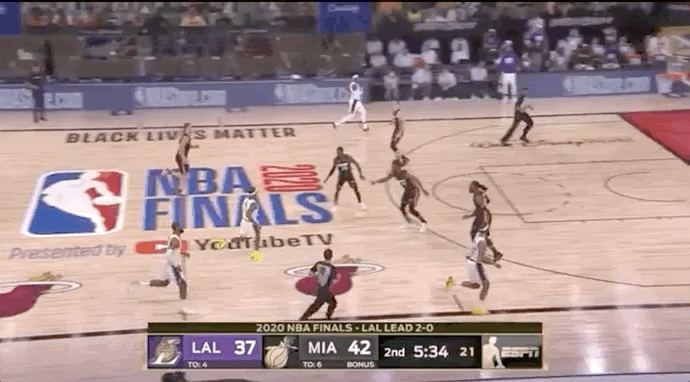 The charge is the highlight. It gave Davis his fifth turnover of the half, as well as his third foul. But again, it comes down to the Heat -- specifically Olynyk -- dictating what Davis was allowed to do. If Davis was going to score on the possession, he was going to have to work to his left. Olynyk jumped out and shaded Davis that way, and Davis still opted to drive right, plowing through Olynyk in the process.
"Nothing easy" was the mantra for LeBron as well, though in a different manner. The low-hanging fruit to defending LeBron is to duck under his screens and dare him to shoot. That only really works -- as well as anything works on LeBron -- against ball screens involving a traditional big man.
LeBron often hunts out smaller screen partners in hopes of generating a switch. If he's able to get one, the defense becomes his own personal playground. Don't send help, and he'll bully some poor sap into submission. Send help, and he'll fling passes all over the lot. You could argue that the latter is the best of bad options, but that's also the thing: it's ultimately a bad option. It makes defenses -- you guessed it -- uncomfortable.
The Heat have tried to find middle ground between sending help and preventing those mismatches from happening altogether. That manifests in the way of hard hedges.
In theory, it's a way to:
1. Generate ball pressure
2. Prevent the ball-handler from turning the corner
3. Give the primary defender time to retain his assignment
All of that is a fancy way of saying: we're going to make sure this guy doesn't have it easy.
The Heat were able to turn LeBron over on a couple of occasions. Below, LeBron basically gave up on head-hunting, then traveled after Butler "pulled the chair" on him.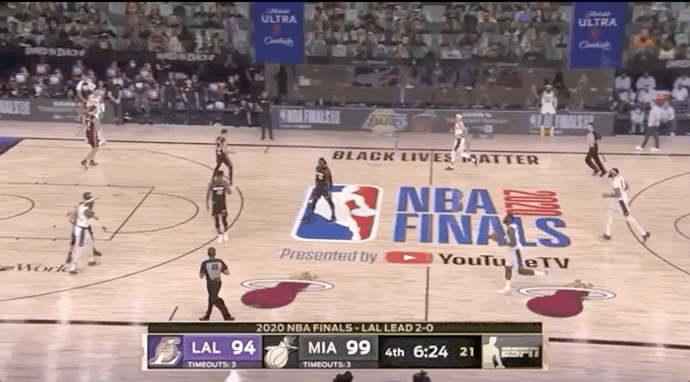 This was actually one of the very few possessions where LeBron failed against the coverage, at least statistically. LeBron-led pick-and-rolls generated a cartoonish 1.8 points per possession when the screener hedged or "showed" in Game 3, per the Second Spectrum source.
Dig a little deeper in that possession and you'll see why the gambit ultimately worked for the Heat. Travel aside, LeBron dribbles the ball 12 times before the possession ends. The dance-and-drive takes 10 seconds after he crosses half-court. And with LeBron going hunting, Davis doesn't leave the right wing, much less take a shot.
Through the first two games of the Finals, roughly a quarter of LeBron's shots came after three or more dribbles, per NBA.com's tracking data. In Game 3, 10 of LeBron's 16 shot attempts (62.5 percent) were taken after three or more dribbles; he converted six of those, but the residual effect of that much work shifted things in the Heat's favor.
While the Heat didn't willingly concede mismatches to LeBron, the exact opposite was true for Butler on the other end.
He was able to dance with whoever he chose for most of the game, but especially in the fourth quarter. With LeBron starting out as the primary defender on most of those, that meant Butler ending a possession matched up with someone smaller (Kentavious Caldwell-Pope, Danny Green) or slower (Morris) than him.
And we know how that ended.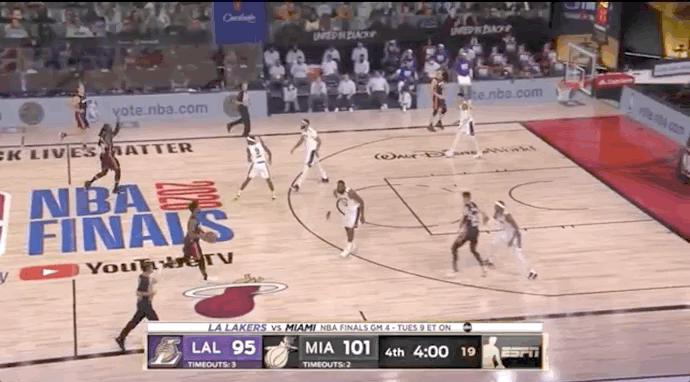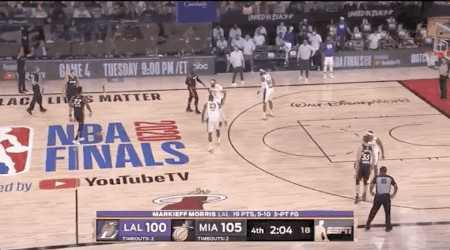 Butler received 35 ball screens in Game 3 overall, with the Lakers switching on a little under half of them, per the Second Spectrum source. In the fourth quarter, Butler got switches on 13 of his 15 ball screens. That's nearly an 87 percent rate, and the Heat scored at a 1.18 points per possession clip on those actions.
Game 3 followed a similar script as the first two outings. The stars controlled where they wanted to operate and how, and forced the defense to react to them. LeBron and Davis did it in the first two games; Butler controlled the tempo in Game 3.
The difference between a 2-2 series and a 3-1 series will come down to who's able to shape Game 4 in their image.