As the NBA Draft inches closer, franchises are frantically gathering any last bit of intel on this year's top prospects.
Isaac Okoro, one of the draft's top wings, has been pulled in several different directions during the pre-draft process. So far, the former Auburn Tiger has worked out with the Minnesota Timberwolves, Golden State Warriors and Cleveland Cavaliers. He also has interviewed with the Chicago Bulls, Atlanta Hawks, New York Knicks, Washington Wizards, Phoenix Suns and San Antonio Spurs.
"What separates me from everybody else in this class is my will to win -- my willing to do anything to help the team win, coming in and just playing my role and being a defensive player," Okoro told reporters.
The 6-foot-6 wing has consistently been praised for his defense; he's arguably the best defender in the class. But while Okoro's defense should translate right away, he noted that adapting to the pace of today's NBA will present a tough challenge. Okoro also addressed his developing offensive game, saying his physicality can help any team.
"I feel like I can contribute on the offensive end by attacking the rim, drawing contact and getting to the free throw line, and also just driving and finding open teammates," he said.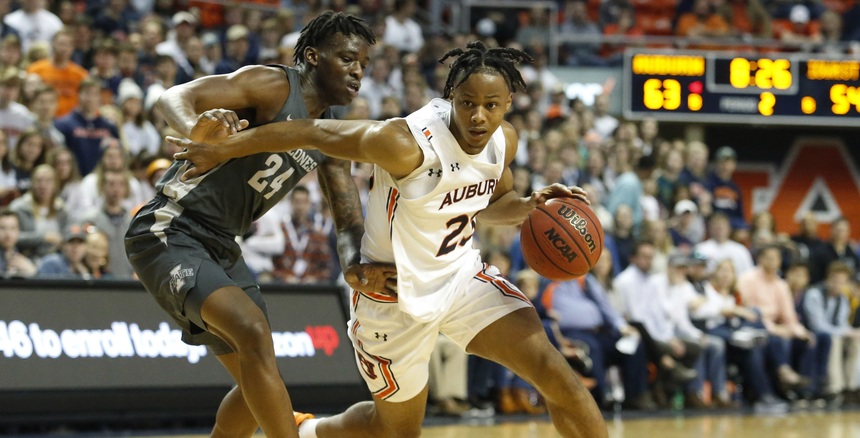 Okoro has put time into improving his jumper during the extended offseason, which is one of the most consistent criticisms of the young wing. After shooting just 28.6 percent from three-point range at Auburn, he says his shot has improved from a C+ to around the B+ or A- range.
"[I'm] just taking more time on my jump shot, being more fluid with it, learning how to get the ball higher," Okoro said. "During the college season, I shot a lot of flat balls, but I'm learning right now to get a high arc on it."
Multiple reporters asked Okoro about his potential fit with various NBA franchises. With the Knicks, Bulls and Suns, Okoro said that his defensive versatility would benefit each team. In Washington, Okoro feels he could slot in on the wing next to John Wall and Bradley Beal.
"I could see myself playing as a 3 -- just playing defense, running in transition and getting easy fast break points," Okoro said.
Okoro played against Cavaliers guard Collin Sexton in high school, and could join forces with the speedy guard should Cleveland select him with the fifth overall pick.
"Both of us are competitve," Okoro said, "so having those two competitive people on the team would honestly be great."
This condensed offseason will be followed by a shortened 72-game season that will start on December 22. No one knows how the quick turnaround will affect NBA rookies, but Okoro says he's been ready for a long time.
"I've been mentally and physically ready all my life," he said. "[I've been] preparing for this day and this moment to happen."