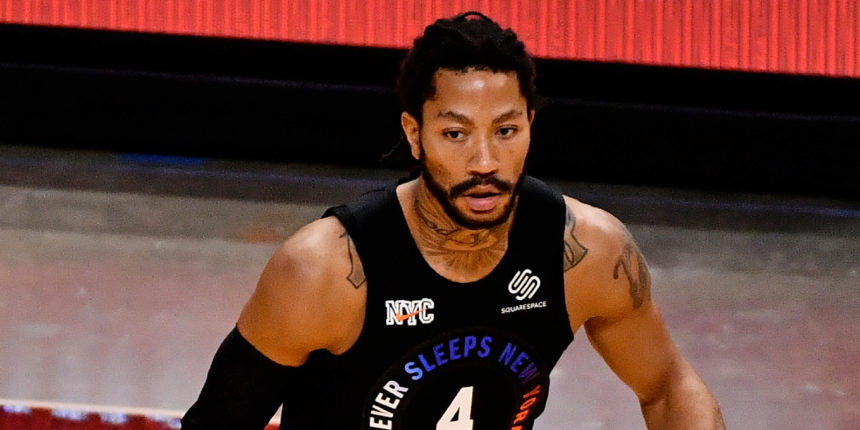 Second time's the charm: Derrick Rose trade was right decision for Knicks
Sure, Montrezl Harrell is a mammoth of a man and tenacious defender, but Shai Gilgeous-Alexander was already oozing with confidence by the time he got the switch.
The young Canadian had already made a fool of Dennis Schroder on a few possessions, so when Kentavious Caldwell-Pope came with a hard show to trap the Oklahoma City Thunder's young star, Shai crossed over from left to right, faking the two defenders out of their shoes. He slithered to the rack and threw down a two-handed dunk.
Somewhere, Chris Paul was smiling.
Gilgeous-Alexander, of course, spent last season as Paul's understudy. And although Paul would've probably finished the play off by finding a backdoor cutter, the entire sequence had Paul's fingerprints on it.
So know this: the journey to becoming a superstar in the NBA isn't as simple as giving a kid the ball and the keys to a franchise. More often than not, young players with promise have to learn as they go. Just like Gilgeous-Alexander did. Just like RJ Barrett, Obi Toppin and Immanuel Quickley will.
Above all else, that's why the New York Knicks' decision to run it back with Derrick Rose -- especially considering what they had to give up in exchange for him -- was a no-brainer.
It's disconcerting the extent to which NBA fans allow themselves to be peddled falsities. Once upon a time, we were told that tanking was the best way to building a contender. Not too long ago, we were led to believe that hoarding cap space was the way to sign impact free agents and more recently, for some reason, many have been led to believe that players with promise need to be force-fed the ball for 40 minutes per night.
You know what young players really need more than anything else? Guidance and experienced wisdom.
Neophytes need to learn how to win games and see, first-hand, what kind of commitment it takes to be successful in the NBA. They don't need to be on the receiving end of 30-point blowout losses or to be torn apart by the likes of Jrue Holiday or Patrick Beverley. They need veteran players whose attitudes and habits help them get to the next level. They need a coaching staff that connects with them and helps them develop their talents, and they need to be properly primed before they're entrusted with the marbles.
They need to marinate, and they need players who've been there and done that before them help with their seasoning. For the gross majority of players, this is fact even if some players -- LeBron James, Damian Lillard, Donovan Mitchell and Luka Doncic to name a few -- are ready from Day 1.
Far more players have been brought along slowly and surely. In a basketball culture that is often fooled into thinking there's only one way to do things, the want to see immediate dividends on the investment in a player with potential is understandable... It's just not usually the reality.
About 25 years ago, a young backup guard named Sam Cassell was instrumental in helping deliver two NBA championships to the Houston Rockets. Nonetheless, he couldn't find a starting role playing behind a bevy of accomplished veterans that included Kenny Smith, Vernon Maxwell and Clyde Drexler.
Humbled, Cassell studied under the veterans, learned some lessons and applied the teachings in his subsequent stops. He ended up enjoying a fruitful career, to say the least.
The late, great Kobe Bryant became a starter in his third season, but only after it became apparent that he was the franchise's future and that Eddie Jones, Nick Van Exel and Derek Fisher didn't quite have the same gifts.
In more recent times, Draymond Green, CJ McCollum, Jaylen Brown and Fred VanVleet are examples of players who spent their first couple years fighting for their keep. Before Giannis Antetokounmpo was a two-time MVP, he was playing behind the likes of Ersan Ilyasova, John Henson, Larry Sanders and Zaza Pachulia. Same with Stephen Curry, who has preached patience with rookie James Wiseman and pointed out that Curry himself "used to get benched for Acie Law."
In other words, most young NBA players are like seeds. They need to be planted, given proper conditions and some time. Not everyone comes into the league 100 percent ready, and that's fine. Nobody likes force-ripened fruit, anyway.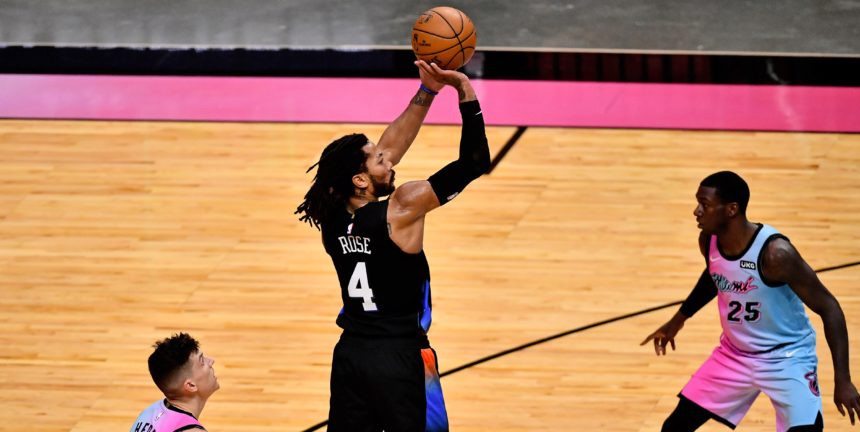 That's exactly where players like Derrick Rose come in.
Given his relationship with Tom Thibodeau, the early returns suggest that he'll fit right in by providing the Knicks a much-needed attack guard who can help make the game easier for the team's youngsters, who Rose will ultimately help bloom.
At this point in his career, on an individual level, the former MVP is a player who has gone from the top of the mountain to the bottom of the barrel and back. Through it all, he's kept a positive attitude and persevered. A step slower and less athletic than he was 10 years ago, he's come to rely more on his ability to see through defenses and penetrate them than his blinding athleticism. At 32 years old, he plays the game more like an aging halfback who has to plan his cuts rather than a greyhound chasing a rabbit. As he's aged and enjoyed his renaissance, Rose has naturally become more methodical about his game. Those are qualities that any young guard would be wise to develop.
Serving as understudy worked out quite well for Gilgeous-Alexander. There's no reason to believe the same fate doesn't await Quickley and the Knicks' other promising youngsters.
Although far from a front-office lifer, Leon Rose has spent a lot of time around the Knicks organization. In the recent past, New York has always sought the shortcut. In the end, they discovered that the only thing shortcuts are good for is making you bleed.
The road to respectability in the NBA -- a long, windy, treacherous one -- can only be successfully traversed with steps on the court.
Today more than ever, players watch one another, talk, share war stories, form relationships and create alliances, but nobody wants to join a sinking ship. No franchise-altering player will proactively take his talents to a losing franchise more renowned for its off-court shenanigans than on-court promise. So the first step toward helping the Knicks regain some respect around the NBA is to string together some wins, show some sort of developmental culture and overachieve relative to the individual parts. It's precisely what the Brooklyn Nets did and, if you look closely, it seems to be precisely what the Knicks are attempting to do. Rose is a means to that end.
Despite the Knicks' inclusion of Charlotte's second-round draft pick, trading Smith for Rose is a no-brainer. Rose provides the club with attributes they need that Smith didn't possess, and the 11-year veteran gets them closer to the playoffs than Smith would have.
For a franchise attempting to find its way, the Rose acquisition is a low-risk move with a potentially high reward, especially if Rose is able to impart any of his wisdom or teachings to Thibodeau's young and impressionable group of players.
So the next time Jaylen Brown draws praise or Gilgeous-Alexander impresses you, remember when they were seeds. Realize that now, in New York, they've just begun planting.