When a team hits the reset button, there is no singular goal.
The obvious focal point is development, as their young talent gains invaluable experience on the floor against legitimate professional competition and an unfamiliar roster jells with one another. Wins are few and far between usually because of it, which means it'll more-than-likely take a bit of time to build winning habits back up and get back into (or stay in) the postseason hunt.
Unlike many teams after moving on from (multiple) star players, the Los Angeles Clippers didn't really have to go through a rebuild; the franchise simply retooled. First, in the summer of 2017, they shockingly traded Chris Paul to the Houston Rockets for seven players, including Lou Williams, Montrezl Harrell and Patrick Beverley. Then, they brought in Danilo Gallinari from the Denver Nuggets. Finally, before the following season's trade deadline, LA dealt Blake Griffin to the Detroit Pistons for Tobias Harris, Boban Marjanovic and Avery Bradley.
Just like that, Lob City was out and a new breed was in. Under the same coaching staff led by Doc Rivers, 2017-18 and 2018-19 saw perhaps the most enjoyable year-and-a-half of Clipper basketball than we'd seen in quite some time. Guys were just on the same page. Williams enjoyed All-Star-caliber efforts as the league's best sixth man. Harris and Gallinari put together the best scoring campaigns of their respective careers. Harrell broke out as a ferocious competitor who only needed an opportunity, and Beverley set the tone as far as the culture. Not to mention, they had a then-blossoming rookie in Shai Gilgeous-Alexander who was impressing in all facets with his mature skill set. It was all clicking.
But with a star-studded free-agent class then on their minds, the Clippers began to change things around in the middle of that 2018-19 season. Tobias Harris was in a contract year and expected to be paid for the best year of his career (did he EVER), so the team traded him, Marjanovic and Mike Scott to the Philadelphia 76ers for Landry Shamet, Wilson Chandler and Mike Muscala.
That would be the first of many dominoes to fall in LA. With plenty of roster room and cap space, Jerry West and Lawrence Frank went to work by signing reigning NBA Finals MVP Kawhi Leonard and acquiring an All-Star in Paul George to pair with him. They had to part ways with Gilgeous-Alexander, Gallinari and an unheard-of amount of first-rounders to acquire George (and land the package deal), completely mortgaging any kind of future they had; but to their credit, the job got done to give Steve Ballmer's ball club a win-now, championship roster… on paper.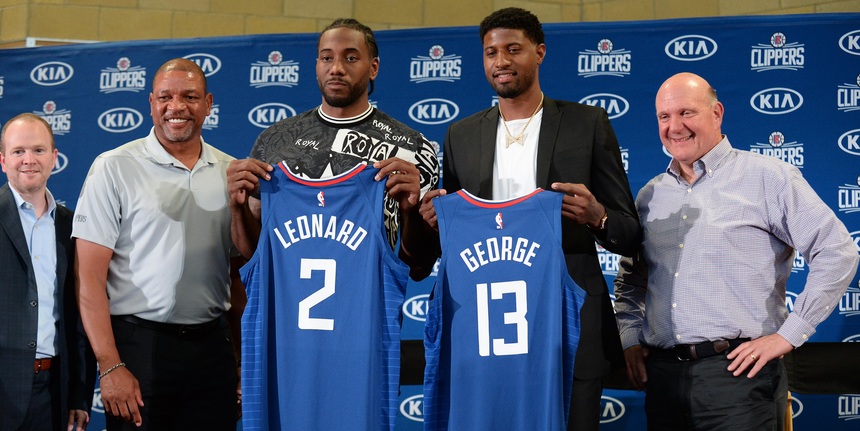 Pick things up on Dec. 3, 2020 -- that joyous, tight-knit Clipper group seems like a distant memory. The team parted ways with Rivers and will continue his career in Philadelphia, while his lead assistant and 2016 NBA champion head coach Tyronn Lue will take over the reins of a reportedly divided bunch. Harrell hopped to the other locker room and will play at Staples Center in a Los Angeles Lakers uniform. JaMychal Green jumped at the opportunity to sign with the Denver Nuggets, who stormed back from a 3-1 playoff deficit to defeat the Clippers just a few months ago, citing that their heart made it an easy decision to choose them over his former team. The Athletic's Jovan Buha wrote an article about how the Clippers' culture eroded due to preferential treatment that Leonard and George received (such as letting them determine the practice schedule and when to sit out games, giving them personal security and trainers, etc.).
It all seems like a mess in Clipperland right now, and by no means is the story over with; Year 1 rarely goes swimmingly when a team of stars links up for the first time, and I firmly believe they're going to be better this upcoming year. However, when considering what happened to the Clippers, is it possible we could see a similar situation arise with the Brooklyn Nets?
Hear me out.
We all know how awful it got for the Nets after the early 2010s. Aside from late-round firsts and seconds they would acquire later, there was no path to a rebuild once the post-Boston Celtics holdover era was over because every draft pick was essentially out of the picture. It was damn near impossible for the Nets to not only bring in NBA talent, but also develop their own since there wasn't a whole lot of promise outside of Brook Lopez, Joe Johnson and Deron Williams (Lopez lasted the longest and was gone after the 2016-17 campaign). For a significant period of time, Brooklyn's roster was filled with journeymen, cast-offs and undrafted young guys. They simply had no chance.
Until head coach Kenny Atkinson came along.
Then-newly-acting general manager Sean Marks found a way to bring in some fresh faces without draft capital to help Atkinson as much as he could in the 2016 offseason.
In exchange for Thaddeus Young, Brooklyn got a rookie Caris LeVert back from the Indiana Pacers. The franchise took a shot by signing Joe Harris (who had played just 56 total games) to a multi-year contract. Trevor Booker was a well-respected veteran who brought toughness to the locker room. In December of that season, the Nets brought in a recently-waived Spencer Dinwiddie, who hadn't been able to stick with the Detroit Pistons or Chicago Bulls.
That set the foundation for the next offseason, when they traded for D'Angelo Russell and Timofey Mozgov on draft night, ending Lopez's career in Brooklyn and sending Kyle Kuzma with him to the Los Angeles Lakers; the team also selected Jarrett Allen at No. 22 in 2017 with a pick that used to belong to the Washington Wizards. DeMarre Carroll was acquired from the Toronto Raptors to provide leadership and a steady presence on both ends of the floor; Allen Crabbe came aboard via a separate trade with the Portland Trail Blazers soon after.
Regardless of the talent on the roster, Atkinson always got the most out of his squad. While you can look at the Nets' record over his first two seasons with a perplexed expression as much as you want to (48-116), those players bought into what he was selling. They were playing hard, they were playing tough and they were playing together.
Like the Clippers, maybe the most fun seasons we saw in Brooklyn happened almost organically in 2017-18 and 2018-19. Russell ascended to All-Star heights and consistently ignited Barclays Center, firing off clutch shot after clutch shot and taking a major step with his vision. Harris took a massive leap, becoming the NBA's top three-point shooter in the second year of his contract. Dinwiddie exploded onto the scene with his aggressiveness as the Nets' second-highest scorer. LeVert showed us flashes of brilliance before (and after) his foot was dislocated. Allen wowed the world with his hops and refusal to let the opposition score in the paint. Treveon Graham earned playing time with his hustle and commitment on the defensive end of the floor. Unsung heroes like Carroll, Crabbe, Shabazz Napier, Ed Davis and Jared Dudley (acquired from the Phoenix Suns in the summer of 2018) really set a great example for the team to follow. Brooklyn made it to the postseason that second year, which was the culmination of a long road back.
When I thought of the Nets, I didn't think of a team that tanked its way back to relevancy; I thought of a team that kept digging itself out of a never-ending hole and refused to falter -- regardless of the position it was originally left in. But things changed in the blink of an eye when the 2019 offseason came about.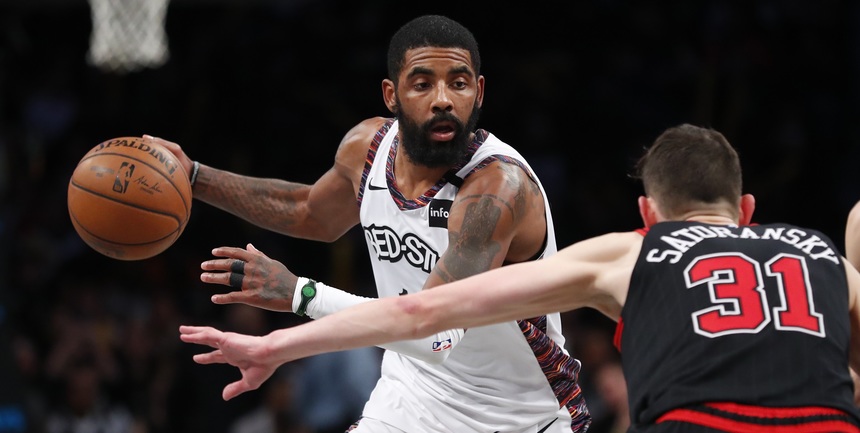 With the team environment and outlook revamped -- and plenty of cap space to boot -- Brooklyn struck gold, landing Kyrie Irving as a free agent and Kevin Durant in a sign-and-trade with the Golden State Warriors (Russell, Napier and Graham went back in the deal). They added DeAndre Jordan as well. They also acquired Taurean Prince from the Atlanta Hawks for Crabbe and then-rookie Nickeil Alexander-Walker (who was flipped to the New Orleans Pelicans). In came more veterans at small prices afterward: Wilson Chandler, Garrett Temple, Lance Thomas and Iman Shumpert a few weeks into the season.
The team at its core was completely altered, unarguably for the better from a talent standpoint -- however, a far cry from what Atkinson was used to and a whole lot more pressure, despite Durant's Achilles injury keeping him out for all of last season. He still had Irving (albeit a banged up one) who only played 20 games in his debut campaign with the Nets. But true to his nature, Atkinson trudged along with the newer pieces, trying to make it work; it just didn't. On March 7, Marks announced that Atkinson had mutually agreed to part ways with the team.
Now, on Dec. 3, the Nets have brand-new leadership in the building. Steve Nash, a respected Hall-of-Fame player and basketball mind, is going to take hold of a roster full of high expectations. He'll have his former Suns coach Mike D'Antoni and teammate Amar'e Stoudemire with him to help the transition, as well as long-time NBA assistants Ime Udoka and Jacque Vaughn (who coached the team at the end of last season).
With a recovered Durant and a fresh Irving, there shouldn't be any major issues with the roster; it's literally built to win. For all intents and purposes, this Brooklyn team has a good mix of veteran specialists and up-and-coming players and big-named staff… on paper. We get so excited about these colossal transactions because it's like a video game, where you can pair up your favorite superstars with each other and stack a bunch of 90-overall guys. It works in a simulation scenario every time, but in reality you have to factor in chemistry and personal relationships, and that takes a while to establish. This isn't to say it can't work (look what the new-look L.A. Lakers and Miami Heat were able to do in Year 1 last season); this very well could be the next great team in the league in due time. But the Nets should take heed because those Clippers were in almost this same exact spot last year.
Which brings me to my point: I know you're supposed to cash-in on assets and young guys can only get you so far in this league. You're in this business to win championships and put fans in the stands. It's run by stars who make the show worthwhile on the court. With that, though, comes sacrifice, right or wrong; it can range anywhere from accepting lesser roles to destroying what you built to get there to handling stars who want preferential treatment.
Should Jarrett Allen be coming off the bench for DeAndre Jordan? All due respect to DJ, who's paid his dues, but no -- not at the expense of an athletic, developing big man who could start for literally any team in this league. But Allen knows what's coming because of where the team is at now.
You're probably thinking, "Who cares how Allen feels? He's not a star," and you're correct with the second statement.
My gripe is with the first question, one that most franchises forget to ask when they enter the spotlight with their big acquisitions -- leaving behind the players who got them there.