Aaaaaaaand we're off!
The first major domino of NBA #TradeSZN has fallen, with future Hall-of-Fame point guard Chris Paul being shipped to the Phoenix Suns.
Paul and forward Abdel Nader will go to the Suns; Ricky Rubio, Kelly Oubre, Ty Jerome, Jalen Lecque and a 2022 first-rounder will go to the Oklahoma City Thunder.
Even at age 35, Paul is one of the best players in the NBA. He's coming off a renaissance year in OKC where he averaged 17.6 points, 6.7 assists, 5 rebounds, and 1.6 steals per game. His fit in Phoenix, on and off the floor, should be hand-in-glove for a team ready to make serious noise in the Western Conference.
What He Brings On Offense
You can't talk about Paul without mentioning his virtuosic play in pick-and-roll. He's long been the NBA's preeminent floor general, able to read his defender, the big and the help in one quick glance. He combines a distinct pace with a college-student-budget-tight handle to get to where he wants to go. From there, he's able to strike in whatever way would make the defense wrong.
Playing drop coverage and conceding too much of the middle? Paul will snake around the screen and pull-up for elbow middies. It's death by a million paper cuts, if the paper cuts were 16-footers that kiss the arena lights before falling gently through the net.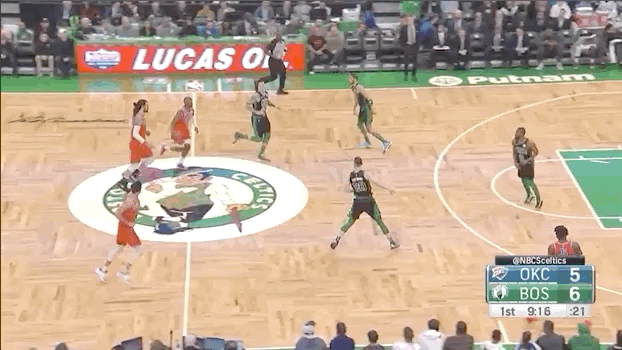 This is Paul against Jayson Tatum, one of the rising stars in the league and a tremendous defender. From the get-go, Tatum wants to shade Paul into a sea of help. Gordon Hayward, Kemba Walker and Marcus Smart are all stationed to Paul's right, ready to swoop in and muck up space if Paul goes that way.
Paul recognizes this and outright refuses to go this way. He plans on attacking the empty side, so he sets Tatum up -- hesi, hang, cross. He's able to attack Tatum's high foot, while simultaneously running him into the screen from Steven Adams. With Daniel Theis playing with a gap. Paul is able to waltz into an elbow jumper.
Let's talk about those jumpers for a minute. Per NBA.com's tracking data, Paul converted an absurd 53.6 percent of his shots between 10-14 feet, easily the highest clip among the 56 players with at least 75 attempts. Back it up to jumpers between 15-19 feet, and Paul's percentage falls all the way down to...50.8 percent. Only six players converted a higher percentage, and none of them took as many as Paul did (195 attempts). The only player to take more was DeMar DeRozan, who converted at a much less efficient clip (45.6 percent on 204 attempts).
In short: nobody hunts out middies quite like Paul. It's a fail-safe in just about any scenario: transition, semi-transition/early offense, late clock, late game. He can get it whenever he wants, It's an effective counterpunch as the league as a whole has become more threes-and-layups-y.
Of course, that only accounts for what Paul can do for himself. If he's able to run a defender off a screen and waltz into space, the defense is one step away from being burned with a pass.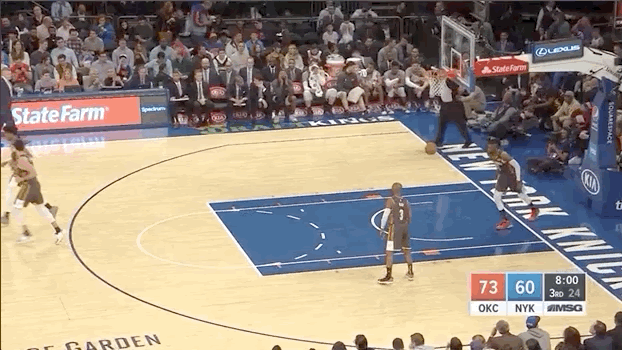 The play is dead the second Elfrid Payton loses connection with Paul over the Danilo Gallinari screen. Taj Gibson has to step up to cut off Paul's space. With Gallinari spotting up above the break, Julius Randle isn't able to provide any relief. The sneaky part of this is Luguentz Dort relocating to the opposite corner, essentially turning this into another empty side (double) pick-and-roll.
Of course, if the defense sells out to protect the paint, Paul can dice teams with skips to the corner.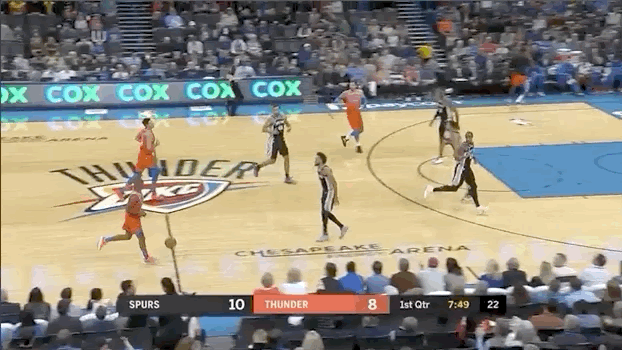 Those double drag or double stagger looks were fruitful for Paul last season. According to a source with access to Second Spectrum tracking data, only two players -- Trae Young and Kemba Walker -- ran more of these sets than Paul last season. To relate that to Phoenix, Paul had over three times the volume in these sets than Rubio. It's easy to envision Paul running similar actions with Cameron Johnson popping, DeAndre Ayton rolling and Devin Booker waiting for a kick-out if the defense sends extra help.
And thus, this is why this trade was so important. Booker needs some of the creation burden taken off of his plate. Not that he can't handle it: that man is coming off an efficient 27-4-7 season, and he was even more ridiculous during the Suns' 8-0 bubble run (31-5-6).
It's not a surprise that Booker's most efficient season came with Rubio as a backcourt partner. Rubio is probably a tier below Paul as a passer, but his ingenuity with the ball in his hands made Off-Ball Booker a more feasible option. Replacing Rubio with Paul, who adds legitimate scoring prowess in addition to the passing, while also being an ace spot-up shooter (89th percentile on spot-ups last season, per Synergy) to boot?
Whew.
What He Brings Defensively
Paul has slipped ever so slightly as a defender over the past few seasons, though that's due to age-related regression. Even then, he's gone from All-World to Really Freakin' Good, which is a dip you can live with if you're Phoenix.
The Suns can shapeshift a bit defensively due to Ayton's growing comfort on switches, but they're still primarily a drop team. That puts strain on their perimeter defenders to fight over screens and stay attached to ball-handlers to force them into tough pull-ups. Paul isn't as twitchy as he once was, but he remains pretty sticky.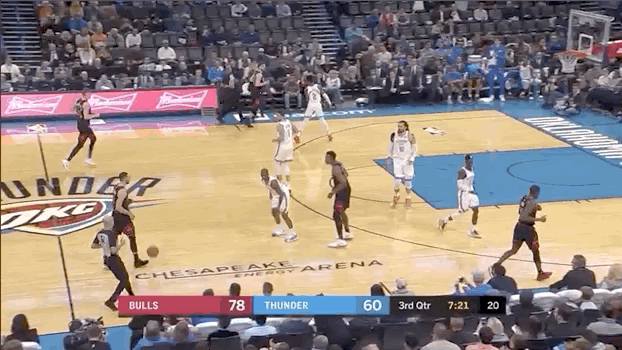 Here, Zach LaVine sets up a high pick-and-roll with Wendell Carter Jr. Paul is able to fight over and stay connected to LaVine's left hip as he attempts to snake to the left elbow. As LaVine gets the ball to his left hand to possibly set up a more natural pull-up motion, Paul flashes his hands and pokes the ball loose, leading to the easy transition bucket on the other end.
Paul is at his most comfortable pestering guys from behind, but he's still sneakily switchable. Teams generated less that 0.9 points per possession on trips featuring a post up against Paul, per the Second Spectrum source. The core strength is still there, the quick hands are there and he's just flat-out annoying to jostle with.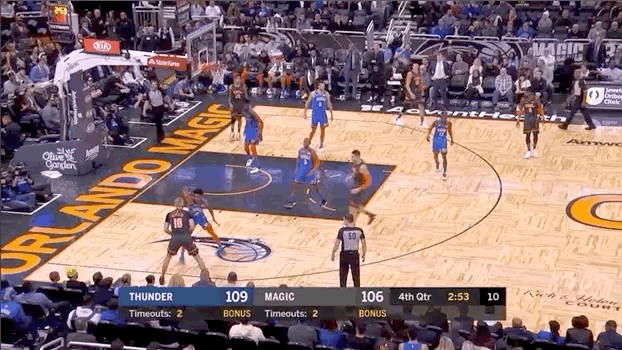 The fun part of that clip is Paul pulling the chair and reaching around for the steal. Pay close attention to Paul's positioning there, though. It's subtle, but he's shading Nikola Vucevic towards the baseline. Even at a massive size disadvantage, Paul is dictating the terms of engagement.
If Vucevic is going to score, he's going to have to spin baseline, where Nerlens Noel will be ready to rotate over.
Of course, Paul ends up not even needing the help. As Vucevic tries to go into his second dribble (and possibly gather), Paul ghosts him and makes a play on the ball. Vucevic stumbles, and Paul is able to retrieve the rock.
That basketball know-how, especially when it comes to navigating space and dictating angles, will be huge for a team with as much young talent as the Suns have. Booker won't be confused for a plus defender, but perhaps he can get there with Paul taking some of the offensive burden while teaching him some of the hidden tricks of the trade.
Mikal Bridges is already one of the best young wing defenders in the sport; what happens with Paul giving him some advice? What if some of that communication mojo -- a.k.a. yelling -- rubs off on Ayton, who has all the makings of a terrifying rim protector if his Year 2 leap was real?
Provided that Paul stays healthy, his acquisition is a home run for the Suns in all facets. He remains an elite offensive player, a 2.5 level scorer (those rim attempts are nosediving as he ages, buddy) that can generate good looks for himself and others. He can spot up off of Booker and still direct traffic if he sees mismatches.
Defensively, Paul remains a strong on-ball defender. He's a vocal leader, able to call out enemy sets and scram weak links out of unfavorable situations if the situation calls for it. On the intangible side, Paul is widely regarded as one of the best leaders in the NBA. He can be grating, but he demands excellence and accountability on both ends of the floor. His fiery personality is a match for Booker at the very least -- a scary thought for any backcourt that has to face them.
The Suns being able to land Paul is a win of its own; doing so without having to give up this year's pick, or any of their major young pieces -- Booker (duh), Ayton (duh), Bridges or Johnson -- allows them to have their cake and eat it too. Their young guns can grow with Paul in a mentor role, or Phoenix will have the ammo to make yet another star trade down the road.
No matter what they decide moving forward, they've put themselves in a much better position to compete today.