With the 2020 NBA Draft just two weeks away, our Matt Babcock updated his mock draft and provided his thoughts on each player. Some of the risers include Kira Lewis Jr. (Alabama) and Zeke Nnaji (Arizona), while some of the fallers include Aleksej Pokusevski (Olympiacos) and Leandro Bolmaro (FC Barcelona):
1. Minnesota Timberwolves: Anthony Edwards, SG, Georgia
At 6'5" and a strong 225 pounds, Anthony Edwards has perhaps the most upside in this year's draft. Edwards' raw talent was on full display at the Maui Invitational in November when he scored 33 points in one half versus Michigan State. Although he has significant room for growth in regards to his overall maturity as a player, his uncanny ability to hit tough shots from all over the court gives him the potential to be a special player.
2. Golden State Warriors: James Wiseman, C, Memphis
Although James Wiseman is 7'1" and 240 pounds with an impressive 7'6" wingspan, he should not be considered a throwback, big-bodied center (which is somewhat of a dying breed). Instead, Wiseman is extremely athletic for a player his size. He also has an underrated skill level, and he can be a major contributor for a team right off the bat. That's why he is the first big man off the board.
3. Charlotte Hornets: Onyeka Okongwu, C/PF, USC
Commonly referred to as the "Big O," Onyeka Okongwu had a terrific freshman campaign for the USC Trojans, averaging 16.8 points, 8.6 rebounds and 2.7 blocks per game. He's an undersized center that can serve as a defensive anchor for a team. He's also a legitimate scoring threat who's capable of displaying fancy footwork and a soft touch with both hands around the rim. He's extremely strong and explosive, which allows him to be an effective rim protector and powerful finisher. Comparisons to the Miami Heat's Bam Adebayo have been drawn regularly for good reason.
4. Chicago Bulls: LaMelo Ball, PG, Illawarra Hawks
The youngest brother of the Ball family, LaMelo comes to the NBA with lofty expectations. At 6'7", Ball has terrific size for a point guard. He has the ball on a string and a knack to make spectacular plays. Despite concerns of immaturity, Ball's talent is undeniable -- look for him to be the first point guard taken in the 2020 NBA Draft.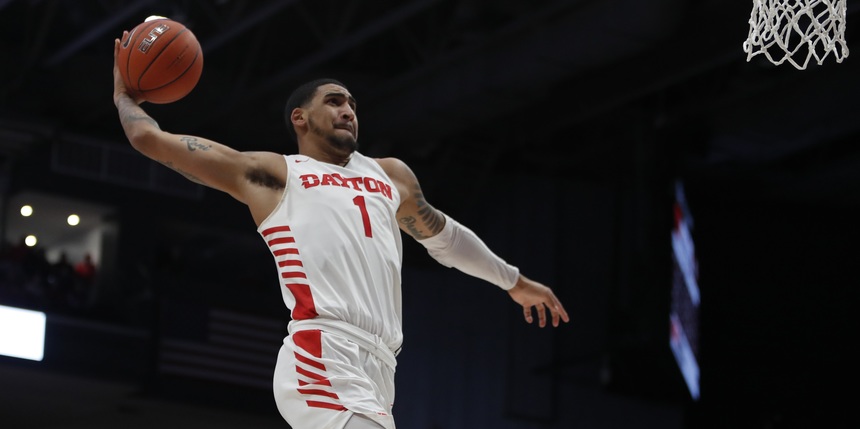 5. Cleveland Cavaliers: Obi Toppin, PF/C, Dayton
After not receiving an invite to the NBA Draft Combine following his freshman season, Obi Toppin returned to Dayton for his sophomore year and he put on a show from start to finish, subsequently being named the National College Player of the Year. At 6'9", Toppin is a high-flyer who throws down jaw-dropping dunks reminiscent of former NBA star Amar'e Stoudemire. He's also a capable outside shooter, as he shot a stellar 39% from three-point range. Already 22 years old, Toppin is probably the most NBA-ready player in the draft and could be considered an early favorite to win Rookie of the Year.
6. Atlanta Hawks: Deni Avdija, SF/PF, Maccabi Tel Aviv
A product of the famed Israeli team Maccabi Tel Aviv, Deni Avdija has already gained valuable professional experience in the Euroleague (the best league in the world outside of the NBA). At 6'9", Avdija is extremely versatile as a hybrid forward and he's also a capable ballhandler and playmaker who is deceptively athletic. In a draft with significant international talent, Avdija is certainly the cream of the crop.
7. Detroit Pistons: Kira Lewis Jr., PG, Alabama
After entering his freshman season at Alabama as the second-youngest Division-I player in the country (at 17 years old), he returned for his sophomore season and did not disappoint. Perhaps the fastest player in the draft, Lewis Jr. averaged 18.5 points and 5.2 assists per game this past season for the Crimson Tide. Comparisons have been drawn to former NBA player Darren Collison.
8. New York Knicks: Isaac Okoro, SF, Auburn
Perhaps the best overall athlete in the entire NBA draft, Isaac Okoro steps into the NBA from Auburn with a reputation of being an exceptional defender that's capable of defending multiple positions effectively. Although he possesses a relatively simple game on the offensive end, he does have a good feel for how to play. If he is able to improve his outside shooting, watch out; Okoro could end up being a big-time player.
9. Washington Wizards: Devin Vassell, SG/SF, Florida State
Devin Vassell is a long wing that is capable of playing the shooting guard or small forward positions, effectively. On the offensive end, he reminds me of Jeremy Lamb of the Indiana Pacers. He's a capable shooter from outside, has a good mid-range game, and can finish around the rim as well. On the defensive end, he uses his length and instincts to be a high level defender. Overall, Vassell is a solid, well-rounded player, that does not make many mistakes. He would be easy to plug into just about any team's roster.
10. Phoenix Suns: Killian Hayes, PG/SG, Ratiopharm Ulm
After playing in France for years, Killian Hayes decided to move to Germany this last year to play for Ratiopharm Ulm - a decision that certainly paid off, as Hayes took a major step in his development, progressing as a playmaker and scorer. With good size for a point guard at 6'5", whichever team lands the left-handed Hayes should be able to pencil him in as their point guard of the future. If he's able to continue to develop his outside shooting, the future could be extremely bright for Hayes.
11. San Antonio Spurs: Patrick Williams, PF/SF, Florida State
Patrick Williams had somewhat of an up-and-down freshman year for the Florida State Seminoles, but the hybrid forward oozes talent and upside. He's a capable shooter from outside, a strong finisher at the rim and a versatile defender. Williams fits the modern style of basketball, as he's able to stretch the floor and defend multiple positions. It remains to be seen if he will be able to contribute at a high level early on in his NBA career, but if he develops properly, he could be one of the better players in this year's draft in a few years.
12. Sacramento Kings: Aaron Nesmith, SF/SG, Vanderbilt
Aaron Nesmith is likely the best shooter in this year's draft. Prior to a season-ending foot injury in January, Nesmith dazzled with his shooting performances, averaging 23 points per game while shooting 52.2% from three-point range in 14 games for the Vanderbilt Commodores. He's from the same high school as NBA All-Star Khris Middleton in Charleston, South Carolina.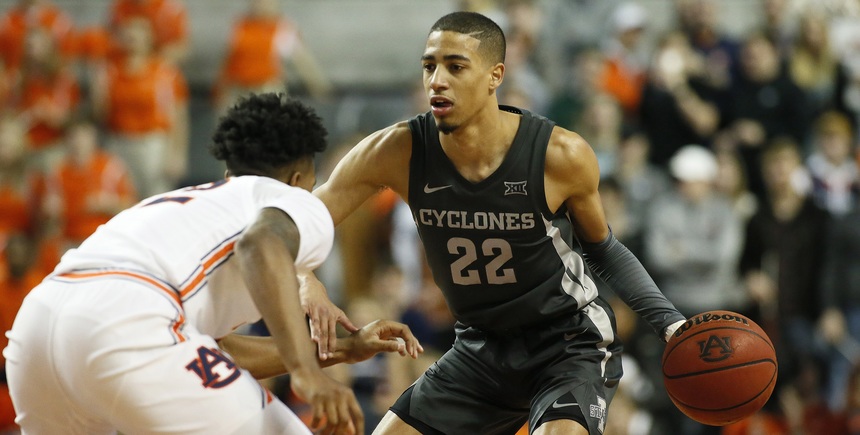 13. New Orleans Pelicans: Tyrese Haliburton, PG/SG, Iowa State
After averaging 15.2 points, 5.9 rebounds and 6.5 assists per game for the Iowa State Cyclones this past season, Tyrese Haliburton will look to contribute right away in the NBA. At 6'5", Haliburton is capable of playing on or off the ball effectively. He has an extremely high basketball IQ and simply does not make many mistakes. Although he shoots the ball with extremely unorthodox mechanics, he knocks them down from deep at a high rate, shooting 41.9% from three-point range last year. He certainly needs to get stronger, as he is only a thin 175 pounds. But he should be a solid NBA player, at the very least.
14. Boston Celtics: Isaiah Stewart II, C/PF, Washington
At 6'9" and 250 pounds of muscle with a 7'4" wingspan, Isaiah Stewart II is a physical specimen and a brute. He would (and could) run through a brick wall, if needed. In his lone season at Washington, he averaged 17.0 points, 8.8 rebounds and 2.1 blocks per game. Despite being utilized purely as a low-post scorer this past season, he has shown signs of having the potential to shoot the ball well from outside - a much desired attribute in today's NBA. One example: He shot 77.4% from the free-throw line.
15. Orlando Magic: RJ Hampton, SG/PG, New Zealand Breakers
After skipping college to play for the New Zealand Breakers, R.J. Hampton enters this year's draft as one of the players with the most upside. Although not a finished product, Hampton has the burst and athleticism that's seen in many star players. If he is able to develop his point guard skills, outside shooting and overall feel for the game, he could end up being a steal for whichever team selects him.
16. Portland Trail Blazers: Saddiq Bey, SF/PF, Villanova
Jay Wright's list of Villanova alumni who have had productive NBA careers continues to grow and Saddiq Bey seems to be the next in line. He's a 6'8" forward that is well-rounded, dependable and, most importantly, a high-level shooter, which was on display during his sophomore season when he scored 16.1 points per game while shooting 45.1% from three-point range. He also defended the opposing team's best player on a regular basis.
17. Minnesota Timberwolves: Zeke Nnaji, PF/C, Arizona
In his lone season for the Arizona Wildcats, Zeke Nnaji posted an impressive 16.8 points and 8.6 rebounds per game, earning First Team All-Pac-12 and Freshman of the Year honors. At the Combine, Nnaji measured in at 6'10" without shoes and 247.8 pounds, with a 7'2" wingspan and a 38" max vertical. Nnaji recently spoke with BasketballNews.com about his game, his regimented lifestyle, why teams should pick him, his off-court interests and more.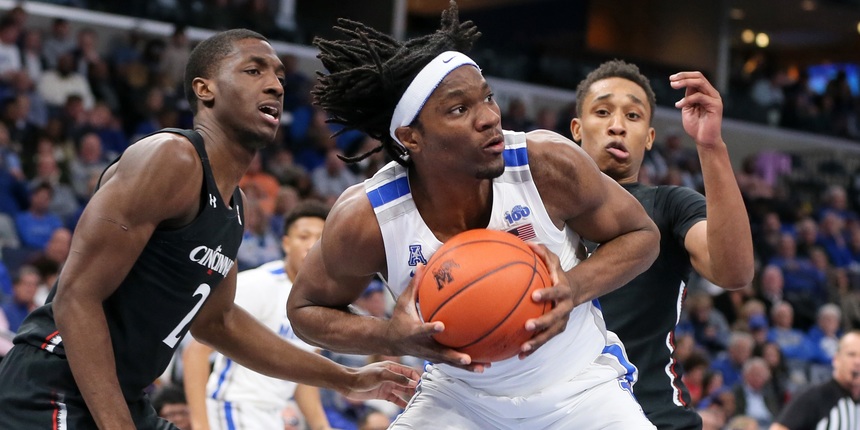 18. Dallas Mavericks: Precious Achiuwa, PF/C, Memphis
Initially, Precious Achiuwa was expected to play the majority of his minutes at power forward alongside big man James Wiseman. However, when Wiseman left the team, Achiuwa took over the big man duties and delivered. The chiseled Achiuwa averaged 15.8 points, 10.8 rebounds, 1.9 blocks and 1.1 steals per game, earning him AAC Player of the Year and Freshman of the Year honors.
19. Brooklyn Nets: Jaden McDaniels, SF, Washington
Possessing terrific length for a wing at 6'9", Jaden McDaniels' versatility and playmaking abilities on both ends of the court are extremely intriguing. If he is able to get stronger and mature properly, he could be well-worth the risk, as his upside is nearly as high as any other player in the draft.
20. Miami Heat: Malachi Flynn, PG, San Diego State
After transferring from Washington State to San Diego State, point guard Malachi Flynn led the Aztecs to a spectacular 30-2 record. After averaging 17.6 points, 5.1 assists and 1.8 steals per game, Flynn was named the Mountain West Conference Player of the Year, as well as Defensive Player of the Year. Flynn recently spoke with BasketballNews.com about his game, his collegiate career, his goals, the NBA players whom he's modeled his game after and more.
21. Philadelphia 76ers: Cole Anthony, PG/SG, North Carolina
The son of former NBA player Greg Anthony, Cole entered North Carolina for his freshman season with lofty expectations after being touted as one of the top players in his high-school class. Despite an up-and-down season, Anthony is an aggressive and dynamic scorer, which he displayed by averaging 18.5 points per game in 22 contests for the Tar Heels.
22. Denver Nuggets: Jalen Smith, PF/C, Maryland
At 6'10" with a 7'2" wingspan, Jalen "Stix" Smith does two things very well: he blocks shots and shoots the ball from outside -- certainly a unique combination, which has NBA teams intrigued. After returning to Maryland for his sophomore season, he averaged 15.5 points, 10.5 rebounds and 2.4 blocks while shooting 36.8% from three-point range.
23. Utah Jazz: Elijah Hughes, SF/SG, Syracuse
An unheralded recruit out of high school and a subsequent East Carolina transfer, Elijah Hughes emerged as a star player for the Syracuse Orange during his junior season. Possessing solid size for a wing and the ability to make shots from all over the court as well as put the ball on the floor, Hughes should make a smooth transition to the NBA.
24. Milwaukee Bucks: Cassius Stanley, SG/SF, Duke
After playing as a combo guard in high school, Cassius Stanley was asked by Coach K to fill a more limited role during his freshman season at Duke, utilizing his electric athleticism in transition and focusing on spreading the floor as a spot-up shooter. His combination of elite athleticism and the ability to make shots off catch-and-shoot opportunities make him an intriguing option as a role player in the NBA (at the very least). If he develops when it comes to creating off the dribble, his value could increase dramatically.
25. Oklahoma City Thunder: Aleksej Pokusevski, PF/C, Olympiacos
Having displayed an incredibly high skill level this past season with the junior team of Greek powerhouse Olympiacos, Aleksej Pokusevski has caused quite a stir among NBA scouts. Standing 7-feet tall and a frail 200 pounds, "Poku" is the youngest prospect in this year's draft (and younger than many high-school seniors) at just 18 years old. He is certainly a player who falls into the category of "high-risk, high-reward," which is why he's somewhat of a polarizing prospect in terms of his draft value.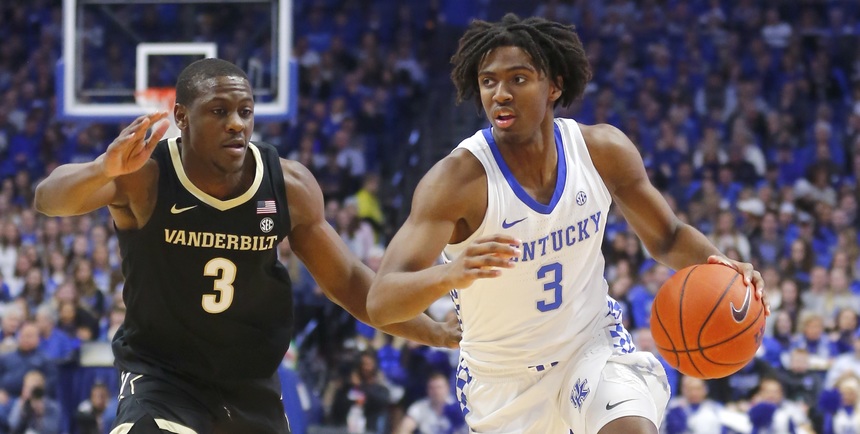 26. Boston Celtics: Tyrese Maxey, SG/PG, Kentucky
A top-10 RSCI prospect, Tyrese Maxey was Kentucky's second-leading scorer with 14.0 points per game. At 6'3" and 200 pounds, he has a well-developed frame, although he's a bit undersized for a shooting guard. Still, he was solid at getting to the rim. He struggled from three-point range (relative to expectations) at 29 percent.
27. New York Knicks: Tyrell Terry, PG, Stanford
After being ranked 88th in his high-school class, Tyrell Terry surprised everyone by posting an impressive freshman campaign at Stanford and subsequently declaring for the NBA draft. Considered to be one of the best shooters in this year's draft, Terry converted 41% from three-point range this past season. His high skill level and ability to shoot the ball has generated quite a buzz among scouts; however, due to his thin frame and lack of physicality, some concerns and questions have been raised as well.
28. Los Angeles Lakers: Josh Green, SG/SF, Arizona
A top recruit coming out of high school, Green is a plus athlete and defensive stopper with good size for a wing. In his freshman year at Arizona, he averaged 12.0 points, 4.6 rebounds and 1.5 steals per game.
29. Toronto Raptors: Vernon Carey Jr., C, Duke
Although a bit of a throwback as a big-bodied center at 6'10" and 270 pounds, Vernon Carey Jr. had an effective freshman season for the Duke Blue Devils, as he averaged 17.8 points, 8.8 rebounds and 1.6 blocks per game. Some questions have been raised about his inconsistent motor. However, his talent remains intriguing.
30. Boston Celtics: Leandro Bolmaro, SG/PG, FC Barcelona
After logging legitimate Euroleague and ACB minutes this past season with FC Barcelona in Spain, the 6'7" Argentinian guard has slowly but surely moved up draft boards. Although it is unlikely that he will be coming to the NBA right away due to him extending his contract with his current club, Bolmaro could still get consideration from teams selecting in the first round.
Matt Babcock is the owner and founder of Babcock Hoops, which features in-depth scouting reports, prospect interviews and more. He is also a contributor for BasketballNews.com. Check out more of his 2020 NBA Draft coverage here.
Also, tune in to BasketballNews.com's Virtual Watch Party on the night of the 2020 NBA Draft (Nov. 18). Our live-stream will feature top analysts, NBA players and more special guests!