After an impressive season at San Diego State University, point guard Malachi Flynn is hoping to hear his name called in the first round of the 2020 NBA Draft on Nov. 18.
As a junior, Flynn averaged 17.6 points, 5.1 assists, 4.5 rebounds, 2.4 threes and 1.8 steals while shooting 44.1 percent from the field and 37.3 percent from three-point range. The 22-year-old is currently being projected as a first-round pick by BasketballNews.com's Matt Babcock.
Babcock sat down with Flynn to discuss his game, his upbringing, his collegiate career, which NBA players he's modeled his game after, his goals and much more.
From my understanding, you have a big family with a lot of athletes. Can you tell me a little bit about them and how growing up in such a sports-oriented family influenced you?
Malachi Flynn: I'm the youngest of seven kids with a lot of cousins, aunts and uncles who all played sports. As a kid, I remember going to many track meets and basketball games. When I look back at my childhood memories, they all centered around some type of sports events. That's just who our family was; everybody was playing sports at some level. I think it's a big reason why I am where I am today.
I read that you were 5-foot-2 as a freshman in high school and 5-foot-6 as a sophomore before growing to your current height of 6-foot-1. Despite being undersized, you played three years on your high school's varsity team. How did playing at that level while being so undersized affect your development as a player?
Flynn: When I look back at it, I think being undersized helped me in a lot of different ways. When you're smaller, you have to be able to do things that other guys can't or you're not going to play. I had to make sure that I could shoot, dribble and pass better than other guys. I also needed to know the game better than most people. When you're smaller, people are going to come at you. They're going to look at you like you're not any good. That gave me an underdog mentality and a chip on my shoulder. Those things have been with me since a young age and they've carried me through my whole career, and even today. It was good for me to be smaller; it helped me. It gave me toughness. It doesn't matter who you are — I'm not going to back down.
You were originally committed to Pacific but wound up at Washington State. Can you walk me through how that unfolded?
Flynn: I actually didn't get any offers until my last summer of AAU, going into my senior year. Then, I picked up some offers from smaller schools like University of Pacific, Montana State and Cal Poly. After weighing out those options, I felt like Pacific was the best. I wanted to get the recruiting process done before my high school senior year started, which is why I committed to them early. The coaching staff ended up getting fired a couple of months after I committed, so I reopened my recruitment. My high school season was about to start and I wanted to finish the season before I decided where to go to college. I went on to have a really good senior season, averaging almost 30 points per game. More schools started to contact me, but I still wasn't getting super-high-level offers — mainly schools from the West Coast Conference and the WAC — schools around that level. Washington State ultimately offered me, and I had a really good relationship with one of the assistant coaches. I felt like it was going to be a place where I could go in right away and have an opportunity to play at a high level, and that's why I decided to go there.
After your sophomore season at Washington State you decided to transfer to San Diego State over Creighton among other schools. What was it about SDSU that was most appealing?
Flynn: The things that stuck out to me were their culture and tradition. I looked at everything they had done in the past 20 years, starting with Steve Fisher, who turned the program around before handing it off to Dutch (Brian Dutcher), who had worked under him since they were at Michigan together during the "Fab Five" days. I also thought it was a great, family-type environment. The main thing they care about at San Diego State is winning, and it's shown in their record. They win year in, year out and that was something that I wanted to be a part of. I felt like the coaches were real genuine. I loved the plan that they had for me. I think it really worked out for both of us.
Per transfer rules, you had to sit out one year at San Diego State before being eligible to play. Do you feel that you improved as a player during that year? And if so, how?
Flynn: Yes, definitely. Having that whole year off allowed me to focus on things I needed to do to become a pro. One of the big things was beginning to take the weight room seriously. In high school, and even my first two years at Washington State, I didn't really take it super seriously. That year off, I knew I was going to have to get stronger, and just get my body better in general. I worked with the strength coach at San Diego State and it really helped my game in many ways. During that time, I also learned all of the right reads off pick-and-rolls and improved my passing with both hands. I knew that I could score off the pick-and-roll, but I worked on being more consistent with everything, making sure I was shooting the same shot each time, making good finishes around the rim, and utilizing different floaters. Overall, I just worked on everything so I could improve all the way around, which I did.
You're known to be a gym rat, which is a big reason why I like you as a player. I've also learned that you are eager to watch film. Can you walk me through some of the different ways you use watching film to learn and improve as a player?
Flynn: Yeah, I like watching film a lot. I watch film of practices and games. I use it as a tool to get better, because it's always different when you watch the film versus what you think happened in the game. I'll go back and watch the film and realize what reads I missed or if I did make the right read but didn't make the shot or if I missed my guy, things like that. I make mental notes so that I can go back to the gym and work on those exact same actions. If I feel like I'm not as comfortable shooting a specific shot, then I go shoot that shot over and over to make sure that, if I get that same look in the next game, I'm going to be really confident and knock it down.
This last season, your team won its first 26 games and only lost two games in total throughout the entire season, finishing 30-2 and ranking No. 6 in the country. Was there ever a moment in the season where you had to pinch yourself and say "Wow, I'm a part of something special here?"
Flynn: We were locked in and trying to win games, but I think when we became the last undefeated team, the hype around us increased; we started to realize this was something special. But for the most part, we were super locked in and just focused on the next game. After the season finished, and especially with how it finished, we were able to look back and realize it was one of the best seasons San Diego State had ever had, and we were a part of that. It definitely became more special.
Your team really seemed poised to make a deep run in the NCAA Tournament. When March Madness was cancelled due to COVID-19, how did that make you feel?
Flynn: It was tough. I felt like we were ready to make a deep run in the tournament. Our big man, who had been hurt for about 10 games, was coming back, and we just felt like we were going to take off running. I feel like a mid-major team can win a couple of games in the tournament and it would turn everyone's perception around. That's what we were looking forward to doing as a team. Not having had that opportunity just sucks, but we can't control it, and I can't control it. So, for me now, I just need to work on my game and continue to stay confident. Whenever my next opportunity comes, I'm going to be ready for it.
Are you at peace with your college career overall and how it ended, or is there always going to be some sort of "what if?"
Flynn: There will definitely always be a little bit of "what if," but at the same time, it's not something that I'm going to continue to dwell on because it's out of my control. I had nothing to do with what happened. I can't go back and change it. I'm going to keep moving forward and look on to my next challenge. It surely could have changed some things though, and it would have been really fun for us to have been able to play in the tournament.
Could you take us through a typical day as you prepare for the NBA Draft?
Flynn: I'm currently in Las Vegas, training at Impact Basketball and it's been a real good setup. In the mornings, I get up and lift weights. Then, I have an on-court workout. After that, I go home for a little bit, get lunch, relax and come back to the gym in the afternoon for more of a straight-shooting workout to get a lot of shots. We're doing that about six times a week. We're also trying to mix in different things, like doing some pilates to work on my core strength. I'm doing a lot of things to improve and just focusing on myself. I'm continuing to get better in every way. I'm happy to be out here because it's a great setup.
For those who are unfamiliar with your game, give us a rundown of who you are as a player on the court.
Flynn: I'm a really skilled player with a high IQ. I'm someone that can make good decisions with the ball, especially coming off pick-and-rolls, who's tough minded with everything that happens throughout the game. At the end of the day, I'm a confident player.
Would you consider yourself a leader? And if so, what is your leadership style?
Flynn: Yes, I definitely consider myself a leader. I'm more of a lead-by-example type of leader versus a super-vocal leader. While I have the capability of being a vocal leader, my natural leadership style is leading by example. I always want to make sure I'm one of the hardest workers and I'm doing things the right way, so when something needs to be said, my teammates respect me. I want to make sure I'm doing everything that I need to do so I'm able to keep my teammates accountable.
You earned Mountain West Conference Player of the Year and, despite only being 6-foot-1, you also won Defensive Player of the Year. What is it you bring to the table on the defensive end that makes you special?
Flynn: I have good instincts on the defensive end and I'm tough-minded. Despite my size, I'm not going to give up. I'm really pesky on defense and I figure out ways to get it done. That's what I have learned to do.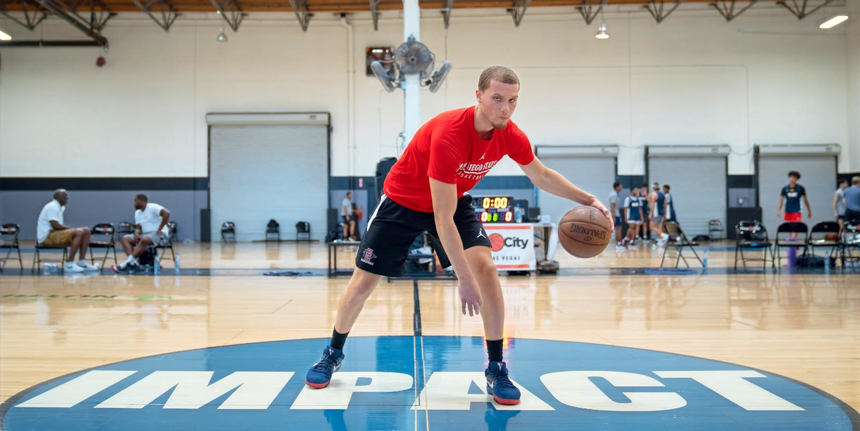 What do you have to say to anyone questioning your size in regards to your transition to the NBA?
Flynn: It's something I've had to deal with my whole life, so it's nothing new to me. I'm just going to go out there and do what I've done to get me to this point, and I think it's going to work out in my favor.
If you had to choose one, is there a player that you model your game after the most?
Flynn: I would say Chris Paul because of how smart he is off the pick-and-roll. During his younger days, he was a lot faster, but just seeing how his game has evolved over the years, he still gets whatever he wants off the pick-and-roll. He's a good leader in my opinion. I feel like he plays to win, and plays on both ends of the floor. He's just someone that I've always watched and admired. I certainly try to take things from his game.
Would you consider yourself more of a pass-first or scoring point guard?
Flynn: I can do a little bit of both, but it depends on the game and the situation. I can score in the pick-and-roll and outside of the pick-and-roll, but I can set guys up too. In college, I had games where I scored many points because I felt like that's what was needed, but on the other hand, I've also had games with 10 or 11 assists. It really just depends on the situation.
What are some things that you would like to work on and improve within your game?
Flynn: One of the biggest areas for me is continuing to find different ways to finish around the basket. With me not being one of the more athletic guys, I need to be able to use different floaters and become really consistent at 10 feet and in. I also have to continue working on everything, including becoming a better shooter. My main focus is becoming a more efficient finisher around the basket, though.
In regards to the NBA, if you had to pick one short-term goal and one long-term goal, what would they be?
Flynn: My short term goal is to surprise everyone and win Rookie of the Year. My long-term goal is to become an All-Star, and eventually a champion.
Last question: let's pretend that I'm an NBA general manager who's considering selecting you. What's your elevator pitch to me as to why I should draft you?
Flynn: I'm going to be someone who's going to come in and work hard from day one. I will never be a problem on or off the court. I'm going to do what you ask of me and I'll continue to get better. I'm going to grind, I'm willing to learn, and I'm accountable. I'm going to continuously improve from the day I get there until the day my career is over.