Across the country, teams are competing in conference tournaments and trying to punch their ticket for the NCAA Tournament. Selection Sunday is almost here, and then the tourney starts next Tuesday. Here's a recap of Friday's slate.
Games of the Day
Texas Tech def. Oklahoma 56-66 - Big 12 Semifinal
The Sooners have been on the bubble for quite some time and, after a big win against Baylor, we'll have to wait and see what this loss does to them. They fought tooth and nail after being down 14 points in the second half, and even took a 54-52 lead with 3:05 to play. Clarence Nadolny hit a free throw to make it 56-54 and the Red Raiders held on from there. Great game.
Saint Louis def. St. Bonaventure 57-56 - A10 Quarterfinal
Saint Louis held a nine point lead with 9:35 to go, but the Bonnies went on a run to take a one point lead with 1:24 remaining. Gibson Jimerson hit a jumper with 0:17 on the clock that would end up being the game-winner. Big win for the Billikens as they advance to the A10 Semifinals.
UAB def. MTSU 102-98 in 3OT - CUSA Semifinal
In a thriller, the largest lead for either team was just seven points. With a 62-62 score after regulation, the two teams headed to overtime, in which Donovan Sims hit a clutch free throw to send it to double-overtime at 69-69. It would take another overtime, but Jordan Walker and co. finally sealed the deal at 102-98, keeping the team's dream alive.
Dayton def. UMass 75-72 - A10 Quarterfinal
In the second half of this one, neither team led by more than five points as it went down to the wire. DaRon Holmes II made a jumper with 51 seconds remaining that gave Dayton a 69-68 lead, and they took it home from there. Holmes II would end with 28 points in a strong outing.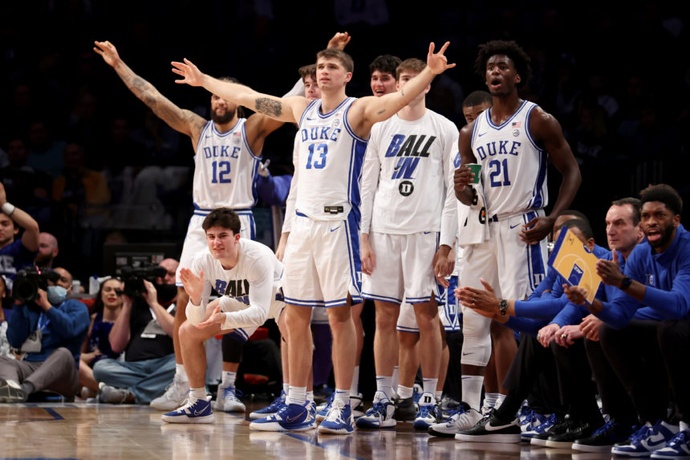 Duke def. Miami (FL) 80-76 - ACC Semifinal
The Canes led for a good part of the first half, but it was tied at 36-36 going into the break. Duke held a 69-65 lead with 2:09 to play and from there it was a free-throw game for the Blue Devils. Keels, Moore Jr., and Griffin knocked them down and were able to seal the deal. They advance to the ACC Championship.