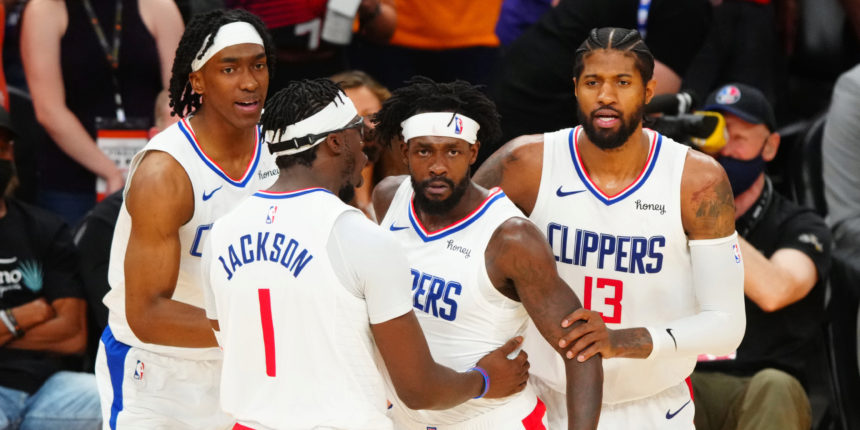 Despite playoff exit, Paul George and prideful Clippers left it all on the floor
It is no secret that Paul George has been on the receiving end of social media vitriol since underperforming in the 2020 NBA Playoffs.
In the second round that year, the Clippers squandered a 3-1 lead over the Denver Nuggets, falling well short of expectations after adding George and Kawhi Leonard to their roster prior to the season. George's corner three-pointer that hit the side of the backboard as time wound down in Game 7 became the encapsulation of everything that went wrong for him and the Clippers in the Orlando Bubble.
On Wednesday, the Clippers were eliminated from the 2021 postseason by the Phoenix Suns in Game 6 of the Western Conference Finals. But unlike last season's team that collapsed against the Nuggets, this year's Clipper squad collectively rose to the occasion and should enter the offseason with its head held high.
The Clippers lost Leonard to a knee and possible ACL injury in Game 4 of the second round, which sidelined him for the remainder of the postseason. Serge Ibaka, who was sidelined for a large portion of the regular season, eventually underwent surgery on his back and was unable to play in the postseason. Even the Clippers' iron man, Ivica Zubac, would eventually be lost to injury after spraining his MCL in Game 4 against the Suns. The injuries, draining matchups against the Dallas Mavericks and Utah Jazz, an unfavorable schedule that left the Clippers with little time to rest and recover, and the high-level play of the Suns ultimately proved too much for the Clippers to overcome.
Several key players stepped up in key moments throughout the postseason, most notably George and Reggie Jackson, while players like Terrance Mann made unexpected key contributions that helped push the Clippers further into the postseason than any other Clippers team in the franchise's history. With Leonard sidelined, these three players took on bigger roles and helped keep the Clippers' championship hopes alive longer than many expected.
There were some uneven performances and a few critical mistakes that led to demoralizing outcomes, like George missing two key free throws at the end of Game 2 against the Suns, which opened the door for a Deandre Ayton buzzer-beating alley-oop. But given the circumstances, these shortcomings don't change the fact that the Clippers -- and George in particular -- stepped up, never quit and pushed the Clippers to within two victories of the franchise's first NBA Finals appearance.
In doing so, George went a long way towards ending (or at least reducing) the social media slander against him. There will still be disproportionate criticism against George and the nickname "Pandemic P" will still be used against him moving forward, but anyone who watched George step up after Leonard was sidelined knows the hazing is not warranted.
"I don't know where this trolling bulls—t has come from," DeMarcus Cousins said regarding George after being eliminated from the playoffs. "The internet controls the narrative about these players. It's become foolish man. That's one of the most special players to ever lace his shoes up. Give this dude his flowers, man."
"I don't know where this trolling bullshit comes from. The internet controls the narratives. Kind of foolish man. Give this dude his flowers. I don't understand the slander. That's one of the most special players to ever lace his shoes up."

DeMarcus Cousins on Paul George pic.twitter.com/pSzwwzYSoV

— Tomer Azarly (@TomerAzarly) June 29, 2021
This wasn't the first time that Cousins came to George's defense. Earlier this season, when Cousins was still playing on 10-day contracts, he praised George as a player and spoke out against the widespread criticism he had been subjected to.
"PG is [as] cool as a fan. He leads by example," said Cousins. "He comes in and he works every single day. Every night he steps on the floor, he's going to give an A+ effort. One of the most talented players I've ever seen lace 'em up. We gotta stop the PG slander. It just won't be accepted around me... Every chance I get, I'm gonna give him his flowers."
George shouldered a tremendous workload when Leonard went down. George is currently the leader in playoff minutes played (776), points (511), defensive rebounds (166), field goal attempts (374), three-point field goal attempts (152), free throws (130) and free throw attempts (154).
In the eight playoff games played after Leonard was sidelined, George averaged 29.6 points, 11.0 rebounds and 5.6 assists while playing 41.6 minutes per game. George wasn't always efficient, shooting around 40 percent from the field and well below 30 percent from three-point range in several games, but he was a constant force both offensively and defensively, and ran the offense in a way that helped get his teammates involved consistently.
Speaking of consistency, Jackson was a revelation for the Clippers this postseason. Last offseason, he signed a one-year, $2.3 million contract to be the Clippers' backup point guard to Patrick Beverley. Jackson's best seasons were his first two with the Detroit Pistons from 2014-2016; he was still a productive role player after that peak, but his overall production was trending downward. However, with Beverley struggling throughout the season with injuries, Jackson stepped into the starting position and turned back the clock.
In 19 playoff games, Jackson averaged 17.8 points, 3.2 rebounds, 3.4 assists and shot 48.4 percent from the field and 40.8 percent from three-point range in 32.7 minutes per game.
For comparison, Jrue Holiday signed a four-year, $135 million contract extension with the Milwaukee Bucks earlier this year that could reach up to $160 million with bonuses. Through 17 playoff games, Holiday is averaging 17.6 points, 4.1 rebounds, and 8.4 assists while shooting 42.3 percent from the field and 29.9 percent on three-pointers in 38.9 minutes per game.
Holiday is, of course, a much better defensive player than Jackson, but these numbers show how much value the Clippers were able to get out of a player that many analysts believed was not a particularly good fit for the team.
Jackson played with great confidence, knocking down timely shots in high-pressure situations, while also attacking the rim aggressively. He bested Defensive Player of the Year Rudy Gobert at the rim on a few occasions, and threw down momentum-swinging dunks against the Suns. After the Clippers were eliminated from the postseason, Jackson emotionally expressed how much he valued playing with the Clippers this season and how it rejuvenated his career.
"The first thing I told those guys is, 'Thank you for saving me,'" Jackson said. "I appreciate every guy in that locker room. I appreciate Paul for getting on that phone last year at the end of the season when we were talking about a buyout with Detroit. I'm thankful for everything I've experienced being here, the city making me feel home, this organization welcoming me, my quirks, my strengths, my weaknesses. I'm not here today without this team. I'm not still playing today without this team. I thank them for everything. This will forever be a special year."
An emotional and tearful Reggie Jackson talks about how much this team and his best friend Paul George have meant to him and his career. pic.twitter.com/9esDrS3P1U

— Ohm Youngmisuk (@NotoriousOHM) July 1, 2021
Jackson now enters free agency, and will garner attention from several teams looking to bolster their respective point guard rotations. The Clippers will, of course, want to re-sign Jackson, but with an expensive roster, the team will be limited to using Jackson's early Bird Rights. If another team makes a significantly bigger offer, the Clippers may lose Jackson in free agency.
Another revelation in the playoffs for the Clippers was second-year wing Terance Mann. With Leonard, George, Marcus Morris and Nicolas Batum on the roster, there was no urgency to develop Mann quickly and make him part of the team's main rotation this early in his career. But whenever Mann got playing time this season, he always played with high energy and within his role. When Leonard went down with an injury, Mann's role increased, and his energy on both ends of the court became a crucial asset for the Clippers. Whether taking a tough charge, fighting for a rebound in traffic, knocking down corner three-pointers, facilitating the offense as a secondary ball-handler or guarding opponents from point guard to center, Mann did everything the Clippers asked of him and more.
Mann's breakout performance was in Game 6 against the Jazz. Without Leonard, the Clippers faced an uphill battle against a Utah team that was feasting off of hot shooting performances from several key players. But George, Jackson and Mann combined to score 94 of the Clippers' 131 points, eliminating the Jazz in a crucial and inspiring performance. Mann tallied 39 points, 2 rebounds, 2 assists and a steal while knocking down 15-of-21 shots from the field and 7-of-10 from three-point range. Mann didn't put up monster box score numbers throughout the playoffs, but his positive contributions were apparent to anyone who watched the Clippers throughout the postseason. Mann still has a long way to go in his development, but this playoff run could be a catalyst for taking another step forward next season.
Now, the Clippers enter the offseason where the priority is signing Leonard to a new contract. Leonard has a player option for the 2021-22 season, but he will be looking for a new long-term deal. The Clippers are considered by many to be the frontrunners at signing Leonard to a contract, but that is not a certainty. The Clippers will also have to either re-sign or replace Batum and Jackson. Also, Ibaka has a player option for the 2021-22 season, but given his injury issues this year, it would not be surprising for him to exercise that option. Other key players like George, Morris, Beverley, Zubac, Mann and Luke Kennard are under contract through next season.
The Clippers got key contributions from a lot of players in their run to the Western Conference Finals. They had to in order to replace the superstar production of Leonard, who in 11 playoff games was posting 30.4 points, 7.7 rebounds, 4.4 assists and 2.1 steals, while shooting 57.3 percent from the field and 39.3 percent from distance. In the end, the Clippers' best wasn't enough to overcome a talented, motivated, well-coached Suns team that adapted and responded to each of Tyronn Lue's adjustments throughout the series. Though the Clippers will not be one of the two teams left standing, this year's playoff exit comes with a sense of pride, which is a major turnaround from what happened in the Bubble.
"Very proud of my guys, what we had to overcome throughout the year," George said. "We found a way to fight through. We found a way to keep going, keep playing. We just had each other's backs all year. One of the greatest locker rooms I've been a part of."