Facing a hostile Utah Jazz crowd, and with the Los Angeles Clippers missing their leader and perennial All-Star in Kawhi Leonard (whose season may be in jeopardy due to a knee injury), Paul George had two options in Game 5: Shut up his critics. or give them further ammunition for ridicule across social media from national pundits. It seemed as though the naysayers were salivating at the chance to further mock the self proclaimed "Playoff P."
But PG had other plans, scoring 37 points, pulling down 16 rebounds and dishing out 5 assists -- a performance that no other Clipper has had in a playoff game.
That's not to say that this was in any way a one-man show. The "others," as Shaq refers to them, all stepped up in Kawhi's absence. Marcus Morris poured in 25 points and Reggie Jackson lit up the stat sheet for 22, while Terance Mann continued to impress with a solid 13 points and an electrifying dunk over the three-time Defensive Player of the Year Rudy Gobert, as the Clippers pushed the top-seeded Jazz to the brink of elimination. The Clippers shot 51% from the field without Leonard, as they collectively willed themselves to victory. But the bulk of the praise has to go to George.
For the most part, all of the questions about George's ability to carry the team absent of Kawhi Leonard should have been put to rest. This was a statement game. His redemption song.
I picture Kool Moe Dee with his arms folded on his album cover back in '87 and his white Kangol and sunglasses on with "How Ya Like Me Now" at the top.
Serge Ibaka said it all with one tweet.
Please, make sure you fill out the form appropriately. Let me know if you have any questions. Thank you. #ClipperNation #NBAonTNT pic.twitter.com/3uz3ghWi5J

— Serge Ibaka (@sergeibaka) June 17, 2021
And there was much more praise from his piers where that came from. I reached out to former Clipper great Cuttino Mobley to get his thoughts.
"Paul is a star," Mobley said. "For some reason there was a blockage mentally. I think he has opened up that block. He is being who we all knew he was. I'm super happy for my guy. One of the most talented in the game, 'Playoff P.'"
On my podcast, The Rematch, Darius Miles shared his own feelings on George.
"I'm so proud of him in how he came back from last season and how he's playing and his mindset," Miles said. "I just DM'd him the other day just out the blue and told him, 'Hey man, I'm proud of you. You're out there looking good, you're looking happy and you look like you're in a zone.'"
I sat down with Clipps, lifelong Clippers fan and co-host of The Follow Through with Clipps and Drew, to discuss the significance of this epic performance by Paul George and if he has in fact silenced his critics.
Etan: Has Paul George made a statement to all of his critics?
Clipps: "A hundred percent. I mean, I did an interview yesterday and I think last night was the most important game in Clipper history. Yesterday was the saddest day in Clipper history, as well. And we've had many, Etan, like many; getting the news about Kawhi was absolutely devastating. But for the first time in my life, I wasn't sad or upset because I knew we could still beat this team. This wasn't like we had to win four games against these guys. We had win two without Kawhi. And all anybody wanted to talk about was, 'Will Paul George step up and rise to the occasion?' And he did that and more for us yesterday. And then with the news coming out that he told Ty Lue, 'Look I've got this, I got you guys today. Don't even worry about it.' So yes, it was [a statement]. I think that from a statement that he made three years ago in a postgame interview, calling himself Playoff P has turned into this huge thing. And it's so crazy to me because Paul George has been great for us for the past two seasons. Yes, he had a really bad Bubble, but this playoffs he's been great for us. So yes, it is a major statement game for all of his critics."
Etan: You mentioned Playoff P, so let me ask you this: Why did that rub everybody wrong so much? Why did people get so upset about that?
Clipps: "Man, you're asking the wrong guy, because that's something I've been trying to figure out for a while now. It's kind of like... Etan, feel me on this. If you ask LeBron haters, 'Hey, why don't you like LeBron?' And they always say, 'Oh, well, because of The Decision, when he did The Decision, I just ended up hating him.' And it's like, okay, that's a really lame reason to hate LeBron. And then it's like, well, why do you hate Paul George? 'Oh, Playoff P, because he called himself Playoff P.' I don't know, man. I think there's just some certain players that the media want to pick on, and Paul George is one of them. It should never be about his athletic [ability] or his game at all because he's a top-15 guy, no matter what."
Etan: I agree. I thought it was interesting, last year in the Bubble, he came out and said that he had some mental health challenges and was depressed while he was there. And nobody cares. You know what I mean? They just pushed him aside. And other people came out and they said that they had mental health challenges and depression and they were praised. DeRozan, Kevin Love, they were praised for their courage to come forward, praised for helping so many people have the courage to open up as well, and they were on panels and all this stuff. But Paul George, it was like nobody cared. And then when he didn't perform well, they dumped on him even more. That's what I saw. Did you see the same thing?
Clipps: "Oh, 100%. And Kevin Love and DeRozan, they were not trendsetting, but they were being honored for their honesty with coming out and speaking about mental health. But [with] Paul George, [it] is looked at as an excuse, right? And I don't know if it's the Clippers either, Etan. I've been a diehard, Clipper fan for 30 years, man, and for the past 10, I've never met so many people that hate the Clippers. For a long time. Nobody cared about the Clippers. They could give... They just did not care about what the Clippers did or who they were for the past 10 years. And especially these past three [years], it's just, people want to find anything to hate the Clippers. And I think his case for having mental health issues was valid. I mean, the Bubble was not easy for anybody. Right?"
"But I guess it could be looked at as a soft excuse from his performance in the Bubble. You know what I mean? It could have been just something that he just didn't want to address and he wanted to write it off as mental health, but in actuality, players don't joke about that. Or they wouldn't joke about that. So I continue to believe in... Look man, the Bubble and last year, [there] was mental health issues for all of us, not just athletes in the Bubble. We were all going through it, and there was a lot going on with the Clippers at that time that we didn't know about. We didn't know that there was some beef, Lou Williams [was] doing his thing. And there was some issues with Montrezl Harrell, and obviously it came out later with Doc Rivers that there was some problems. But I think, especially his performance this season, I just don't know what more people want from Paul George, Etan, I don't understand. You tell me, what more can this guy do?"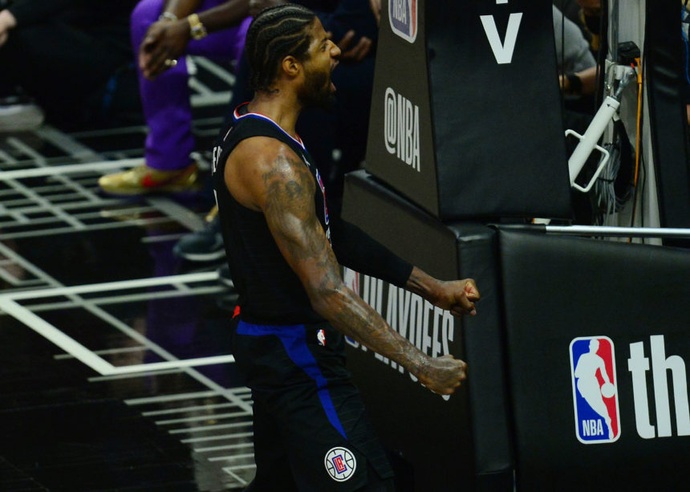 Etan: I agree with you 100%. I saw Serge Ibaka tweeted out apology forms for everybody that wants to sign up. What is it going to take for people to finally say, 'Okay, we apologize to Paul George?' Is it going to take him getting out of this round, the Clippers getting out the round or is that still not going to be enough? What is it going to take?
Clipps: "Okay Etan, I'll tell you this. I said it on our show the other day. First of all, it's never going to be enough. It'll never be enough for the talking heads. It won't be enough until you win a championship, I guess, right? But I want to speak on behalf of just the Clipper fan and Clipper Nation in me, 'cause a lot of Clipper Nation hates on Paul George, too. Clipper fans like to blame somebody or something. Yesterday morning, it was all about, 'Oh we're cursed, we're cursed, the Clipper curse.' And I was more like, 'I believe in our team, I believe in Paul George, Ty Lue and our whole squad.' I think that Clipper fans in general, this should be enough for you and Paul George, right? Look, this was the biggest game of our [season]. Do you know that Kawhi or Paul George, while they've played together, have not won in Utah?
"They haven't won a game in Utah, and for Paul George to do what he did, in Game 4 in the playoffs with a sold-out arena. Could you even hear the announcers talk? It was so loud and just rocking last night. And for him to show up and drop 37 [points], like a true superstar would and put our whole team on his back, that should be enough for Clipper Nation. Do I think it's going to be enough for Nick Wright? Or Chris Broussard? I don't think so. Because I think a lot the talking-head guys wanted him to fail so bad so they could have something to talk about for the next 24 hours. When in actuality, you should be praising Ty Lue and praising the Clippers and Paul George. Give him his flowers. And I don't necessarily need him to win the whole series. I think we should [win] with this series coming back home, because we can not go back to Utah, or we're in deep trouble. But, I think this should be enough for everybody. Like, I just don't understand what everybody wants."
Etan: Yep. You mentioned the Clippers fans that hate on Paul George. Lakers fans really hate on Paul George. Is it something to do with not wanting to see the Clippers have any success? It also doesn't seem like they hate on Kawhi the same way. I could be wrong. It seems like they have a special hate for Paul George.
Clipps: "They do, because they've got to find... Look, I think Laker fans are [upset] that Kawhi chose the Clippers over the Lakers, but for whatever reason, that doesn't piss them off as much as Playoff P [choosing to]. A Playoff P comment pissed them off, right? If anything, you should be mad at Kawhi, but he just toyed with your emotions two summers ago, because Laker fans really thought it going to be Kawhi, LeBron, AD when in actuality, we knew that wasn't going to happen. Laker fans are fickle, and I deal with a lot of them. They're just... Even if the Clippers the championship this year, which would be absolutely amazing, the Laker fans will always go back to, 'Well, we have 17. Get 16 more and we'll talk.' It'll never be enough for the Laker fans, either, to gain this guy's respect.
"And most of these Laker fans were huge LeBron haters, right? Huge LeBron haters! So I just think they're in a compromising situation right now. Because they absolutely love LeBron, even though they hated him before. I think people just pick a certain kind of player that they want to see fail, and Paul's that guy. And Etan, I said on our show, I think it's time for Paul George to just embrace being the hated guy. And I don't necessarily think he's a villain, but just embrace being... Having that Russell Westbrook, that Allen Iverson, that Kobe Bryant, that now-Trae Young kind of vibe where people just aren't going to like you -- wherever you go. They're going to have their opinions about you, but just embrace it and use that as fuel to prove everybody wrong."
Paul George has a lot of people rooting for him and happy for him, and he also has a lot of haters waiting for the opportunity to hate again. It's amazing how people will shout their criticisms from the mountain tops with a bullhorn, but whisper their praise. And some won't even do that, but instead will sit back quietly and simply wait for the next opportunity to be able to shout their criticisms again.
Hopefully, Paul George, a.k.a. Playoff P, continues to make them all eat their words.